WorstBrands.com is a participant in the Amazon Services LLC Associates Program, an affiliate advertising program designed to provide a means for sites to earn advertising fees by advertising and linking to Amazon.com
The refrigerator in your kitchen is the most commonly used home appliance. It is, without a doubt, the heart of your kitchen, and choosing the most reliable brand is imperative.
However, buying a new refrigerator is challenging since many brands are available on the market at reasonable prices with more or less the same features.
So, you must check out our list of the worst refrigerator brands to avoid in order to make the right choice.
5 Worst Refrigerator Brands to Avoid
Our team has reviewed the top 25 refrigerator brands available on the market. To make an unbiased list, we also gathered feedback from the users of the top brands at various online forums.
Based on the build quality, freezing efficiency, temperature consistency, inside storage capacity, energy consumption, durability, price, and customer support, we have made a list.
Note: No brand is entirely worst. But, these top brands are also not immune to produce the worst refrigerator models. So, in this guide, we will highlight some of the bad refrigerator models made by well-known brands. Later on, we will also recommend reliable alternatives based on users' feedback.
Check out the refrigerator brands to avoid purchasing in 2021.
1. Frigidaire (FGHB2866PF – French Door)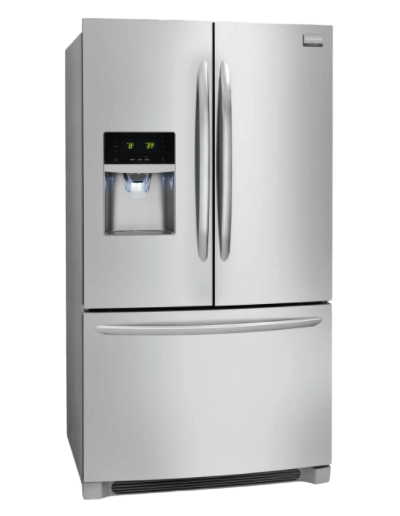 Frigidaire is a top rated US consumer and commercial home appliances brand. They have a wide range of refrigerators in their product line in various sizes, such as French doors, top freezers, and column freezers.
However, the Frigidaire FGHB2866PF has failed to satisfy its users due to the various issues in it.
It is a 27.2 Cubic Feet French Door Refrigerator. Its features include adjustable interior storage, crisper drawers, digital temperature control, quick freeze, mark proof stainless steel, and more.
Despite having many advanced features in this model, its users have a lot of complaints on various online customer forums and e-commerce websites. Check out the most common Frigidaire refrigerator problems and their troubleshooting which the users are experiencing.
Here are the following drawback of this model.
Malfunctioning ice makers
Misaligned doors
Costly to maintain and hire a repair person
Problems with cooling
The dispenser's handle is sensitive.
Poor warranty and customer service
2. KitchenAid (Counter-Depth French Door)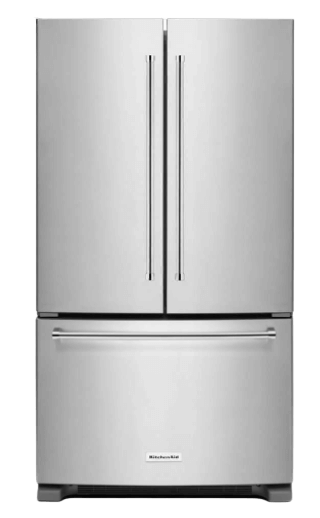 The KitchenAid is a popular choice when it comes to a durable refrigerator option. But, the fact is, they have also introduced the worst model on the market that you need to avoid.
The KitchenAid's counter-depth models have many issues that will make you keep the repair person on your speed dial.
The counter depth refrigerators come in various sizes, ranging from 19 to 27 cubic feet. These models have one of the most fantastic designs with multiple color options in stainless steel.
Check this step by step guide if your KitchenAid Refrigerator is not making ice properly.
But are they really worth buying?
Before you count on these beautiful looking refrigerators, check out the following issues that you may encounter in them.
Water leakage problem
Misaligned freezer doors
Design flaw causes issues to the icemaker
Start making a snoring sound after few months of usage
It starts rusting after a year
issues with internal water dispenser
Terrible service after the sale
3. Whirlpool (Fingerprint Resistant)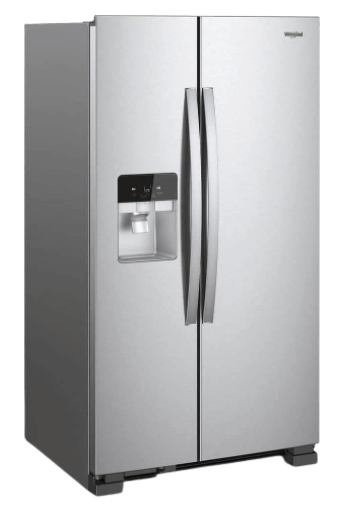 Whirlpool is one of the most reliable refrigerator brands in the market with its long history and reputation in the home appliance industry.
They produce a wide range of refrigerators in various sizes at reasonable prices. Their top models are the top freezer and the French door
But, Whirlpool's Fingerprint Resistant is not well regarded by the users due to the poor build quality.
Its features include Fingerprint resistant finishing, door alarm, stainless steel finish, automatic deforest, dual evaporator system, and many more.
Despite its advanced features, this model has received negative feedback due to its flaws.
Here are the reasons why you need to stay away from it.
Leakage in the icemaker
The shelves on the doors are too narrow
Inside space distribution problem
Handles on the drawers are not sturdy enough
French door alignment issues
The refrigerator's motor start making a loud noise with a 6 months
Terrible customer services
4. Beko (Fridge – GN1416220CX)
Beko is famous for making refrigerators of high quality at reasonable prices. They offer a wide range of products to their customers with distinct features.
The Beko GN1416220CX could be the best option for those on a tight budget. But, it is not a long-lasting refrigerator and doesn't worth your attention because of many flaws in it.
While using the Beko BBM450W, many customers faced various issues that you need to consider before buying.
The following are the most common issues that occur while using this model:
Fluctuations in temperature
Makes a loud noise when the ice maker is full
The walls of the fridge are made of inferior quality
Not trusted for longevity
Terrible customer support
5. Bosch (800 series refrigerator)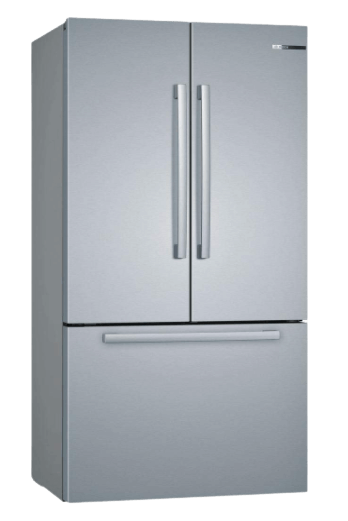 Bosch is famous for offering one of the most innovative home appliances in the market. They offer a wide variety of goods with advanced features in their product line.
You may be surprised to see Bosch's name on our list of the worst refrigerators. But, Bosche's 800 series has various issues that will make you stay away from it.
The Bosch's 800 series has captured people's attention because of its fascinating designs.
Before you rush to buy it, you need to check the following drawbacks in this series.
Poor designs of shelves make less inside space.
Crisper has a hard time keeping humidity.
Water leakage problem.
Problems with the icemaker.
Some parts are cheaply manufactured and are made of inferior quality.
---
Recommended Refrigerator Brands
Since buying a refrigerator is such a huge investment, you should go for a model that will last for a long time.
In today's saturated market, it is tough to tell which brand is durable. So, it can be stressful for an individual while browsing the internet.
As in this guide, we have already mentioned the brand names and their models to avoid. Now, check out the most reliable refrigerator brands on the market.
---
1. LG (LRMDS3006S)


(Best Overall)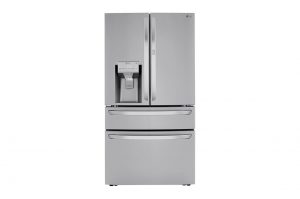 LG is one of the most reliable refrigerator brands in the world. Some people still think of LG as a "cheap" brand.
But the fact is, LG has grown in popularity and reliability while remaining affordable. Most importantly, their customer service is top level. They own their product and accept all valid claims from their users.
The LG LRMDS3006S is very popular among its customers because of its distinct features full of advanced technology.
It is a 30 Cubic Feet refrigerator, and doors have stainless finishing with a Smart Wi-Fi control feature.
Also, it has a lovely internal layout with bright LED lights. This model is the best in keeping the interior temperature consistent.
Although we have included this model in our recommended list of refrigerators, there are still a few issues that need your attention. However, you can easily fix them at home. Check out the list of most common LG refrigerator problems with troubleshooting.
---
2. GE (Profile – PFE28KYNFS)
(Most Reliable)
For over 115 years, the GE brand has been serving the home appliance industry. The company is dedicated to providing innovative and reliable products that improve the lives and comfort of families all over the world.
GE refrigerator comes in three series; the GE profile, the GE Cafe, and the GE regular series.
GE Profile PFE28K is liked by almost all of its users. It is a 27.8 cubic feet French door refrigerator with a durable ice maker.
Its internal temperature is consistent, which keeps your food cool and fresh. The interior layout is perfect and provides plenty of door storage and crisper drawers.
It is a stainless fingerprint-resistant refrigerator, so you can easily wipe out the smudges. If you are searching for reliability, then this model can be the best choice for you.
---
3. Bosch (B36CL80ENS)
(Great Value)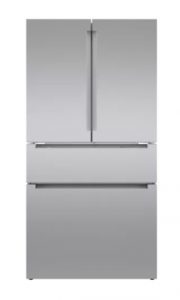 Bosch is a German brand, and they manufacture some of the world's best home appliances. They make quality refrigerators at a reasonable price and offer various advanced features in their product line.
Although we have listed the Bosch 800 series in the list of the worst refrigerator brands to avoid, the Bosch B36CL80 offers you luxury features in this model.
It provides you with the best temperature control option. It has two compressors, which separate the humidity, cold air, and air filtration between the freezer and fridge.
Moreover, the distinct advantage of the design gives you the best food preservation with adjustable temperature drawers.
In short, if you are a fan of temperature consistency, this choice may be the best option. Before making a final decision, check the following Bosch refrigerator problems and the pros & cons of this model.
---
Mistakes to Avoid When Purchasing a new Refrigerator
A refrigerator isn't something you buy every day, and you're likely to have it with you for many years to come.
Indeed, you don't want to see yourself in possible trouble due to banal buying mistakes. So, it is imperative to choose the most reliable and long-lasting brand available.
While searching for a refrigerator, you should avoid these seven mistakes.
1. Not Doing Enough Research
When searching for a new refrigerator, you can do as much research as possible. Indeed, for many people, it is one of the most tedious and monotonous tasks.
But the fact is, you can't make the right choice without doing enough research. Checking the worst refrigerator brands to avoid is the best way to start your research.
While researching, you need to check several aspects. For instance, price, style, dimensions, size, weight, warranty, product quality, maintenance expenses, and appliance variables.
After selecting a particular model, check the negative reviews to make sure that the product is the best suited for you.
2. Choosing the Wrong Size
One of the most common mistakes people make is measuring incorrectly or forgetting when purchasing a new refrigerator.
Since it is such a significant investment, don't be shy to use the measuring tape to get exact measurements.
How to make exact measurements?
First, measure the fridge's width and height proportional to the space where you want to fit the appliance. Also, do not forget to measure the fridge's entry point of your home, such as the home's front door, ceiling height, and so on.
Secondly, don't forget to calculate the space you need to open the refrigerator door. It is one of the most common mistakes people make while taking the measurements.
3. Not Considering Energy Efficiency
Understanding energy efficiency will save you substantial electricity expenses and also help to improve the environment.
On the contrary, purchasing a cheaper model can save you money in the short run, but it will cost you more in the long run because of excessive electricity charges.
When buying a fridge, check the labels for energy efficiency. Almost all brands now have an energy efficiency sticker. So, talk to a dealer or an expert to help you understand the cost of energy.
4. Not Knowing Your Home's Water Connections
Not knowing your home's water hook-ups is another big mistake that people make while buying. If you want to buy a refrigerator with a water dispenser, you should know your home's water connections. Then, make space for appliances where water refilling is immediate.
However, you can also manually provide the water to a fridge by refilling, but it is convenient to connect it to a water line.
5. Buying the Wrong Refrigerator Style
Buying the wrong style means picking an incorrect design, shape, or size, as each has its own set of advantages and disadvantages.
There are different styles available in various models, such as French doors, top or bottom freezers, column freezers, or side by side.
To avoid a purchase error, make sure you know which type you want because they all have different measurements, specifications, and prices.
6. Checking capacity and storage
Before rushing to buy a fridge, ensure the need for storage and capacity proportional to your family size.
This can be a buying blunder if you fail to guess the correct requirements. Therefore, always double-check that the freezer has enough space to store meals and properly cool the stored items.
Side by side model is the best choice in case you want plenty of space to store your items in the freezer.
7. Finishing and color
Alongside other important things, finishing and color are notable features that you should not miss when buying a freezer.
The color will significantly influence the kitchen's aesthetics. So, pick a color that suits well to your kitchen design and enhances the overall appearance.
Select a model that has stainless color finish because it makes it easier to remove smudges from the freezer.
---
What to Consider When Purchasing a Refrigerator?
1) Look for the ENERGY STAR
The refrigerator is the largest energy user in your home, along with other home appliances, such as a water heater, air conditioner, and washing machine.
Selecting a model with an ENERGY STAR sticker is the best way of saving electricity expense, conserving energy, and contributing to environmental protection.
2) Cost of spare parts
This issue occurs with the brands that are manufactured in another country. Before buying, always check the local market and online stores for available parts of the model.
You don't want your refrigerator to stop working because of a minor issue, do you?
3) Smudge-proof stainless steel
Having smudge-free stainless steel in your refrigerator is a vital feature to consider because it will ease your problem of wiping out the smudges from the fridge.
4) In which direction do the doors open?
Since it's crucial to verify the doors' usability without slamming them against anything, you must ensure that the doors swing in the correct direction.
5) Delivery service
In the list of the worst refrigerator brands to avoid, we mentioned the delivery service issue.
Many customers received their product defective on arrival, and delivery services are the main reason.
Don't be enticed by free or low-cost shipping. Always inquire about the details of the delivery package.
Frequently Asked Questions
How long do refrigerators last?
Approximately 10 to 15 years.
However, the average refrigerator life is 12 years, according to the US Department of Energy. After that, it begins to decline efficiency, resulting in high maintenance costs.
What are the top-rated refrigerators?
There are many best brands available in the market, so you need to check the one that suits your requirement. The following are our top pick based on combining the affordability and reliability factor.
1) LG – LRMDS3006s (Best Overall)
2) GE – Profile PFE28K (Most Reliable)
3) Bosch – B36CL80 (Best Temperature Control)
When to replace the refrigerator?
After exceeding the average age of 12 years, your freezer enters the declining phase. So, these are the seven signs you need to check before replacing them with the new one.
1) Spoiling your food before the expiration date
2) Fluctuation in freezing temperature
3) Snoring sound of a motor
4) Increase in the electricity bill
5) The backside of the fridge is too hot
6) Noticing frost or condensation.
7) Calling a repair guy more often
What is the first thing to do when a refrigerator stops working?
When a freezer stops working, the first thing you can do is stock it with enough ice coolers to keep perishable foods from spoiling.
Conclusion
This article provides you with a comprehensive guide on refrigerator brands and helps you select the best model in 2021.
Frigidaire, KitchenAid, Whirlpool, Beko, and Bosch are the refrigerator brands to avoid for various reasons, such as misaligned doors, cooling issues, leakage in the ice maker, and more.
While buying a new refrigerator, always check the mistakes to avoid. Also, determine the factor you need to consider, such as energy efficiency, availability of spare parts, delivery service, and more.
However, our list doesn't include all refrigerator brands available on the market. So, do your research as well, like checking the reviews and dealer credibility.