We all want the perfect fridge for our family. But do we really know what we are getting ourselves into?
That is why we went and researched the LG refrigerators on the market. In this article, we will give an honest LG Refrigerator Review.
Also, we will explain the reason why LG had to recall some models and faced lawsuits against its dual compressor problem in some models.
LG Refrigerator Review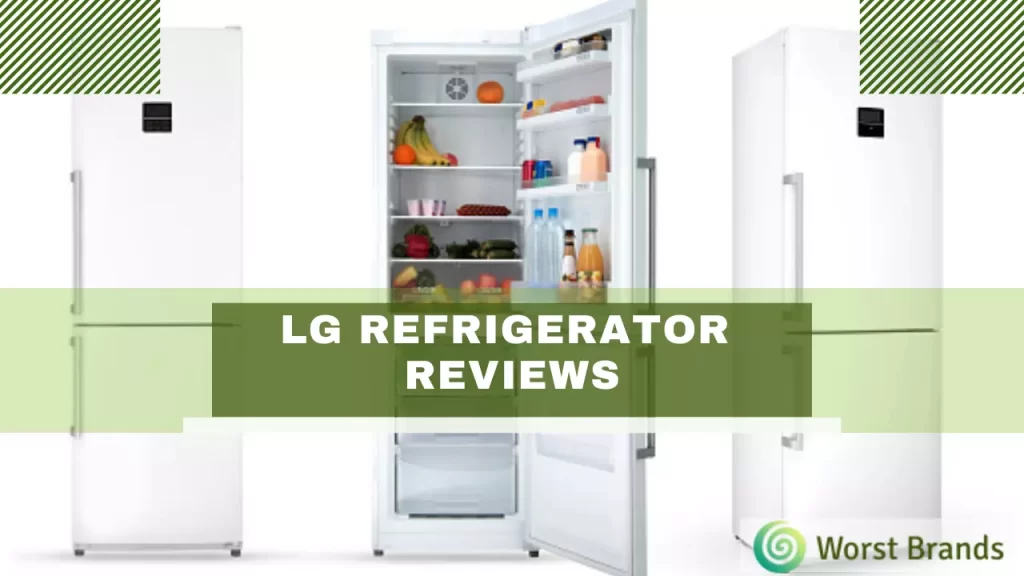 Related: Refrigerator Brands to Avoid
LG Refrigerator Overview
Today, LG offers its refrigerator models in different door configurations and styles according to customer budgets and needs.
They offer top freezer, bottom freezer, side-by-side, French door, door-in-door, and smart refrigerators. 
LG's different models have different features like convertible fridge, Insta view, multiple airflows, Door cooling, and smart inverter compressor technology (We have discussed these features in detail below)
LG refrigerators use different cooling methods. Some models work on linear cooling, smart cooling, door cooling, or Fresh Shield cooling.
LG also have high-tech features like Thin Q and smart diagnosis.
Despite being a reliable appliance brand, there are several LG users who are dissatisfied with their appliances due to various problems. Let's review them.
Why did LG Recall its Refrigerators?
LG is a major brand sold by major stores, but many people who bought the fridges say that after just a couple of years, they just stopped keeping cold because the compressor has failed.
LG was hit with a class-action lawsuit after many customers complained about compressor problems.
The suit cites several examples of jilted customers and alleges that LG knows its product is defective. LG's reputation was at stake, and it suffered huge losses.
But with time, they tried to resolve the cooling issue and LG recalled many defective pieces.
LG is now trying to reclaim its consumers' trust and has become one of the most popular brands.
Cons of LG Refrigerators
Now in this LG refrigerator review, check out the common LG refrigerator problems reported by its users.
The most common complaint by LG refrigerator users is the Cooling problem due to failed compressors.
The second most common is also about the compressor. Many customers complain about the noisy and loud compressor.
According to users' reviews on different websites, customers are also unhappy with non-adjustable shelves.
Reviewing Specifications of LG Refrigerators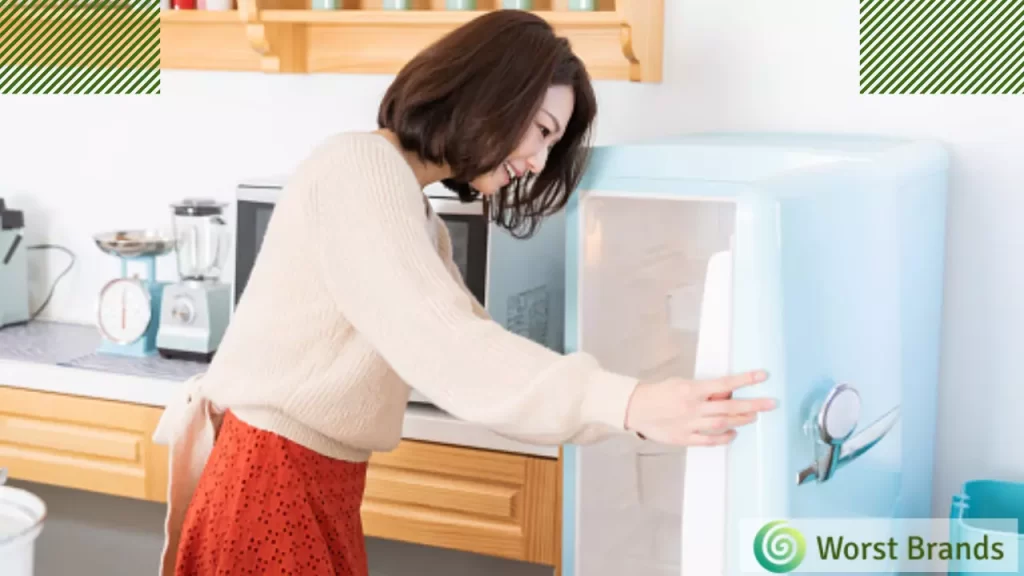 When you plan to add a new refrigerator of any brand to your home, always focus on the features and specifications. Let's get into the LG refrigerator key features:
Weight: French doors weigh between 230 to 390 pounds The average weight for side-by-side refrigerators weighs between 242 and 340 pounds. Top-mounted refrigerators have a weight of between 117 to 220 pounds and Bottom freezers between 119 to 288 pounds.
Height: It varies with each model.
Energy Consumption: Energy consumption claims by LG is 738kwh annually and are rated as ENERGYSTAR for their less consumption of power.
Compressor: LG Refrigerators have Linear and digital inverter Compressors, which are highly efficient.
Warranty: LG has 5 years of warranty on the cooling system. and 10 years motor warranty on the compressor.
Displays: LG has the Insta view and LED displays.
What Features Make LG Refrigerators Unique?
Below are the standard features of LG Refrigerators:
1. Linear Compressor
Unlike the conventional compressor, the linear compressor has less internal friction resulting in lower energy consumption and noise.
2. Linear Cooling
The linear compressor reacts quickly to maintain the set temperature, keeping food fresher and preserving flavor.
3. Door Cooling
Blasts of cold air reach areas of the refrigerator where it is easily lost and it cools down the door area faster than any brand model without it.
4. Fresh Air Filter
The fresh air filter with forced air circulation through the dedicated fan helps deodorize the air and circulate fresher air into the fridge.
5. Insta View™ Door-in-Door
This is a really unique and cool feature. LG Door-in-Door refrigerator has a window on the fridge where you can knock twice and can see what is inside.
This feature gives you easy and quick access to your favorite foods. It also helps in less cold air loss which keeps foods fresher for longer.
6. Dual Ice Maker with Craft Ice™
Dual Ice Maker and Craft Ice™ create standard crushed ice, ice cubes, and LG's exclusive round Craft Ice™. It provides 3 two-inch diameter ice balls per day and has a 90% degree of clearance.
Craft ice stays longer; water downs drink more slowly than normal ice. It will enrich your drinking experience.
7. Slim SpacePlus Ice System
It has the maximum shelf space and makes your entire storage area a lot more open.
8. Measure Fill
This feature allows the exact amount of filtered water according to your needs. You can select the quantity, and once it pours down your selected quantity, the dispenser will stop.
9. LG ThinQ ™
LG thinQ™ is an application offered by LG by which you can check and control refrigerator and freezer temperatures remotely.
If you forget to close your fridge door, it will notify you. You can also control the Voice active Ice Plus mode through a smart speaker.
10. Smart Fresh Air
It optimizes food storage and user experience by analyzing usage patterns over 3 weeks.
It increases cooling two hours before peak time to maintain temperature and freshness even door is opened a lot.
11. Economic Care
By analyzing usage time, it controls energy usage. According to analyses based on the last three weeks, it turns on power safe mode when usage is very low.
12. Smart Ice Plus
When it comes to the peak hour when you need a lot of ice, it automatically turns on Ice Plus to meet your requirements.
It monitors Ice usage and increases the amount automatically when you need more, keeping you tension-free of ice running out.
13. Proactive Customer Care
It provides email notifications and solutions to any potential issues. It checks the system, analyzes usage patterns, and notifies you when to change the air and water filters.
14. Design
LG appliances are known for their high-tech features and modern, sleek designs.
LG refrigerators have a metallic panel that helps add a premium look and some models have a special fingerprint- and smudge-resistant finish that cleans up easily with a soft, dry cloth.
5 Reliable LG Refrigerators Reviewed | Our Choice
Based on our research, the LG Refrigerators listed below are our recommendations for you.
So before buying you can have an idea about the different key features of different models.
1. LG Instaview Refrigerator Review
Winning Specs
Fingerprint and smudge-proof
Energy Star rating
Stainless Steel finish
Dual Icemakers
ThinQ technology
The LG Insta View Smart French door refrigerator is one of the best models. It is built with high-quality materials to perform exceptionally well and last for many years.
It is a beautiful-looking fridge that will make your home look good, and it can make your life easier too.
The LG Insta View smart refrigerator is fingerprint and smudge-proof, and it's top-rated by customers.
It is also Energy Star rated, which means that you will save money on your energy bills.
The stainless steel finish is also extremely durable, and it comes with an attractive brushed finish, which makes the fridge look modern and sophisticated. This finish also prevents rusting, and it'll make your home look clean.
There are dual icemakers in the Insta View Smart fridge, and they can make up to 2.2 pounds of ice per day, depending on the amount of water used. However, the water taste is not liked by some customers.
It has a 26 cubic meter capacity, which is huge, so you won't need to worry about running out of space in your fridge anytime soon.
The LG Insta View Smart refrigerator has a thinQ technology that allows it to deliver quick cooling, and it has a touch panel display for easy use.
The Insta View smart refrigerator is a fantastic addition to your home, and it's a must-have for anyone who wants an energy-efficient and stylish fridge.
2. LG Top Freezer Refrigerator Review [LRTLS2403S]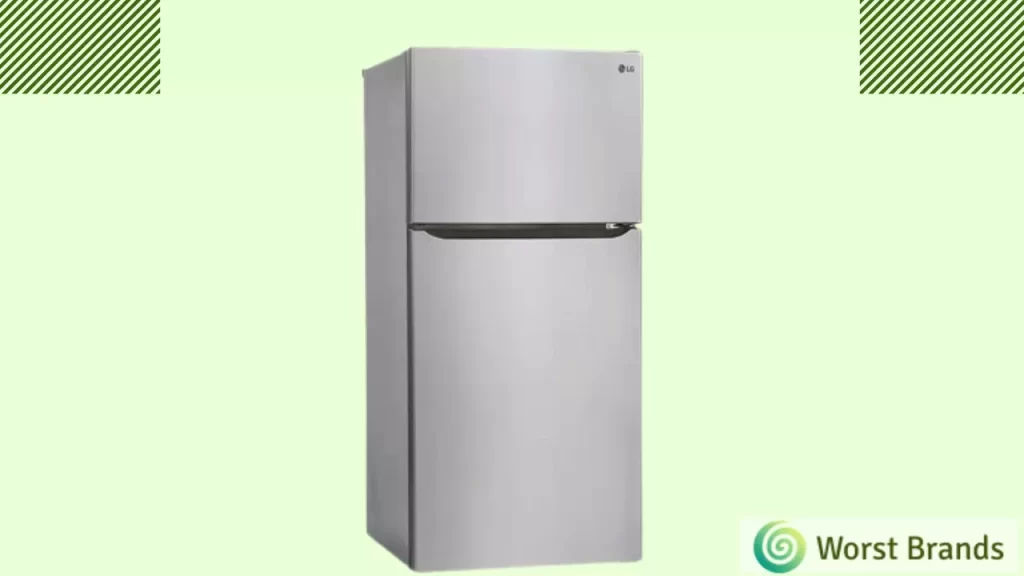 Winning Specs
Internal dispenser with filter
Energy Star rated
Multi air flow freshness
Energy Star certified
8 cubic meter capacity
Humidity and temperature control sensors
The LG Top Freezer door refrigerator is a perfect example of its quality standards.
It has a unique design, which is sleek and stylish and will fit into any modern or contemporary kitchen.
It also features multi-air flow freshness, which ensures that the air inside the refrigerator is always fresh. This is important because when the air gets stale, it can cause mold growth.
The LG LRTLS2403S has a capacity of 23.8 cubic meters, which means you can easily store a lot of food and drinks here.
The drawers are easy to open and close, and they're also designed to be easy to clean.
I really like this fridge. It's spacious, and it looks good. The only drawback is that the compressor is very loud.
Other than that, I would definitely recommend this product to anyone looking for a good affordable refrigerator.
3. LG LFXS26973D Review – Wi-Fi Enabled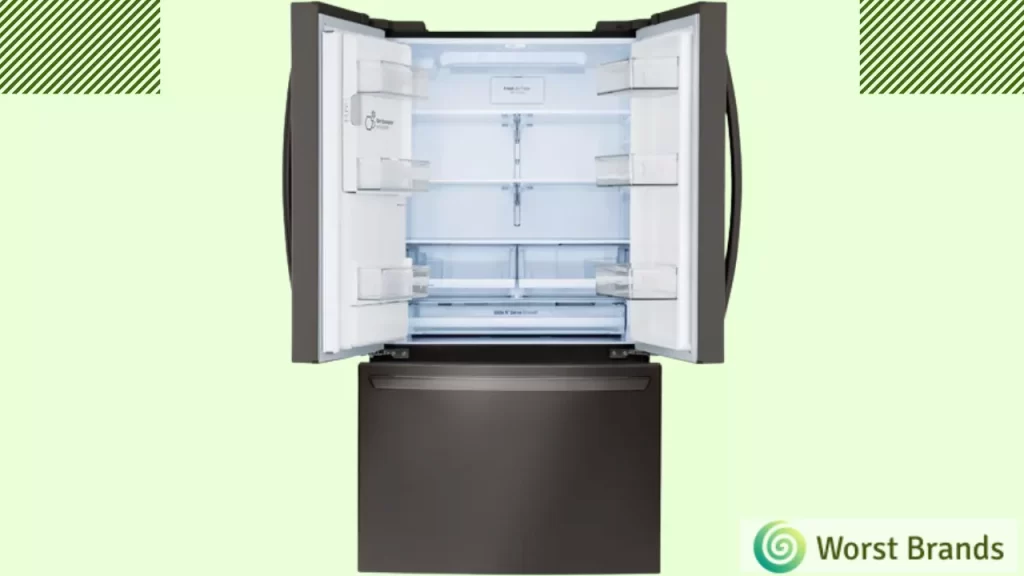 Winning Specs
Dual Icemakers
Fingerprint and smudge-proof
2 cubic meter capacity
ThinQ technology
Voice activation
Glide-N-Serve drawer
With the LG Slim Space Plus, you can use your smartphone to scan items in your refrigerator and keep track of them in the app.
You can also get notifications on your phone when the fridge is full or low on food.
The LG LFXS26973D is great for families who are on the go and need to know what is in the fridge.
You can also set the fridge's temperature to different settings so that you can get the perfect temperature for each food type.
This means you don't have to open the fridge often, which saves time.
It has a pretty good capacity, with a 26.2 cubic meter storage space, and you can store up to 36 drinks in its ice compartment.
However, a few complaints about this model are that the ice maker is a little loud.
4. LG LRDCS2603S Review – Bottom Freezer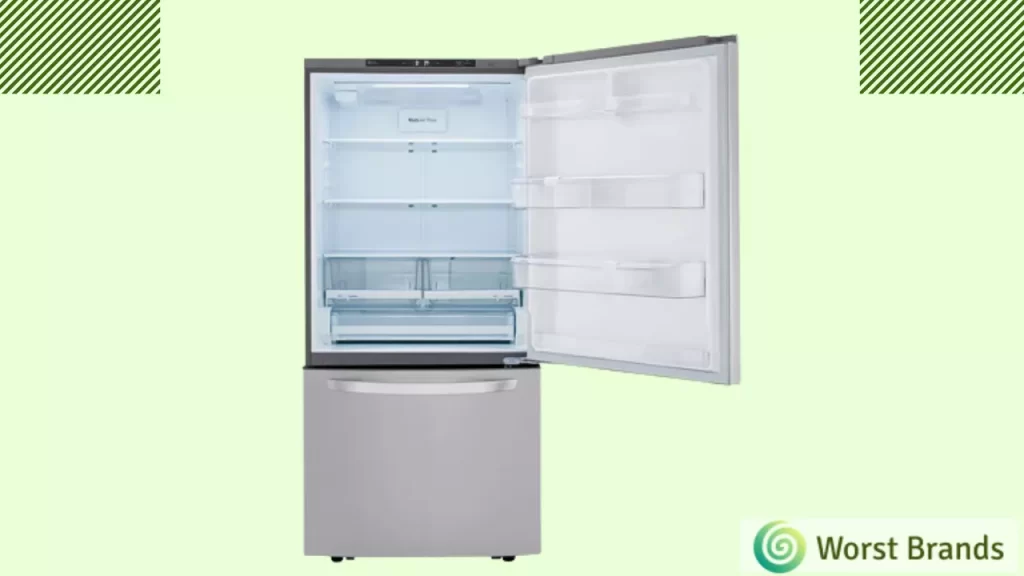 Winning Specs
Single Icemaker
Multi Air Flow Freshness
Stainless steel finish
Fingerprint and smudge-proof
Door cooling and Smart Cooling
Smart Diagnosis
The LG LRDCS2603S bottom freezer refrigerator is a stylish family refrigerator with an easy-to-clean stainless steel exterior.
It has a 25.5 cubic meter capacity, and it can store up to 40% more food than the average fridge. This means you can have a bigger family or just eat more food at once.
It also has a single ice maker, so you don't have to worry about ice blockage, and there's a multi-air flow freshness system to make sure that all the food in your refrigerator stays fresh for longer.
The LG LRDCS2603S has a door cooling system and smart cooling too, and it also has a Smart Diagnosis feature.
This is the best refrigerator for families as it will easily fit all of their groceries and keep them fresh for longer.
If you want a quality refrigerator that will last for years and you don't mind spending a little bit more money, then this is a great option.
5. LG LFCS22520S Review – French door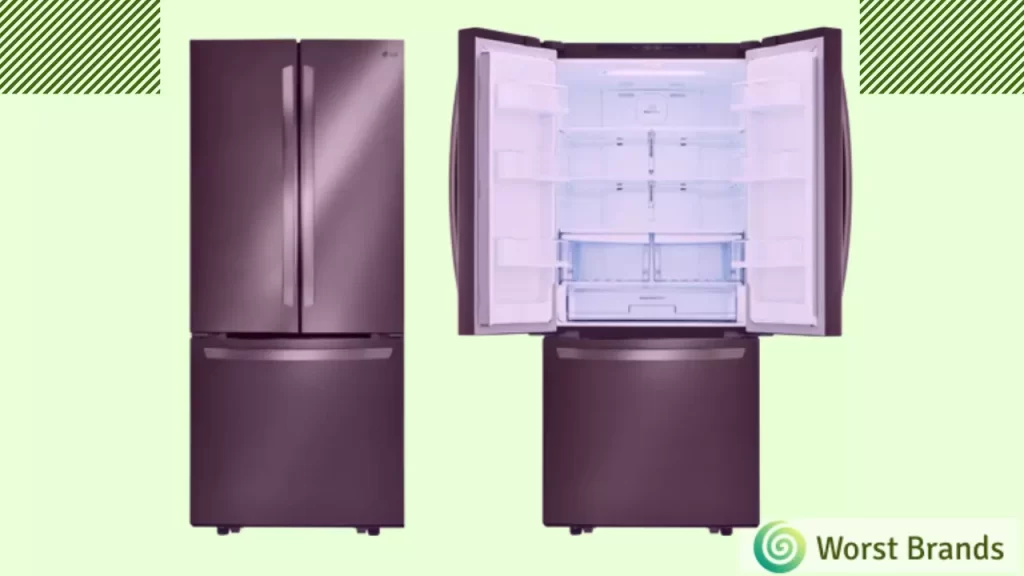 Winning Specs
Smart Cooling system, Multi airflow
Linear compressor
Adjustable door bins
8 cubic meter capacity
Energy Star certified
The LG LFCS22520S French door refrigerator is a good choice for someone who wants a sleek design with lots of room for storage.
It has a 21.8 cubic meter capacity which is big enough for a family with a lot of food.
It also has a linear compressor which makes it quieter and more efficient.
The Smart Cooling system also allows you to set your desired temperature, so it won't go out of control and start cooling down the entire house. It's energy star certified, so you are saving money on your energy bill.
There are also two adjustable shelves inside the refrigerator, which means that you can easily store your food and drinks.
All of these features make this refrigerator one of the best choices for someone looking for a smart refrigerator.
The only downside is that the LED lighting on the refrigerator is not very bright, so you may need to change the bulbs yourself.
Our Verdict on LG Refrigerators
LG is a top-notch brand with the highest-selling records. But while buying any model, make sure that the model has no cooling issue and compressor failure record history.
Because as mentioned above, LG Users had complaints regarding compressors, and still some are facing LG fridge cooling issues. Make sure to go for high-rated model.
And don't just purchase the product on the basis of price. Also, look for reviews about the product before purchasing.
This way, you will avoid all the troubles that you may face in the future.
If you are a new user, it is recommended to read all the instructions and user manuals before purchasing.
Keep reading our articles to know more about appliances.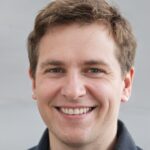 Steven Settles is a professional content writer with over 7 years of experience in writing for different niches, including brand reviews, technology, fitness, and more.
Currently, he is working as a content writer for WorstBrands, where he provides insightful reviews of different products, including home appliances, outdoor gear, fashion, and kitchen products. In his free time, Steven enjoys traveling and exploring new places.