WorstBrands.com is a participant in the Amazon Services LLC Associates Program, an affiliate advertising program designed to provide a means for sites to earn advertising fees by advertising and linking to Amazon.com
Along with the refrigerator and water heater, washing machines are the most used home appliances.
You should spend money on the washing machine once and get it over with. There is no need to buy one washing machine after another.
Finding a perfect brand will not only save your money but time too. However, choosing the right option is difficult since hundreds of options out there.
Keep reading this guide to find out the worst washing machine brands to avoid at all costs in 2021 as this is the ultimate guide you can find online, as the experts from our team checked all the washing machines by themselves and ran a few tests to find the washing machine brands that you need to avoid.
5 Worst Washing Machine Brands to Avoid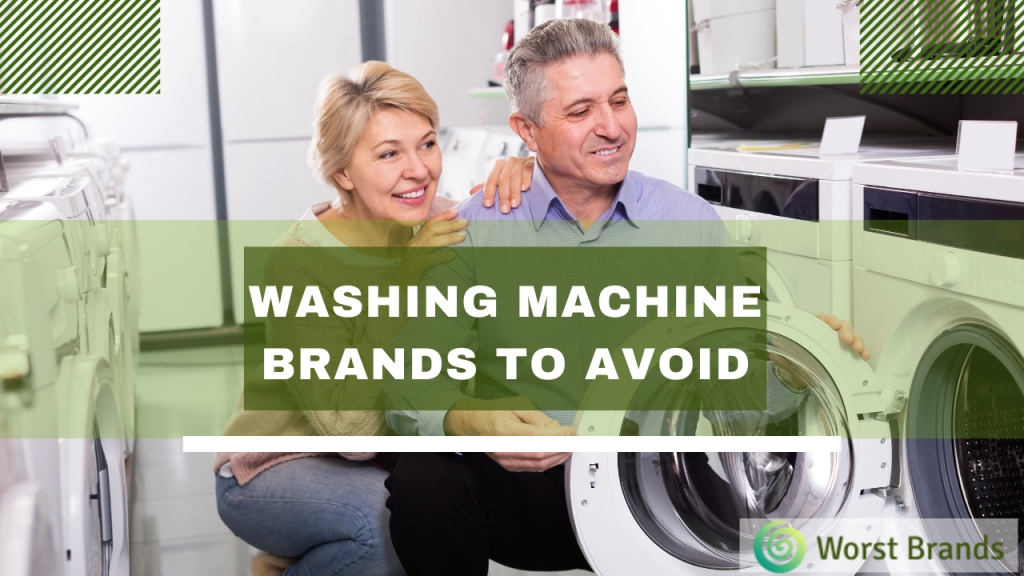 We have reviewed the top 15 washing machine brands available on the market.
We have made a list based on their performance, quality, durability, energy efficiency, cleaning performance, load size, and price.
Furthermore, we also collected feedback from the users of these models on various online forums to make an unbiased list to help you avoid the bad models.
Note: No brand is completely worst. But, many top brands have introduced some low quality models that you need to know before making a purchase. So, in this guide, we will spotlight the under performing models. Later on, we will also highlight the recommended brands based on a good user experience.
Check out our list of the washing machine brands to avoid in 2021.
1) Whirlpool (Top Load)
When you talk about a reliable washing machine brand, Whirlpool is one of them. Whirlpool manufactures incredible washer models of good quality with many advanced features.
But customers respond differently to their models WTW5000DW and WTW8700EC.
Both of these models struggled to satisfy their users. People on online stores, customer forums, and social media reported too many complaints on various issues about them.
Model – WTW5000DW:
The Whirlpool WTW5000DW is a 4.3 Cubic Feet top-loader with low profile Impe, white in color. However, its performance falls short of expectations.
Check out the reasons to stay away from this model.
Cons:
The machine makes a grunting sound during the sensor wash
Doesn't clean well and leaves stain spots on the clothes
Because of the poor water level, clothes get tangled
It takes so long to wash
Model – WTW8700EC: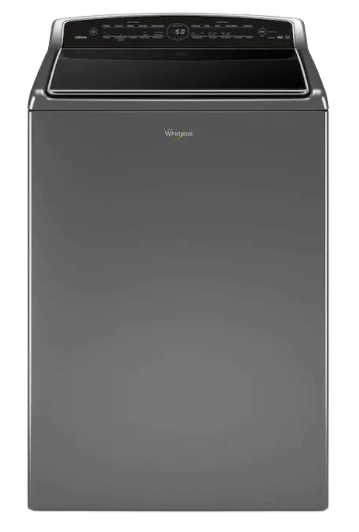 It is a 5.3 Cubic Feet top-Loader with high efficiency and many advanced features.
Its features include remote control functions and customized wash cycles. Still, it has failed to convince its customers for various reasons.
Here are the negative reviews on Whirlpool WTW8700EC
Cons:
The quality of the washer is not good
Failed to remove stains and to leave soap spots on the clothes
Remote control and app features are not well functioning, making it difficult for you to fix them
The app often loses its link with the machine, and re-connection takes too long
---
2) Summit – SPWD2201SS (Front Load)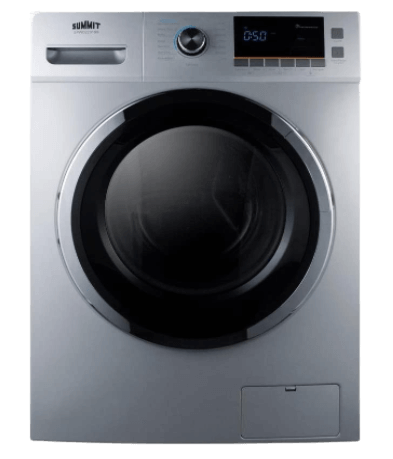 Summit is more famous for offering versatile products with combos. They have won many customers because of their all in one offer.
However, the Summit SPWD2201SS has a lot of issues that will force you to keep the repair person on speed dial.
It is a 2.0 Cubic Feet combo of washer and dryer with 7 wash cycles and 3 dry cycles. This model is specially designed for compact homes.
Before buying, you must check out the reasons to avoid this model.
Cons:
Even for a simple wash, it takes a long time
The dryer does not work correctly ( takes 5 to 6 hours to dry a load)
No mechanism to detect the required water level
Leaves stain spots on the clothes
3) Equator – EZ 4400 (Front Load)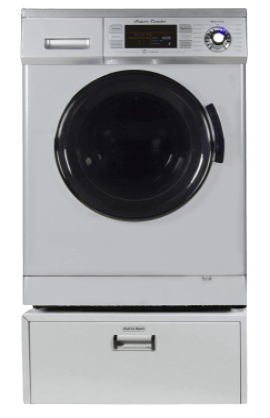 The Equator is a US-based home appliances brand famous for making the most innovative washers with exquisite designs. They offer high quality and most efficient appliances with advanced technology.
Equator EZ 4400 24 Inch is a 1.6 Cubic Feet front load washer dryer combo in a beautiful compact size. It has automatic water level and dry level controls with the color coded display screen. Also, its Winterize feature makes this model the best choice for RV users.
Still, it has failed to meet the expectations of its users. Many customers have shown their disappointments due to the following reasons.
Cons:
The dry cycle is not fully functioning
The machine stops and displays several error codes on the screen
The washer works on a small load, and clothes will come out with wrinkles when you put an extra load in the machine
Poor after-sale customer support by the company
---
4) Danby – DWM99W (Top Load)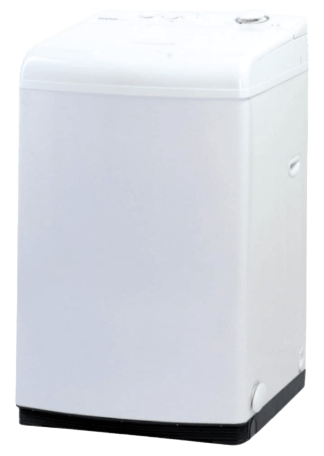 Danby offers a wide range of compact and lightweight washers designed for small apartments at very reasonable prices.
But, the Danby DWM99W has disappointed its users due to the various issues in it.
It is a 20 Inch portable washer with a weight of 8.8 lbs. This model offers you energy efficiency, 4 water level setting, 5 cycles, 3 temperature selections (hot, warm, and cold), and fabric selection options.
You might be drawn to this model due to its fascinating layout and features.
Before counting on this model, here are the following drawback that you need to know.
Cons:
The level of water never fills automatically; you may have to add water manually.
The spin cycle is not strong, leaving stain spots on your clothing.
Poor customer services
Expensive repair and maintenance.
5) Deco – 4400 CV (Front Load)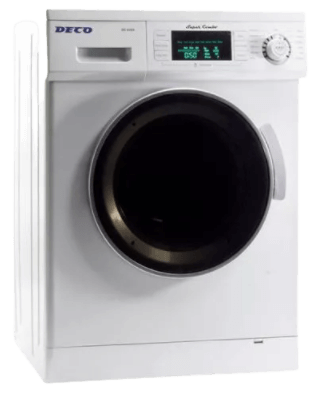 The last washing machine brand to avoid in our list is Deco. It is another U.S. brand that provides top quality home appliances at a minimal cost. Also, their designs are ideally suited to compact residences.
However, the Deco 4000 has many flaws that will make you stay away from this model.
It is a 1.5 Cubic Feet washer dryer combo with an attractive exterior build. It supplies both ventilation and condensation for the dryer cycle.
But, before rushing to buy, you need to check the following setbacks of this model.
Cons:
The capacity is too small
Often display screen blackout
Sometimes stop functioning amidst the wash cycle
It's not energy efficient
Poor warranty and customer support
---
Recommended Washing Machines Brands in 2021
Since buying a refrigerator is such a big investment, you should choose a model that will last for several years.
Choosing a reliable option in today's saturated market is really stressful. To help you pick the right option, our team has picked the top 3 washing machines based on the positive feedback from the users.
1) Electrolux EFLS627UTT (Front Load)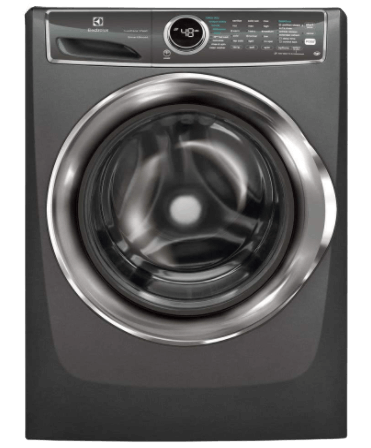 Electrolux is famous for making high quality home appliances in the world. Their washers are very light in weight, offer high energy efficiency, and remove adhesive stains from the clothes quickly.
The Electrolux EFLS627UTT is a top selling front load washer with excellent cleaning performance.
It is a 4.4 Cubic Feet front load washer with 9 wash cycles, including a 15-minute fast wash.
However, it does not have a mobile app for control and tracking, but it is still a good buy for overall best results at a fair price.
---
2) LG WM3488HW (Front Load)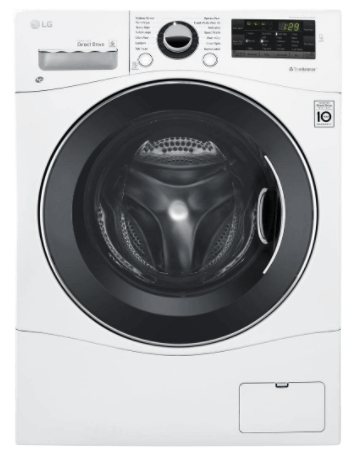 LG is a brand that will make your laundry easy and simple with the most reliable washers. They are producing top-quality washers and dryers with advanced technological features at reasonable prices.
The company also offers the LG ThinQ app for smartphones. You can connect with your washing machine via Wi-F to control the laundry.
The LG WM3488HW is a 4.5 Cu. Ft. front loader with 10 cycles and speed wash. It also has a cold wash feature; it means reducing energy costs and improving the environment.
The overall performance of this model is excellent while being pocket friendly. It comes with an LG ThinQ app that allows you to control the laundry with your smartphones.
Although this brand is on our best list, you may still face some minor issues that you can quickly fix at home by reading our LG Washer Troubleshooting guide.
---
3) GE – GTW685BSLWS (Top Load)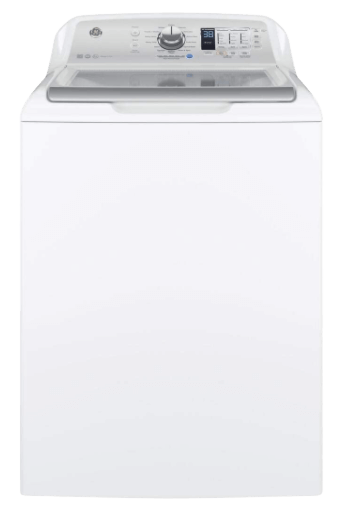 General Electric (GE) Appliances is a top notch US brand and are in this industry for more than 125 years.
They have a wide range of reliable home appliances in their product line and have one of the best washers and dryers in front and top load.
The GE GTW685BSLWS is a dual-action agitator top loader with 4.5 Cubic Feet capacity. It can accommodate a massive load of clothes in its drum.
Also, this model has 15 wash cycles with excellent cleaning performance. Although this model doesn't come with a smart app feature, you add this feature to your washer after paying an extra amount.
Moreover, its innovative home features give you full control over your laundry. It allows you to use the Google Assistant, IFTTT, and Google voice commands when doing laundry.
However, you may face draining issues in GE washers, which you can easily fix at home with our troubleshooting guide.
---
Washing Machine Buying Guide
When purchasing a washing machine, several things are considered: models, types, styles, size, performance, efficiency, and price.
After checking these specifications, you can ensure if a washer model can meet your family's needs or not.
If any of the specifications aren't satisfied, it is better to give up on that model and look for a better option.
To help you avoid the worst washer brands, here are the following key factors you need to check before buying.
1. Washer Types
Whether it's a traditional top load or a modern front load, the first thing to look for is the type of washer you want to buy.
The traditional top loaders are less expensive compare to the front loaders or high performance top loaders.
Despite being expensive, front loaders or high efficiency top loaders are the best choices because they come with a range of advanced features and increased energy efficiency.
Below are the benefits and drawbacks of these all 3 types of washing machines.
i) Top-Load Agitator
For a long time, the top load washers have been the preferred option. An agitator is a large central column in the washtub, which rotates back and forth.
Benefits
Larger tub size
Less risk for mold
Work faster ( takes 30 to 35 minutes to clean a load)
Drawbacks
High energy consumption
Not water efficient
Slower spin
Expensive
ii) Top-Load Impeller
Impeller is a low-profile spinning disc that creates heavy waves by swinging back and forth. Impeller is more gentle to your clothes compared to the agitator.
The following are the benefits and drawbacks of Top load impellers.
Benefits
More energy efficient than conventional
Consumes 50% less water than traditional washers (it uses sensors to manage water consumption)
Since there is less water, use less detergent
Drawbacks
Pricey
It takes more running time to knock a load (60 to 80 minutes for an average wash cycle)
iii) Front Loaders
Front-loaders are the most effective at removing stains while also being gentle on clothing.
It can be an excellent option for your home because of its quicker spin cycles and less energy consumption.
Benefits
More energy and water efficient
The best option for compact places
Gentle on laundry
Drawbacks
They are a little expensive
Longer wash time (takes 70 to 100 minutes for a single wash)
Shorter lifespan
2) Capacity
A washer's capacity refers to the internal tub volume, which we measure in cubic feet.
A 2.5 to 4.5 Cu. Ft. washing machine can easily handle 10 to 16 pounds of laundry on average. Furthermore, a 5 Cu. Ft. tub can manage up to 20 pounds of laundry.
So, it is vital to check your load size before finalizing the model and manufacturer.
3) Size Does matter
A machine's size refers to its external dimensions, such as height, width, and depth. It is measured in inches.
Also, these measurements are essential to determine the size and space required to place a washer in your home. Usually, a machine ranges from 24 to 27 inches.
4) Energy Efficiency
Power consumption and energy efficiency is another vital consideration to check when buying.
It will not only save you electricity but also helps to improve the environment.
Therefore, front load and high efficiency washers are the top choices for saving water and electricity.
Also, check the Energy Star sticker on the machine to ensure that it follows the government's energy efficiency standards.
5) Features and Functions You Must Have
The features and functions you want to have in your washer are dependent on many factors, including a budget, machine type, usage, size, capacity, efficiency, and home space.
Here is the list of features that you can check according to your preference and requirements.
i) An NSF International certified washer:
Unless your undies are washed at 135 to 150 degrees, cleaning them in the regular laundry is not hygienic.
However, an NSF International certified machine has a sterilizing hot wash cycle, which kills 99.9% of bacteria.
ii) Stainless steel drums:
Stainless steel drums are very reliable when it comes to quality and longevity. These sturdy drums can withstand the stiffness of rivets, metal zippers, and buttons.
iii) Quick wash cycle:
You can save up to 20 to 25 minutes in this feature compared to the regular wash cycle without compromising overall performance.
iv) Bright Control Panel:
It is a helpful feature to have if your machine will be placed in the low light corner of your home's basement.
v) Noise reducing technologies
Do you want your new washer to be in close proximity to your bedroom or living room? Then search for models with sensors to keep noise to a minimum.
---
Washing Machine Features You Should Avoid If Not Needed
Key features often add value to your purchase. However, all of them are not intended to improve the washer's performance.
Having unnecessary features in your model will cost you extra. They will also increase your repairing costs if there is a problem.
The features mentioned below should only be included in your model if they are useful to you.
Extra wash cycle
To have this feature in your model seems to be excellent.
But few drawbacks will make you think about this, such as increasing the wash time, wasting extra water, and raising the electricity cost.
Touchpads:
It is another intriguing feature that offers you a touch control panel with various advanced options.
However, it has no impact on the washing machine's efficiency. So, it is entirely in your preference, but it will cost extra money.
Wi-Fi Connectivity
To control a washer with your fingertips is fascinating. It allows you complete control of the laundry via smartphones or a computer.
Again it does not impact the performance, but you will have to pay an additional fee to use this feature.
---
Washing Machine Safety Tips
To keep our clothes looking clean and new, we all do laundry at least twice a week at home. So, it is crucial to be aware of all safety measures to avoid any risk.
These precautions not only protect you and your family from harm, but they also make the washer last longer.
We've put together a list of safety tips to help you manage the appliance and avoid any mishaps.
1) Check the Power Supply
After finishing the laundry, make sure the appliance is not connected to an extension cord.
In case if your washing machine's plug or power cord is impaired, call a service center right away to get it repaired to prevent fire hazards.
2) Examine the Pockets of the Clothing
Before putting your clothes in the washing machine, make sure that the pockets are completely empty.
Hard items, such as screws, nails, coins, safety pins, stones, and rivets, can damage the equipment.
3) Keep the Door Closed
If you are using a front load washer, keep the door shut at all times. Children or pets may likely get into the washer while playing.
They could end up damaging the equipment or injuring themselves.
4) Do Not Overload
When the washer is overloaded, it puts pressure on the engine, causing it to overheat. So, if you have a large laundry load, always use the heavy load rinse feature on the washer.
5) Cleaning of Lint Filter
To clean the lint filter, you need to detach it from the washing machine.
In order to run your appliance efficiently, you must clean it regularly to prevent lint from clogging the water pipes.
6) Excessive detergent should be avoided:
There is a common misconception prevail that using a lot of detergents can clean your clothing well.
Putting a load of dirty, greasy clothes in the washer with a stack of detergent isn't always the right solution.
7) Contact a Professional For Repair
If it breaks down, do not try to repair the washing machine on your own because it requires substantial experience to fix these issues.
So, it is essential to contact a service center and request a skilled repair person to fix the problem as soon as possible.
---
Frequently Asked Questions
What brand of washing machine is the most reliable?
The most reliable brands of washing machines are Samsung and LG.
According to some research, less than 8% of the sales of these brands required a service. Moreover, these brands are easy to repair and maintain.
Which brand is best for front-load washing machines?
Followings are the best brands for the front load washing machines:
Whirlpool
LG
Samsung
GE
Which washing machine is good, LG or Whirlpool?
LG is a more reliable option than Whirlpool.
However, both of the brands are the most reliable and offer high-quality home appliances. It is difficult to tell which one is better because both have their distinct features and qualities.
So, when choosing between these two, check their models and select the one that suits your requirements perfectly.
What type of washer cleans clothes the best?
There are two types of washers available in the market: the top load and the front load.
Front-loaders are more expensive than top loaders. They offer you a quality wash cycle while being energy and water-efficient. On the contrary, top loaders have a quick wash time and best in handling heavy loads.
Hence, you can buy any as both of them are good at cleaning. But top loader is less expensive when it comes to repair and maintenance.
Do I need an extended warranty on my washing machine?
In case you are unfamiliar with simple repairs, you might want to consider getting an extended warranty. Before buying an extended warranty, ensure that you have fully used the free warranty offer.
What washing machine brand lasts the longest?
Despite the fact that there are many trustworthy brands available, Speed Queen received the most votes from users as the most reliable brand on the market. Their washers are simple in appearance, but they can last for up to 25 years.
Final Words
Washing machines are one of the most significant household appliances that have enriched our lives in various ways.
It has also made it easier for us to do laundry at home. However, with a flawed model, this task will become arduous. So, choosing the right brand is imperative to reduce your laundry efforts at home.
That's why we have enlightened the worst washing machine brands to avoid on the market to prevent you from a lousy selection of the brand.
Whirlpool, Summit, Equator, Danby, and Deco have all launched several substandard washer models in the market.