Whether front-loader or top-loader washing machines, people love to explore new technologies for better performance.
That is why leading companies are giving their best innovative range in each category to bring better but cost-effective pieces.
As per the research and feedback of consumers, LG washing machines are very reliable and remove stains efficiently.
Likewise, LG has introduced its Twin Wash washing machines. If you want to know about these amazing, fantastic other traditional ones, read this complete buying guide that covers every point from scratch to give you detailed LG washing machine reviews for purposeful shopping.
Related:
Overview of LG Washing Machines – Overall Performance
You must have experienced LG's one product in your life. So, we are sure that you are aware of its high-quality performing gadgets.
Similarly, their washing machines are worth trying because of their unlimited quality features. It ensures clothes clean most smoothly, from eco-hybrid technology to the Turbo wash technique.
It fastens the cleaning process because of its high-performing rotators that work opposite and complete the cleaning and rinsing task within 39 minutes.
In addition, the turbo drum tub and pulsator scrub spin ensure that each particle of the dirt gets away from the fabric.
However, its drum's durability is tricky in some models. Otherwise, these cleaning technologies combine to make unbeatable washing machines.
Distinctive Types of LG Washing Machines:
LG has always made its mark because of its unique differentiating technology from others and some brilliant designs than its competitive ones.
Likewise, LG offers traditional front load machines and other types of washers. But LG has also introduced its distinctive design of this cleaning machine that is different and performs more efficiently.
1. Front-Loader Washing Machine | Traditional Design
You will find this design among all leading brands that offer maximum cleaning space and powerful washing that ensures stain-removal activity while leaving the clothes smooth and has minimum wrinkles.
Some of its splendid features are:
Allergen-free cleaning
Wrinkle care option available on 6 cycles
Fast cleaning with Turbo wash
2. Top-Loader Washing Machine | Conventional Design
These machines are known for their fast cleaning action by using smart inverter motors. It will do the task quickly as compared to their ordinary devices.
Also, it is one of the designs that offer maximum drum capacity of bearing the load of 24 kg.
Other variable features include:
A wide range of loading capacity
Good color options
Standby Power save mode
3. TWIN-Wash Washing Machine | Smart Design
It is the epitome of quality and class at the same time. You will see classic color washing machines with two compartments as the name indicates "TWINS."
The large upper compartment acts as the traditional loader drum for cleaning and washing. The lower smaller container performs the same functions.
But it is designed for delicate and conscious cleaning of fragile fabric or some smaller garments.
Well, some other prominent features are;
7-9.5 Kg capacity
Different fast colors
Double cleaning saves time
4. Dryers | Functional Design
People are always looking for a good dyer after finding a suitable washing machine model for themselves.
You will see these highly efficient dryers working in correspondence with washing machines to make the nest cleaning experience.
Steam generator
Dual filter
Auto-cleaning condenser
Smart Cleaning Features of LG Washers:
LG uses some unique yet innovative techniques for efficient cleaning in their washing machines. Likewise, some unique drying technologies will enhance the drying process.
These gadgets will ensure smart quality working that saves energy, time, and clothes.
We have highlighted its cleaning technologies to give you a complete insight into these machines.
1. Artificial Intelligence Direct Drive System-The AI DD™
It is the system introduced by LG that will perform the following three functions simultaneously.
Weight detection of the clothes
Determine the fabric delicacy
Decides the adequate motion for proper cleaning
2. TurboWash™ | Multi Nozzels
The Turbo Wash system ensures that each fabric will get the detergent and water efficiently within these multi-dimensional nozzles.
It will save time and perform the cleaning all over the material.
3. LG Steam+™ Technology | Steam Generators
LG uses this technology in 2-in-1 washing machines for cleaning and rinsing and dryers for fast drying.
Also, this technology keeps the dirt and allergens away from the clothes and brings out pollutants-free clothes.
4. TurboWash3D™ Technology:
WaveForce™ and JetSpray combine to bring this powerful cleaning and rinsing technique into existence.
5. Powerful Waterfall and Jet Sprays:
These high-pressure water sprays will create a certain momentum for the proper cleaning of the fabric from each side.
6. Smart ThinQ™ Technology | Controls Automation
It lets you keep track of cycles and pre-set the cycles, control the ongoing cycles, proper management of temperature controls, and all the necessary authority from a single touch on your smartphone.
7. LG Drying Technology in Dryers:
The dryers of LG are also available in a wide range of capacities and colors. You will see minor differing points in individual models.
But this one robust drying technology is constant in all of its dryers.
8. TrueSteam™ | Steam Generators
It reaches each fabric corner to dry out the last water droplet in your clothes. The best part is that it will keep your clothes dry very quickly, thus saving time.
Also, it will not affect the fabric texture and colors due to controlled drying. It will also ensure your clothes are free from dust, allergens, and microbes.
Our Views on LG Washing Machines | Pros & Cons
After several hours of searching, we have listed the advantages and disadvantages of having these washing machines.
But before you give it a read, make sure to do your little research, as every buyer has their own unique experience.
PROS & CONS of LG Washers
Here you can read to know more about common LG washing Machine Problems
Reliability of LG Washing Machines:
Although LG is a big name that needs no assurance for its reliability, if you wonder about its washing machines range, we are here to assure you about its quality and durability by mentioning specific facts.
Firstly, it has BAF certification for allergen-free cleaning, which does the job well and adds value to your health.
It has also gained a lot of votes for the 'Most Reliable Clothes Dryer Brand' because of its unique features and designs.
Moreover, its dual inverter heat pump dryer owns the first TUV Rheinland Green Product certification as the world's first dryer to maintain a sustainable environment.
Best LG Washing Machines | 4 Top-Rated Picks for You
LG is hard to beat when it comes to inventions and performance. That is why their washing machines are embellished with such incredible awards.
However, you will not find many options in each design; you might want to know the best picks from each of these designs.
So, to cut the chase for you, we have narrowed down these 4 best products for you.
1. LG Front-Loader Washing Machine- F4V9VCP2E Review
Winning Features:
Stylish black steel color
4 directional cleaning
Spacious and durable
Reduced cycle times
Energy-efficient cycling process
Bigger drum capacity
Beautiful tempered glass door
Easy to operate
It is our first pick for the best LG washing machine because of many reasons. You can use these 2-in-1 machines for cleaning and drying purpose.
Also, its vast capacity drum and robust strain remover lifter make the best pick for households for efficient cleaning.
It is an excellent-looking product, with a sleek, modern design that looks amazing in any home. It's also very durable too – it has a sturdy steel body that'll look great for years.
It's designed to be more energy efficient too, which means it'll reduce your energy costs as well. It uses a powerful motor and a high-capacity drum that's made from tempered glass, which allows for a much larger capacity than other washing machines.
The LG Front-Loader Washing Machine is also very easy to use. There are several different settings available, so you can choose the perfect cycle for whatever you are doing.
Overall, this excellent front loader does a great job and is worth every penny.
2. LG Top-loader Washing Machine- T2472EFHSTL Review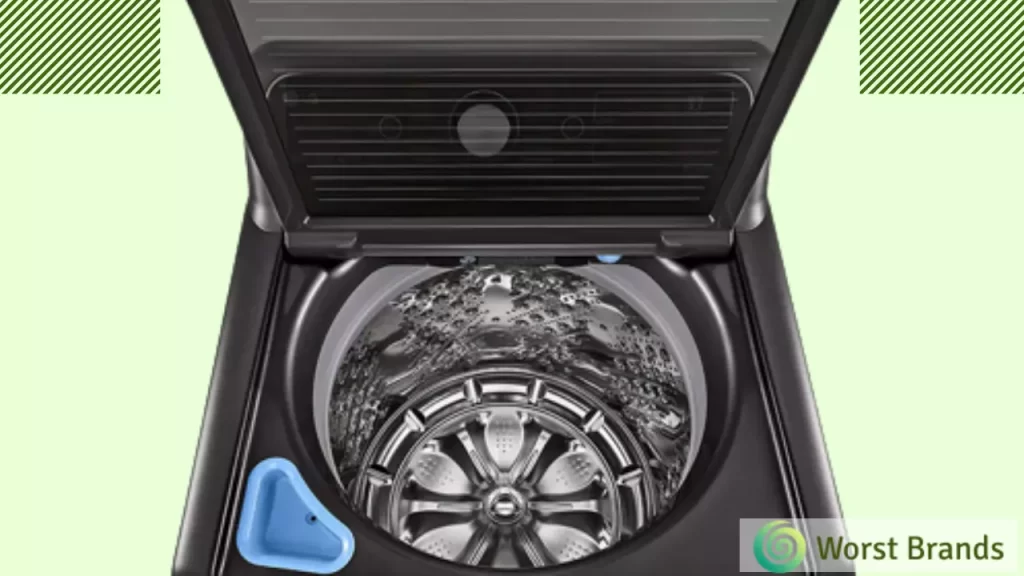 Winning Features:
24 kg load capacity
Scrub-spin cleaning
Opposite direction water flow
Smart setting options
27% energy saving
Auto stain removal
Smart ThinQ technology
Budget-friendly choice
LG offers unique cleaning technology that makes this top-loader a very efficient and in-demand household cleaning machine. It combines the Turbo drum technology with Turbo Wash. These techniques ensure the cleaning from all directions in the best way possible.
This LG Top-loader Washing Machine has an automatic stain removal function that helps remove dirt, germs, and bacteria from fabrics automatically. It also has an auto-detergent function that can help you save on water and energy.
This machine will save you money on water and electricity bills while still getting your clothes clean.
LG has installed a scrub-spin cleaning system in this washing machine for better cleaning performance. The system uses a revolving drum that spins at high speeds to loosen dirt and grime stuck on your clothes.
This top-loading washing machine has a 24 kg load capacity, which is perfect for those with large families. This means you can easily fit more clothes into this washer than other machines with smaller capacities.
It is a smart choice because it offers 27% energy savings and is eco-friendly too. This is also the first washing machine from LG to use a water-saving feature called Smart ThinQ technology.
So if you're looking for a high-performance, long-lasting washing machine, then buy the LG Top-loader Washing Machine.
3. LG's TWIN Wash Mini Washing Machine- F8K5XNK9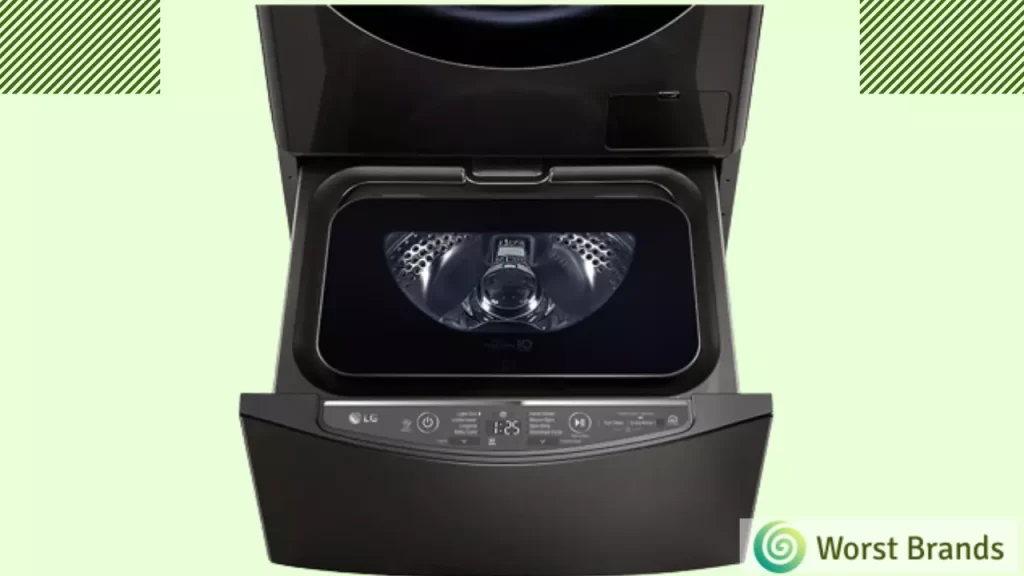 Winning Features:
Best for baby wears
Sensible delicate cleaning
Fast and efficient rinsing
Touch control panel
Smart diagnosing feature
10 years motor warranty
Elegant black machine
Reliable for daily use
Despite its smaller capacity than other designs, it is one of the most-selling lines of LG washing machines. Because it's efficient cleaning in two sections will compensate for the daily cleaning chore in the best way possible.
This washing machine has a lot of features that I didn't know existed in a washing machine. I love it. It has a touch panel, so you can operate it easily with one hand.
It has a sensor to detect the fabric, so you don't need to wash baby clothes separately, and the sensitive sensor will automatically detect the fabrics of the baby clothes.
It also has a sensor that automatically detects the clothes' size, so you don't have to add detergent for different sizes of clothes.
It has a smart diagnosing feature, and it will give you the diagnosis report in 10 minutes. The machine will show the problems in real-time. It's really helpful if you don't know how to fix the problem.
It's suitable for daily use, so I would definitely recommend it to other people.
4. LG Dryers- RC10V7WDK Review
Winning Features:
ECO hybrid technology
Tumble dry facility
It kills 99.99% of bacteria
Powerful yet fast drying
Smooth cleaning action
Dual filter
Smartphone control
Touch control panel
This dryer is one of the best dryers I have used. It has an eco-friendly, hybrid technology that has many benefits, including less power consumption, low noise, and a very smooth drying action.
The tumble dry facility can dry clothes at a temperature of up to 190 degrees. It has a great drying performance, and the dual filter system ensures that the dryer doesn't get clogged or cause any damage to your laundry.
The touch control panel makes it easy to operate the dryer from anywhere, and you can set the time you want your clothes to be dried. The dryer also has a smartphone control option, so you can remotely check if your clothes are ready.
This dryer is the ultimate choice if you want to get rid of the drying hassle. It will lessen the burden of prolonged drying cycles because of its heat pump technology.
Moreover, the customizable designs can fit anywhere in your laundry area.
Will You Prefer 2-In-1 LG Machines Or Buy It Separately?
Some buyers like to have their cleaning and drying machines separate identities, while others prefer to have both in one. Whatever the choice is, the quality and performance are amazingly the same.
However, we wish to see more options in their range as there are very few models in each design category. But less is more if you have a good quality piece.
Conclusion
I hope this LG washing machine review has given you enough information to help you make the right choice.
Let us know your preferable pick for these LG washing machines?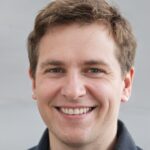 Steven Settles is a professional content writer with over 7 years of experience in writing for different niches, including brand reviews, technology, fitness, and more.
Currently, he is working as a content writer for WorstBrands, where he provides insightful reviews of different products, including home appliances, outdoor gear, fashion, and kitchen products. In his free time, Steven enjoys traveling and exploring new places.