It is a well-known fact that olive oil has somehow wholly replaced the need for traditional oils, all thanks to its number of uses and health benefits.
But choosing the ideal one out of several olive oils present there can be cumbersome at times.so, we sorted this problem out for you. Here is a brief review of in-demand Cobram Estate Olive Oil.
In this Cobram Estate Olive Oil Review, we'll take a look at the oil itself and find if the brand is worth your money.
Cobram Estate Olive Oil Review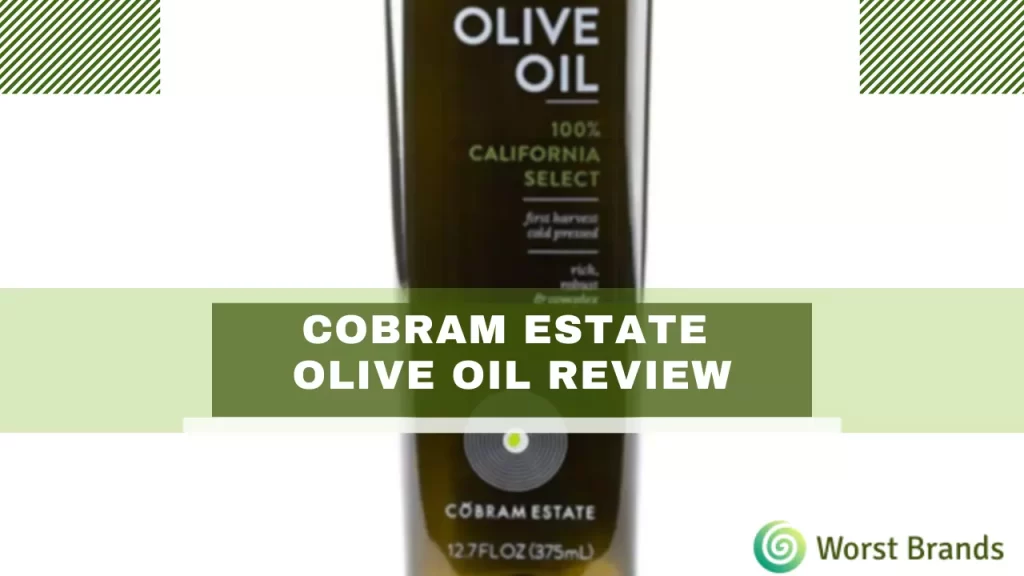 So, does it live up to the hype? Let's see what we can find out.
About Cobram Estate:
Cobram is one of the entrepreneurial successes that we hear about nowadays. Founded back in 1998 by two Australian schoolmates, Rob and Paul, the company has managed to compete against the market giants and holds a place for itself in the olive oil industry.
As a result, it has a market share of over 30% in Australia's olive oil market. The brand currently sells a wide range of olive oils.
So, without further ado, let's start the review:
Australia Select Extra Virgin Olive Oil:
First, we have the classic extra virgin olive oil. Made from the superior olives found at the banks of the Murray River in Australia, this olive oil is made from the first cold press to ensure excellent quality and freshness.
It has a superb taste, a delicate combination of grassy notes and tomatoes. A slightly bitter taste and a creamy texture at the end add value to that tomatoey flavor.
Salad dressings work nicely with olive oil. Kinds of pasta and fish are another good option to pair it with. It is good for frying and baking because of its high smoke point. Your part-time cravings also have a remedy here.
Drizzle it over your bread, and it's ready to be enjoyed. When it comes to nutritional content, it is packed with energy. 120g of calories and 14g of fats per tablespoon can be seen on the bottle.
The flavor-packed antioxidants help the body fight against infections, aging, and weight maintenance. Extra virgin olive oil has also proven skin and hair benefits. It has an acidity level of less than 0.5%, making it suitable for use.
This is one of their flagship olive oils and has managed to win a lot of national and international awards. Pop—up pourer spot makes it easy to pour over your meat.
As far as its price is concerned, it is pretty expensive compared to other brands offering similar quantities. As far as its accessibility is concerned, it can be easily found at your nearest Walmart, or you can order it online from their site and Amazon as well.
Overall, it is a great product to use.
California Select Extra Virgin Olive:
Unlike the Australian select, this one is made using the olives in the Sacramento Valley in California. The first cold press of olives can be seen here, too, to maintain the freshness and quality olive oil.
The first impression is a fresh grass-cut aroma. It has a very dense, robust, rich taste; a delicate balance of bitter and peppery flavor.
This EVOO is perfect for sauteing and roasting veggies. It is perfect for frying and roasting due to its high smoke point. The nutritional content is almost the same.
It comes with an acidity level of less than 0.5% and it is pretty versatile and unique in its flavor. The significant difference between the two is that while the Australian select is mild and fruity, the Californian select is more bitter and pungent.
This EVOO has the same health benefits described earlier and comes with the same pop-up pourer spout to avoid spillage. The price again was a little expensive.
Related:
Conclusion:
Most of the people appreciated the excellent quality of olive oil. The major disappointment was its expensive price which almost everyone talked about. But as they say, no good comes without paying its cost.
So, if you want to buy healthy, you have to pay for it. Anyways, the pop-up pourer spot was another good thing to be mentioned. Overall, it was a pleasant experience using their products.
I hope this article helped you know the pros and cons of Cobram Estate Extra Virgin Olive Oil.