OGX is one of those brands that gathered a lot of hype in 2022 through social media, and literally, everyone was buying one of OGX shampoos.
So, I played along and ordered one for myself, and if you haven't used the shampoo yet, my review will be very helpful for you.
OGX Shampoo Review
I used this shampoo for about 4 months regularly just so I could write a detailed OGX shampoo review, and here it is.
So, keep reading if you want to find out whether OGX shampoo is worth it or not.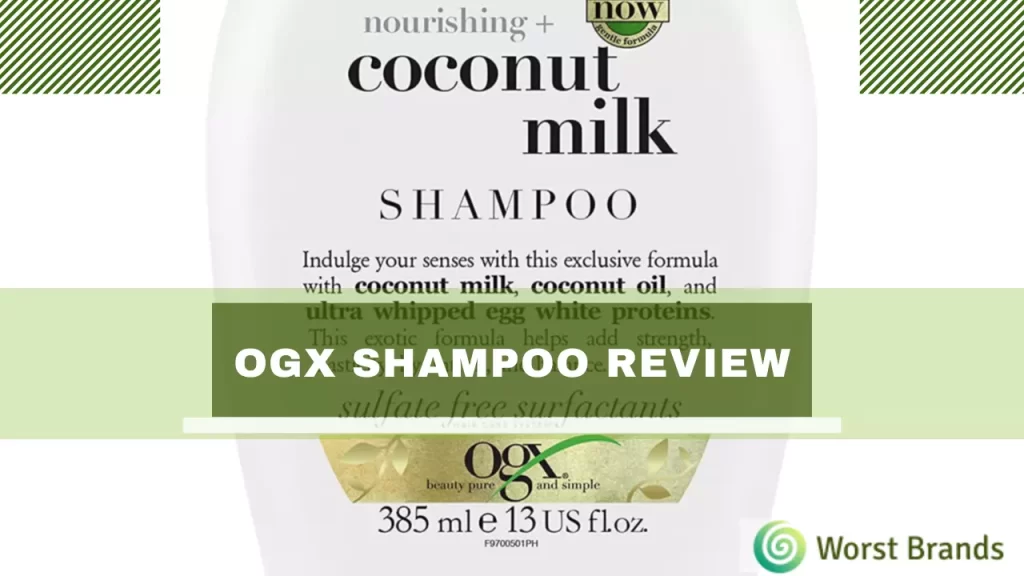 OGX is a haircare brand that is leading the industry these days. All the shampoos of this brand are specifically designed to cure different hair problems.
Also, OGX shampoo is usually made with natural ingredients.
These shampoos don't use any harsh chemicals that might damage your hair, like sulfate and parabens.
You can find an OGX shampoo for every hair type, whether you have 4c hair or thin and silky ones.
Though OGX shampoos use silicone, it does not damage the hair as much as sulfates.
Another thing that I don't appreciate about OGX shampoos is that they are not vegan.
At a time when all the brands are moving towards ethically sourced ingredients, OGX is getting albumen and whey from animals.
Moreover, the OGX brand is not cruelty-free, so they might be testing their products on animals, and we cannot really know anything about it for sure.
However, the brand uses exotic ingredients in its shampoos to make them gentle and perfect for all hair types.
You can consider OGX shampoo as a treatment when combined with a conditioner and a hair mask.
That is because these shampoos are very effective, and their ingredients are also of high-quality and great caliber.
Is OGX Shampoo Actually Good For Your Hair?
Yes, OGX shampoo is really good for your hair, and it personally made my hair very silky, soft, and clean.
Most shampoos that don't contain sulfate fail to clean the buildup on the hair, but OGX cleans your hair thoroughly and is sulfate-free.
Your hair will be much more manageable after using the OGX shampoo, mainly because the ingredients are very moisturizing.
No matter what type of OGX shampoo you are using, you will find some hydrating ingredients in it for sure. And that is why people with dry and brittle hair love this shampoo so much.
Whether you are dealing with dandruff or a dry scalp, you will find an OGX shampoo to solve all such problems.
The ingredients of this shampoo also make it a very decent and gentle shampoo if we ignore the silicone part.
However, the presence of silicone in OGX shampoos does make it a deal-breaker.
But if you are okay with moving past the silicone thing, this would be the perfect shampoo for you.
Moreover, you can also use OGX shampoo on your damaged and color-treated hair because it does not pose any noticeable harm to them.
For me, it worked better than any other keratin shampoo, so I am definitely going to repurchase it.
Is OGX Shampoo Safe?
Yes, OGX shampoo is safe overall other than the presence of silicones in the shampoos.
There is another thing that makes this shampoo unsafe, and that is the addition of DMDM in it.
A whole "cancel OGX" movement went on for several days on Instagram because OGX used to add DMDM to their haircare products.
You can also find the dmdm part in the OGX shampoo review online.
DMDM is a preservative that makes your products last longer by releasing formaldehyde. It is also linked with cancer and other deadly diseases.
So, people were basically angry about how OGX could use an ingredient that could cause so many diseases.
So, in September of 2021, OGX apologized and announced they would no longer use DMDM.
Even though it is a great initiative by their side, we still see a lot of shampoos that have DMDM because they are manufactured before September.
So, OGX is safe and unsafe to some extent. When I purchased the shampoo, I was unaware of the dmdm thing.
But, whenever you buy an OGX shampoo, ensure it is not manufactured before September; otherwise, it will have DMDM. One such shampoo won't be safe to use.
Also Read:
Is OGX Shampoo Good For Curly Hair?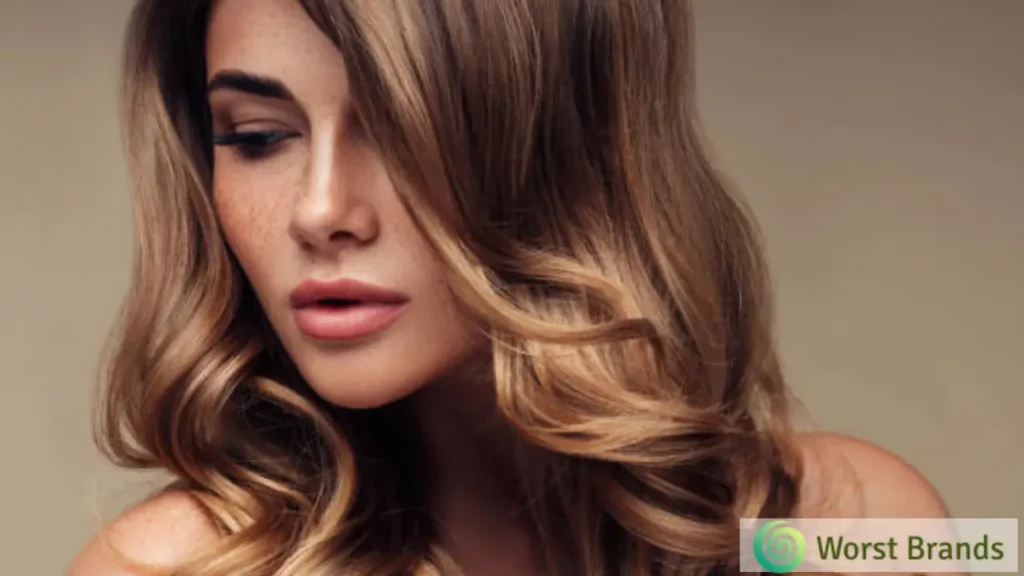 No, I would not recommend OGX shampoo for curly hair, mainly because it has silicones that are not safe for people with curly hair.
And it does not even have one but two different types of silicones.
Both of which are considered harmful for girls with curly hair. The reason why these silicones are not adored is that they cause buildup in curly hair.
Though these sulfates make your curls softer, they coat your strands with silicones.
These silicones will continue to build up, and you can only get rid of them by using a shampoo with sulfate.
But guess what? The OGX shampoo made for curly hair does not have sulfate, so how are we even supposed to wash all that extra buildup off of us?
If you have been using the OGX shampoo for a long while and it is working for you, then keep using it.
It is unnecessary that what works for you has to work for other people, so use whatever you think is making your hair better.
Overall, I would not say that OGX is a really worst shampoo, but just not the one that curly-haired people would want.
I have slightly wavy hair, and the shampoo worked perfectly for me, so you cannot really tell until you try it yourself.
Does OGX Shampoo Help With Hair fall?
Yes, OGX has a shampoo line specifically made to reduce hair fall, which does help a lot.
Many people have taken over the internet and praised OGX for making shampoos that legitimately prevent or at least reduce hair fall.
I did not see any difference in my hair fall, but many people on the internet love the OGX anti-breakage line because of its hair fall fighting powers.
The ingredients are also responsible for making this line successful against hair fall.
This shampoo contains keratin oil and argan oil. Both of these are responsible for strengthening your strands.
You can even try the OGX hair growth shampoos because many people are claiming that they work like magic.
Moreover, the anti-breakage line of OGX shampoos does not have ingredients that can strip your hair away from moisture, so these shampoos are safe to use.
I would highly recommend this line if you constantly struggle with hair fall.
Does OGX Shampoo Provide Volume?
One of the biggest problems of people with thin hair is that they don't have any volume. It is the reason why they cannot even make any hairstyles properly.
OGX launched a shampoo named OGX biotin and collagen, targeted at people with thin hair.
The shampoo claims to bring your dead strands back to life and make them thicker. So, people who don't want thin hair anymore can buy OGX shampoo.
But I don't think you can actually get thick hair within a few washes just by using shampoo.
You would need to pair the shampoo with OGX shampoo and hair mask from the same line.
Flat hair is not the dream of every girl, and OGX collagen and biotin add life to flat hair, so yes, I highly recommend it.
Though this shampoo also contains several chemicals that should not be present, I still like the end results.
Moreover, it makes your hair look thicker, so it is a winner.
The thing that I do not like about OGX shampoo at all is that it is not vegan and not even cruelty-free.
So, if there would be a reason for me not buying their shampoo, it would either be the silicones or these two reasons.
It is high time now that OGX realizes and changes its policies towards its ingredients because people like to see more ethically sourced products.
If you are interested to read more reviews on shampoo brands, go to the following:
OGX Shampoo Ingredients
Here is the list of OGX Shampoo ingredients: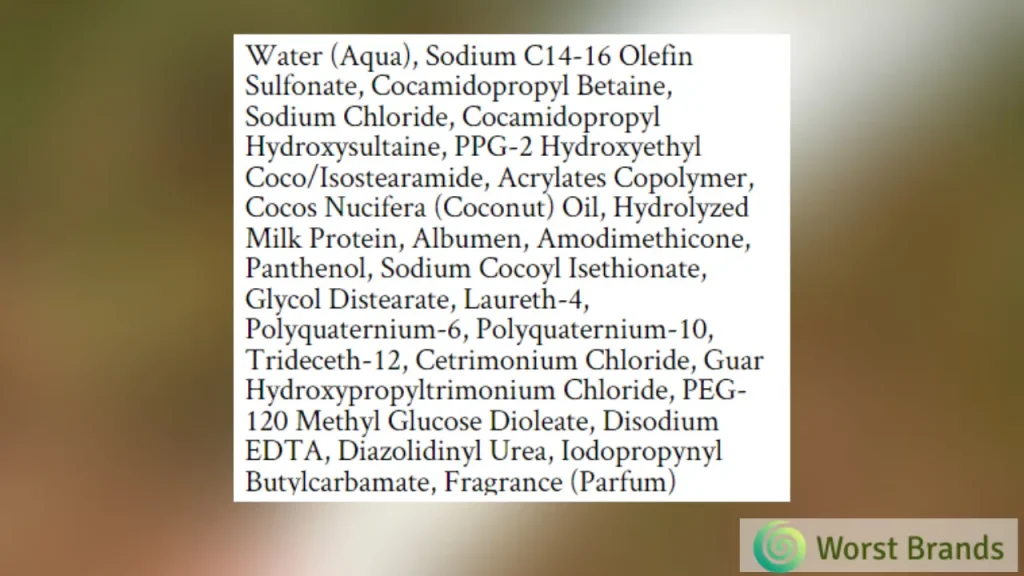 Is OGX Shampoo Sulfate Free?
Yes, most of the OGX Shampoos are sulftate-free and safe to use.
Which OGX Shampoo Should You Use
Here is a detailed guide that which OGX Shampoo you should use:
Final Thoughts on OGX Shampoo
I hope this article was helpful for you and that you liked my OGX shampoo review.
Just a little reminder that do not buy OGX shampoo manufactured before September. Also, consider avoiding this shampoo altogether if you have curls.
So overall, I like this shampoo, but it does have a few shortcomings. Make sure you give this shampoo a go and find out whether it is the right one for you.
Adios from our side!
Customer Reviews
How do I know when shampoo
was manufactured,recently bought
one, but can't see any date on it?
Smells good, Made hair shiny
I started using OGX shampoo last week and I am getting good results. It smells good and made my hair shiny and good looking.
Customer Ratings