WorstBrands.com is a participant in the Amazon Services LLC Associates Program, an affiliate advertising program designed to provide a means for sites to earn advertising fees by advertising and linking to Amazon.com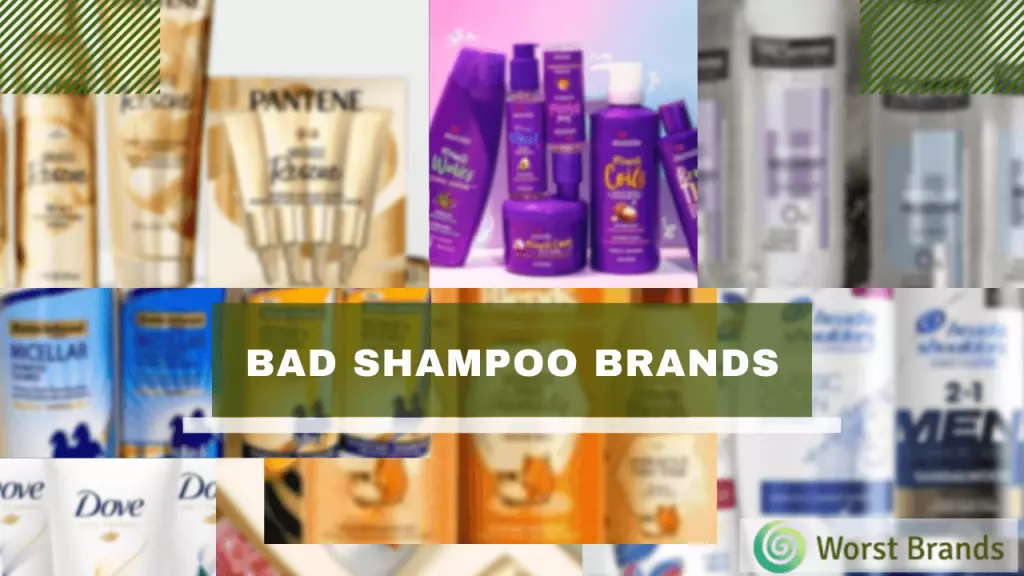 Who doesn't love long, silky, and soft hair? The truth is we all do. And we think that is why whenever we see a shampoo ad on television, we run to the online stores and buy that shampoo in the hope of achieving that same beautiful hair that the model in the ad had.
Do we even think twice before buying it? No, we don't! That is why later, we are sitting on our couch crying out for the damage caused.
One thing that you should know is that DO NOT believe those ads. They are nothing but true because the only purpose of the ad is to persuade people to buy that product.
There are many shampoos on the market that are REALLY harmful to your hair. And it is essential to be aware of those.
Based on our research, Pantene, Head & Shoulders, TRESemme, Aussie, Mane 'n Tail, Dove, Garnier, Suave, Matrix, and Herbal Essence are bad shampoo brands.
List of 10 Worst Shampoo Brands That Are Bad for Your Hair
Many people use these brands, but the fun fact is that they don't even know that they are harming their hair by using these shampoos.
| S.No. | Shampoo Brand | Common Complaints |
| --- | --- | --- |
| 1 | Pantene | Contains sulfate and silicon, coats hair with wax or plastic, damages hair |
| 2 | Head & Shoulders | Increases dandruff, contains harmful ingredients, dulls and brittles hair |
| 3 | TRESemmé | Coats hair with silicone and plastics, lawsuit due to hair loss |
| 4 | Aussie | Contains silicon, parabens linked to breast cancer, strong smell |
| 5 | Mane 'n Tail | Made for horses, high keratin content dries and frizzes hair |
| 6 | Dove | Contains harmful chemicals, leaves buildup, tangles hair |
| 7 | Garnier Fructis | Contains SLS sulfates, strong artificial fruity smell, causes dandruff |
| 8 | Suave | Contains sulfate and DMDM Hydantoin, dries and frizzes hair, strips natural oils |
| 9 | Matrix | Unbearable smell, strips color from treated hair, doesn't add volume |
| 10 | Herbal Essence | Contains a carcinogenic chemical, brittles and dries hair |
So, now without further ado, let's jump straight onto the first shampoo brand.
Make sure to check out the best shampoo brands in 2023 after the list of the worst ones. I have handpicked the seven best shampoo brands based on my personal experience and the users' insights and reviews.
1. Pantene
Pantene is one of the most famous shampoo brands. You can buy it easily because it is available almost everywhere.
And, people are actually buying it because all they see are those beautiful ads on TV. They don't realize that those models actually wear extensions, and there is a whole other story behind their hair looking so good. Pantene has nothing to do with it.
Let's be honest here. While buying shampoo, we rarely look at the ingredients. And, my friend, that is where we are wrong.
Pantene contains a huge amount of sulfate and silicon. Instead of actually moisturizing the hair, it just coats it with wax or plastic to make it look shiny, smooth, and soft.
Thus, it is proved that Pantene does nothing but damage hair, which is a solid reason to put this on our list of 10 of the worst shampoo brands.
For sulfate-free shampoo, You can surely check out the price and review for Redken All Soft Shampoo. It is worth buying!
2. Head & Shoulders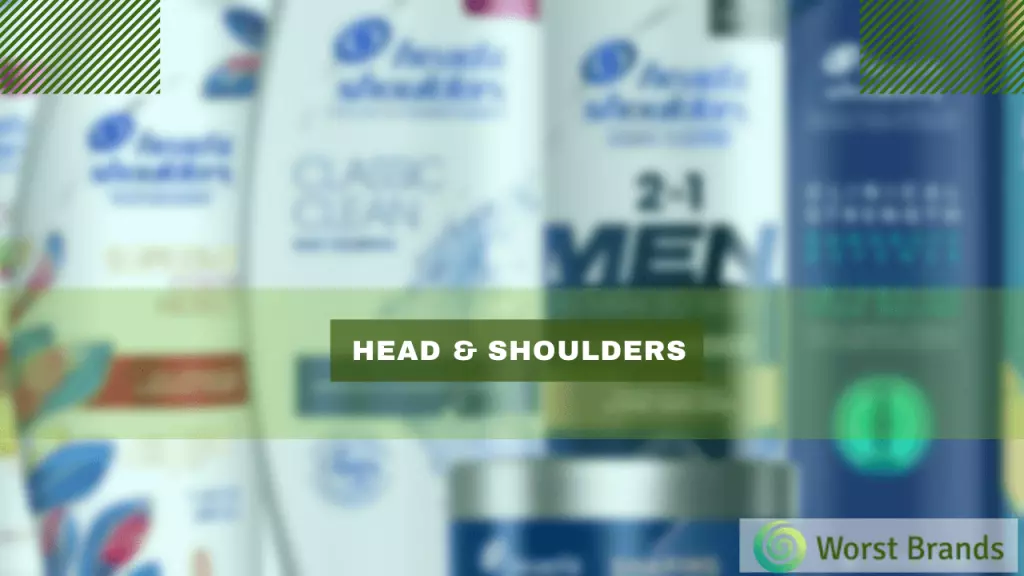 "Head & Shoulders"! Who doesn't know about this shampoo brand? It is one of the most famous brands out there that claims to get rid of dandruff.
But, this is not what you'll hear if you ask someone who has used this shampoo.
Try it out! Ask anyone whether they have used Head & Shoulders or not. And then be ready to hear a never-ending rant.
Although this shampoo claims to end your dandruff problem, what it does is the complete opposite of it, which is to increase dandruff.
Even if you don't have dandruff at all, this magical shampoo will bring you so much dandruff that you have to find another anti-dandruff shampoo to get rid of it.
Besides, this shampoo has many ingredients that are harmful to hair, yet another reason to be on our list of 10 bad, sorry, not bad; it is actually one of the bad shampoo brands you'll ever find.
If you want your hair to get duller and brittle, you should buy this shampoo. Otherwise, you better stay away from it if you love your hair.
Now, let's have a look at the next worst shampoo brand.
3. TRESemmé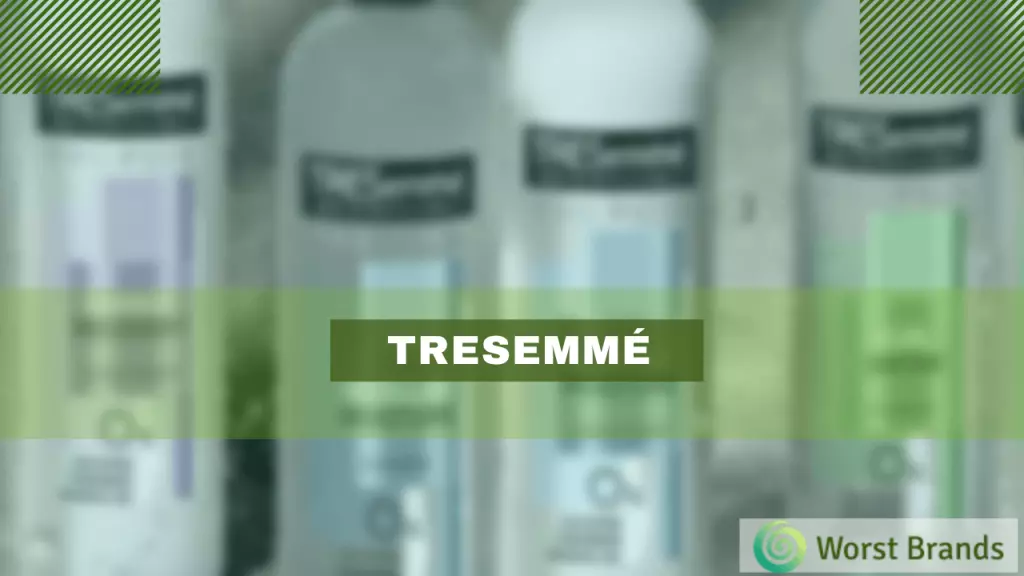 Okay, so the next brand here is literally one of the worst shampoo brands out there. And that brand, ladies and gentlemen, is "TRESemmé." It won't be wrong to say that TRESemmé has become a household name.
A lot of people use TRESemmé because it makes their hair soft and silky, and that is what everyone desires.
But, the main problem here is the WAY it makes the hair soft and silky by coating it with silicone and plastics.
The real question is, does it actually repair the hair internally and make it soft? Well, the answer is quite obvious, and that is a big "NO".
Another reason why we chose this brand as the worst is that TRESemmé recently went through a lawsuit because a user literally started losing their hair after using a particular product of TRESemmé.
We think all the reasons mentioned above are solid enough to put this brand on our list of bad shampoo brands.
4. Aussie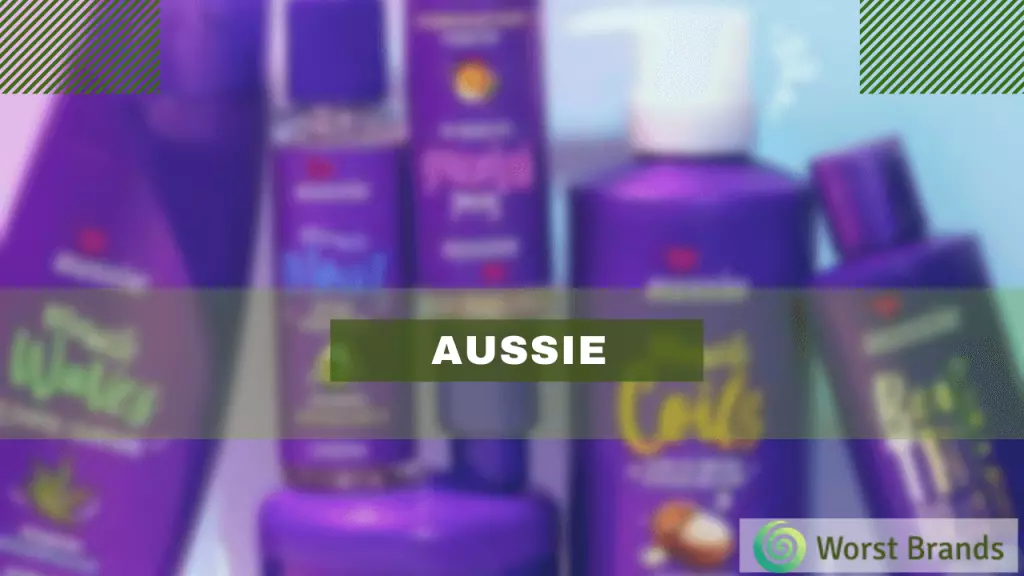 The next brand that we think is really bad for your hair is Aussie. What clicked in your mind when you first heard about Aussie? "The Miracle 3-minute treatment", Isn't it?
This treatment by Aussie is quite familiar among hair care enthusiasts because it makes the hair soft very quickly.
However, that softness is not real because it contains silicon in huge quantities. It builds upon the hair so much that you're going to smell it from your even if it's been the day you have washed your hair.
Aussie shampoos have parabens that are actually linked with breast cancer. So, surely this is not a brand of our recommendation.
NEXXUS shampoo is my personal favorite because it is Silicone and paraben-free. Check out the customer reviews before buying.
5. Mane 'n Tail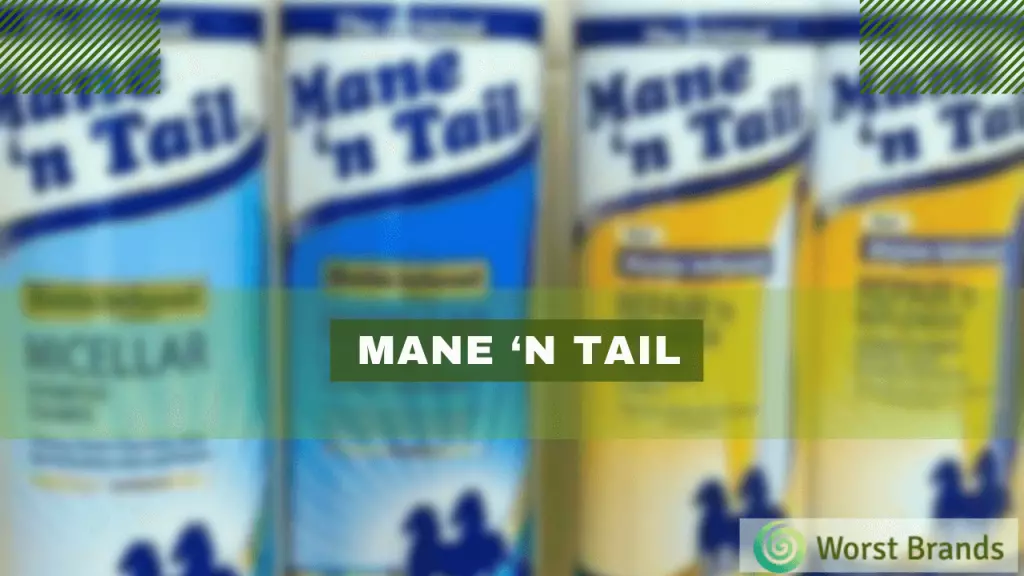 "Mane n' Tail" doesn't this name ring a bell? Well, you are right. It is the same shampoo that you might have used for your horses.
But wait! This article is about the worst shampoo brands to avoid for Human hair, right, then? What is a shampoo made specifically for horses doing here?
Relax! We have the answer. Indeed, this shampoo was initially made for horses, but out of nowhere, people started using this shampoo to have those "Ever Flowing Manes".
It is literally one of the craziest things one has done. How can you compare human hair with horses'? We are sure a horse would be completely fine without hair, but will you be fine without it?
Jokes apart! It won't make your hair fall immediately, but it makes your hair extremely dry because it has a very high amount of keratin in it, which will make your hair frizzy and cause dryness.
Why experiment on your hair with animal shampoos when you can have tons of good shampoos on the market that are chemical-free and provide the desired results? Does it make sense? Good!!
6. Dove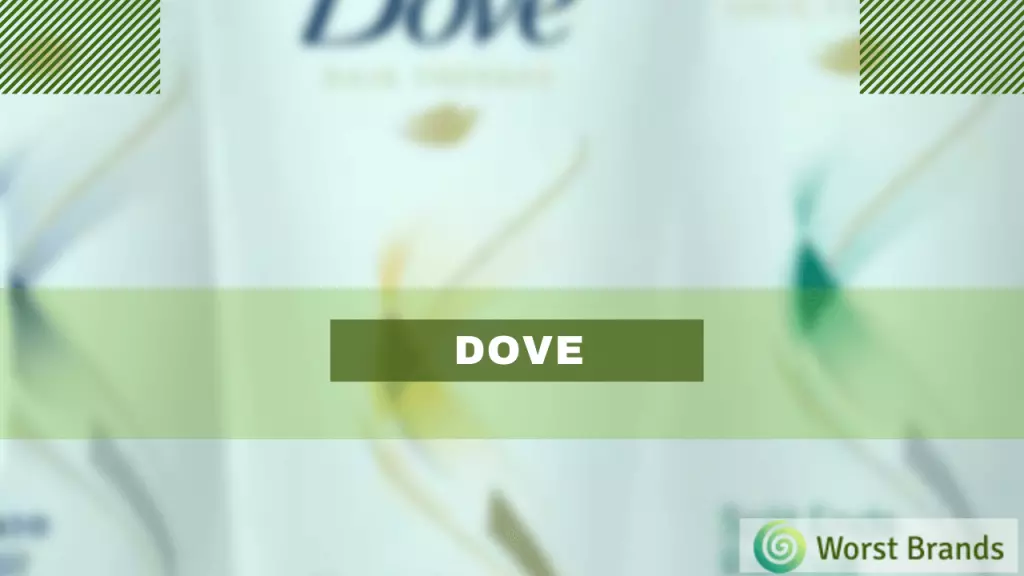 Dove is one of the most famous shampoo brands out there for it claims to provide nourishment which in reality is a pure form of punishment and torture that you would give only to your worst enemy.
It also contains those harmful chemicals such as silicons, parabens, and sulfates.
By using Dove, you will be left with a lot of buildup on your hair, and in the end, all you will have is dry, frizzy hair.
The only good thing about Dove is that it has a very good smell; we are sure that is not why you would buy shampoo.
Moreover, there are a lot of users who have complained about their hair getting really tangled after using it.
So, if you love to spend hours and hours untangling your hair, then this is the shampoo brand you have been looking for.
7. Garnier Fructis
There is no lie to it that we all have used this fruity shampoo at some point in our lives. When the first time we saw the ad on television, we all wanted to buy this shampoo to get shiny and sleek hair.
And one thing is for sure, almost all of us regretted this decision later. Forget shining hair.
Who would want their hair to smell like fruits with such a strong smell? We are sure no one does.
Garnier Fructis contains SLS sulfates, which damage the hair, making it dry and brittle. However, there are a few factors as well that have made people hate this brand.
This shampoo has a powerful "artificial fruity smell." And the worst part is that once you have used this shampoo, it will leave you a lifetime gift, and that is Dandruff.
8. Suave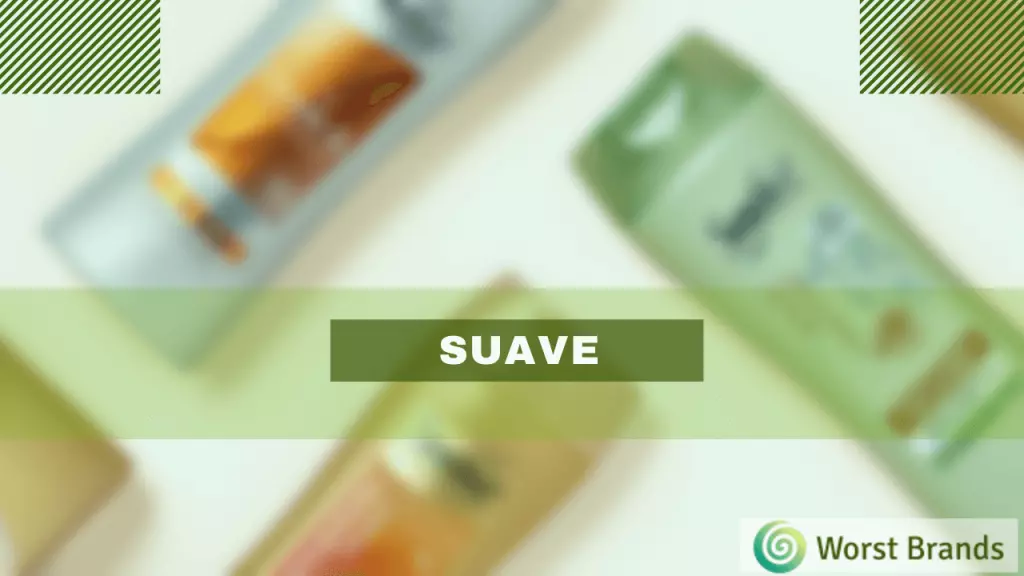 Suave is a brand from one of the most famous consumer goods companies in the whole world, Unilever.
When you first hear about Suave, the first thing that comes to your mind might be Smooth and Silky Hair, right?
But, honestly, that is not what you will get after using it, and that is what we can guarantee. It will make your hair shiny, smooth, and silky but only for a short duration.
Sooner or later, your hair will be nothing but a "Haystack", AND we bet that will be true.
It has a lot of harmful ingredients in it, such as sulfate and DMDM Hydantoin. This shampoo will make you dry and frizzy. It will rip off your hair from its natural oils.
So, if you hate your hair and want to get rid of it, then go ahead and buy this shampoo now. Otherwise, stay a mile away from this shampoo brand.
9. Matrix
The third worst shampoo brand on the list is Matrix. Now, even though Matrix is a little on the expensive side but we can never compare quality with the price.
The saying "All that glitter is not gold" suits me quite well here. Matrix claims to control fizziness and provide volume to the hair.
However, people have different things to say about it. One user said that it has an unbearable smell, and even though it claims to be safe for color-treated hair, it just strips the color of the hair.
No matter how claiming it is, this shampoo doesn't add volume to the hair. Instead, you will end up having more thin and flat hair than you had before.
If that is what you want, then you should definitely buy it.
10. Herbal Essence
The next worst shampoo brand we will tell about is last but not least, "The Herbal Essence." We all know that this claims to be natural, which in reality is not true at all.
Okay, it is true that it doesn't have any sulfates or parabens, just like the other shampoo mentioned above. It does contain a high level of a carcinogenic chemical that is very harmful to your hair.
Also, many users have complained about their hair getting more brittle and dry after using Herbal Essence shampoo.
In fact, a user also said that after using Herbal Essence, she started losing her hair every time she washed it with this shampoo. Here you can read our complete Herbal Essences Shampoo Review.
These reasons are quite enough to consider a brand as one of the bad shampoo brands because these are the exact things we want to avoid, which is why we buy or change a shampoo in the first place. What do you say?
Read: Routine Shampoo Review
Top 7 Reliable Shampoo Brands to Buy
Now that we know about the worst shampoos in the market, I'll help you navigate through some of the top shampoo brands that cater to various hair needs.
1. Davines
Davines OI Shampoo is best for all types of hair. You can check the description, price, and most importantly, the reviews from the users.
Davines offers a wide range of shampoos catering to different hair needs. Their products are infused with natural ingredients like roucou oil, keratin, and amino acids.
I personally love the Davines Oi Shampoo. All hair types may use it, and it makes the hair feel smooth, moisturized, and lustrous.
Additionally, it has a pleasant scent that leaves your hair smelling fresh all day.
2. Olaplex
I must try for people with colored hair. It restores the health of dry, brittle, and broken hair. Check out the Review about Olaplex Shampoo before you buy it.
Olaplex is a brand revered by many stylists and hair experts. If you have color-treated hair, I would recommend the Olaplex No. 4 Bond Maintenance Shampoo.
It restores ties destroyed by coloring and restores the health of dry, brittle, and broken hair. If you color your hair often, this is a shampoo brand to buy.
3. Aveda
It is worth using if you are looking to add volume to your hair while enjoying a refreshing, minty scent. Check out the price and user reviews about Aveda Rosemary Mint Shampoo
Aveda believes in the power of nature. Their shampoos are formulated with natural ingredients and essential oils that cleanse your scalp and provide a therapeutic experience.
The Aveda Rosemary Mint Shampoo is a popular choice for those looking to add volume to their hair while enjoying a refreshing, minty scent.
In addition, Aveda is committed to sustainability and ensures its packaging is environmentally friendly.
4. Sachajuan
It is a brand that focuses on simplicity and effectiveness. The Sachajuan Normal Hair Shampoo is among the reliable shampoos to buy. It is simple, effective, and made with incredibly high-quality ingredients.
Sometimes, less is more, and Sachajuan proves this. Their minimalistic approach ensures that your hair receives only the most essential ingredients.
5. Redken
Next on our list of best shampoo brands is Redken. It is a professional hair care brand offering scientifically formulated products.
My top pick among several shampoos is the Redken All Soft Shampoo because it makes hair feel wonderfully soft, silky, and manageable.
I always recommend it to friends who complain about dry, unmanageable hair. Additionally, it strengthens your hair from the root to the tip, ensuring less breakage.
6. Moroccan Oil
This premium shampoo line is well known for its argan oil formulations. I advise using Moroccan Oil Moisture Repair Shampoo if your hair is dry and damaged.
This shampoo restores the hair's health by infusing it with antioxidants, vitamins, and argan oil. Not only does it repair your hair, but it also leaves it feeling soft and luxurious.
7. Kerastase
It is a luxury hair care brand offering various shampoos for different hair concerns.
Due to its intensive nutrition and hydration, the Kerastase Nutritive Bain Satin 2 Shampoo is ideal for people with dry and sensitive hair. It's an investment, but your hair will thank you for it.
You might like our blog about Fast Fashion Brands to Avoid
How Often Should You Wash Your Hair With Shampoo?
Many people are not sure what would be the best answer to this question. But, it is best to use shampoos based on your hair type.
The frequency of washing your hair will depend on how often you sweat or work out, the oils you put in your hair, and how much dirt and product build-up you have.
One should never wash their hair with shampoo more than once a week because it strips away all the natural oils from the scalp. This can lead to dry, brittle hair.
However, there are a few things that you need to consider before reaching your decision.
First, it is essential to consider whether you have an oily scalp and want a dry shampoo alternative. The shampoo is not always the best option for people with oily scalps because it leaves a residue that can cause buildup. If you have an oily scalp, wash your hair with shampoo less frequently and use dry shampoo alternatives.
Second, if you have dry hair or a sensitive scalp, then using too much shampoo could cause irritation or dryness of the scalp, leading to breakage and damage over time.
You should also consider how hard your water is because hard water can make it difficult for shampoo to foam properly. Hence, you need to use more shampoo, which can lead to dryness and irritation.
You should consider washing your hair less frequently if you live in a humid area. This will reduce the risk that your hair will become dry or frizzy and make it more likely that your scalp will maintain its healthy oils.
Can Shampoo Cause Dandruff?
"Can shampoos cause dandruff? Or Will I start having dandruff once I use shampoo?" are questions everyone has had once in their lives.
Are you one of those? If yes, then we are here with the most accurate answer.
There are many shampoos on the market that cause irritation and dryness to the scalp, which can result in dandruff, even though some anti-dandruff shampoos can cause dandruff.
Shocking right? You would be thinking, how could "Anti-Dandruff Shampoos" cause dandruff? Isn't that what they are supposed to get rid of?
Well, there are actually some shampoos that claim to end dandruff ultimately, but in reality, what they do is leave you with more dandruff than you had before.
And one of those shampoos we have mentioned above is Head & Shoulders.
Even if you don't have dandruff, try using this shampoo and then see the wonder it does. You'll be left with dandruff you won't know how to eliminate.
Now, back to your question, YES, some shampoos cause dandruff.
Related: Does Hair Thickening Shampoo Work?
Can Shampoo Be Used As A Body Wash?
Shampoos are formulated while keeping hair in mind. They are used to clean and take care of your hair.
And body washes on the other hand, body washes are made while keeping the skin's sensitivity in mind and are only used for cleaning bodies.
Can you use dishwashing soap to wash your skin? No right? Then how can you use shampoos- considered substitutes for dishwashing liquids-to wash your body?
Shampoos and body washes are both made for different purposes. Using shampoo to wash your body would give you sticky and slimy skin.
The whole idea in itself is wrong. So, the answer to the question above is "NO."
Can I wash my hair daily with water only?
Both hydrophobic and hydrophilic chemicals are found in shampoo. Shampoo may create build-up and dandruff-like flakes if kept in the hair for too long.
One to three minutes is enough massage time. After that, you must thoroughly rinse it out of your hair.
Conclusion
We all desperately need a very good shampoo to have our dream hair. We all want to have hair that is not only silky and smooth but easy to style also. And that is the reason we all look for shampoo brands.
Because when we say brands, our expectations get REALLY HIGH. However, that is where we are betrayed. And the betrayers are some of the most famous brands.
We go for their products blindly only to end up with dry, frizzy hair and even baldness in some cases.
Therefore, it is very important to know about such brands. The brands mentioned above are a few of the worst shampoo brands we have ranked based on user experience.
So, if you love your hair, we recommend you say Good Bye to these brands and look for the ones that are actually good for your hair.
Also, don't forget to tell us which shampoo brand you have been using without knowing how bad it is.
Note: Before we move ahead, we want to tell you that these brands are not selected based on our personal choice, but this entire list of bad shampoo brands is based on reviews of the people who have used or, should we say, regretted using these shampoo brands.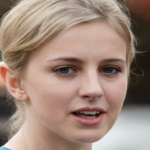 Erica Steven is the founder and lead writer of WorstBrands, a site dedicated to providing honest and trustworthy reviews about outdoor gear and fashion products.
With a passion for exploring the great outdoors and staying up to date on the latest fashion trends, Erica uses her expertise to provide valuable insights into the products that matter most to her readers.
Whether you're looking for camping equipment or the latest fashion accessories, Erica's articles are the perfect resource for finding the best products that fit your lifestyle.