Haircare begins at the scalp. Dry, frizzy hair and dull hair all correlate with signs of an imbalanced scalp.
You are living under constant fear of losing your hair. An emerging bald patch just might be the cherry on top.
I endured this aggravating agony until I opted for the fantastic argan oil shampoo. Since then, my hair has long recovered from those miserable days.
I am thrilled to present this Argan Oil Shampoo Review to help you with your hair growth journey. Keep reading to discover more.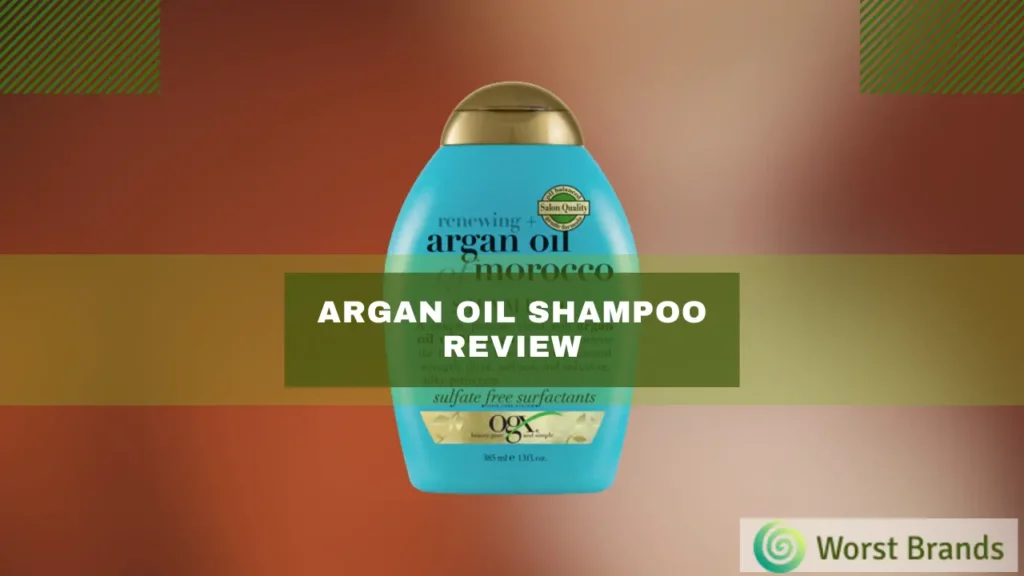 Argan Oil Shampoo Review
Here are some of the top shampoos in this category. So, let us compare them unbiasedly in this blog.
1. Extra Strength Hydrate + Repair Argan Oil of Morocco Shampoo
OGX shampoos are the unsung heroes of haircare on a budget. So, when I found out they sold shampoos with argan oil, I had to bag one!
OGX shampoos are potent with water-based silk proteins and rich cold-pressed Moroccan argan oil. These ingredients help to repair, renew, and hydrate damaged hair.
The Phenols and antioxidants help to regrow hair by fortifying the hair follicles.
The set of shampoo, conditioner, and mask falls in this range. The shampoo comes in 60ml, 88ml, and 385ml sizes.
The formula is free of Parabens and Sulfates. Adding onto its brilliance, the coconut milk, tangerine, and vanilla scents make your hair smell divine.
My hair saw an improved texture root down. However, owing to the gentle formulation, you must pair it with a clarifying shampoo.
You can see its efficacy on medium to coarse hair. You might find potential irritants like Acrylates Copolymers.
Lastly, the product comes with a minimal price tag of $7.49/ 13 Fl oz.
Pros
Effective For Damaged Hair
Free of Parabens
Contains Sulfate-free Surfactants
Relatively cheaper
Cons
Not Suitable for All Hair Types
2. Herbal Essence Argan Oil Shampoo
Herbal Shampoos were never really my thing. But when push comes to shove, you weigh all your options wisely.
My experiments with multiple herbal shampoos led me to Herbal Essence. A pioneer of herbal buffets, their Argan Oil Shampoo was just the one for me.
While many herbal brands fail to merge with conventional terminologies, Herbal Essence guides the consumers.
For this reason, the shampoo mentions all the certifications it carries.
The shampoo is inherently free of parabens and harsh SLES surfactants. The goodness of citric and vanilla scents improves your mood.
Note that the shampoo is color-safe and focuses on hydrating damaged hair.
Dermatologically tested, the shampoo can be used frequently. Make sure to patch test. In case of irritation, cease use and consult a dermatologist.
Price-wise, it really is a steal. A 13.5 FL oz. A Bottle would cost you $5.99.
Pros
Suitable For All Hair Types
pH balanced
PETA-certified Cruelty-Free
Recyclable Packaging
Pocket-friendly
Cons
Typically Sold In a Set
Needs Help of A Clarifying Shampoo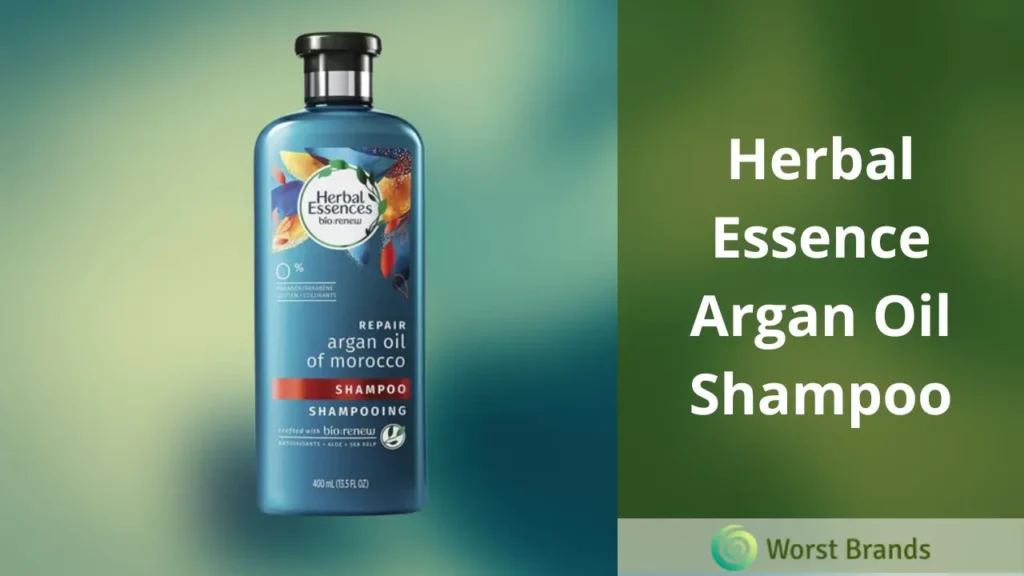 3. L'Oréal Professional Mythic Oil Argan Oil Rich Shampoo
A slightly premium option for argan oil shampoos comes from L'Oréal Professional. A single bottle of this shampoo retails for $24 per 8.5 Oz. Bottle.
Compared to others, the shampoo really does not stand out. It is heavily priced.
Features like an absence of parabens, anti-frizz, and Argan Oil extracts make it a potent formula.
However, you could opt for better options within the brand when it comes to value for money.
If the money does not impact your decision, you should not miss this marvelous formula. You can also pair it with Mythic Oil and a Leave-in mask by L'Oréal.
Pros
Free of Parabens
Suitable For All Hair Types
Controls Frizzy Hair
Adds Shine To Dull Hair
Cons
Very Expensive
Contains Sulfates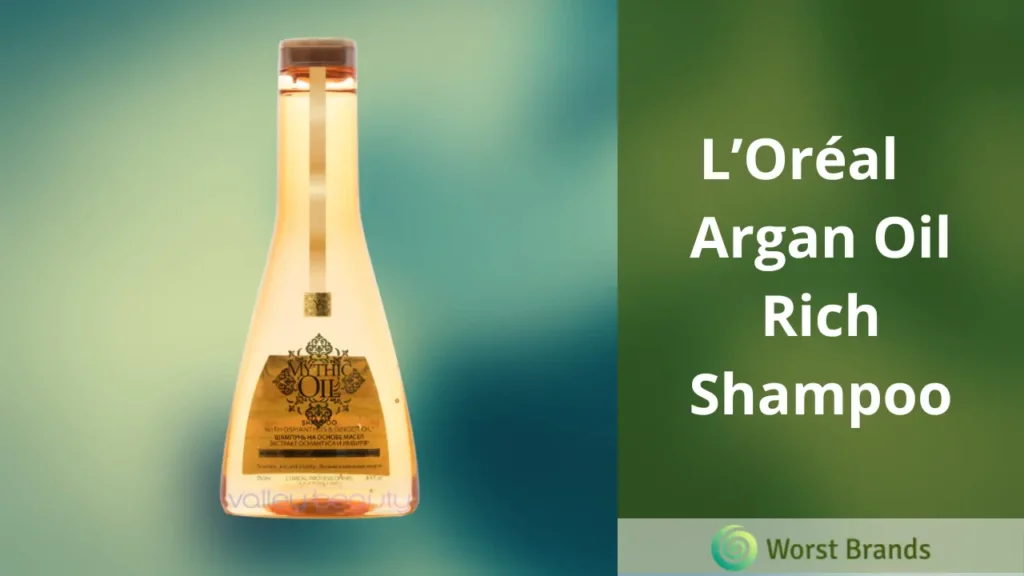 Comparison Table of Different Argan Oil Shampoos
| Products | For All Hair Types | Parabens Free | Sulfate Free |
| --- | --- | --- | --- |
| Extra Strength Hydrate + Repair Argan Oil of Morocco Shampoo | No | Yes | Yes |
| Argan Oil Shampoo by Herbal Essence | No | Yes | Yes |
| L'Oréal Professionnel Mythic Oil Argan Oil Rich Shampoo | Yes | Yes | No |
Customer Reviews on Argan Oil Shampoos
Most Argan Oil Shampoos have incredible ratings of 4.5 stars out of 5 on Amazon.
Customers around the world love this mix of ingredients for their hair. Out of roughly 10,000 reviews for the product, 70% are positive. The OGX Argan Oil range pulls the mean by its 77% positive ratings.
According to the majority, Argan Oil Shampoos give them shiny, strengthened, thicker, and softer hair.
For other customers, the scents only add to their drive to purchase these.
I have both permanent and semi-permanent highlights and was concerned about protecting my beautiful colors.
This product says it is sulfate free and is ok to use to reduce loss of color. You will still lose some, but not as much as you will with a product that has sulfates.
I did, however, see some customers complain about spillages. So, check what kind of packaging your favorite company makes.
Hence, I would reuse these shampoos as soon as my current bottle runs out. I love to use and write about this product because it worked well for me.
Common Ingredients Found in Argan Oil Shampoos
Argan Oil Shampoos from different brands carry various ingredients to promote nourishment.
However, you may find common ingredients on almost all the packaging of these shampoos. Here are some of those ingredients.
Acrylates/C10-30 Alkyl Acrylate Crosspolymer
Aqua(water)
Argania Spinosa (Argan) Kernel Oil
Citric Acid
Cocamide Mea
Cocamidopropyl Betaine
CocamidopropylHydroxysultaine
Dimethicone
Fragrance (Parfum)
Glycol Distearate
Hexylene Glycol
Lauryl Glucoside
Linoleamidopropyl PG-Dimonium Chloride Phosphate
Methylisothiazolinone
Polyquaternium-39
Sodium Benzoate
Sodium C14-16 Olefin Sulfonate
Sodium Citrate
Sodium Cocoyl Isethionate
Sodium Hydroxide
Sodium Lauryl Sulfate
Tetrasodium Edta
Is Argan Oil Worth It?
Undoubtedly, Argan Oil Shampoos are worth the hype. These Shampoos nourish and protect the scalp.
Though variable, most brands cost $2 per FL oz. This might look pricey, but it is exceptionally effective for dry and damaged hair.
Considering benefits, middle-class consumers can reap the benefits instead of ending up in a hair transplant center.
So, you can get value for money if you know which brand to swear by.
Why Choose Argan Oil Shampoos?
Here are some of the reasons why you will love this shampoo.
DHT Blocking Tendencies
One of the critical components of reversing hair loss in men ranges around attempts to block DHT. This particular hormone causes baldness.
Argan Oil proves to be one of the oils that help reduce DHT production. You should massage the shampoo well to stimulate blood flow to the head.
Hydrates the Hair
The antioxidant-rich formula is backed with fatty acids and Vitamin E. These improves the texture and reverse damage to hair strands.
Adds Volume to Hair
A thicker head not only entails reduced hair fall, but it should also result from new hair growth.
Argan oil shampoos promote thicker hair growth whilst minimizing hair fall.
Treats an Itchy Scalp
The scalp's pH is lower than the rest of the body. An imbalanced scalp can produce excess oil or less than optimal production.
The former might not be treated with this; however, this formula can fix the latter.
Argan oil shampoos can be considered a one-time fix to an itchy scalp. Pair it with Argan Oil for prolonged hydration.
Where to Buy Argan Oil Shampoos?
Most stores across the world sell Argan Oil Shampoos due to customer demand. You can mostly find companies delivering the products without third-party retailers.
Here are some of the common stores that retail argan oil shampoos.
Amazon
eBay
Walmart
Target
Ubuy
Walgreens
CVS
Ulta
Kroger
Riteaid
You can also check with your local pharmacies and stores. Make sure to check the manufacturer's website for listed authorized retailers.
Similar Blogs:
Is Argan Oil Shampoo Sulfate-free?
Most brands in this range opt for Sulfate-free surfactants. The stripping SLES counter the hydrating formula. So, you can expect most Argan Oil Shampoos to be sulfate-free.
Possible Side Effects of Using Ethique Shampoos
A product with no side effects seems too good to be true. While it may fit some, like Cinderella's glass slipper, others have a hard time loving it.
Here are some of the possible side effects of ingredients in these shampoos.
Cocamidopropyl Betaine, a coconut-derived surfactant, can cause eczema, hair loss, and irritation.
The high fragrance content can also trigger an allergic reaction in some users. A bumpy scalp emerges as a result.
Sodium Chloride can also irritate, especially around the hairline.
While Decyl and Coca Glucosides are mild, Lauryl Glucosides can cause mild irritation.
The mild formula can cause build-up for some hair types.
Frequently Asked Questions
Q1: How Often Should You Use Argan Oil Shampoo?
You can use Argan Oil Shampoos daily unless instructed otherwise by your brand.
The mild shampoos do not heavily strip the hair of natural oils upon persistent use.
Q2: Can Argan Oil Shampoo Treat Dandruff?
Unfortunately, Argan Oil Shampoos help to smoothen the texture of hair strands and strengthen the follicles.
To treat any dandruff condition, you can use tea tree or ginger-infused shampoos.
Bottom Line
Undoubtedly, sudden hair loss sends us into a frenzy. As you age, you start accepting the damage.
However, premature hair loss indicates an underlying issue that needs fixing.
Argan Oil shampoos can reduce hair loss and promote the growth of renewed, stronger hair within a few months.
Consistency is the key. The best feature of this formula is that it nourishes the root and scalp.
Before I conclude this Argan Oil Shampoo Review, I would highly recommend this shampoo to others. Give this a fair shot, and your hair will thank you!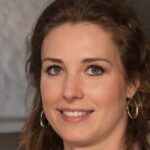 Crystal Hafley is a dedicated writer and content creator for WorstBrands, where she specializes in writing insightful reviews about kitchen appliances and fashion products.
With her expertise, Crystal provides readers with accurate and reliable information to help them make informed decisions about the brands and products they use every day. When she's not researching or writing, Crystal enjoys cooking and exploring the latest fashion trends.