We have already reviewed KitchenAid dishwashers, so we can say that it is a reliable company that is constantly keeping up with its good work.
But when it comes to refrigerators, we have mixed opinions about this brand.
You will see that KitchenAid refrigerator reviews with many plus and few downsides. This analysis will give you a clearer picture of these refrigerators.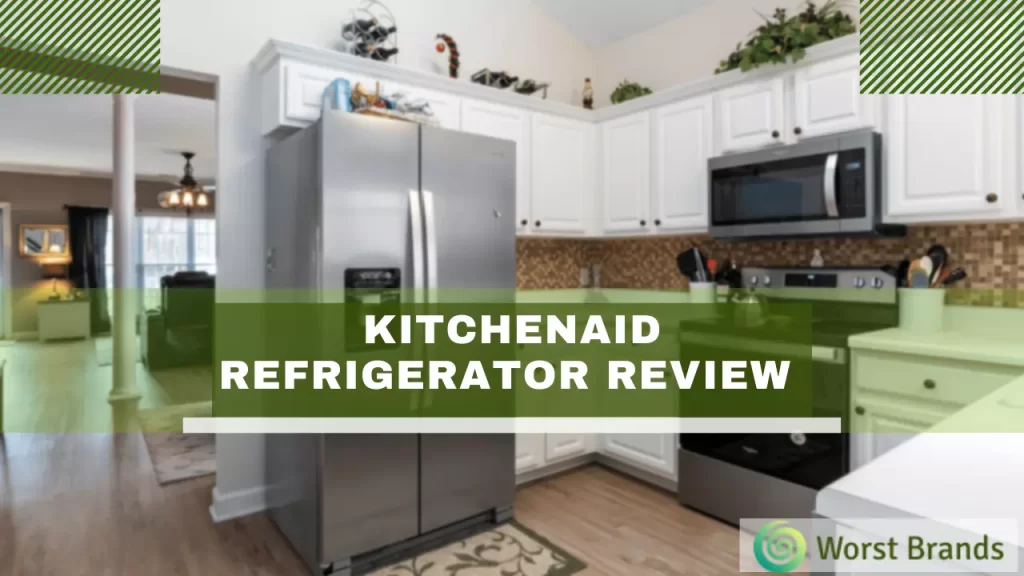 How well do Kitchen-Aid Refrigerators perform? – Our Take on It
Like all other high brands, it also shows diversity in terms of design and performance. Such as, you will find touch-activated controls on the top-notch models only.
At the same time, some people find French door-style refrigerators more efficient than side-by-side models.
The common outstanding features in all of these models include a robust water dispenser, automatic water filling, and a max cool feature that instantly chills the items.
However, the satin glide system makes the in-and-out movement smooth while the crisp drawers maintain freshness.
In addition, the door alarm and LED lighting make it more user-friendly.
Its price range is from $2000-$9000+. But its price is usually higher than other brands.
Moreover, they have eliminated the defroster, another minus because some models do not have a potent ice maker.
KitchenAid Fridge Styles
It is known for its huge variety of refrigerators. These refrigerators can be categorized based on their construction and styles.
KitchenAid offers 3 fridge designs based on their construction and 5 based on Style.
KitchenAid Refrigerators based on their Installation:
Counter-Depth models- the seamless fit design
Standard-Depth models- the usual ones
Built-in models- the custom-made
KitchenAid Refrigerators based on their Style:
Distinctive French-door fridge
Side-by-side refrigerator
Top-freezer models
Bottom-freezer design
Drawer refrigerators
KitchenAid Fridge's Winning Points
The specs of these cooling machines will leave you in awe. You will find these refrigerators very user-friendly because of these amazing features. Have a look!
1. Tremendous Exterior and Interior:
These refrigerators have a fingerprint-proof shiny outlook like all other high-end brands.
But the fridges differ in their in-built because of the tinted black look. At the same time, the stainless steel has a dark black tint that gives it an outstanding classic look.
While the interior is made of plastic that will give you smooth-looking inside cabinets, although the durability of this plastic interior is somewhat questionable, if you look after it properly, you will have a long-term commitment to this machine.
Moreover, the LED interior is a cherry on top.
2. Spill-Proof Shelves:
The shelves are made of glass that is easy to clean and holds the shelves in place with accuracy. Their spill-proof nature makes them more handy and user-friendly.
3. Spacious and Wide Refrigerators:
These refrigerators are an exceptional point that we are drooling over this fridge. Each model is very well-spaced if you are a big family or a short-member group.
The drawers and cabinet options are limitless. Their adjustments make it more likable by the users, especially for big items.
4. Excellent Storage Capacity:
Due to wide and roomy drawers and cabinets, their capacity range varies from design to design, but it offers a capacity of 19 cubic feet to 30 cubic feet.
5. Efficient Temperature System:
It offers a separate temperature management system for the fridge and freezer section.
However, it keeps the fridge items fresh and the freezer section at the right temperature.
But its temperature control is not accessible to the user. This feature limits its use.
KitchenAid Refrigerators Premium Range vs Usual Range
The premium design includes French door refrigerator styles, which are different from the usual ones.
It is because of their exceptional features, which are explained below;
1. Flexible Draws and Shelves Setting:
This French-style model offers more adjustments for their drawers and shelves.
You can take out unwanted shelves and make room for quite large items as well. It is a different feature that makes it stand out from other French door styles.
2. Advance Food Care System:
Preserva® Food Care System ensures to the preservation of the freshness of the food while maintaining a healthy internal environment to prolong the freshness of the edibles.
3. Distinctive 5-Door Configuration:
It is explained as:
A top refrigerator compartment
Two refrigerator drawers in the middle
Two bottom freezer drawers have a divider for better storage
4. Distinctive Cooling Features of KitchenAid:
This refrigerator's two distinctive cooling features will maintain the overall humidity and freshness of the edibles.
Dual Evaporators for Compartment-wise Cooling:
These two evaporators work differently in each compartment, thus maintaining a moderate temperature for the fridge and freezer, respectively.
Sensor-Based Temperature Management System:
The sensor keeps the veggies and fruits fresh and prolongs their shelf life. The Everfresh temperature management system regulates this system.
While extended life is due to the absorption of toxic gases, this system refers to Extend fresh temperature management.
Drawbacks of KitchenAid Refrigerators
Despite the so many eye-catching features, there is another side of the story that you should know before buying these cooling machines.
After gathering data from customers' reviews and personal experiences, we want to share its downside.
One thing you should know before reading these demerits is that these downsides are restricted to some models.
Not every fridge is bad, so we suggest you read reviews before buying any particular product of this brand.
1. KitchenAid Offers No Or Less Smart Features:
Although KitchenAid is a well-known brand for its wide range of appliances.
But when it comes to refrigerators, these appliances are not as smart as other usual cooling machines.
The automation is least in these refrigerators—no Wi-Fi and smart touch control system.
2. Sometimes Quality Is Questionable:
In some models of these refrigerators, you will find inefficient quality control. Some users complain about the rusting, while some face wear and tear from these cooling machines.
The temperature monitoring control might become problematic.
3. Not Efficient Customer Service:
KitchenAid offers tremendous claims about the in-built fridges and offers great services to fit in your cabinet.
But most customers complain about ignoring their issues and not taking any action to resolve them.
However, we have also found that some purchases are not recorded in their computer system.
4. Ice-Maker Might Be Faulty:
Some KitchenAid refrigerators might have in-built faults in their ice maker—the ice forms behind the plastic backing.
By default, some fridges have a warm internal temperature that ends up with continuous water leaking and can damage wooden floors. Some users also complained that their KitchenAid refrigerators stopped cooling suddenly.
5. High-Priced Brands than Usual Ones:
Other refrigerators brands offer many advanced features at lower prices, but this company demands more money and offers less quality.
They offer a wide range from high to low cost, but their models are still a little pricy compared to the features they offer.
3 Reliable KitchenAid Refrigerators for You:
You will come across a wide range of different styles in these KitchenAid refrigerators.
We suggest you go through their customer reviews because finding the best one in their range is a crucial decision.
Some of the design has a few limitations, as explained above. But to make it easier we have chosen the best ones for you.
1. Built-In KitchenAid Refrigerator-KBFN506EBS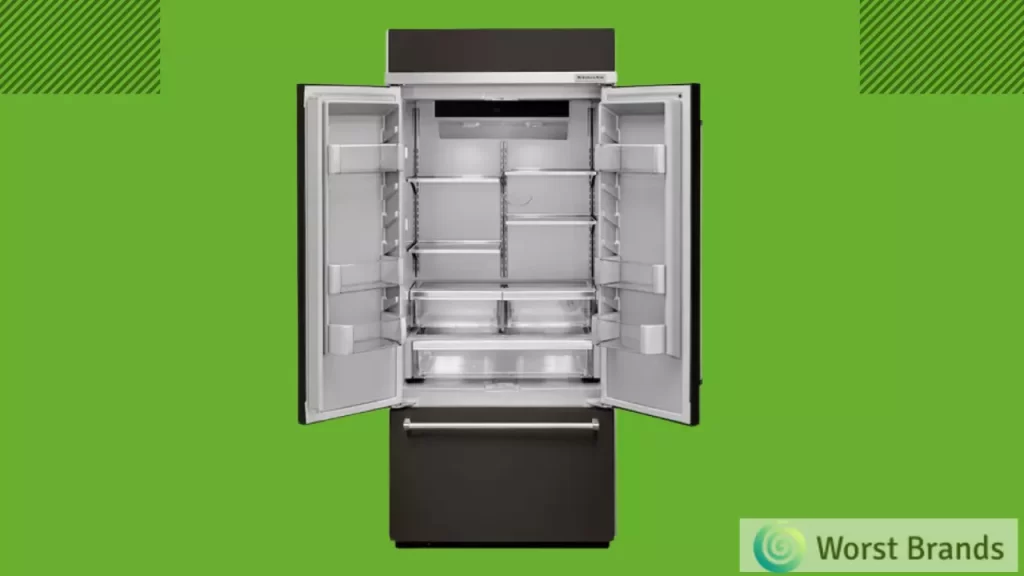 Features:
Energy star qualified
Luxurious crisp drawers
Platinum inbuilt enhances the outlook
Robust ice-maker
Latest French-door style fridge
Advance reservation system
If you're looking for a good-quality refrigerator that will last for a long time, then this is your best bet.
This is the top-of-the-line refrigerator from KitchenAid, one of the most trusted brands in home appliances.
The KBFN506EBS comes with many features that are great for families with a large number of people.
It has a spacious 5.56 cu. ft. capacity and a wide range of different compartments that can be used to organize food.
It's also a smart choice for families who cook a lot because it has an advanced preservation system.
With this, you can set the temperature and control the humidity level of foods so that they don't spoil.
It will also keep things fresh for a long time, so you won't have to worry about wasting food.
The refrigerator also comes with a lot of other useful features. It has a remote control and a programmable button that lets you manage your refrigerator from anywhere.
It's also equipped with a built-in ice maker that makes ice conveniently and without any mess.
And it has an interior light, so you can see what's inside your refrigerator at night.
This is an excellent choice if you have a big family and you need to store a lot of food. You'll definitely be satisfied with this KitchenAid refrigerator.
Cons:
Little pricy
No smart features
2. Freestanding KitchenAid Refrigerator-KRMF706ESS
Features:
Multi-door design
Extra space and capacity
3 tier freezer drawers with divider
25.8 cu. ft. maximum capacity
The multi-door design of the KitchenAid KRMF706ESS is perfect for people who are looking for a spacious, clean, and organized kitchen.
This refrigerator has some really great features, like a premium design, a sleek stainless steel exterior, a 3-tier freezer drawer with a divider, a 25.8 cu. ft. maximum capacity, an Energy Star rating, and more.
This is definitely one of the best refrigerators on the market today.
The KitchenAid KRMF706ESS is also easy to install and maintain. It comes with all the necessary parts, tools, and instructions, so you don't have to worry about anything.
It's also easy to monitor and keep track of its performance because it has an integrated temperature gauge.
If you're looking for a spacious, clean, and organized kitchen, then this is definitely a fridge worth checking out.
Cons:
No space for tall things.
3. Side-by-Side KitchenAid Refrigerator-KBSD618ESS
Features:
Excellent temperature control management system
Through the door dispenser
Prolong ripening
Absorbs toxic ethylene gas
More compartments in the freezer
The KBSD618ESS is a great choice because it's an energy-star-qualified model.
It has a stainless steel exterior and a stainless steel interior. It's a side-by-side fridge that includes an ice and water dispenser, a through-the-door dispenser, and an automatic ice maker.
The side-by-side fridge also has a convenient freezer compartment, and it's very easy to use thanks to its full-width freezer drawer, as well as the separate freezer compartment.
The temperature control management system keeps the inside of the fridge at the perfect temperature, and the airflow ensures that the fridge stays cool and fresh.
This helps prevent odors and ensures the best quality of food in your fridge.
The KBSD618ESS is a great choice for people who want a reliable and quality refrigerator.
It's also very spacious, and it's got plenty of storage space in the freezer compartment.
Also Read: LG vs GE Refrigerators
Are KitchenAid Refrigerators Good?
Yes, KitchenAid refrigerators are good. We found them to be of decent quality at competitive prices.
Note that KitchenAid is not the biggest international refrigerator brand. It is a moderately-popular company with decent home appliances.
You will find refrigerators, dishwashers, and more from the brand. However, their refrigerators are very reliable. They come with a sleek design that supports the modern lifestyle.
Another benefit is the large range KitchenAid offers. They have several types of refrigerators. You will surely find the one you are looking for.
Their refrigerators use the same technology as other modern brands. Additionally, they offer reliability, energy efficiency, and durability. All of these factors make KitchenAid refrigerators quite good.
Are KitchenAid Refrigerators Made in the USA?
Yes, the KitchenAid refrigerators are made in the USA. We went through several of their facilities in Ohio and other parts of North America.
Note that KitchenAid refrigerators are not made in a single facility. Many people think they are only manufactured in Ohio. But that's not the case.
The brand has several facilities outside of the state. But most of its manufacturing plants are located in North America.
The company has been manufacturing refrigerators and other home appliances since 1919. Its most popular facilities are located in Findlay and Amana. Moreover, the brand also assembles its fridges in the United States.
Who Makes KitchenAid Refrigerators?
You might be surprised to know that KitchenAid is a brand under a very popular company, Whirlpool Corporation.
But KitchenAid existed long before it was owned by Whirlpool. In fact, the company has been operating since 1919.
It was acquired by Whirlpool Corporation in 1986. That means all the appliances are now made under the supervision of a popular company.
But that's not all for Whirlpool Corporation. The company also owns other popular brands, including Indesit, Seeger Refrigerator, Hefei Rongshida Sanyo, and Maytag.
KitchenAid Refrigerators Warranty
KitchenAid provides a 1 year warranty on all their refrigerators. The warranty covers costs for replacement parts, labor costs, and workmanship.
Why Are KitchenAid Refrigerators So Expensive?
KitchenAid refrigerators are expensive because the brand manufactures and markets its products as premium.
KitchenAid is a competitive brand in terms of its pricing. Their refrigerators are not the most expensive, but they are highly-priced. The brand does not limit itself to a local company.
It has a wide range of refrigerators. And most of them are high-quality products made with modern technology.
KitchenAid refrigerators are also quite durable. They can last a long time if you take care of them properly.
According to our usage, we found most KitchenAid refrigerators worth their high prices. It is a one-time investment that can get you through the years. Plus, you will not face quality issues with these refrigerators either.
Verdict: KitchenAid Refrigerator Review
KitchenAid users have mixed reviews. You will find 50% positive reviews and 50% negative ones.
After writing this detailed KitchenAid refrigerator review, we can say it depends on which model you choose and how well you research that particular item.
If you want a fridge from this brand, do your research well. As the downsides are not common, they are present in some models.
So go for the refrigerators that have the best reviews and specs.
KitchenAid Refrigerators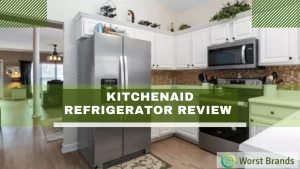 KitchenAid refrigerators have robust water dispenser, automatic water filling, and a max cool feature that instantly chills the items.
Product Brand: KitchenAid
Product In-Stock: InStock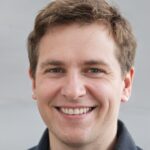 Steven Settles is a professional content writer with over 7 years of experience in writing for different niches, including brand reviews, technology, fitness, and more.
Currently, he is working as a content writer for WorstBrands, where he provides insightful reviews of different products, including home appliances, outdoor gear, fashion, and kitchen products. In his free time, Steven enjoys traveling and exploring new places.