LG refrigerators, a South Korean brand, have taken over the world because of their smart features, superior quality, and durability.
In contrast, a Kentucky-based brand, GE refrigerators, is known for its wide range and highly spacious in-built. Also, it's a very famous Café series known as Restaurant-Style fridges.
These appliance brands have a very strong position in this populated industry. But what if they lack the features you are looking for in your ideal fridge?
So, if you want to know their in-depth working technologies and smart features, read this user experience-based LG VS GE refrigerators review to get a deep insight into the two brands.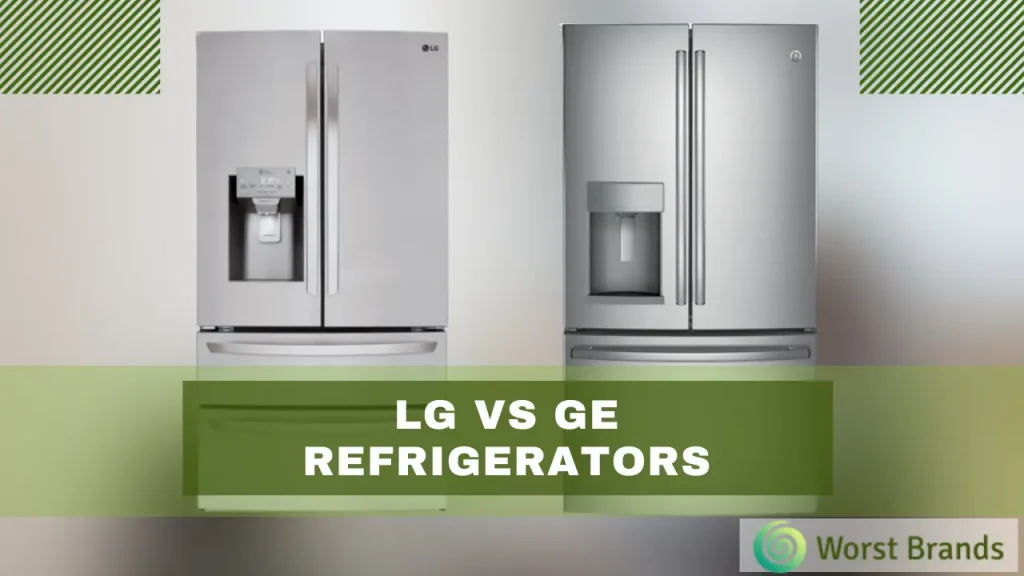 Related: LG Refrigerator Review
LG VS GE Refrigerators Reliability
Both LG & GE make reliable refrigerators. GE fridges are comparatively more reliable and long-lasting than LG refrigerators.
LG and GE differ from each other in their performing features. Otherwise, they have almost the same price and design to some extent.
LG refrigerators take the lead in design innovation, but GE refrigerators step ahead in their durable wide range.
So, we have summed up their overall performances to give you a compact insight into each brand.
Overall Performance of LG Refrigerators
While talking about the overall performance of these refrigerators is marked with excellence due to their smart features that ease the user's daily life in several ways.
The automatic water pitcher facilitates the users and its variable and wide storage model, such as refrigerators, for 3-door and 4-door French door styles.
Also, being the quietest fridge in the market, it leads the appliance industry. However, its cooling efficacy is affected due to inefficient defrosting.
The ice-maker is versatile and serves spherical, standard cubes and ice bites. Still, it can also be a daunting experience. So choose carefully.
Overall Performance of GE Refrigerators
GE refrigerators are all-rounders in many ways. As they have two series, one is known as Profile One, which covers all the traditional design and working mechanisms of refrigerators.
At the same time, other series are termed as Café Series or French-door Series. Both of the series are unique in their way.
In addition, these fridges also possess smart features such as child lock alerts that operate via an app that eases the users.
It comes with adjustable cabinet drawers such as full-width drawers, adjustable temperature drawers, humidity cabinet drawers, and adjustable temperature drawers with Bin Caddy.
These features make it an excellent option for large families. But its cooling efficacy is questionable in some models. So buy wisely.
LG vs GE Refrigerators | Key Features
LG and GE serve the best refrigerators in their ways, but which offers a better range, and who leads the appliances industry in refrigerators?
To find the results of LG vs GE Refrigerators, we have compared its features side-by-side to give you a complete overview of these competing brands.
| Feature | LG Refrigerators | GE Refrigerators |
| --- | --- | --- |
| Door Styles | 3-door French door style | French-Door door styles |
| | Side-by-side door style | Side-by-side door style |
| | 4-door French door style | Top-freezer door styles |
| | Top-freezer style | Bottom-freezer door styles |
| | Bottom-freezer style | |
| Installation | Counter-depth fridges | Compatible storage design |
| Storage Capacity | 3-door and 4-door French door fridges | Spacious food cabinets |
| | Side-by-side and door-in-door refrigerators | Portable food shelves |
| Smart Features | Craft Ice™ maker | K-Cup® Brewing System |
| | UVnano™ dispenser | Second ice-maker |
| | Slim SpacePlus® ice system | Portable food shelves |
| Cooling Technology | Advanced and innovative | Efficient cooling features |
| Energy Efficiency | Energy-star certified | Energy-star certified |
| Price | Slightly more expensive | Wide price range |
1. Which Is More Stylish? – The Outlook
GE offers a traditional and stylish series, but LG offers better refrigerators in finish, style, and modernism. So, LG takes the lead in style over GE for several reasons.
LG has more stylish fridges as they offer different and unique fridge styles such as InstaView door-in-door refrigerators and god range of colors such as white, platinum, matte black, and black.
In comparison, GE offers three basic colors. I.e., white, black, and steel.
LG offers a better finish, i.e., fingerprint resistant stainless steel finish in every model, and its textured finish dominates all.
GE has stainless steel finish and offers fingerprint resistant stainless steel and fingerprint resistant slate or black slate features in its limited range.
2. Door Styles
GE has traditional and modern door styles, but they offer limited and basic designs.
Whereas LG has similar styles, it offers more latest and most innovative designs, especially when it comes to French –door style.
GE Door Styles Configuration:
French-Door door styles
Side-by-side door style
Top-freezer door styles
Bottom-freezer door styles
LG Door Styles Configuration:
3-door French door style
Side-by-side door style
4-door French door style
Top-freezer style
Bottom-freezer style
3. Installation
These brands offer counter-depth refrigerators for a seamless finish and smooth kitchen look.
Also, these brands have full-length or free-standing refrigerators that have wide storage capacity.
LG is known to serve the best counter-depth fridges, and it's their most-selling gadget.
In contrast, GE has the more compatible storage design in both styles. You can choose the best fridge that suits your kitchen cabinet and accommodates your grocery load well.
4. Storage Capacity
Both of the brands have wide and well-spaced in-built designs. It isn't easy to choose one from either of the top-notch brands.
You can choose according to your personal need and budget.
GE is known for its spacious food cabinets and portable food shelves with perfect temperature control systems to adjust temperature fluctuations.
While LG's 3-door and 4-door French door fridges, side-by-side and door-in-door refrigerators serve the best.
5. Smart Features
Both of these brands offer hi-tech connectivity options. But both of these brands use their high-end smart connectivity options in their luxurious range that can cost you a little extra for their innovative features.
GE uses The HQ app for controlling and maintaining the temperature and other operations with a single touch from your smartphone. You can also operate Keurig ® K-Cup® Brewing System through this app.
In comparison, LG's connectivity option is termed ThinQ® which manages several tasks with a single tap.
Smart Features of LG Refrigerator
The Craft Ice™ maker automatically makes slow-melting ice (3-6 batches per day.)
The UVnano™ dispenser- uses a UV-C light for a microbial-free environment.
The Slim SpacePlus® ice system-for enhances storage space.
Smart Features of GE Refrigerators
K-Cup® Brewing System for hot water drinks
Second ice-maker for extra ice production
Portable food shelves, i.e., frameless glass shelves, spill-proof shelves, quick space shelves, and full-width shelves.
6. Cooling Technology
LG has more advanced and innovative cooling technologies, while GE has efficient cooling features controlling temperature fluctuation.
But when comparing both, LG is undoubtedly a winner in this scenario.
LG Cooling Technologies:
Smart cooling technology- linear cooling methodology
Green Ion Door cooling+™ -a sustainable cooling technique
Fresh Shield cooling (via cold air)
Multi-flow air system-multi-vents
GE Cooling Features:
GE does not have any specific cooling technologies. Rather they use efficient features that maintain the required internal temperature following the external one to keep the food fresh and preserve it for longer use. These features are;
Twinchill™ Evaporators
Frost guards
Turbo cool setting
Turbo freeze setting
Multi-flow air system
7. Is GE More Energy-Saving Pick Than LG? Energy-Efficiency
Both LG and GE are energy-star certified brands that ensure reliability and durability.
But not all their products are energy-efficient and hence not certified. So, we suggest you check the model's certification that you want to buy to save your electricity expense.
8. Is LG refrigerator more costly than GE Refrigerator? Price
To some extent, Yes, LG is slightly more pricy than GE. Although GE also has expensive refrigerators, LG leads in price, especially in its luxurious range of InstaView models with the latest technology.
The minimum fridge LG owns costs about $1500+ while you can have a conventional fridge with a good feature for about $900+.
So, GE has an edge in serving a wide audience with cheaper models to high-end ranges.
LG VS GE Refrigerators-Intelligent Pick? | Based on Customer's Reviews
Like all other high-end brands, LG and GE are likable because of their quality and efficient techniques.
But there are always some customers who may experience unpleasant events with these refrigerators.
To prevent you from such experiences, we have gathered some good and unpleasant views to let you be aware beforehand of the possible casualties of each brand so that you can make a conscious buy.
| LG Refrigerators | GE Refrigerators |
| --- | --- |
| Pros: | Pros: |
| Ultra-quiet LoDecibel™ Operation | Wide range of options |
| Unique spherical ice-making feature | Various capacity, price, and design |
| Stylish range | Smart features via the HQ app |
| | |
| Cons: | Cons: |
| Unreliable water dispenser | Difficult installation |
| Inefficient defrosting | Inefficient cold water dispenser |
Pros of LG & GE Refrigerators:
Most users like its LoDecibel™ Operation which ensures ultra-quiet processing units. Also, its unique spherical ice-making features make it a good pick. At the same time, its stylish range is another plus point.
GE Fridge Merits:
GE is known for its versatile wide range for everyone. You will find tons of capacity, price, and design options in each range so that every consumer can choose the best fridge.
Other smart features operated via the HQ app also enhance its value.
Cons of LG & GE Refrigerators:
LG users find the water dispenser not so reliable. In addition, some users say that this inefficiency may affect the overall performance of these cooling machines because they affect the compressor as well.
These refrigerators are slightly difficult to install, especially the big ones. Also, some users complained about its inefficient cold water dispenser as well.
Top 6 Reliable LG and GE Fridges
These picks are the top-selling and users' favorite fridges from these brands. So we have chosen the best-selling e-commerce picks for you from LG and GE.
| Rank | Model | Brand | Key Features |
| --- | --- | --- | --- |
| 1 | LRSDS2706S | LG | 27 cu.ft., 3 cooling technologies, durable tempered-glass shelves |
| 2 | LMXC22626D | LG | 22 cu.ft., ThinQ® App, fingerprint resistant |
| 3 | LSXS26326S | LG | 26 cu.ft., high-end compressor, smart cooling technology |
| 4 | PVD28BYNFS | GE | 27.9 cu.ft., TwinChill evaporators, adjustable cabinet drawers |
| 5 | FE28KBLTS | GE | Drop-down tray, Twin Chill evaporators, turbo cool setting |
| 6 | GTS22KGNRWW | GE | 21.9 cu.ft., LED lighting, clear crisp drawers |
1. LG Door-in-Door Refrigerator – LRSDS2706S
This 27 cubic feet LG fridge has three different cooling technologies working simultaneously, ensuring effective yet quick cooling.
Also, this high-capacity fridge serves best in terms of storage, installation, and performance. Other key features include;
Durable tempered-glass shelves
4 wide and adjustable bins
4 temperature sensors
Quiet cooling machine
Linear cooling
Multi-flow air system
Digital temperature controls.
2. LG French-Door Refrigerator – LMXC22626D
If you are looking for a fridge that offers a good amount of space and many compartments, this refrigerator is the right pick.
Its counter-depth in-built with dual freezers makes it the best choice for big families. Other winning specs are;
22 cubic capacity
ThinQ® App
Fingerprint resistant fridge
Smudge-proof finish
Energy-star certified
Roomy and spacious compartments
Massive ice manufacturing
3. LG Side-by-Side Refrigerator – LSXS26326S
This LG refrigerator-LSXS26326S is from the best-known series. You will have a sleek and stylish stainless fridge at a reasonable price that will perform tremendously.
It will also compensate for a load of edibles by keeping them fresh with its latest technology. Other highlighted specs are;
High-end compressor
Sturdy and stylish
Smart cooling technology
Ice and water dispenser
26 cubic feet capacity
Auto-closing door hinge
Slim SpacePlus® Ice System
4. GE 4-Door French Door Refrigerator – PVD28BYNFS
This GE refrigerator is an all-in-one product with ultimate cooling technology and the different partitions in each compartment that will give you the leverage to store all sizes of groceries items. Some other specified features include;
9 cubic feet capacity
Twin chill evaporators
Adjustable cabinet drawers
6 wide storage bins
Efficient ice and water dispenser
Digital temperature control panel
3 full-width storage baskets
5. GE Bottom Freezer Refrigerator – FE28KBLTS
It is one of the best-selling ones from GE because of its high-performance results.
Most users like it because of its ultra-cooling technology with second ice-maker availability.
Moreover, the stylish French-door style lifts its value even more. Also, it has the following features;
Drop-down tray for extra storage
Flexible shelf option for more space
Twin Chill evaporators
Turbo cool setting
Pharmaceutical-grade water filter
Full-width storage drawers
Turbo cool setting
6. GE Top-Freezer Refrigerator – GTS22KGNRWW
This GE model is marked as number 1 for quality and dependability. It is highly spacious, making it even more likable to the users.
Also, its garage-ready feature with a dual temperature control system makes it an efficient pick for everyone. This fridge also possesses;
9 cubic feet capacity
LED lighting
Clear, crisp drawers
Upfront temperature controls
High-gloss finish
Edge-to-edge glass shelves
Deluxe glass freezer shelf
Similar articles you may love:
Conclusion
Both LG and GE are reliable and durable brands serving for many years. LG is worth-buying because of its quiet function mechanism with smart app connectivity that handles daily chores with a single tap.
At the same time, the GE brewing system is exceptional, along with its highly flexible and adjustable storage bins.
Now, it's on you whether you want to go for spacious designs- the GE one of the innovative features- the LG ones.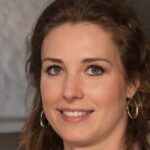 Crystal Hafley is a dedicated writer and content creator for WorstBrands, where she specializes in writing insightful reviews about kitchen appliances and fashion products.
With her expertise, Crystal provides readers with accurate and reliable information to help them make informed decisions about the brands and products they use every day. When she's not researching or writing, Crystal enjoys cooking and exploring the latest fashion trends.