Most users assume Bosch and Beko as the same brand, but this s not the case. Both of them are individual appliance brands with their entities.
However, Beko is not as mature as Bosch. But this brand is very reliable because it's energy-star certified and making its way into top leading names.
Beko refrigerators offer durable stainless steel builds, quiet operation, and a 30-day food preservation system. Yet, some models may have noise and ice tray issues
So, read our full Beko Refrigerator reviews to see if this is the fridge for you!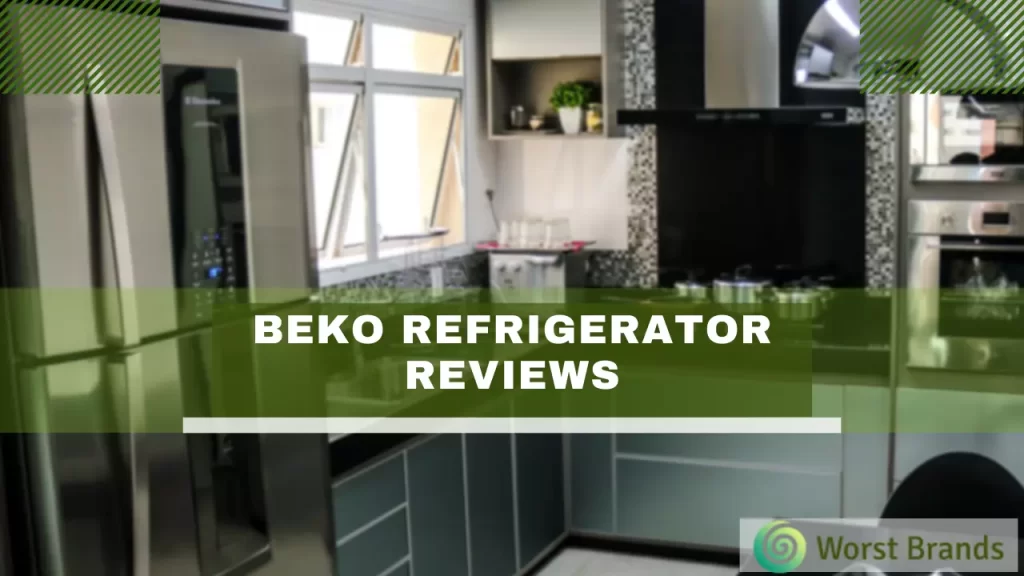 Beko Refrigerators Review
Beko is one of the brands that believe in innovation which is the selling point of all the high-end brands.
Their dual-cool system, known as the Neon dual system, is exceptionally tremendous and monitors the freezer and fridge cooling in the best way possible. Due to this reason, odor elimination is done perfectly.
Despite their reasonable price, some models are quite expensive, but their features justify the price.
Moreover, the adjustable shelves and racks increase user compliance. At the same time, the door alarms and child lock are present in some high-end features.
However, the bottom freezer drawers have wide dividers, but some models do not have durable springs for the bottom freezer. So we suggest you look for a fridge with maximum positive reviews.
The climate control system works fine, but some users find the temperature warmer than the displayed number. Also, the open-door alarm might stop working in some models.
We found these complaints in a few models, but most refrigerators are worth trying, especially French-door style and side-by-side refrigerators.
4 Reliable Beko Refrigerators | Our Picks
We have chosen the products with maximum reviews from each refrigerator style.
This way, you can choose the best fridge that fits your kitchen perfectly. The 4 best Beko refrigerator styles are:
1. Beko BFFD3624S – French Three-Door Refrigerator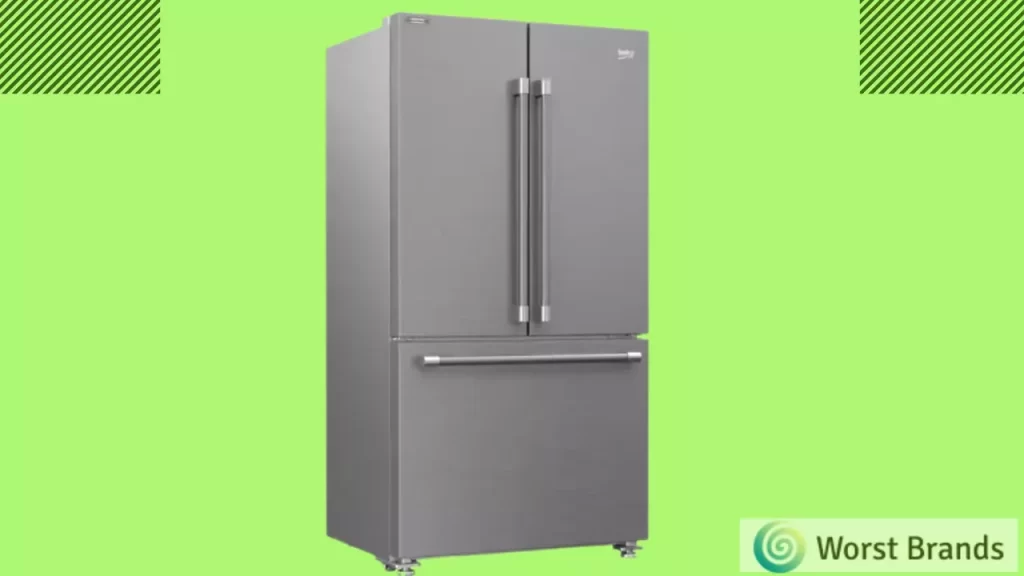 Reasons to Buy:
Interior filtered water dispenser
Interior theatre lighting
Interior digital display at the top
Adjustable door racks
Auto-defrost refrigerator
44dBa noise level
Energy-star certified
Beko's BFFD3624S has all the features that you would expect from a top-of-the-range refrigerator, with some additional extras thrown in.
The fridge is an Energy Star-certified model that delivers the best cooling performance in its class. It's also a very quiet unit with a 44 dB sound level – ideal for those who want to keep their bedroom or office as quiet as possible.
This fridge also has a filtered water dispenser, which ensures that your drinks are as fresh as they can be, and it can also help save on your energy costs.
The water dispenser is also very easy to use – simply fill it up, and you'll have your drinks ready in no time.
The digital display at the top of the fridge is easy to read, and it allows you to see all the functions of the fridge right at a glance.
There's also an adjustable door rack, which means that you can easily store your food in the refrigerator while keeping it away from other items.
Some additional features make this refrigerator stand out from the crowd. It has a 'defrost' function, allowing you to defrost the freezer without waiting for hours.
It has a self-cleaning cycle, ensuring you don't have to worry about cleaning your fridge.
So, if you're looking for a top-of-the-range refrigerator with many additional features, buy Beko's BFFD3624S.
It will keep your food and drinks as fresh as possible and make your life easier.
Cons:
Unreliable roller mechanism of the door
Ice tray freezes together
2. Beko BFSB3622SS Review – Side-by-Side Refrigerator
Reasons to Buy:
13 cubic feet of storage space
6 pounds automatic ice making
Clean counter-depth refrigerator
Ice and water dispenser on the door
Pro smart inverter compressor
Energy-star certified
Height-adjustable cantilever shelves
If you are a person who loves slushy drinks and wants a good ice-producing fridge, then this model is best for you.
It's highly efficient and durable and will last longer than any other usual brand. Also, you can get all the smart and adjustable features at a reasonable price.
The Beko BFSB3622SS has 13 cubic feet of storage space, which is big enough for a family of four or more.
It also has a 6-pound automatic ice-making, meaning you don't have to worry about getting ice at the touch of a button.
It also has a counter-depth design, which is more common in larger fridges. It also features a glass door, which makes it easier to see inside the fridge.
It comes with an ice and water dispenser on the door, which makes it easier to get ice and water without opening the fridge.
A high-efficiency cooling system also keeps the temperature down to 5°F. The model uses the latest inverter compressor technology, which is highly efficient.
The Beko BFSB3622SS has height-adjustable cantilever shelves, which allows you to keep the fridge at the right height for your convenience.
It also has a stainless steel finish, which makes it easy to clean.
Overall, this fridge freezer is a good choice if you want a simple fridge with many features.
Cons:
The door alarm doesn't work properly
3. Beko BFTF2716WH Review – Top-Freezer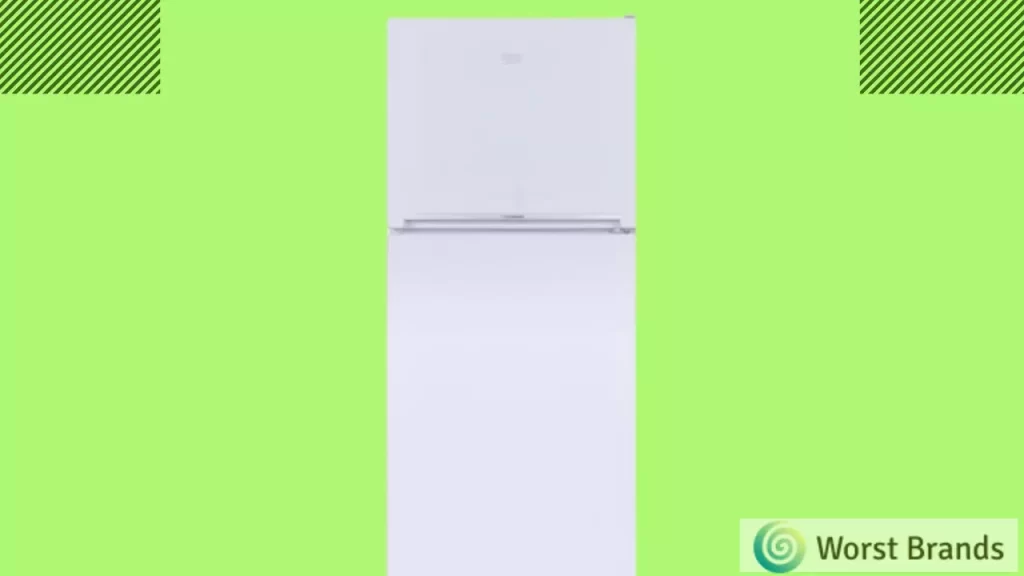 Reasons to Buy:
Auto-defrost freezer
Freezer interior illumination
39dBa noise level
Energy-star certified
Adjustable shelves
Very durable and reliable
Free-standing easy installation
13.9 cubic feet total volume
The Beko BFTF2716WH is an auto-defrost freezer, and it's also the best one on the market.
It has a 39dB noise level, which means that it will keep your food and beverages from getting spoiled, especially during the summer months when there's a lot of heat.
It has a very quiet operation thanks to its auto-defrost system that works by circulating cool air around the freezer's interior.
This model has four adjustable shelves for storage, and it's also Energy Star Certified.
It is surely the quietest one out there in their top-freezer range. You can never go wrong with this fridge, especially if you want a cooing machine that gives ultimate flexibility in organizing the stored food in various ways.
4. Beko BBBF30191MWESS – Built-in Bottom Freezer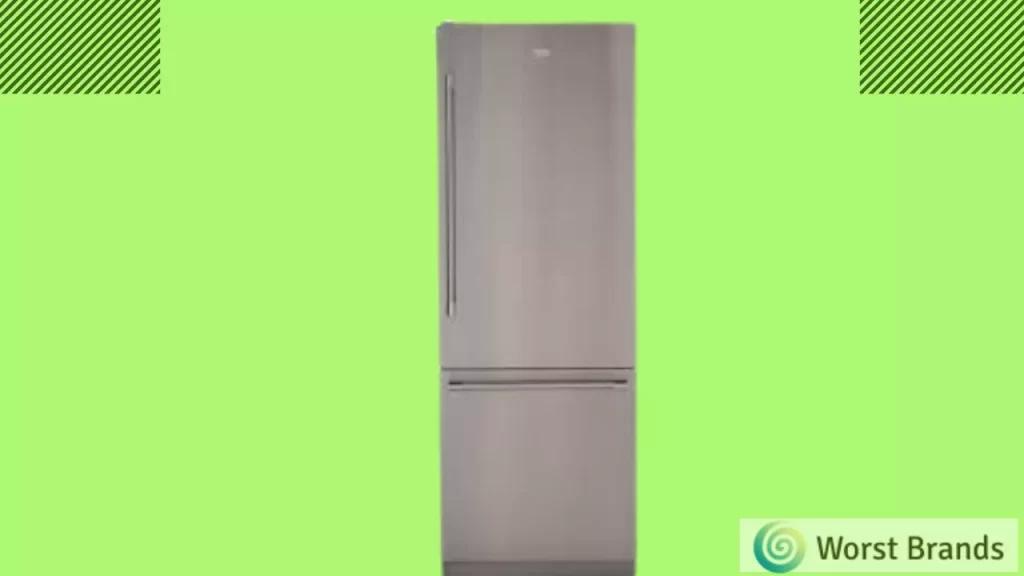 Reasons to Buy:
Stainless steel refrigerator
30 inches refrigerator
Auto ice-maker
Concealed water dispenser
Adjustable door racks
Flexible shelves
44dBa noise level
Child lock
Open door alarm
The Beko BBBF30191MWESS is a sleek refrigerator that is super stylish and features a wide variety of great features.
It is a stainless steel refrigerator that is 30 inches deep and has an auto ice maker. Moreover, the adjustable racks are the cherry on top at this remarkable price.
It also has a concealed water dispenser, adjustable door racks, flexible shelves, and a 44dBa noise level.
This refrigerator comes with a child lock and an open-door alarm. The child lock and open door alarm will alert you about the fridge's opening and closing.
This robust cooling machine is all you need to keep different items safe and secure.
Features of Beko Refrigerators
Although Beko does not have Wi-Fi and other advanced features, it is still one of the most in-demand brands for kitchen appliances.
We have pinpointed their refrigerators' winning features that make them stand out among all.
1. Stainless Steel In-built:
Like other high-end brands, the stainless steel in-built delivers solid performance and is durable for longer use.
However, the outlook differs because of the colors, but our favorite is their silver-toned refrigerators that suit almost every kitchen style.
2. Quietest to Moderate Noise Level:
Their noise level ranges from 39-44 dBa. So you can get the quietest model.
So we suggest you consciously check the noise level, especially if you have children or do not like noisy machines.
3. Pro Smart Inverter Compressor:
It will regulate the proper functioning of the refrigerator. It ensures high-efficiency working that will ensure high durability of the fridge while keeping the noise level very low.
4. Tow Durable Evaporators:
It will keep the humidity and temperature in a suitable range in the freezer.
It will keep the air cooler than usual refrigerators but keeps the vegetable fresh, assuring prolonged preservation of variable edibles.
5. Height Adjustable Cantilever Shelves:
Due to this feature, you can easily store odd-sized edibles and cartons in your fridge.
Moreover, its height-adjustable features make it more convenient to store different things.
Beko Fridge's 30 Day Food Preservation System
Beko claims that refrigerators can store food 30% longer than other refrigerators. Their innovative technology is all you can ask for: the best preservation system.
Beko is confident about its new, innovative, and efficient cooling technologies that preserve fresh fruits and vegetables for 30 days with better taste.
See how they do it.
1. The EverFresh+® System | Absolute Preservation
As the name indicates, it keeps the food fresh and maintains its essential nutrients to benefit its consumers. This technology will prevent food wastage and create a sustainable environment. 
Beko uses Active Fresh Blue Light™ to prolong photosynthesis to prevent the loss of nutrients such as Vitamin C in most fruits and vegetables.
This blue light will maintain a healthy moisture level to keep the veggies fresh for longer.
2. Ion Guard Technology | Smell Repellent
This technology will maintain the internal environment by avoiding odor mixing of any two food items and not letting the outer air affect the odor of edibles residing inside the refrigerator.
3. NeoFrost™ Dual Cooling | Moisture Maintenance
It consists of two different cooling technologies for the fridge and freezer compartment to maintain the humidity level at a certain point and keep the veggies fresh and crisp.
It ensures to keep the freezer frost-free-unlike of a single cooling machine.
4. Turbo Ice Maker | Cube-shaped Ice
You will not find any refrigerator that can produce ice of industrial capacity. This fridge can make up to 11 pounds of cube-shaped ice per 24 hours, which is totally exceptional.
The turbo ice maker is robust and reliable and will be functional and produce ice for a longer period.
Pros & Cons of Beko Refrigerators
Pros
Beko refrigerators are diverse in range, durable, and very handy. You will find your perfect model in their different style ranges that vary from each other in many ways.
But these are some of the pros that you will find in almost every model of this brand.
Optimal climate control system
More cool air than the usual fridge
Dual-compartments cooling system
High-capacity of ice making
The wide price range for all
Cons
Not all ice makers have filters
Poor customer service
Ice trays freeze together
Small crisp drawers
Some models can be noisy with time
Final Verdict:
We cannot deny that Beko has made its name in the shortest duration because of its innovative dual-cool system.
It has become a competitive brand, so we recommend it for different appliances such as dishwashers and refrigerators.
Although some of the models show some drawbacks, we think its overwhelming winning features deserve a single chance.
We also think it is an exceptional choice if you are looking for a refrigerator with many features at a reasonable price.
Therefore, we recommend this brand and hope you enjoy the experience.
Related Posts: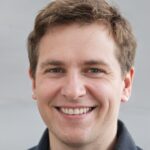 Steven Settles is a professional content writer with over 7 years of experience in writing for different niches, including brand reviews, technology, fitness, and more.
Currently, he is working as a content writer for WorstBrands, where he provides insightful reviews of different products, including home appliances, outdoor gear, fashion, and kitchen products. In his free time, Steven enjoys traveling and exploring new places.