KitchenAid has broken up the norm of its traditional dishwashing setup and is now coming up with new, advanced, and improved technology. Let's see if this revolutionary change is worth the hype or not.
After struggling a lot to find the relevant data and reviews, we have gathered the KitchenAid dishwasher reviews for you along with our top recommendations.
We will show you all the details you need to make an informed decision. Also, we will talk about the design, the features, and how it stacks up against other models on the market.
How Reliable Are Kitchenaid Dishwashers?
KitchenAid is one of the earliest brands you might have heard of from your parents and grandparents.
These are famous for their durability and performance. But second, this company is Energy Star certified, ensuring its sustainability.
Also, all KitchenAid dishwashers are NSF-certified means that these are safe for public health and assure their quality and reliability.
KitchenAid Dishwasher Review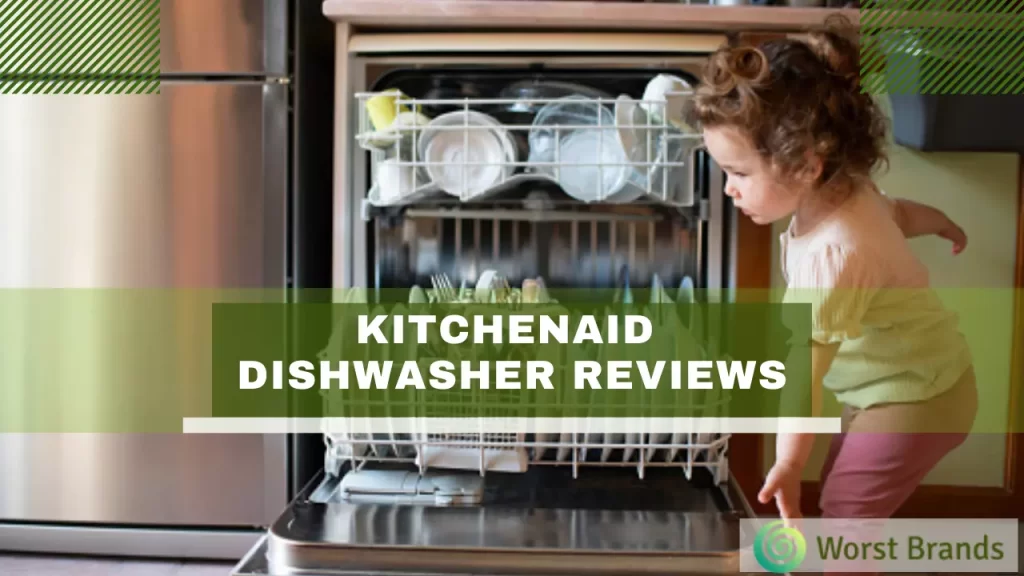 Related: Dishwasher Brands to Avoid
Let's see what makes this KitchenAid dishwasher stand out above the rest.
If you are looking for a versatile yet flexible dishwashing brand that gives you a diverse range of options in terms of price, quality, technology, and compliance, KitchenAid is the right choice for you.
KitchenAid offers a lot of variations that serve everyone's needs in one way or another. Talking about the KitchenAid dishwashers, are extremely durable and functional.
Their touch system and flexible racks make cleaning more easy and quick. At the same time, the latest high-end cleansing techniques ensure crystal-clear dishes.
The Pro drying system in KitchenAid dishwashers is the cherry on the top that maintains a temperature of 155 degrees to kill germs and makes the dishes dirt-free while maintaining appropriate hygiene levels.
However, when it comes to consumer complaints about the KitchenAid dishwasher, there are a number of them. The most common one is the KitchenAid dishwasher not draining.
So, you should make your selection after reading the reviews of the KitchenAid model you want to buy to avoid any hustle.
Now, let us quickly go through everything we like and don't like about KitchenAid dishwashers.
KitchenAid Dishwasher Pros & Cons
After analyzing the different series of this brand, we have concluded the following good points and downsides, which are worth mentioning here. Have a look!
What we like:
A wide range of prices for all
High-end cleaning system
Potent drying technique
Versatile door-styles
Maximum automation
What we don't like:
Limited designs
Large size difficult to setup
No Wi-Fi-connection
Are KitchenAid Dishwashers Worth Buying? 
Although KitchenAid has been a famous company serving for many years, the main reason for its essential place in this industry is its continuous update in features, quality, and performance.
We mention some of the specs that have not improved but also brought a prominent change in the operating method.
1. Design and Construction:
KitchenAid has worked on the overall look and the better functionality of its dishwashers.
The solid stainless steel construction provides absolute support, while the flexible yet robust interior is exceptionally way better than the previous model.
Also, the additional components, such as a free-flex third rack for glasses and big utensils, along with an extra rack for spoons and spatulas, make it more remarkable and spacious than any other ordinary dishwasher.
The print shield finish lets it stay clean all day long, and satin glide backups the compliance.
2. Variable Door Styles:
These cleaning machines are available in series, but all of them differ indoor styles and their mode of cleaning technique. The 4 different styles of these KitchenAid dishwashers are:
Pocket-handle visible control
Pocket –handle top control
Tower handle top controls
Custom-panel ready
3. Capacity and Durability:
This dishwasher is slightly big as compared to the usual dishwashers. So you can use it for 6 members' families easily.
It can accommodate 15 places conveniently, so it lessens your workload and manual effort to load and unload dishes several times. 
The robust in-built design powered by a highly-flexible yet firm design makes it last longer for years and makes the cleaning task simple and efficient.
4. Noise level and Voltage:
Unlike conventional dishwashers, it is comparatively quieter and makes the cleaning chore more calm and smooth.
The KitchenAid dishwasher's noise ranges from 39db-44db. You can experience a quieter cleaning machine which is considered the differentiating point of this company.
Like the usual dishwashing machine, this range also uses 110-120 volts to operate.
5. Interior LED Lightening:
It is an amazing feature that makes loading and unloading easy and hustle-free and gives you a clear view to place your dishes even for a night without disturbing you. 
6. Efficiency and Cost:
It has a wide range of prices for everyone.
Both of these features go side by side. As the price increases, more features add to the dishwasher list, thus improving overall performance efficacy.
Normally it ranges from $800-$1899. The more you invest, the more value add to your dishwasher. The luxurious models have more advance cleaning features in them.
KitchenAid Dishwashers Features :
KitchenAid has come back with a new and improved version of dishwashers, and these are not less than any other high-end cleaning machine.
It has worked on its cleaning features making it more efficient and advanced, thus minimizing human effort.
These are the main key features responsible for robust cleaning.
# Pro wash | Soil Level Indicator
This cleaning feature is an ultimate display of automaticity and modernism that monitors the wash cycle by estimating the sand level.
Pro wash then dictates the number of wash cycles required to make the dishes dirt-free.
# Pro Scrub | Energetic Spray Jets
It is an advanced cleaning feature of this brand that uses the dynamic wash arm operated by the motor and distributes the water thoroughly to the whole section.
And allows the 40 spray jets to spray the water over the dishes with extreme pressure and scrub all the dirt and particles off the dishes.
It also allows you to use it for the upper rack only, thus making it more feasible for washing according to the need. It saves energy and prevents water wastage.
# Triple filter system | 3 dynamic filters
It gives the backbone to the cleaning system that uses three filters, i.e., filter screen, coarse filter, and micro-filter, ensuring the cleaning at a minute level.
These filters act as a barrier to prevent clogging as water recycles during the cleaning process. It also prevents redeposit of the particles, thus giving out crystal clear dishes.
Some luxurious models imply a self-cleaning technique using ultra-fine filters-more efficient cleaning techniques.
# Bottle wash | Spray Jets
An additional feature of these cleaning machines makes them stand out from other dishwashers.
KitchenAid has a separate bottle wash o the upper rack to facilitate bottle cleaning. You can use it for feeders, sports bottles, etc.
Other Dishwasher Brand Reviews:
3 Reliable KitchenAid Dishwashers Reviewed
We have chosen the 3 most reliable KitchenAid cleaning machines for you to cut the chase and get your most suitable best product.
1. KitchenAid KDTM604KPS Review | Good Budget-Pick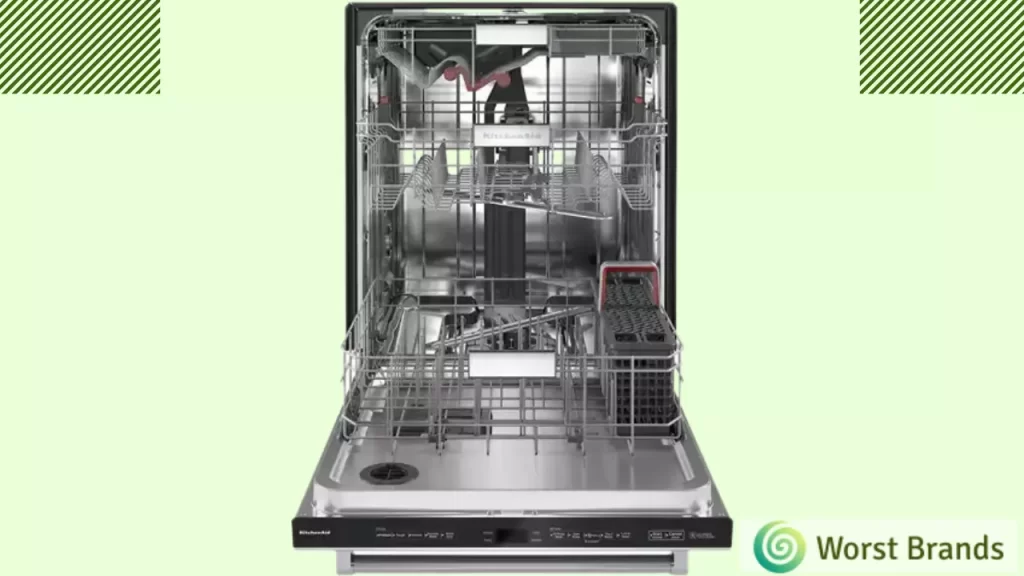 If you are on a budget shopping but looking for a durable and wide dishwasher, this model is the perfect pick. Its low price with supreme features is a power deal for you.
The 44dBa noise level and advanced clean and wash system are best for a 15-16place setting.
Moreover, the flexible third rack with an aided dry system seals the deal. So you don't have to run your dishwasher for longer periods of time
2. KitchenAid KDFM404KBS Review | Good Quality-Pick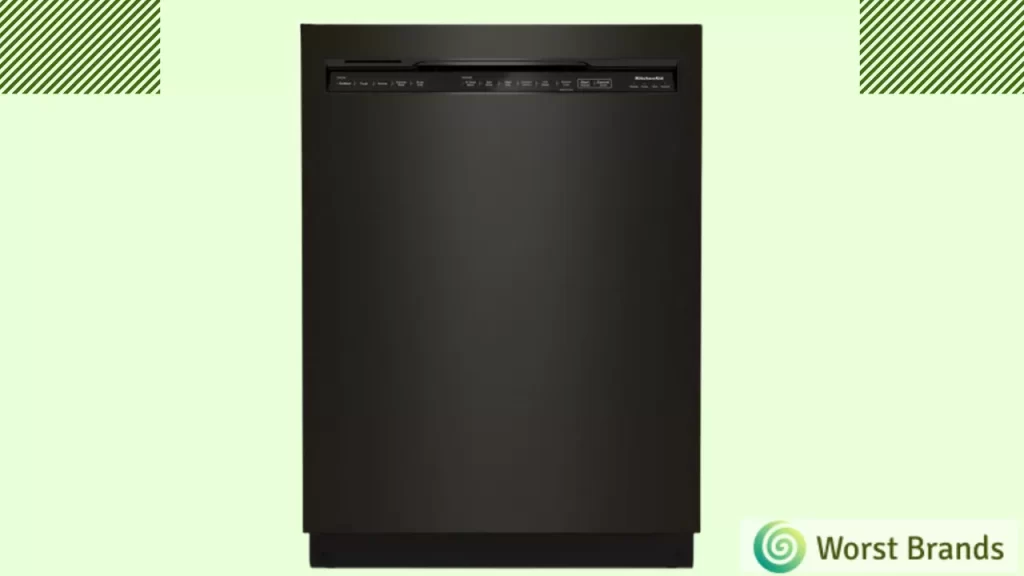 Although both of these models work on the same technology and offers almost the same features.
But if you are ready to invest a little more in uplifting your kitchen look. Then this cleanser is the epitome of class and stylish looks.
Another differing feature of this machine is it offers two stemware holders in the middle rack that provides additional support to its user.
So if you're looking for an energy-efficient dishwasher that offers a great design and a lot of features, then this one is worth checking out.
3. KitchenAid KDFE204KWH Review
If you are looking for a good modern version of this company, this dishwasher is the best pick.
The versatility in colors and the improved technology system make it an exception at this cost.
You can have the "PRO" specs along with traditional quality and durability as it provides enough space for big utensils, smaller spoons and forks, and additional racks. It is one of the quietest models of all.
Conclusion – Our Verdict
I hope this KitchenAid dishwasher review has given you all the important information that you are looking for before buying,
The traditional KitchenAid dishwashers have a primary setup as usual dishwashers have, but the new version is worth trying.
The PRO-series brings versatility and diversity along with absolute cleaning techniques.
However, the new series is a little bit on the pricy side compared to other high-end brands. But one good investment is better if it is promising and durable.
Kindly check our other reviews to know the honest yet informative guides.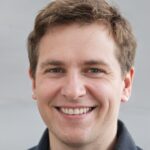 Steven Settles is a professional content writer with over 7 years of experience in writing for different niches, including brand reviews, technology, fitness, and more.
Currently, he is working as a content writer for WorstBrands, where he provides insightful reviews of different products, including home appliances, outdoor gear, fashion, and kitchen products. In his free time, Steven enjoys traveling and exploring new places.