Picture this; you have a new dishwasher in your kitchen cabinet, and eventually, you find a more advanced dishwasher but within less price. Such a nightmare. Right?
So to keep you safe from this unpleasant coincidence, we are sharing Beko dishwasher reviews for you. These dishwashers are the epitome of class, diversity, and remarkable performance.
Then what's the downside of these cleaning machines? Read to find out.
Beko Dishwasher Review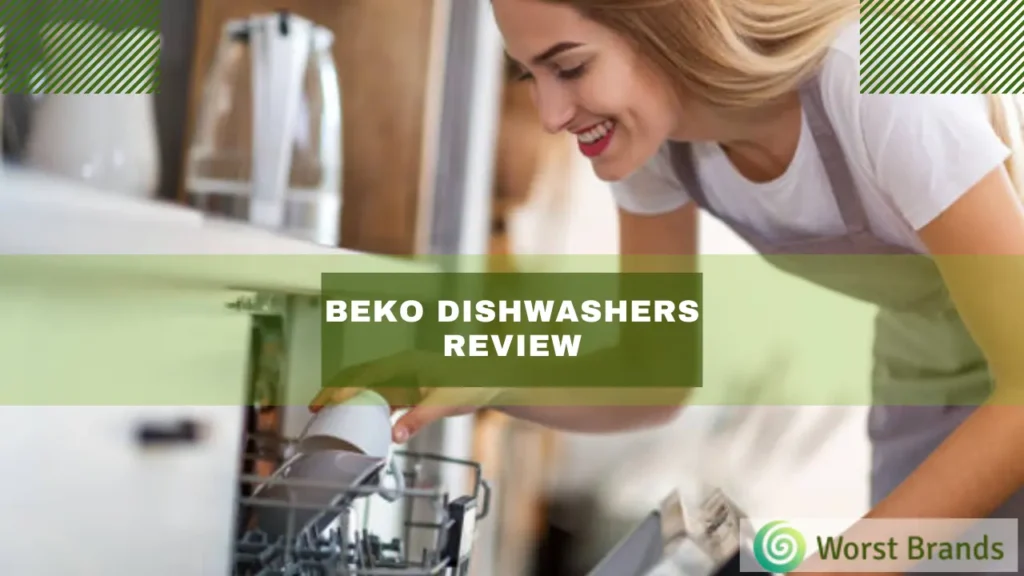 Recently Beko has been word of mouth in the U.S. because of its diverse in-built styles, customized door styles, and wide range of prices for all.
However, this company is less mature than other big names like Samsung or Bosch.
But it has covered a long distance in a shorter span of a few years. People do consider its dishwashers despite other high-end brands.
Its hype is due to its 5 times more powerful cleaning features such as "Quick and Shine Clean and Steam gloss function."
Also, it is a certified company making it more efficient as it uses 24% less energy and 47% less water while cleaning. The fan-assisted drying requires 140 degrees for robust cleaning.
However, we find its durability questionable after going through many reviews.
But to give you deep insight, we have explained its features and specs in our Beko dishwasher review. So, read until the end to know everything about the brand.
Specifications of Beko Dishwashers:
Beko is one of the names that monitors the minute details in its design and manufacturing steps. That's why it has taken up the lead with other big names in a shorter time.
Here are some of the specs worth knowing before getting this product.
You may also like to read our expert reviews about other dishwasher brands:
1. Interior and Exterior
The Beko dishwashers are robust, stylish, and efficiently designed. The exterior of these dishwashers is also made up of stainless steel.
These dishwashers are available in traditional colors: white, black, grey, and metallic.
If we look at the interior of these machines, it is spacious and wide. Beko dishwashers are a good example of intelligently designed dishwashers.
It is because of the accommodation they provide to adjust the space according to your need. Especially the adjustable upper rack is the selling point of this company.
LED lights add a cheery on the top for this flexible yet firm interior.
Following different door styles are available for these dishwashers.
Smudge-resistant door style
Custom panel-ready door style
Standard stainless steel or Fingerprint design
2. Quality and Resilience
As stainless steel exterior and interior make it a robust and solid action machine.
But despite its strong in-built and high-quality construction, these cleaning machines are not as durable as other high-end machines.
So, if you are looking for an affordable option for a shorter duration, like a year, then this might be a good option.
3. Capacity and Competence
If we overlook the durability factor, these machines are best in terms of capacity. The flexible space provision is a solid plus for this company.
You can adjust the upper rack upward or downward while using big utensils and long glasses. So it can take in a 14-16 place setting.
It will let you place your dishes in the best possible way without any tension of breakage or cracks.
Each rack has an in-built set-up design for cutlery, plates, and glasses. This feature and an adjustable upper rack are highly competitive among other dishwashers.
4. Quietness and Wi-Fi Connection
The noise level ranges from 39 dB to 48 dB, depending on which model you choose. You can have the quietest to the slighter whispering machine. Beko offers a wide range, but it all depends on your preference.
Some models lack this feature, but you can always invest more to have a Wi-Fi connection. So, in the end, Beko has all types of models for different consumers.
5. Cost and Feasibility
Beko follows the simple rule; the more you invest, the better you get. Like other dishwashing brands, it offers models from a reasonable range to luxurious value.
The range lies in $500-$1199. You can have your best cleanser covering all the features within your affordable range.
Powerful Cleaning Features of Beko Dishwasher:
Unlike other dishwashers, Beko explains its cleaning technology section-wise with a variable pressure range that gives you the privilege of using the right racks considering the sensitivity of the utensil.
To break it down further, we have explained each section so that you will get a clear picture of its cleansing technique.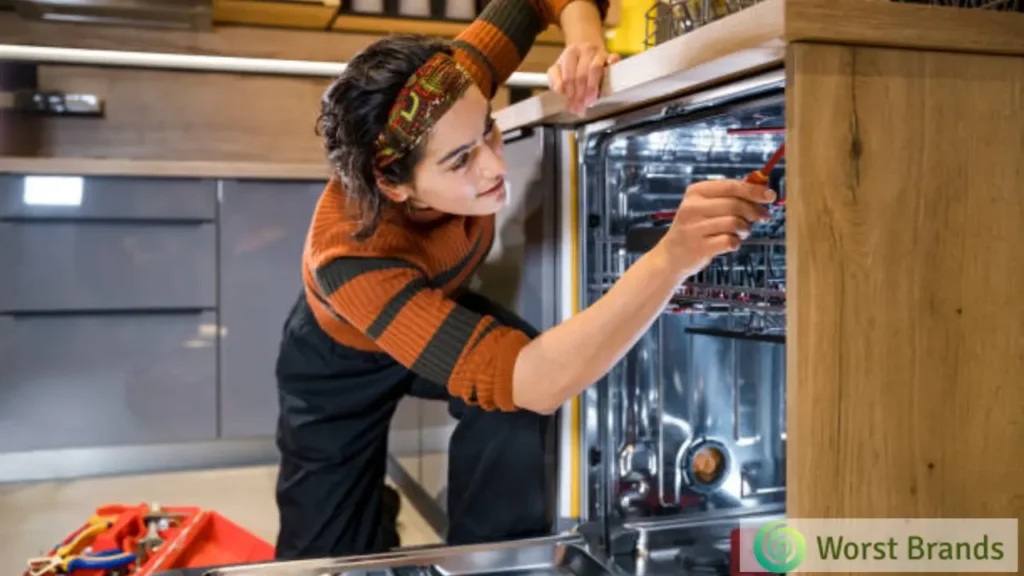 1. Aqua-Intense | Power Zone
As indicated by the name, this zone has intense water pressure. It is mostly used for the dirtiest and most stubborn stains that need high pressure to get off.
Mostly it is the lower section of the washer where you place all your big dirty dishes.
This technology has lessened the manual effort because it provides enough pressure to remove all the dirt and makes the dishes neat and clean.
So there is no need to pre-scrub or wash your dishes for that extra clean look.
2. Aqua Flex | Frail Zone
It is the zone where the water pressure is reduced to avoid breakage of feeble cutlery and prone to break dishes.
Also, it is the area where you usually place your glass and marble mugs.
Beko has introduced these slight pressure variant zones to avoid any unpleasant incidents.
But the fun fact is you can use both zones according to your need. You can do it by adjusting the upper rack up or down and setting the dishes or glass.
This way, you can use it diversely for different dishes in functionally variable ways.
3. Ion Guards | Odor Repellant
The smell is a major issue while washing dishes. But these dishwashers have Ion guards that use the ion-replacement technique.
It deals with the robust dirt particles and neutralizes them to dust off from dishes. It will not only makes dishes clean and clear but also smell-free.
After the dishes are smell-proof and crystal clear, they are dried up. The drying method uses a fan that dries the moisture and makes the dishes moisture-free.
Some of the luxurious models have a steam drying method. It uses steam to make the dishes germ-free and dirt-free.
Pros and Cons of Beko Dishwashers
After taking notes from a few testers and reviewing these cleaning machines, we have concluded some of their positive and negative points.
Pros:
A wide range of styles
Modern in-built features
Unique cleaning method
Reasonable price range
Variable door styles
Cons:
Not so durable
No in-built water softener
Top Beko Dishwashers
We have picked the 3 best models that differ slightly due to their features. You can choose your favorite one that suits you well.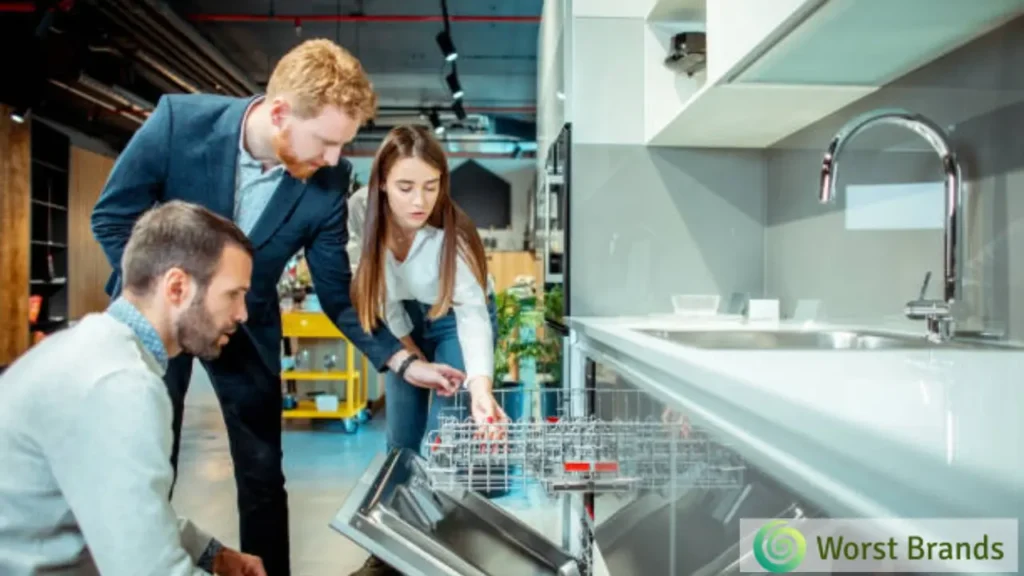 1. Beko Dishwasher DDT39432XIH – Ultra Quiet
This model from Beko is the upgraded version of their popular dishwasher. It comes with several features that make it an excellent choice.
It has a tremendous capacity of 16 place settings and extra room for pots and pans. The electronic touch control, tall steel tub, and 39 dB noise level add more value to this machine.
This model is best for big families, especially children, to quietly beat the massive daily wash chore.
The DDT39432XIH is a great choice if you are looking for a dishwasher that performs excellently and lasts for many years.
2. Beko Dishwasher-DIS25840 Review – Slim-Size
This dishwasher from Beko is a simple but effective appliance. This dishwasher can fit into any kitchen with its unique and customizable panels.
It's made of stainless steel and has an efficient motor that can wash dishes quickly.
The Beko Dishwasher has 8 place settings that can easily accommodate 3-4 people in a standard home. It has a large capacity and can clean up to 8 glasses at once.
This dishwasher has a built-in LED light that is ideal for nighttime washing and is great for those sensitive to UV light.
It has a water filter system that removes chlorine and minerals from the water, which is good for people with health issues or allergies.
This Beko dishwasher allows you to have a customized panel-ready door style. Users shouldn't have standard cabinets. The pro smart inverter motor is quieter than usual, making it likable. 
So it is best for 2-4 individuals sharing the same dishwasher.
3. Beko Dishwasher DDN25401X Review
This dishwasher is an excellent choice if you want to keep your kitchen clean and free of dirt and grime.
It's great for those who like traditional touch setups but want modern features. It has the capacity of 14 place settings and adjustable upper racks with a 48 dB noise level.
You can also enjoy three times more cleaning than a usual dishwasher. Beko designed this dishwasher with a water safety system to prevent overflow.
This full-size dishwasher is also equipped with an LED lighting system, providing more light and is much more energy-efficient than a conventional light bulb.
If you're looking for a dishwasher that is not only reliable and durable but also cost-effective, then you should check out the Beko DDN25401X.
Does Bosch own Beko?
It is one of the most common queries related to these dishwashers. Let us clear it for you once in for all.
No, Beko has no connection with Bosch. Both of these are different companies within the same industry.
Bosch is one of the eldest brands in this field, while Beko is a growing name.
Are Beko Dishwashers Reliable?
To give you a clear vision, we want to tell you that this company owns multiple certifications in the short span of 5-7 years. These certifications gave it more authenticity and credibility.
Beko is a certified energy-efficient company owning Energy Star certification.
It also has a sanitizing cycle that operates according to NSF regulations. Also, the 2-year warranty of each product wraps it all.
Verdict: Beko Dishwasher Reviews
Beko dishwashers' diverse range is good in price, style, and cleaning technique. You can have these legitimate dishwashers according to your cabinet size and design.
But the only downside we see is these dishwashers are not as durable as they should be.
Although Beko has good customer service, switching the machinery is annoying.
We hope that Beko gets better with time in this regard. Then there is no way to stop this company from becoming the next leading name.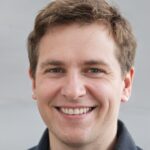 Steven Settles is a professional content writer with over 7 years of experience in writing for different niches, including brand reviews, technology, fitness, and more.
Currently, he is working as a content writer for WorstBrands, where he provides insightful reviews of different products, including home appliances, outdoor gear, fashion, and kitchen products. In his free time, Steven enjoys traveling and exploring new places.