If you're looking for the greatest tires for your vehicle, we may not be able to answer your "greatest" in a few lines.
But we can definitely offer you a secret recipe that can fit hard on your car and hit not-so-hard on your pocket. The name is Crosswind Tires.
It's a Chinese company that has started to get recognition in countries like the USA and Canada.
Crosswind tires are a budget-friendly, eco-friendly, and high-performance alternative to premium tires.
Through their quality, these tires have established authority among their customers.
We know you must be thinking about the best tires for the company, as you aren't going to buy a random pick.
To get the answer, you must have to continue below as we have prepared a Crosswind Tires Review guide best suited to your preferences.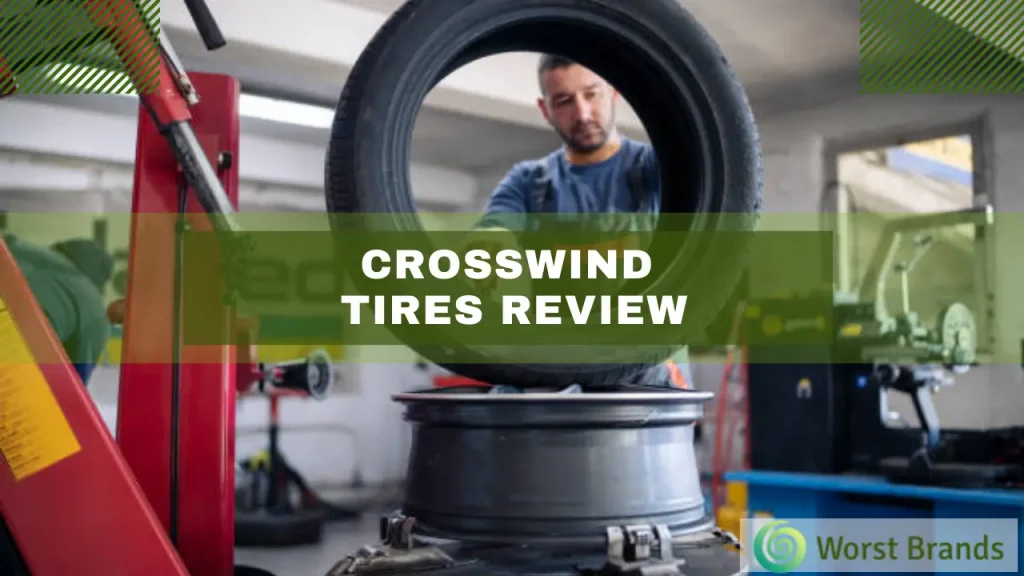 How Have We Tested Crosswind Tires?
It's important to talk about our testing system. Being an established company in the tire niche for more than 7 years, our team of 20 members has tested hundreds of tires.
In our lab, we assessed the under-test tires for their quality. After all the quality assurance tests, we make a review guide based on the results.
Top 3 Crosswind Tires Review
If you're interested to know more about Crosswind tires Review, here's a detailed guideline of the company's top 3 tires:
| Good traction but average braking. | Dry Road Performance | Wet Road Performance | Snowy Road Peformance |
| --- | --- | --- | --- |
| Crosswind HP010 | Excellent traction and braking. | Snowy Road Performance | Poor on thick snow. |
| Crosswind A/T | Good traction and balance. | Adequate, good aquaplaning resistance. | Poor on dense snow. |
| Crosswind M/T | Above-average, balanced. | Excellent on wet and mud, perfect aquaplaning. | Poor on dense snow. |
You may also love to check our expert reviews on Milestar Tires or Achilles Tires.
1. Crosswind HP010: Suitable High-Performance Tire
Crosswind HP010 is the company's entrance into the premium high-performance tire category.
Though they have been making these kinds of tires for some time, HP010 was their first high-tech high performer.
Tested on our 2014 Mitsubishi Outlander, we were quite satisfied with its show-off on the road.
Having said that, the tire has a spark for SUVs, sedans, and other sporty, high-performance vehicles.
Let's find out more about this tire in the segment below:
Our last meeting was related to the performance of Crosswind HP010. The team was pretty positive about this tire.
Though there were some minor caveats in it, the tire's overall performance was above par.
You will see phenomenal traction with a reliable grip on a normal dry road. There's a solid rib that provides stability to the tire.
This is quite important as it also gives you a comfortable ride without compromising the mileage.
Additionally, the Symmetric tread pattern design helps you go over the top on dry tarmac.
You'll be pretty happy to know that the high performance of tires is coupled with excellent braking time and distance.
The wet road driving of Crosswind HP010 is enhanced through four straight, wide, circumferential grooves. These grooves give two benefits to your car.
One, they remove the extra built-up water in the tire to provide resistance against aquaplaning.
Second, they also offer enough traction to let you go high on your car without losing traction.
However, the company suffers in one department: its average braking capability. Your car will undoubtedly stop at a limit, yet you'll see a slide in the tires.
Crosswind HP010 gives your car enough friction to run smoothly on slippery and wet roads.
The snowy road performance is at the middle level. As we have seen, almost every mid-range tire suffers on the snow, and the same happens with Crosswind HP010.
Even on the light snow at the average speed, you'll experience a lack of enough traction to provide a maintained ride. We suggest that you go with a winter tire.
The last few words about Crosswind HP010 are that it is a good tire for budget-conscious people.
Without a few compromises, like thick snow, this tire can be a good choice at low prices.
Pros
A good performance at a normal speed
Quite acceptable driving experience, even at high speeds
Quiet and comfortable ride
Cons
The snowy road is a nightmare for this tire
Cornering grip, as well as braking, is not the cup of tea for Crosswind HP010
2. Crosswind A/T: Excellent All-Terrain Tire
We bought 4 Crosswind A/T tires for a few of our team cars. The reason is that we were very impressed with its performance.
Not only does this tire go well off-road, but it also works fine as your daily driver.
The tire is said to mean for SUVs, sedans, and coupes. Now, the real question is that this tire has a lot to offer on paper, but does it also deliver you the same on the road?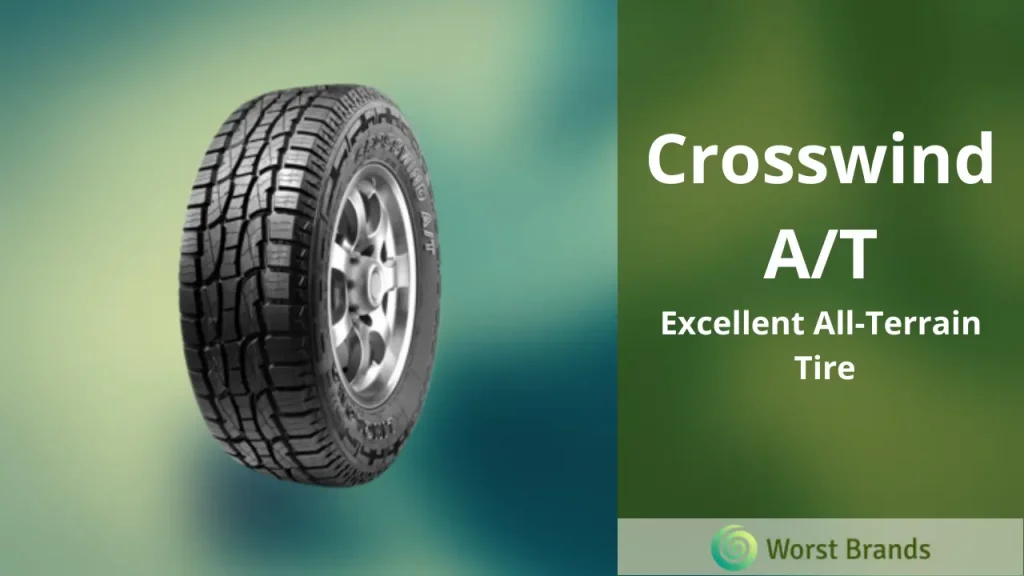 Before offering you our review, we want to make your mindset that Crosswind A/T is not a premium tire. But it has a lot to offer, looking at its price segment.
The traction levels are one of the best things on the tire. Although not as good as the premium tires have, it certainly does its work and gives you a good tire.
Even the experience on the off-road was pretty awesome, thanks to a radial combined frame and reinforcement with metal belts.
Similarly, you would see there was quite adequate balance in handling the tire. Although, throttling the car may cost you in the form of traction and grip.
Another downside of Crosswind A/T is that it does not have good braking. But, again, it is not a premium tire; it gives you enough braking to keep you safe, even at high speeds.
The wet road performance of Crosswind A/T is pretty okay-ish. It means that it is not the worst, but it was limited.
You'll get everything from the tire, including traction, grip, and handling. Again, you'll see that the wet road performance is another area where this tire fails.
On the other hand, aquaplaning resistance was quite good. The wide grooves, along with open shoulder blocks, remove the extra water from the tread of the tire and give stability to your driving.
So, after the mixed performance from Crosswind A/T, how does it go on the snowy tarmac? The simple answer is that it is not a decent performer in winter conditions.
On light snow, it has a good performance. While on the hard pack and dense snow, it lags. Plus, the braking was also not that good.
Finally, we had a good all-around tire in the budget segment in the form of Crosswind A/T.
Although you may not be able to push it on the snowy and slushy roads, you'll get enough from the tire on the light, snowy road as well as on dry and wet tarmacs.
Pros
A good and comfortable ride with balanced traction and grip
50,000 miles treadwear warranty
Low price
Cons
Not the best tire in the budget segment
Snow performance is the area where the company needs to work
3. Crosswind M/T: Top Quality Mud-Terrain Tire
Last but not least, we have Crosswind M/T tire. This tire is specifically built to take your vehicle in extreme and harsh conditions.
It is a budget-range tire that won't mind gripping some drawbacks with excellent performance.
Crosswind M/T specifically targets minitrucks, sedans, and SUVs. Let's find out more about this tire.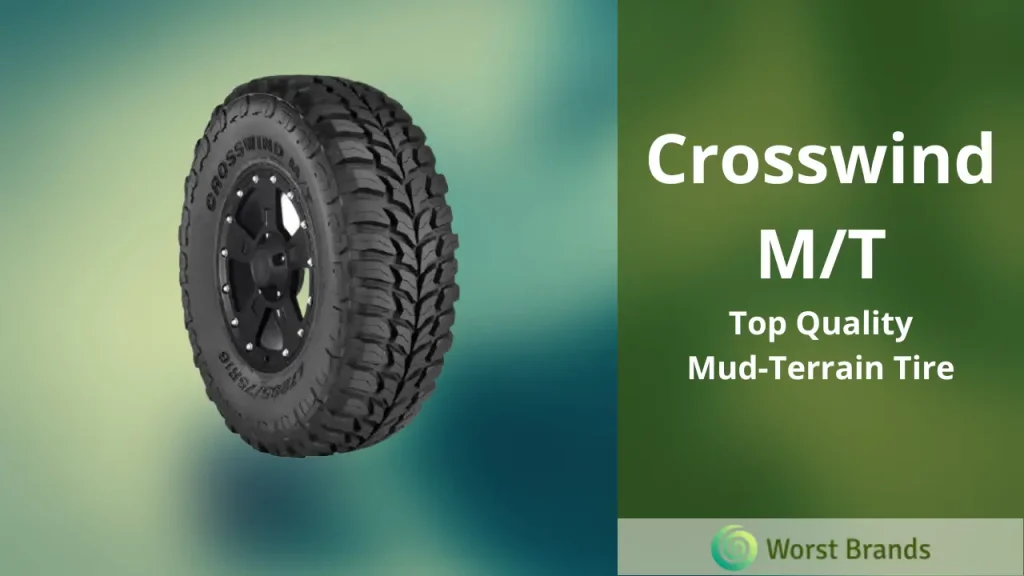 With a purpose to unleash the potential of 4WDs, Crosswind M/T is a company's mud terrain midrange tire.
On a dry road, we saw that this tire was above average. Even on a single axis, you can easily take your car off-road.
It doesn't matter if the road has gravel, sand, or dust embankments; you will get an equal performance on every kind of terrain with enough traction and grip.
Apart from asphalt, you can make Crosswind M/T your daily driver as it is a very balanced tire with more than enough stability and handling.
On the negative side, the cornering drive is the under-the-belt kick zone for this tire. So, it's not the best tire for high-speed riding. Period!
The tire has a Symmetrical tread pattern plus three parallel grooves. It can provide you with phenomenal driving on plain, watery roads and mud terrains.
And why shouldn't it perform? It's a mud-terrain tire at last.
Similarly, aquaplaning is another thing that is dang perfect, thus minimizing the risk of road accidents on slippery roads.
Crosswind M/T comes with a high-quality, dense weave of belts with a radial frame to enhance stability on the roads. This thing also impacts the handling, thus maximizing it.
Lastly, we want to know about the snow performance of Crosswind M/T. Maybe it is a bit disappointing to know that this tire's snow performance is not good.
You can get acceptable driving on the light snow, but the dense snow pack will give this tire a tough time.
If you choose Crosswind M/T for winter conditions, we would advise against it.
Okay, the short review of Crosswind M/T is that it is a good tire for you to go on dry and wet off-road driving. You can even ride it as your daily driver.
But winter conditions are not suitable for our target tire. So, choose as per your own personal preferences.
Pros
An excellent grip on dry and wet roads
More than enough support and handling on the mud
40,000 miles treadwear warranty
Cons
It can be quite loud
The tire is not meant for snowy areas
No 3-ply sides
Why Should You Choose Crosswind Tires?
Some good reasons demand you must choose Crosswind tires for your vehicle, described below:
Well-favored tires among passenger cars
Give good performance in all conditions
Excellent alternatives for premium tires with maximum longevity
Safe for the environment because of the use of natural rubber
Overall, it has good quality at a low price.
Related:
Who Makes Crosswind Tires?
LingLong Tires owns Crosswind Tires company. Both companies are in China, while the latter makes Crosswind tires.
In North America and Canada, these tires are distributed and marketed by T.B.C. Brands.
Crosswind Tires Warranty:
On average, the company offers up to 60,000 miles of treadwear warranty. Remember that this warranty is not valid for all tires; check with your company before making any purchase.
Crosswind Tires Complaints:
Following are the most repeated complaints from Crosswind Tires:
Below-average tire performance in winter
Other than a few models, most of the tires make noise on the highways
Though the performance was good on dry and wet tarmacs, handling and braking was an issue on the slippery roads
The driving experience on the snowy road is unlike other good brands (not even close).
You might also like to read:
Conclusion
After reviewing, I must say that Crosswind is making pretty affordable yet good tires for its customers.
Though these tires often come with drawbacks, they also provide you with many things at a price range that can be quite competitive.
But, again, if you think you are satisfied with Crosswind tires' performance, you should pick some of our top choices for this company.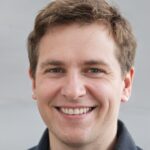 Steven Settles is a professional content writer with over 7 years of experience in writing for different niches, including brand reviews, technology, fitness, and more.
Currently, he is working as a content writer for WorstBrands, where he provides insightful reviews of different products, including home appliances, outdoor gear, fashion, and kitchen products. In his free time, Steven enjoys traveling and exploring new places.