Whether it's about ultra-high performance or light truck tires, Milestar has everything under its umbrella to satisfy customer needs.
Every time I do tire reviews with my team, I recommend that they focus on the deficiencies and pros of the tire rather than the price.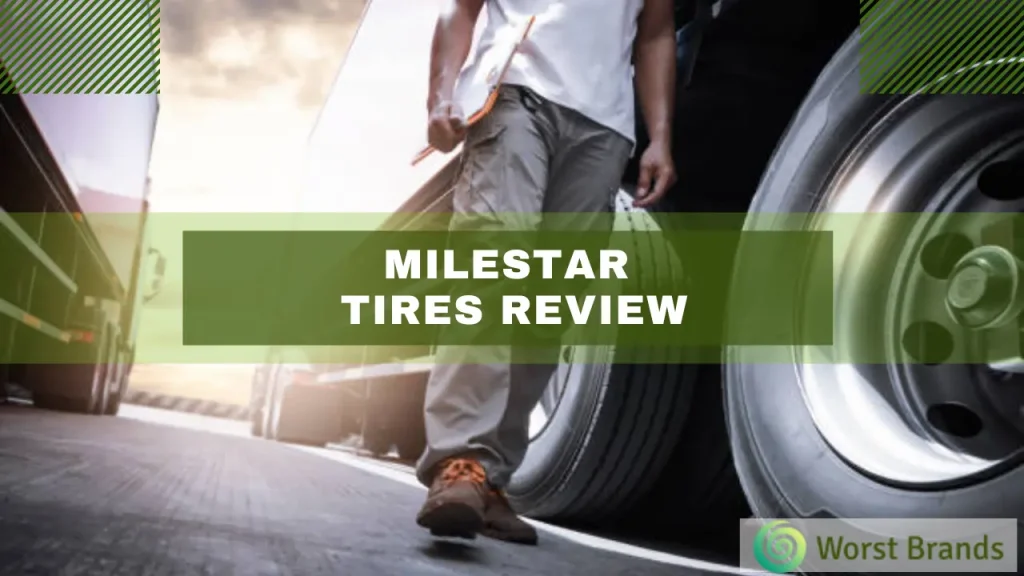 Milestar Tires offer durability, all-year performance, and affordability. They feature intelligent design, enhanced handling, and a variety of options.
The engineers working in their company look to innovate tires with the latest technology for their purchasers' longevity and safety assurance.
In this Milestar Tires Review guide, we'll go through the nitty-gritty details about Milestar tires so that you can buy the best for your car wheels.
Without further ado, let's dive straight into it.
Why should you choose Milestar Tires?
Following are some of the key factors that make these tires worth buying.
Longevity
Durability is the first thing we all deem about every set of tires we buy. Milestar tires come with an average tread life warranty of 50k miles.
Thanks to the intelligent design tread pattern, which has step-down grooves for maintaining a grip on off-road and uneven terrains.
Moreover, the tread compound has infused silica gel, making these robust tires durable and capable of resisting cuts and chip damage.
Quality Assurance
The quality of the tires is satisfactory. We never expected this sort of quality from a cheap tire.
Yet, the warranty mentioned above couldn't satisfy, but the cost takes the lead. Also, the tires have an all-year performance for dry, wet, and winter conditions.
Comfort Handling
The Milestar tires have enhanced handling control on every terrain. The shoulder blocks and 3D sipping improve stability and provide drivers with smooth handling on all-season drives.
Thanks to the wide circumferential ribs, which maintain good traction with the road.
The tread pattern has lateral grooves and sipping water channels away, reducing the risk of aquaplaning.
Cost-Effective
The price tags of these sets of tires are undeniably the best, with such quality and performance that we couldn't stop ourselves from purchasing these.
You can get a pair of most of these tires for just $170 to $250, which is fantastic value in the budget tire market.
These tires won't cost you an arm or leg; in short, these tires are worth a drive.
Variety of Choices
As we've mentioned above, the tires have poignant and exemplary features. In hindsight, the company has various options in its umbrella for summer, winter, and rainy days.
The Milestar Patagonia M/T tire was enchanting on the Ford, diversified by a Florida-based builder.
How Have We Tested Milestar Tires?
For the past few years, we have been managing and rating tires of all brands. We found Milestar tires on online markets such as Walmart, Amazon, and DiscountDirect.
We have tested these tires' quality, durability, and performance on terrains and under unusual weather conditions.
Top 3 Milestar Tires Review
We have given our honest Milestar Tires Review. Before our in-detail analysis, check the table below for a summary of Milestar Tires' performance.
| Tire Model | Dry Road | Wet Road | Snowy Road |
| --- | --- | --- | --- |
| Milestar MS70 | Excellent handling and stability | Good traction resists hydroplaning      | Poor traction, not suitable for snow |
| Milestar Patagonia AT PRO | Excellent off-road, good handling, durable | Good traction, minor noise at higher speeds | Excellent traction, snowflake rated |
| Milestar Streetsteel | Smooth ride, good traction, impressive cornering | Good traction, resists hydroplaning | Average on light snow, not suitable for deep snow |
In addition, check out our blogs on Laufenn Tires, Michelin, or Maxxis Tires.
1. Milestar MS70: Excellent Passenger Tire
The Milestar MS70 is an all-season tire manufactured for minivans and sedans. It's a T-rated tire so you can push the acceleration limit to 118 MPH.
Moreover, this model provides good value in dry, wet, and winter conditions.
This tire is affordable, with many aesthetic looks and tread designs. The tires are available in 13-, 14-, and 15-inch wheel diameters with a 40,000-mile warranty.
Dry Road Performance
The highway is one of my standard routes to my workspace, and the roads are dry in summer, so I installed MS70 in my sedan (Honda Civic).
The tires have excellent dry-road performance. The vertical sipping on the tread resulted in better handling and stability on the highway.
Moreover, the intricate sipping pattern resists heat ventilation, resulting in excellent griping on the edges. The tires have adequate performance on dry terrains.
Wet Road Performance
The four-circumferential grooves resist hydroplaning by wiping away water from the tire, which results in better traction in wet conditions.
In this way, you can drive comfortably and smoothly on wet pavements.
The tires are integrated with steel belts, which provide longevity and better tread life to these tires.
Snow Road Performance
The variable sipping evacuates snow for better handling in winter conditions.
The tires were supposed to give good traction on the snow pavements. However, the performance sounded wonky for me on snow roadways.
Although considering the cost of the tires, we can neglect this deficiency.
What we liked:
The tires are budget-friendly.
It has good performance on a wet and dry surface.
Water resistible.
What we don't like:
The tires aren't suitable for snow conditions.
The treadwear could be improved a little bit.
Verdict
The tire's overall performance satisfied me; however, it was not in snow conditions.
The tires are quite affordable; that's why I won't measure the deficiencies of this tire set.
2. Milestar Patagonia AT PRO: Good All-Terrain Tire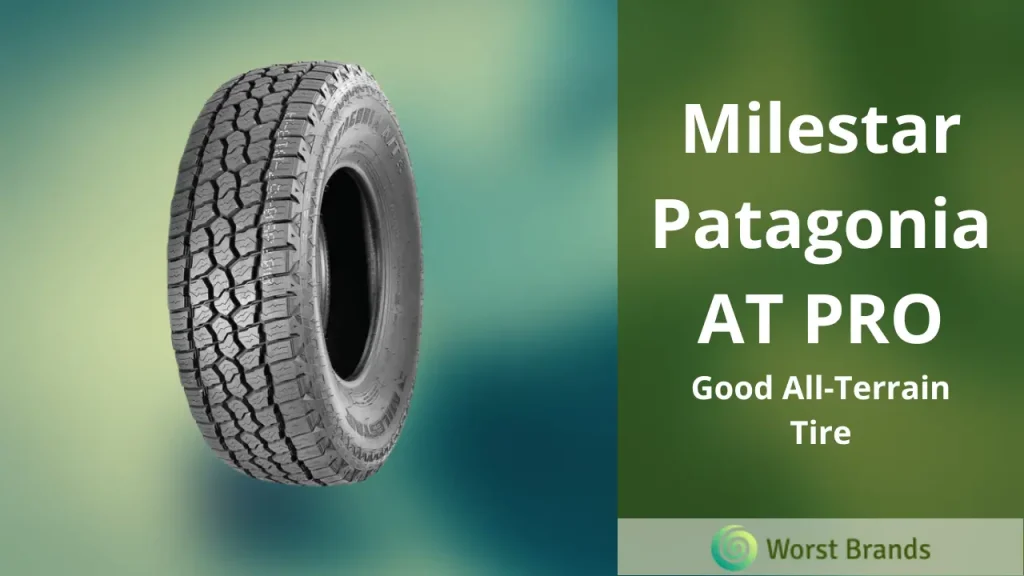 Milestar Patagonia AT PRO is specifically designed for SUVs and trucks with an exquisite treadwear warranty of 55,000 miles.
The tires have all the features that can satisfy customer needs. It is manufactured for all terrains, including snow pavements.
The tires are available in 15″ to 22″ diameter sizes that are affordable compared to premium brands.
Dry Road Performance
The tires have excellent dry and off-road performance. I took them in a severe off-road condition and didn't have a jolt in my neck.
The Miletech advanced compound technology gives tires robust durability and strength on the most challenging uneven terrains.
The sizeable off-road shoulder blocks and aggressive upper sidewalls protect the tire from rocks and gravel.
Wet Road Performance
The splendid shoulder sips and staggered step-down grooves enhance road performance in wet conditions by channeling water away and reducing aquaplaning risk.
The tread has rigid tread blocks, which provide stable handling and guard grooves against stone drilling.
Overall, the tread pattern design is vital in creating good traction on the wet surface. However, I felt some sound the tires produced at higher speeds.
Snow Road Performance
The tire is three-peak mountain snowflake rated, which means it can handle severe winter and wet conditions without any obstacles.
As we've mentioned above, the rigid tread blocks and the angle notches provide excellent snow traction.
What we liked:
Impressive all-year performance.
They provide a smooth and comfortable ride-off and on-road conditions.
Excellent on snow terrains.
What we don't like:
Produce noise at higher speeds.
Verdict
The tires were splendid on my off-road drive. Also, the enhancement of technologies protected my tire from minor rocks on the terrain.
However, I still heard some noise produced by the tires when I pushed a bit.
3. Milestar Streetsteel: Top-Notch All-Season Tire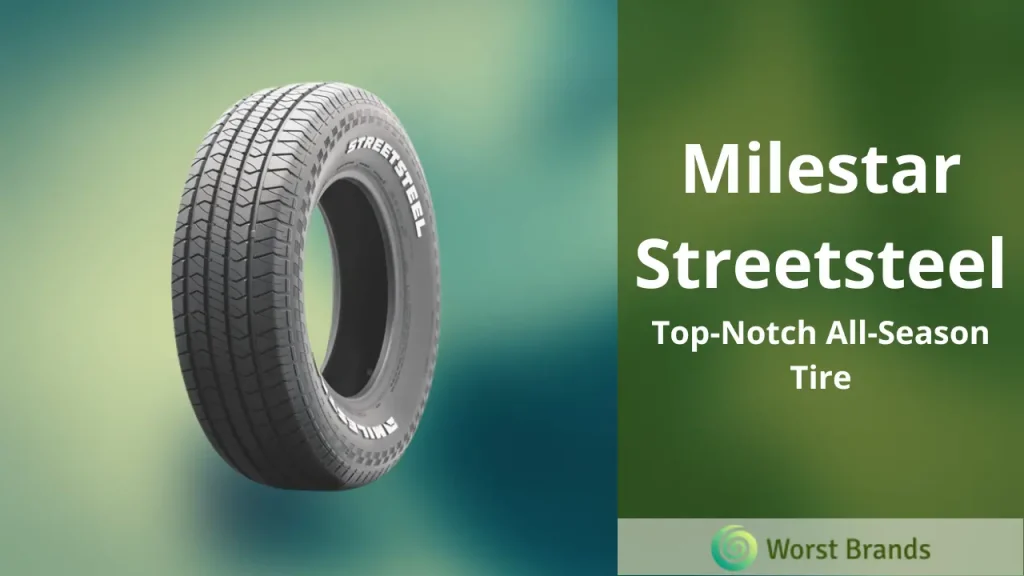 The Milestar Streetsteel is an all-season tire with aesthetic white lettering, which gave me an aesthetic look. I reviewed this tire based on performance rather than the design.
The tire has an exquisite tread pattern for smooth handling on dry and wet pavements.
The tire is exclusively designed for muscles like Mustard. It's only available in 14″ and 15″ with a 40,000 miles warranty.
Dry Road Performance
While driving my Chevrolet 90s model, one of the muscle cars, on the dry pavements of the highway, the tires provided me a smooth ride back to my town.
All thanks the angled sipping and notched center rib helped these tires to gain good traction and stability.
Also, the tires have impressive cornering performance; I would rate them 4/5 on a dry road.
Wet Road Performance
Water evacuation is indispensable for every set of tires. The Milestar Streetsteel has four circumferential grooves paired with shoulder blocks to divert water and prevent the risk of aquaplaning from tires.
Furthermore, I was astounded to see the impressive traction of these tires in rainy weather in my town.
Snow Road Performance
The tire has an M+S rating, which means it can handle all kinds of mud and snow. I had my leisure and did a small excursion on snow on these tires.
The model is average on light snow; however, I won't risk these tires on the critical and deep snow surface.
What we liked:
It has good performance on wet and dry terrains.
Affordable tires.
They can resist hydroplaning.
What we don't like:
The tires can't handle deep snow.
Verdict
The tires were excellent in dry and wet road conditions; if you want something affordable and top-tier performance, then opt for this tire brand.
Pros and Cons of Milestar Tires
Pros
Excellent stability in off-road and on-road conditions.
Impressive performance on a wet and dry surface.
Affordable
Are Milestar tires Good?
The Milestar tires have good all-year performance; however, some of the tires might have struggled in deep snow conditions.
However, you can reckon these tires if you are tight on budget and don't want to break the bank.
Moreover, the tires have exquisite tread pattern design for better handling, gripping, and improved stability on corners.
The circumferential grooves easily resist aquaplaning by evacuating water from the tires, giving you a more comfortable ride on wet pavements.
Who Makes Milestar Tire?
Milestar tires are manufactured by Nankang Rubber Corporation and marketed and branded by Tireco Incorporation.
Tireco is a US-based company founded in 1972. They are supplying their products globally. The company has tires available for light trucks, SUVs, and medium trucks.
Also Read:
Milestar Tire Warranty
Milestar tires have a 50,000-mile warranty, which is pretty impressive if you consider the price tags of the tires. These tires have much to offer for all-season drive, off-road, and winter conditions.
Final Thoughts
If you are looking for a set of tires that balance quality, performance, and affordability, Milestar tires seem promising.
They offer a range of options suitable for various terrains and weather conditions despite some limitations in deep snow.
The intelligent design, enhanced handling, and resistance to aquaplaning are some of the remarkable features that make these tires worth considering.
The tires come with a reasonable warranty, considering their price point, and are manufactured by a reputable company.
So, if you are on a tight budget and need a reliable set of tires for your vehicle, Milestar tires might be a wise choice for you.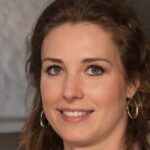 Crystal Hafley is a dedicated writer and content creator for WorstBrands, where she specializes in writing insightful reviews about kitchen appliances and fashion products.
With her expertise, Crystal provides readers with accurate and reliable information to help them make informed decisions about the brands and products they use every day. When she's not researching or writing, Crystal enjoys cooking and exploring the latest fashion trends.