So, it was quite an accidental thing that we got our hands on Ironman tires. It was a 2015 F-150 at our garage that had an Ironman iMove. So, our team got a few models to test.
Ironman tires are made by Hercules, a company that comes under the direct subsidiary of American Tire Distributors (ATDs).
The company is famous for making quality tires in the budget range. Similar to Hankook and Cooper Tires, it is also a well-reputed company.
So, after complete testing, we've made an Ironman tires review guide list along with their pros and cons. Could you give it a read?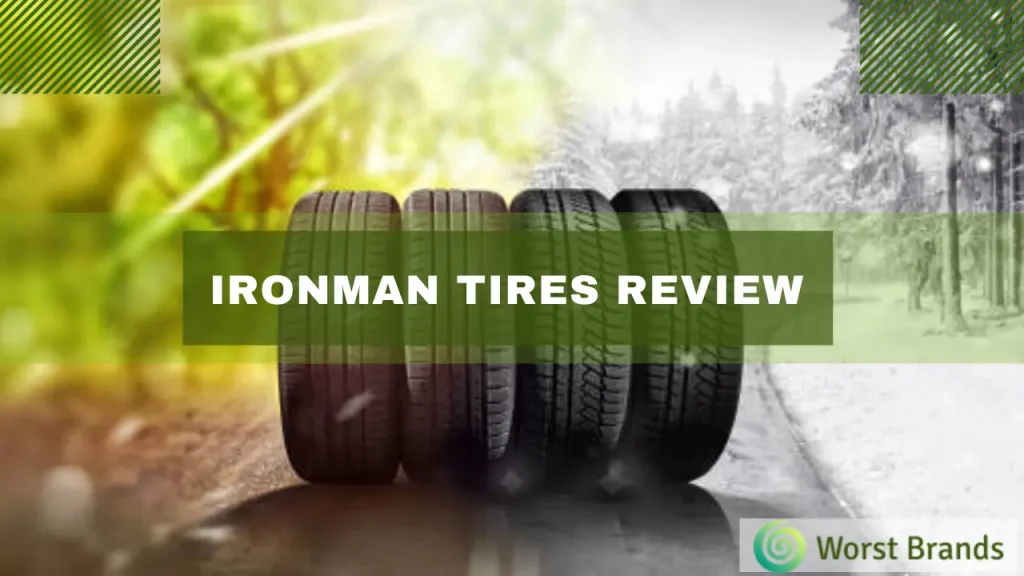 How Have We Tested Ironman Tires?
Before heading forward, let's make sure that you trust the quality of our reviews by making it clear how we test the tires.
We are a team of 20 members who use different tires for their vehicles. We use them for different purposes and share our experiences.
Moreover, in our garage, we've built a special tire lab to judge the quality of these tires. We assess them in different environmental conditions and then tailor a review to help you choose a better tire.
Top 3 Ironman Tires Review in 2023:
Enough of the chitchat; now let's talk about the tires we selected for the Ironman Tires Review guide.
The following table compares the top Ironman tires and how they performed in different road conditions.
| Tire Model | Dry Road | Wet Road | Snowy Road |
| --- | --- | --- | --- |
| iMove Gen 2 AS | Excellent traction/grip | Great in heavy rain | Good for light snow |
| Radial A/P | Stable at normal speeds | Decent for A/T tire | Good on icy roads |
| All Country A/T | Good on & off-road | Good traction; issues at high speeds | Suitable for normal snow |
1. Ironman iMove Gen 2 AS: Top-Notch High-Performance Tire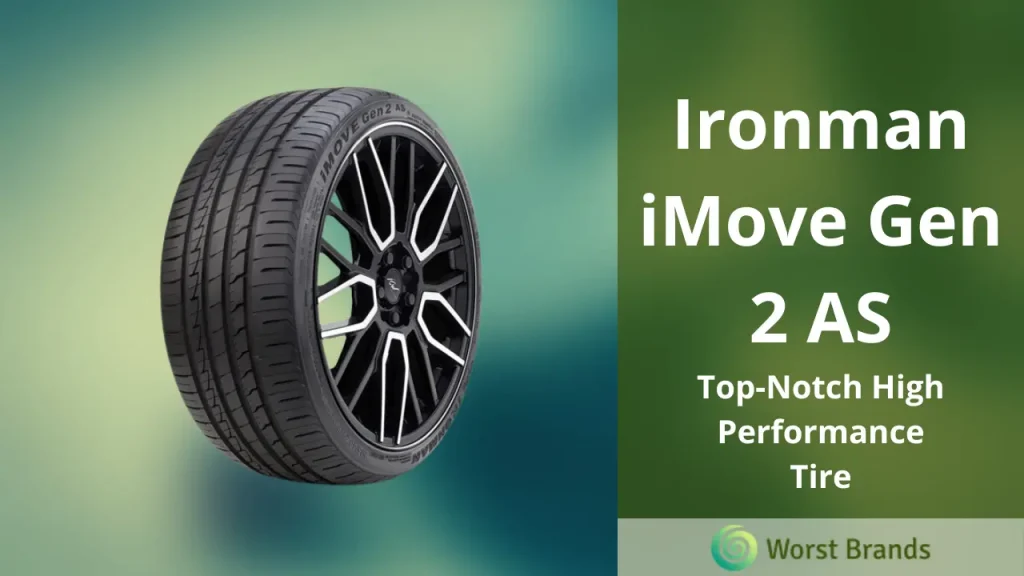 The company launched Ironman iMove Gen 2 AS to resolve the rider's problems who want to have a high-performance tire in the budget segment.
It is the tire that focuses on safety, longevity, and long tread life. iMove Gen 2 AS is specifically made for the owners of passenger cars.
Dry road performance:
UHP (Ultra high-performance) is built to operate under different conditions, and iMove Gen 2 AS is one of those tires that fulfill all the criteria for being a high-performance tire.
Talking about the traction of the tire, it is quite good. Actually, both traction and grip are dependent on each other.
This means that good traction will have a good grip, too, and vice versa. Just like that, you can expect a decently short braking time with excellent car stability.
However, driving the tires too aggressively or pushing them in a corner at high speeds may cause the vehicle to lose its grip on the road.
Yeah, the car won't wobble; unlike a typical cheap tire, it won't compete with other company tires of the same range.
All in all, iMove Gen 2 AS quickly changes the directions and responsiveness. Considering the price range of the tire, I think this is totally meant for your bucks.
Wet road performance:
When we talk about the wet performance of iMove Gen 2 AS, the tire delivers the same as it does on the dry road.
The circumferential and longitudinal grooves, along with the asymmetric pattern, not only help prevent the aquaplaning but also remove more water so that you can have better control over your vehicle.
It holds traction even in heavy rains. Similarly, the grip levels are pretty good too. However, if you try to push the tire too hard, it may slip.
The frosting on top and cornering grip at higher speeds are also excellent. Getting the short braking distance, good stability to the car, and response on the roads are all the hot shots of iMove Gen 2 AS on a watery road.
Rehearing again, the tire may not be the best in the class on the wet roads, but it is not the worst either.
Snow performance:
iMove Gen 2 AS comes with an M+S rating; still, this tire is not the one that has the best snow performance of all.
Snowday is not a fun day for these tires. We won't recommend this tire to go touring on a snowy road. T
The light snow is a cup of cake for the tire, with good traction and grip over the road.
However, heavy snow teases the tire a lot. So, we suggest you go for a winter tire to get the best performance on icy roads.
Pros
Excellent, dependable traction on the dry and wet road
Outstanding aquaplaning
Comfortable ride
Cons
Poor performance at high speeds
Suffers on snowy roads
Verdict:
When it comes to high-performance tires, iMove Gen 2 AS has grasped the market's attention quite well.
It may not be the best in the class, but still, it offers the best value for the money.
Hats off to the excellent traction and grip on dry and wet roads. We can definitely vouch for the quality of this tire.
2. Ironman Radial A/P: Epic Off-Road Tire
The first on the list of Ironman tire review guides is an off-terrain tire, Ironman Radial A/P.
The tire, with its excellent traction, grip, stability, and build quality, targets budget-sensitive people. Besides, this tire is built for rams and truck drivers.
Dry road performance:
The basic framework of Ironman Radial A/P is made so that the center of the tire bears the maximum load.
While driving the tire on a 4 x 4, we realized that these tires are not meant for high-speed driving. And, no off-tire is made for high performance.
Hence, at normal speed, Radial A/P delivered what we thought about it. It has good traction, excellent grip, and great handling.
But things start to go out of hand as soon as you push your car to its speed limit. When we put the car on jagged slopes and uneven roads, the car started wobbling.
On the other hand, when tested on the normal and paved roads, these tires didn't offer much performance.
Yes, the traction and grip were awesome and more than enough. However, a larger void-to-rubber ratio on the tire offers more than required friction, resulting in a lack of high speed on highways.
Wet road performance:
Let's talk about the wet road performance of Radial A/P. The performance was okay, not too bad compared to an A/T tire.
The tire didn't shred too hard, nor did it struggle against the sidewall cuts and stones drilling.
But again, you can't expect too much from an M/T in case of high performance. The braking time was decent, with the car stopping at a safe distance.
One plus point of using Radial A/P is its self-cleaning system. It is especially helpful when driving in mud full of stones, debris, and stains.
The tire's side walls are built with a special void ratio that removes the excess debris.
Snow performance:
When it comes to the snow performance of Ironman Radial A/P, we can say it's quite good. The traction was great, even on the icy roads.
Plus, the tire handled the grip quite well. However, you can't push the tire too hard, or otherwise, they will throw you into the trap of death.
Similarly, driving in heavy snow is not the game of this tire. Although it gave a comparatively okay grip, it still suffers from traction when driving on its corners.
Pros
Impressive traction
No shaking at high speeds
Comfortable drive
60-month warranty
Cons
Don't perform well at high speeds
Noisy
Verdict:
The final words are that Ironman Radial A/P are good sets of tires for all-purpose off-road driving. Not only are they cheap, but they offer excellent traction and grip.
Yeah, they suffer at high speeds but also give a comfortable drive. You can have this tire on your scale if you want an all-terrain tire in the budget range.
3. Ironman All Country A/T: Strong All-Terrain Tire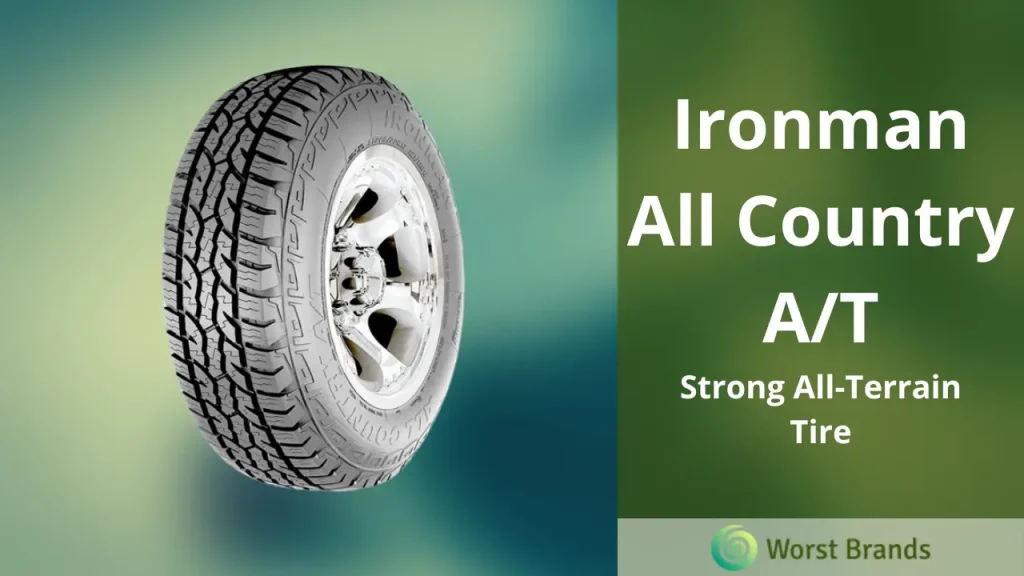 Are you looking for an off-road tire that equally performs on the road? If yes, try All Country A/T. It's a tire in the budget price segment and offers many features.
With the launch of this tire, Ironman strengthened its market of SUVs, coupes, and mini trucks. Let's find out more about this tire.
Dry road performance:
We tested the Ironman All Country A/T on a 2003 Dodge Dakota for one and a half years.
During the time of testing, we were quite impressed with the performance of the tire.
It's not that we haven't tried any other brands, but the tire really superseded our expectation of being a cheap, all-terrain tire.
Even off-road driving on rough roads, the tire didn't shake a bit; rather, it provided great control over the vehicle.
Not only this, but Ironman All Country A/T also gives you good freedom to use it on whatever road you like, be it off-road or on-road.
A few small problems with the tire include high noise on the road and the wobbling of cars at high speeds. But these issues are so small that you can ignore them quite easily.
Wet road performance:
Now, the wet road always poses a great challenge for all tires. But this tire handled the wet traction quite well.
We're not trying to convey here that it performed flawlessly. Obviously, Ironman All Country A/T also faced some issues, in fact, quite a big issue.
For example, the tire loses sight on the highway road, loses traction at very high speeds, and sometimes suffers at cornering. Other than that, it was pretty exceptional, even in heavy rains.
The tread compounds added to the tire enhanced its gripping on a watery road. Plus, these channels also help in resistance against aquaplaning.
Snow performance:
Fortunately, these tires were good at normal and even mediocre ice. There is no stocking of ice between the grooves of the road.  However, a bad winter can be a problem for our big boy.
Therefore, go for the tires that are specially made for the winter performance.
Pros
Outstanding traction of dry and wet
Prevent from aquaplaning
No shaking of the car on the highway
Budget-friendly tire
Cons
Slipping in the car, even at low speeds, sometimes
Can be noisy
Verdict:
I must say that not only does All Country A/T give a strong aesthetic sense to your vehicle, but it also provides tenacious performance. And all this comes under $140.
The tire has a good grip on dry and wet roads; however, overspeeding may cause problems.
Also, heavy snowfall can be a challenge for it. So, what do you think of this tire?
Why should you choose Ironman Tires?
Following are the advantages that the tires of Ironman have often been sought worldwide:
These tires offer cheap prices.
They have high build quality.
Their tires offer premium products at low rates.
Ironman tires deliver excellent traction and grip as compared to other cheap brands.
These tires give an aesthetic look to your car.
Who makes Ironman Tires?
Ironman is the subbrand of Hercules tire brand and comes under the direct subsidiary of The Cooper Tire & Rubber Company. Ironman tires are famous for their budget-friendly products.
Ironman Tires Warranty
Ironman tires are protected by a 60-month Limited Protection Policy that covers defects in the material of the tire.
Plus, the company also offers a tread life warranty of up to 40,000 miles on some of its tires.
Are Ironman Tires Good?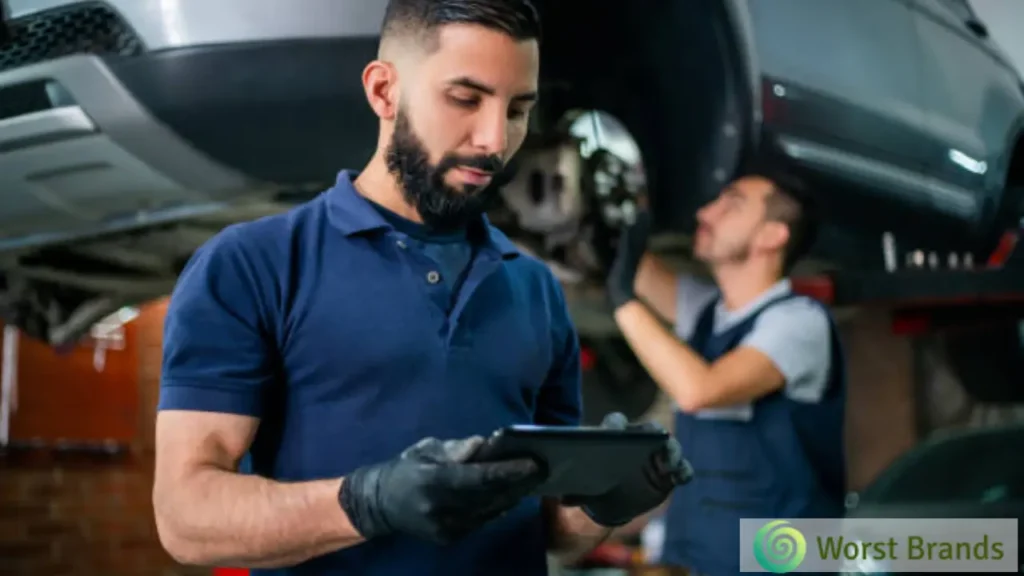 Yes, Ironman tires are good, especially for those on a budget.
They offer dependable performance in various road conditions, with specific models excelling in particular environments. While they provide excellent traction and grip on both dry and wet roads, some models might face challenges at high speeds or in heavy snow.
Overall, they present a commendable value for their price range and are comparable to other well-known, budget-friendly tire brands.
Ironman Tires Complaints
Ironman tires have some of the common problems given below:
The tires can produce a loud noise
A lack of traction in snowy and high-speed driving
Splitting on the sidewalls occur
Final Thoughts:
When it comes to offering cheap yet quality tires, you'll definitely find Ironman tires among the line of other brands.
The tires of this company are meant to provide satisfaction and pleasure to their customers.
Summarizing this, if you want a tire meant to perform under all conditions, you can opt for Ironman iMove Gen 2 AS.
On the other hand, if you're more into a tire that can give you a peaceful off-road experience, you can choose Ironman Radial A/P.
Still not able to make up your mind? Read the guide to have a better idea.
Last but not least, always select a tire as per your needs, be it an Ironman tire or any other company.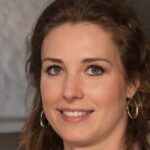 Crystal Hafley is a dedicated writer and content creator for WorstBrands, where she specializes in writing insightful reviews about kitchen appliances and fashion products.
With her expertise, Crystal provides readers with accurate and reliable information to help them make informed decisions about the brands and products they use every day. When she's not researching or writing, Crystal enjoys cooking and exploring the latest fashion trends.