The market often leaves you confused about choosing the right one for your vehicle.
The thing is that we often want a product that should have good quality but also have a lower price. So, how about Hercules tires?
This company was launched in 1952 as Hercules Tire and Rubber Company. Since then, they have been making tires and related products.
This brand has a child branch named Ironman. But the company comes under the direct supervision of American Tire Distributors (ATDs).
But what could be the good Hercules tires for your vehicle? Don't worry, as we've got your back.
After thorough assessment and research, we've compiled a Hercules tires review guide.
This list not only includes the top tires by the company but also reviews them along with their pros and cons. So, shouldn't we go further into it?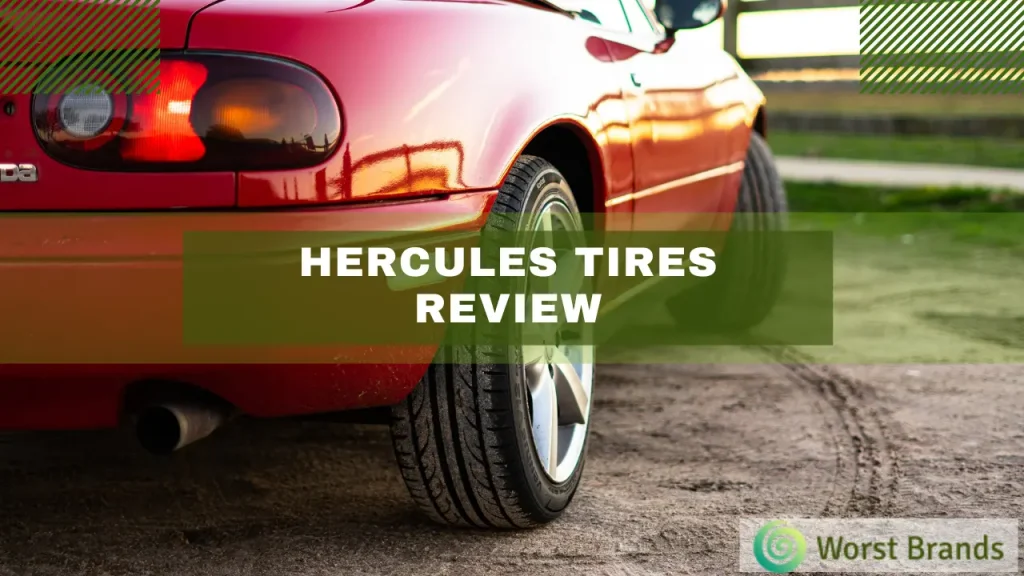 Why Should You Choose Hercules Tires?
Good overall performance:
Hercules is a brand that offers what it claims. It produces valuable products. The tires of Hercules are often considered safe on roads with good traction and grip.
Durability:
Hercules is known for providing competitive treadwear warranties for its tires. Sometimes, these warranties are even higher than other premium brands. This thing speaks about the durability of their tires.
Comfortable ride:
Another plus point we noticed a lot during our test driving is that Hercules tires make less noise and often provide a comfortable ride.
You'll enjoy long rides if you have these tires on your vehicle.
Also, read our expert reviews on other brands of tires.
How Have We Tested Hercules Tires?
When it comes to the quality of testing of the tires, we want to be clear and transparent.
We have a team of 50+ members that constantly use and test these tires. They assess the tires in different environments, like dry, wet, or snowy roads.
Then, we gather information from different platforms to find how customers see these tires.
After that, we tailor a review post based on these test results and customer feedback and present it to you to help you choose the most suitable tire for your vehicle.
Hercules Tires Review:
After testing several Hercules Tires, we have the top 3 Hercules Tires Review.
1. Hercules 655 MRE
Hercules 655 MRE is a premium all-season tire that targets compact cars, sedans, minivans, and coupes.
The tire replaces the original Road Tour 655 that was launched in 2009. Hence, it has also improved the overall stability, traction, and grip. Let's find out more about it.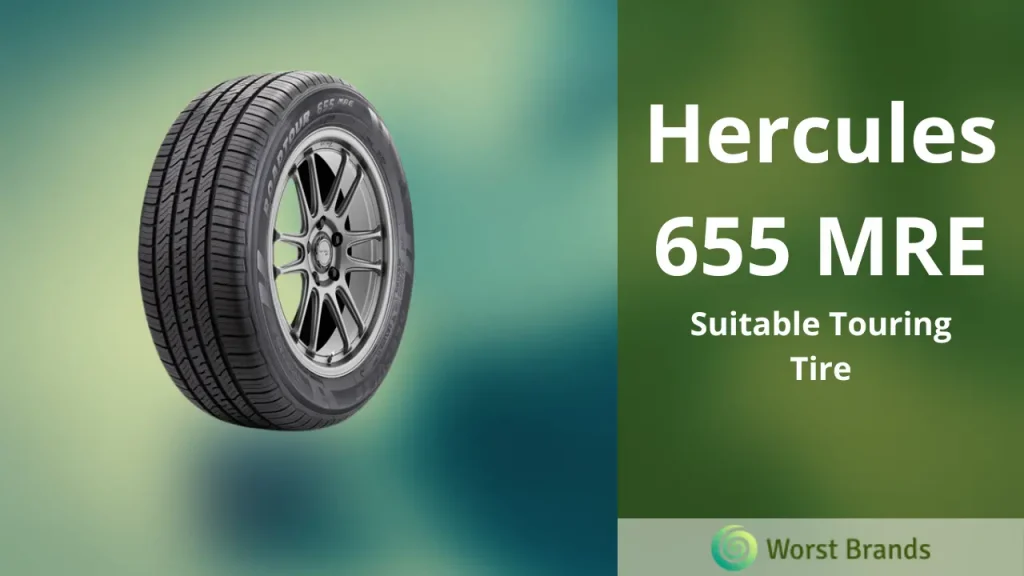 Dry road performance:
With its increased 33% narrow siping than the last generation, Hercules 655 MRE gives an enhanced performance on dry and wet roads.
When it comes to traction, the tire performs admirably. Actually, traction and grip are mutually related.
This implies that excellent traction will also have a firm grip, and contrariwise. As a result, you may expect a relatively short deceleration time with good vehicle stability.
Yet, this tire may break its contact with the road at high speeds. No doubt, the automobile will not shake, but it won't perform like other higher-end tires.
Overall, Hercules 655 MRE switches directions and responds swiftly. Given the cost of the tire, we believe this is quite an appropriate choice for your money.
Wet road performance:
Regarding slippery road performance, the Hercules 655 MRE produces the same results as it does on dry roads.
The zig-zag siping design makes more biting edges that, with the help of lateral edges, increase the traction on slippery roads.
Plus, the antisymmetric pattern prevents hydroplaning and eliminates more water, giving you more control over your car.
Even in intense rainfall, it maintains its grip. Correspondingly, the braking scores are also excellent. Nevertheless, if you put too much pressure on the tire, it may slide down.
The big shots of the Hercules 655 MRE on a wet route include a relatively brief braking distance, decent car security, and a good response on the road.
Resentencing, the tire is not the best in its class on wet roads, but it is also not the horrendous one.
Snow performance:
Although the Hercules 655 MRE has an M+S score, its snow performance is not stellar. We do not recommend using this tire for icy road touring.
Light snow is no problem for the tire, with excellent traction and clamps on the route. However, heavy snow lures the tire a lot.
We suggest purchasing a winter tire to get the greatest result on icy roads.
Pros:
Excellent traction on wet and dry roads
Resistance against aquaplaning is great
Comfortable and smooth ride
Cons:
● Suffers at high speeds
● Performance is below average on snowy roads
● This tire wears down, resulting in a decrease in the traction
Verdict:
Hercules 655 MRE has successfully captured the market's interest regarding all-season touring tires. It may not be the finest in its class, but it could be the best deal.
Kudos on the excellent traction and grip on both dry and wet roads. We can unequivocally attest to the high quality of this tire.
2. Hercules All-Season Tour 4.0 Plus
If you are a person who is looking for a budget alternative to flagship tires, Hercules All-Season Tour 4.0 Plus is a worthwhile option for you.
Thanks to their silica-enhanced structure, these tires are specially built to perform in different weather.
Tour 4.0 Plus is built for minivans, crossovers, sedans, and coupes. Let's find out more about this tire in detail: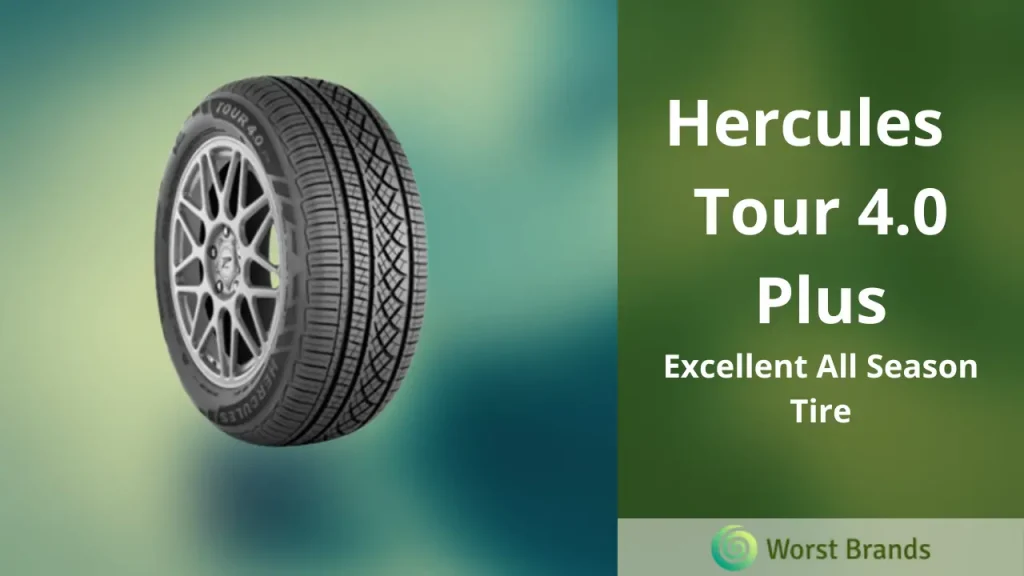 Dry road performance:
Tour 4.0 Plus is an M+S-rated tire which means it can perform both on dry and wet roads.
The silica compound paired with an asymmetric tread pattern gives the tire strong traction on the dry road.
Similarly, the continuous rib framework of the tire gives stability even at high speeds.
No doubt, the grip is excellent as it is a mud tire. Still, it won't satisfy us at the top speed of our Chevrolet Cruze 2015.
At high speed, the weakest point of this tire is its cornering grip, which seems to be high on normal dry road driving.
Everything was also excellent on the tire, like grip, traction, and stability. The best of all, the braking time was awesome. It got us here.
Wet road performance:
Alright, let us talk a bit about the wet performance of the tire. When it comes to driving on the watery road, Tour 4.0 Plus could be your budget-friendly good performer tire.
At average speed, driving this tire gives you an enjoyable ride with an outstanding grip over the road.
The tire, somehow, shows a lag in the wet traction, yet not so common.
However, things start to turn pretty quickly as you shift the gear to the top speed of your car.
Here, Tour 4.0 Plus struggles badly with traction as the tire wears. We won't recommend someone to use this tire if he wants to go speeding on a watery road.
Snow performance:
The M+S rating, as per Rubber Manufacturers Association (RMA) guidelines, ensures the good performance of Tour 4.0 Plus on snowy roads.
The thick and fresh treadwear of the tire gave a smooth ride on the light snow.
Still, it's a budget tire, and you should not expect a very good performance from it.
Hence, we suggest you not drive Tour 4.0 Plus on icy roads unless you want to do some stunts.
Pros:
Traction on a dry road is pretty good, even at high speeds
Perform quite well in light snowy conditions
Comfortable ride experience
Cons:
Wet traction is a question mark for this tire
Pretty average tread life
Verdict:
The last few words are Tour 4.0 Plus is a pretty good option for a budget-conscious driver who wants an all-around tire.
The tire performed quite satisfactorily under normal conditions and at high speeds on the dry road.
The wet traction is the weakest point of this tire. Still, it could be a great value for your money.
In America, this tire is a bit short online, yet you can find it in many brick-and-mortar stores.
Related: Yokohama Tires Review
3. Hercules Terra Trac AT II
Terra Trac AT II is another hit production from Hercules in the all-terrain category that replaces the original tire from the company. The plus point of the tire is its affordable price point.
Hercules has built this tire for light trucks, sedans, jeeps, and SUVs. But how does this tire perform on different tarmacs? Let's find out.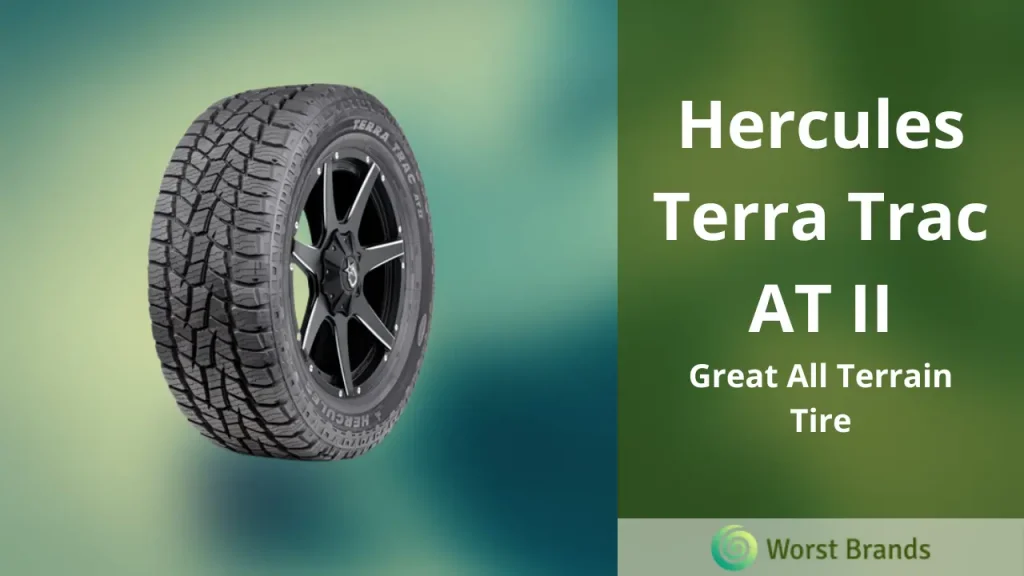 Dry road performance:
On dry pavement, Terra Trac AT II was outstanding. The tire never showed a lack of confidence in the traction or grip, even on panic breaks or sharp turns.
Tested on a 2014 Ram 1500, this tire has everything you can expect from a budget tire.
Even driving offroad on pavement that has not been used for the last 3 years, the tire didn't exhibit any symptoms of loss in traction.
On the top, the use of a Silica-infused AT-C tread compound enhanced the grip and stability on the road. We've no overall complaints about this tire; pretty satisfied.
Wet road performance:
When it comes to the wet road performance of the Terra Trac AT II, we would say a dang perfect experience.
With the help of lateral edge patterns, the siping, and wide-strike-pattern circumferential grooves improved the traction and enhanced the grip on the watery roads.
This technology has another added benefit: it removes the excess water under the tire, thus giving you good resistance against aquaplaning.
The braking was excellent, and the braking time was also within the safe limit.
A small caveat of the tire is that if you drive it fastly on slippery roads, you can easily notice a drip in the cornering grip.
However, we doubt you'll ever see this problem if you drive normally.
Snow performance:
Just like the wet performance, the wet performance of Terra Trac AT II was also phenomenal.
The tire is 3PMS rated, which means the company has manufactured it keeping the severe snowy conditions in mind.
This could be a plus point for those living in the northern areas, as the winter conditions can get quite terrible.
Pros:
Surprisingly good on every kind of road
The tire is aggressively built
Can handle dirt and mud quite comfortably
Comes in the budget segment
Cons:
Treadlife is average
Can suffer from the cornering grip on wet roads at high speeds
Verdict:
Finally, we would say that we have something incredible from Hercules. Terra Trac AT II has done a great job in every weather.
It almost checks the green tick in every box, performance-wise, be it on smooth pavement or an unbalanced road.
Another plus point is the absence of high noises and a smooth ride from the tire. Does this tire click your mind or not? Let us know.
Who Makes Hercules Tires?
Hercules tires are manufactured by an American company, The Cooper Tire & Rubber Company.
Established in 1960, this company is known as the king of the replacement tires market.
Hercules Tires Warranty
Hercule Tires offer a Limited Warranty Plan and Performance Promise Plan. Per the Performance Performance Plan, if you are unsatisfied with your tires, you can get a free comparable replacement from the company within 45 days.
Plus, a treadwear warranty of up to 40,000-50,000 miles on different sets of tires is also available.
Hercules Tires Complaints
The following are the common complaints regarding the Hercules tires:
Performance suffers on snowy roads
Sometimes, traction is not up to the mark on wet roads
A lack of cornering grip at high speeds
Final Words:
Gathering all the bits and pieces, Hercules isn't a famous brand. As you're reading this article, there's little information available online regarding this company.
Even then, this tire organization greatly amazed us regarding performance, quality, and pricing scheme.
Lastly, just like the premium brands, for example, Douglas or Lionhart, Hercules produces safe and long-lasting tires.
Also, these tires give good traction and grip. However, short treadwear is a common caveat for all Hercules tires.
So, we suggest whatever tire you're purchasing, always look for its quality. Along with many other brands, you should put Hercules tires on your radar too.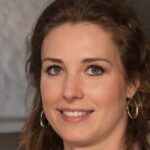 Crystal Hafley is a dedicated writer and content creator for WorstBrands, where she specializes in writing insightful reviews about kitchen appliances and fashion products.
With her expertise, Crystal provides readers with accurate and reliable information to help them make informed decisions about the brands and products they use every day. When she's not researching or writing, Crystal enjoys cooking and exploring the latest fashion trends.