Toyo Tire is a brand that has justified its worth over the past few years. People often rate its tires 4.6 out of 5.
The company is especially famous for making all-season and all-touring tires. But are Toyo tires really worth the hype? How can they help you in different conditions?
To get you out of this perplexing situation, we've decided to test some of the top tires from the company.
Therefore, we got our hands on their products some time ago. After assessing the quality in different ways, we have prepared this Toyo Tires Review guide for you.
Related: Hercules Tires Review
How Have We Tested Toyo Tires?
We often test the tires in variable conditions to assess their quality. It's very important to have an unbiased review of these tires.
Our team usually uses a set of tires for a certain time and judges their quality in different environments like dry roads, wet roads, or snowy pavements.
Only then do we write any review here to guide you about the ins and outs of the tires of a company.
Why Should You Choose Toyo Tires?
Toyo has always been famous for making world-renowned tires. Their tires have gained popularity due to the following reasons:
Good traction
Outstanding grip regardless of the conditions
A long tread life and treadwear warranty
Toyo is making high-quality tires in the budget section
Due to the factors mentioned above, we often recommend Toyo tires to our customers.
Best 3 Toyo Tires Review:
So, without further ado, let's start the Toyo Tires Review guide. However, before going into the details, the following table shows how to top Toyo tires performed during our tests.
| Toyo Tires Models | Dry Road | Wet Road | Snowy Road |
| --- | --- | --- | --- |
| Open Country AT II | Good traction | Strong grip | Good on light snow, struggles with deep snow |
| Proxes Sport A/S | Excellent grip; struggles on grooved roads | Admirable grip | Good on light snow; not on thick snow |
| Toyo Celsius | Good traction | Excellent grip | Excels on light-medium snow; struggles with deep snow |
1. Toyo Open Country AT II Tire Review
Open Country AT II is one of those commonly loved tires in the off-road community. This is because of all the improvements Toyo has introduced to it.
Being an all-terrain tire, it gives an aggressive look to your vehicle, but it also brings a lot of features that we're going to discuss in a while.
Open Country AT II is designed mainly for pickups, SUVs, and other vehicles. My test car for Open Country AT II is a 2004 Toyota LandCruiser Prado GXL. Let's see how it performs.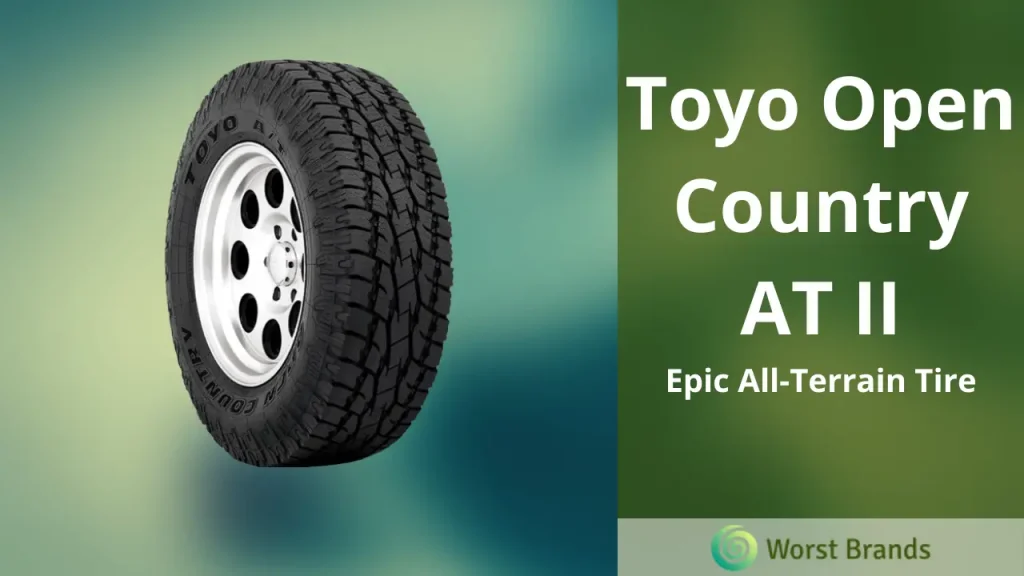 Dry road performance:
Testing the Open Country AT II on the dry tarmac, we don't have any serious complaints about it.
We never felt that the tire was lagging in any area. It doesn't matter whether you are driving on the highway or on off-road; the tire won't let you feel out of the race.
Yet, a small thing we would like to mention here is a decrease in the response at higher highway speeds.
Other than that, it is quite a good tire for daily driving. On top of all, the tire's traction has impressed us a lot; thumbs up for that.
Plus, you can't ignore the cornering grip, firm braking, and stability. Everything was fantastic.
Wet road performance:
Like driving on the dry road, we expected a similar performance on wet roads.
We're happy to say that the tire fulfilled our expectations. Like an ultra-performance tire, Open Country AT II provided good grip and traction on watery roads.
Even on the Tamarac with sharp stones and wet sand, the tire was not difficult to give its best.
Obviously, the tire had a large void area; it should have excellent aquaplaning.
Open Tread Block Design helps the tire show tough performance in the mud and slush.
Snowy performance:
It was fun riding the tire on the snowy roads. Having said that, a few inches were an easy peasy cake for Open Country AT II.
With an outstanding performance on icy roads, the tire gave stability with good cornering grips and short braking distances.
Thick ice can still impose challenges on the tire. Yet the Polygonal Blocks and Zigzag Sipes design have helped the tire offer a little bit of good grip so you can move forward in the icy blocks without losing traction.
Pros:
Jack of All Trades Tire performed in every aspect
Good grip and traction on both dry and wet roads
Excellent wet and winter performance with a 3PMSF rating
An outstanding long treadwear warrant and tread life
Cons:
It is slightly expensive
Can suffer in bottomless mud
Verdict:
The final verdict is that we were quite dazzled by the Open Country AT II performance.
The tire's exceptional performance on every terrain is its beauty. But yes, it does suffer in very deep mud and deep snow.
2. Toyo Proxes Sport A/S Tire Review
If you have a high-performance car, how about you double the fun with some ultra-performance tires?
If yes, then Proxes Sport A/S should be your next go-to option. The tire is meant to be used with high-performance sporty cars and SUVs.
The tire delivers what it promises with exceptional durability and long treadwear. What more can this tire offer? Let's have a look.
Dry road performance:
Since Sport A/S is a performance tire, we expected a ton of progress on dry roads from it. Yes, it delivered what it was supposed to.
On dry pavement, the traction and grip were undoubtedly good. A plus contribution is better stability, handling, and more control over high speeds.
MULTI-WAVE SIPES has improved its performance on dry roads. 4.8/5 for dry road performance.
However, we observed squirrelly behavior on grooved and unbalanced roads from the tires. The tire was dancing around to regroup the traction and grip.
Wet road performance:
The tire was absolutely a surprise regarding the wet road performance.
It provided a strong and well-balanced ride on the watery roads and gave admirable traction and grip.
The double V-shaped tread design is meant to maintain the grasp of the tire on the road, regardless of the amount of water present on it.
Snowy performance:
Now, things start to wobble a bit regarding the snow road performance of the Proxes Sport A/S.
Even though it is meant to be an all-season ultra-performance tire, it didn't surpass our expectations.
On the light, snowy pavement, the tire was quite good, no doubt. But on a road covered with thick snow, the tires can do very little to provide a good grip and traction.
Surely, Proxes Sport A/S did offer a better snow performance than your summer tire; still, we recommend you go for a winter tire to have good snow traction.
Pros:
A high-performance tire with a year-round performance
Outstanding traction and grip on the road
Quite affordable to the completion
Comfortable and smooth ride
Cons:
Snow traction is not too good
Can become noisy
Verdict:
Toyo Proxes Sport A/S is one of the high-performance all-season tires.
Mentioning that the tire has more than enough grip and traction on the road. On the other hand, it was quite responsive, with more than enough stability.
The tire does struggle with traction on the snow and has a loud noise still, but it is a good deal with all these specs and has such an affordable price range.
You should definitely have this tire on your watchlist.
3. Toyo Celsius Tire Review
The only all-season on the list with good wet traction and very good snow traction, Toyo Celsius could be a tire that fulfills all your needs. Regardless, Toyo reckons this tire is a variable-conditions tire.
Also, it is a touring tire; you won't be disappointed by its performance. Toyo Celsius is a tire for 4 x 4 cars, coupes, and mini trucks.
Let's find out if this tire really satisfies our needs for an all-season touring tire.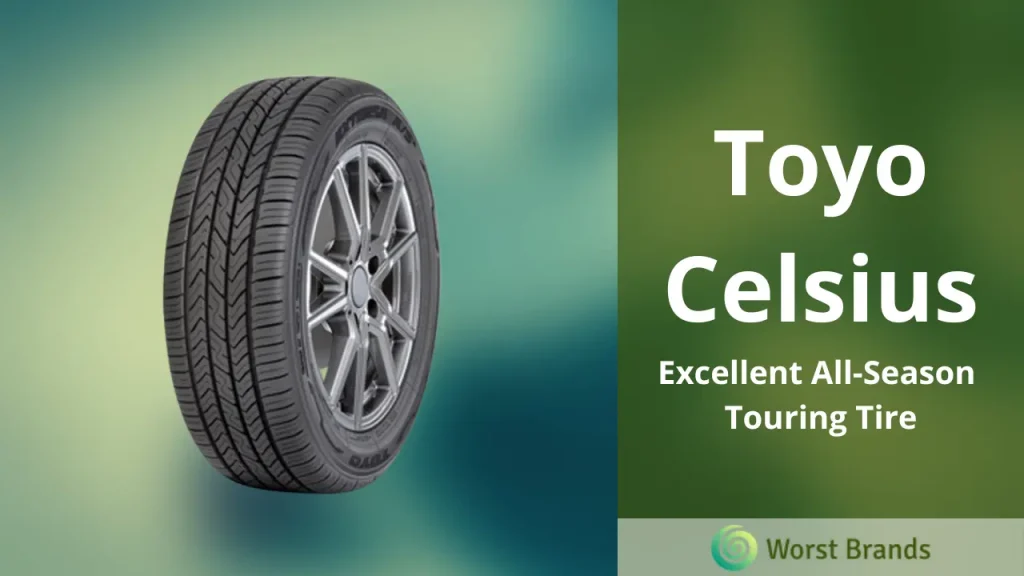 Dry road performance:
The driving of Toyo Celsius is quite impressive on dry pavement. It delivers good traction and grip.
But, as it's not a sporty or high-performance tire, it may not be the grippiest or the most responsive tire on the list.
The cornering grip suffers more. If you practice driving the tire safely, you won't have that many issues with it.
Besides that, driving and handling are the most prominent features of the Toyo Celsius.
Talking about the brakes, the slush grooves design provides excellent gripping regardless of the road conditions.
Remember that this tire is touring, so don't expect much.
Wet road performance:
Contrary to our thoughts, the tire performed much better on wet roads than the dry ones. The tire was exceptional and never showed any lack of confidence in its performance.
Whether you drive fast or slow, Toyo Celsius will always exceed your expectations. We even tested it over the paddles of water; it was an enjoyable experience.
Furthermore, the braking time was less, the distance was short, the handling was awesome, the grip was extraordinary, and, best of all, the traction was atypical.
Still, our hero will show some struggles and hunt for grips at very high speeds. But it takes a lot of effort to coax the gripping of Toyo Celsius.
In short, you're safe with this tire on a wet or watery road, with resistance against aquaplaning.
Snow performance:
With a tread design that performs better on icy roads than other typical tires, Toyo Celsius aced down the driving on snowy pavement.
The snow claws and slush grooves provide a strong grip over light to medium-heavy snow.
The only exception is very deep snow. But, honestly, no winter tire can perform there unless it's a really premium one or has modifications.
Pros:
The best traction on wet and dry roads
Exceptional performance on the snowy tarmac
60,000 treadwear warranty
A good option for all-season driving
Cons:
It can produce a loud noise
Lags at high speeds
Verdict:
Concluding this, if you're into an all-season touring tire that can compete with premium tires, Toyo Celsius is definitely the best in the class tire.
It has very good high specs like traction, is non-compromising on wet and dry roads, and is phenomenal on snowy roads.
Another plus point of the tire is a 60,000-mile treadwear warranty. A slight disadvantage of the tires is they can be pretty noisy at high speeds.
However, it's still a good choice in this price range. You should definitely put Toyo Celsius on your buying list.
Other similar blogs:
Are Toyo Tires Good?
Toyo Tires are undoubtedly a prominent choice among vehicle owners. The brand is known for delivering a blend of performance, safety, and durability.
Their range covers a wide array of terrains and weather conditions, from dry and wet roads to snowy landscapes.
In short, if you're seeking a well-rounded tire that offers both stability and longevity, Toyo Tires are undeniably a solid choice.
Conclusion
Too long, didn't read? Here's the summary. After going through many of its tires, we've finally reviewed three of its top tires.
If you're looking for a budget-high, performing tire, go for Proxes Sport A/S.
On the contrary, if you want a tire for casual driving but with better stability options, Toyo Celsius is a better option for you.
Nonetheless, whatever the tire you pick, read the manual the company provides to find out if it satisfies your needs.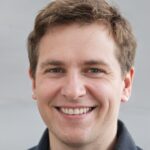 Steven Settles is a professional content writer with over 7 years of experience in writing for different niches, including brand reviews, technology, fitness, and more.
Currently, he is working as a content writer for WorstBrands, where he provides insightful reviews of different products, including home appliances, outdoor gear, fashion, and kitchen products. In his free time, Steven enjoys traveling and exploring new places.