Are you going to buy good tires for your valuable car and don't want to spend too many bucks? Well, Hankook tires can be your go-to choice in this regard.
Hankook tires are an affordable alternative to big names in the market, providing quality products at lower rates.
Hankook has been in the tire industry since the 1960s, and from that time, it has built a good reputation in the market.
It is a South Korean brand that makes tires for every kind of environment. If we look at the top tire industries, Hankook is the second most affordable brand.
Therefore, today, we decided to make a Hankook tires review guide. This guide will provide honest guideline and save you money by suggesting the right tire. So, what are you waiting for? Let's get into it: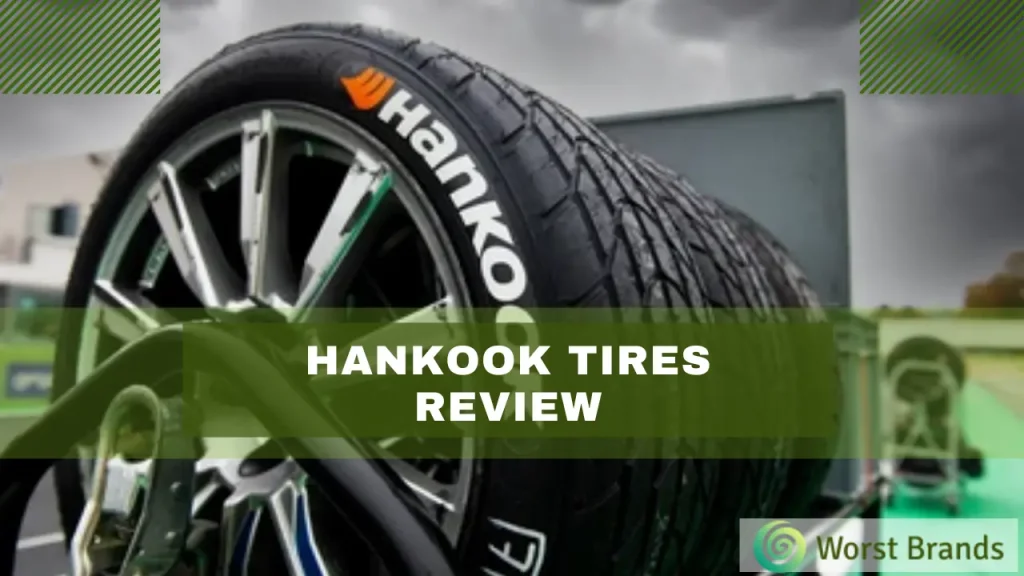 Why should you choose Hankook tires?
Hankook tires may not be the cheapest ones in the market. Still, they offer benefits comparable to other expensive tire brands.
Secondly, high-quality rubber material and other latest technologies in manufacturing the tires allow them to perform outstandingly.
The company offers a large range of products, including summer, all-season, high-performance, and truck tires, that meet your requirements and can be a good purchase for your precious money.
How do we test the Hankook tires?
Before heading forward, let us clarify how we test the Hankook tires. We have been in the tire industry for more than 7 years, and during that time, we've tested a lot of tires.
Working in Caroline, as the weather is quite versatile, we often use tires throughout the year and assess their quality based on their performance on dry, wet, and snowy roads.
Check out our latest blogs on other tire manufacturers:
Top 3 Hankook Tires Review:
Before going into the in-depth analysis, the following table provides a quick glance at how Hankook tires performed in different road conditions.
| Tire Model | Ventus V2 concept2 457 | Dynapro AT2 RF11 | Kinergy ST H735 |
| --- | --- | --- | --- |
| Dry Road | Good (Struggles at high speeds) | Excellent (Issues with straight-line tracking) | Good (Not for sporty driving) |
| Wet Road | Good (Traction loss at high speeds) | Good (Traction loss in heavy rain) | Improved (Good water channeling) |
| Snow Performance | Okay (Not for heavy snow) | Excellent (All snow conditions) | Okay (Only light snow) |
| Treadwear Warranty | Not specified | 60,000 miles | 70,000 miles |
1. Hankook Ventus V2 concept2 457 – High-Performance Tire
It is a tire that gives you quite good traction and provides a comfortable ride without charging too much. The Hankook Ventus V2 concept2 457 is the best high-performance tire in the market.
A High-Density Nylon Reinforced Belt design enables this tire to provide ultra-performance without any cost on the treadwear or mileage.
Tested the tire with a Volkswagen MKVII; let's find out how it worked.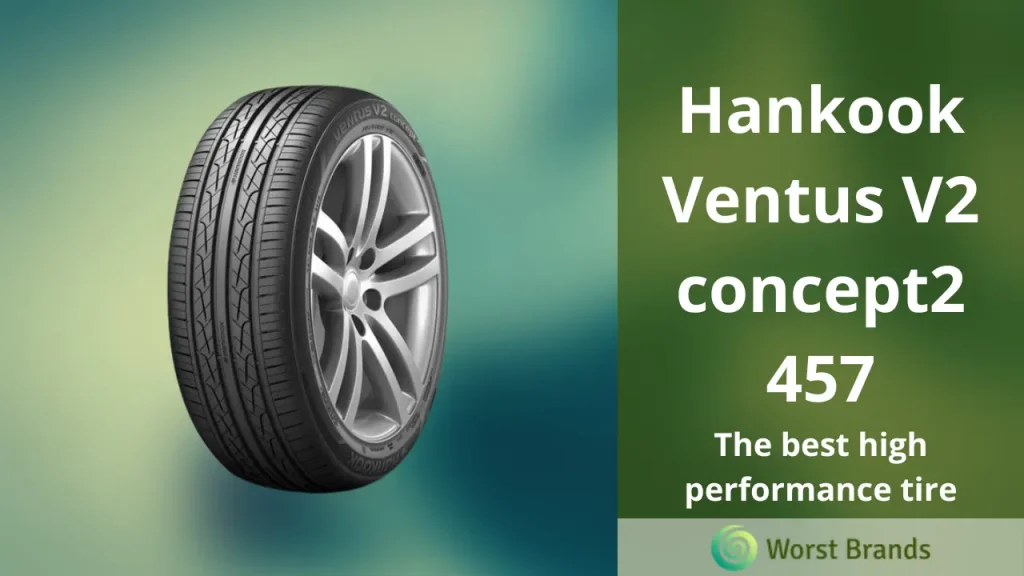 Dry road performance:
As mentioned earlier, Hankook employed high-density Nylon to manufacture the Ventus V2 concept2, which gave the tire extraordinary traction and grip on the road. Similarly, the braking time was quite good, and we have no complaints.
But things change a bit when you push the car to its speed boundaries.
The vehicle showed a wiggly movement as the tires lost traction on the road. Also, the car's rear might slide out if you have a soft hand on the handle.
Overall, Ventus V2 concept2 tires were okay on the dry road unless you throttle the vehicle.
Wet road performance:
Contrary to my expectations, this tire performed well in wet conditions. Using silica compound in the tire gives it a strong grip on the watery road.
There was nothing dramatic. We put the MKVKlI at high speeds to test the braking limit, and the car stopped in no time, unaffected by the water on the road.
The four wide circumferential grooves and unique V-tread pattern of the tires get rid of the extra water and prevent aquaplaning.
The plus point of the Ventus V2 concept2 is that the tire dried up quickly after removing water from the body.
Snow performance:
The company used 3-D tread blocks and multiple sipes patterns to enhance the performance on snowy roads.
The tires worked well on the icy road but suffered when there were more than 2 inches of the layer of snow.
You are advised to use the tire cautionary during heavy snowfalling or opt for a winter tire like Michelin Cross Climate 2.
Pros
Better dry and wet performance at normal speeds
Low levels of noise
Comfortable ride
Cons
Suffers at high speeds
Not the best option for winter touring
Verdict:
Overall, Ventus V2 concept2 performed quite well, with satisfactory performance on wet and dry roads at an average speed.
Sometimes, the tire loses its grip at high speeds. But a plus point here is that the company has used the noise control feature that reduces unwanted sounds on the highway.
So, are you in to have this ultra performer on your car?
2. Hankook Dynapro AT2 RF11 – Good All-Terrain Tire
The second on the list of Hankook tire reviews is Dynapro AT2 RF11. The company's all-terrain tires are among the finest in the business.
This tire suits jeeps, minivans, pickup trucks, and SUVs. As the tire is the successor of Hankook Dynapro AT2, it comes with the benefits of the former and massive improvements in design and performance.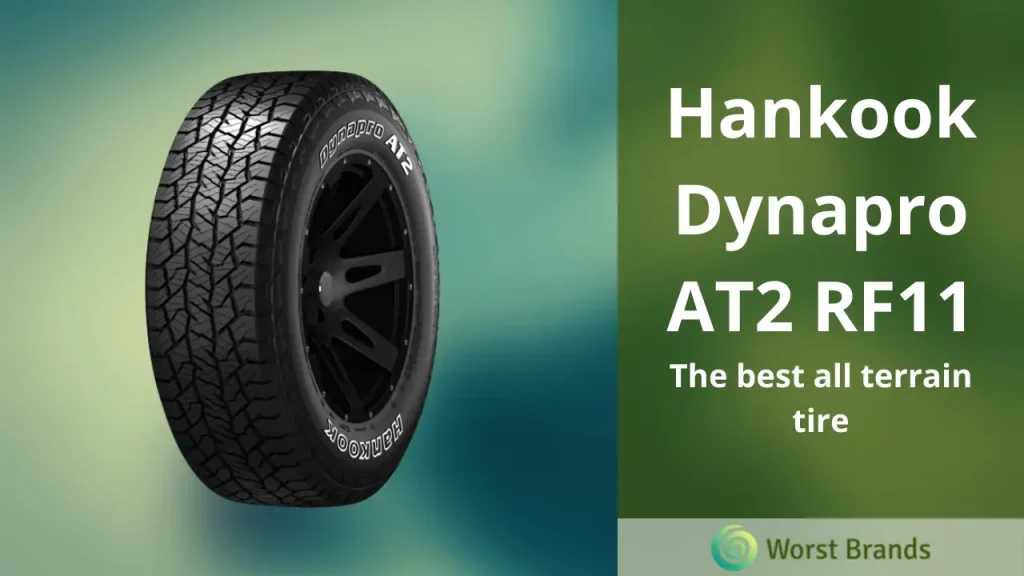 Dry road performance:
We got our hands on this tire when Noah (An old friend) visited our garage on his 2014 Nissan Navara.
The advanced and modern technologies in the Dynapro AT2 RF11 make the tire perform well in every kind of terrain and weather.
No matter what the roads are, this tire aced down quite easily. The use of quality rubber contents provides excellent resistance against cuts and stabs.
Thus preventing you from the worries of midway flat tires or breaking.
Yet, we would like to point out here that the straight-line tracking isn't the cup of tea of this tire. You have to manually adjust the steering wheel to keep the vehicle in line.
Wet road performance:
Talking about the wet road performance of Dynapro AT2 RF11, the traction and grip were quite good.
However, the company needs to further work on the tire. Sometimes, it loses traction driving in heavy rain. Although the handling was not a big problem, understeering was an issue.
Another plus point is that the use of this silica compound prevents aquaplaning and increases water resistance.
The silica in the rubber tread enhances the grip and traction on the road. But be careful driving faster during heavy rain.
Snow performance:
Since Dynapro AT2 RF11 is an all-terrain tire, it should perform on the snow. And that's what it does. It can easily handle ice while giving stability and safety even during heavy snowfalling.
In addition to this, multidirectional and wagging grooves also increase the grip of this tire on the icy road.
Low braking distance and good handling are other hard-hitting features of Dynapro AT2 RF11 on a snowy road.
Pros
Good traction on a dry road
Comfortable and quiet ride on all terrains
60,000 mileage treadwear warranty
Cons
Wet road traction is not quite good
Straight live tracking needs to be improved
Verdict:
Last but not least, the Dynapro series of Hankook has been quite popular among the owners of truck drivers and SUVs. The drive was stiffer but quite comfortable with low noise levels.
So, if you want an all-terrain tire option with something budget-friendly, you could go for Hankook Dynapro AT2 RF11.
3. Hankook Kinergy ST H735 – All-season Tire
In the best all-season tire category, we have Kinergy ST H735. This tire was launched in 2018 as a replacement for Optimo H727.
It is an all-season touring tire with balanced traction, superb comfort, and good fuel economy.
Mini sedans and sports coupes are ideally suited to the Kinergy ST H735 tire. Let's have a say about the performance of the tire.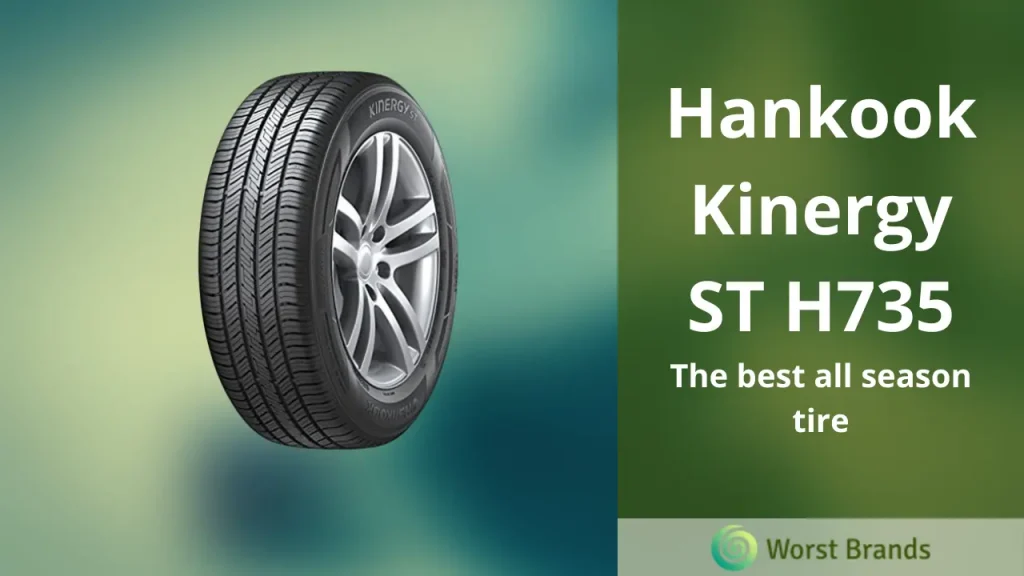 Dry road performance:
On a dry road, the Kinergy ST H735 feels like a sporty tire. But remember, it's not a tire that offers a grip for sporty driving.
Therefore, we warn you not to do super speedy driving with this tire as it falls short in terms of stability and traction.
This tire did a pretty good job of providing traction and grip on the road.
Since it's an all-season tire, Hankook improvised many techniques to fabricate it, like using an advanced Silica-enhanced compound.
It enhanced the performance in warm weather and decreased the resistance to improve the vehicle's fuel economy.
Wet road performance:
Compared to the previous model of this tire, the Kinergy ST H735 comes with improved grip and traction on wet roads.
The use of silica compound in the tire increases the tire's grip on slippery roads.
Open shoulder slots and deep circumferential grooves enable the tire to channel away the excess water to accelerate driving in the heavy rain.
On top of that, wide lateral notches with optimized sipes provide extra grip on heavy, wet, and damp surfaces.
Kinergy ST H735 gives a nice experience on wet roads until you don't throttle your car.
Snow performance:
Kinergy ST H735 has a good performance in a snowy environment, but only on light snow or snow with less than 2 inches of thickness.
The tire will hunt for grip if there is heavy snow falling. Plus, it also suffers from braking problems on the icy roads.
Therefore, we recommend you buy either stud or go for winter tires if you are from areas with heavy snow falling.
Pros
A nice grip on the wet and dry roads
It offers a comfortable and quiet ride.
70,000 treadwear warranty
It comes in the affordable price segment.
Cons
Suffers from the grip on high speeds both on dry and wet surfaces
It doesn't perform well on heavy snow
Verdict:
The final say about Kinergy ST H735 is that it has great performance irrespective of the weather. It gives a nice grip on the road and has a nice braking ability.
And the biggest advantage of this tire is that it gives you the most comfortable ride compared to all the tires on this list.
Plus, Hankook also gives a 70,000 treadwear warranty with Kinergy ST H735.
Final Words:
To conclude, the Hankook Tires Review is the tire industry that offers premium tires in the budget range.
Of course, they made a few cuts to the specs but didn't compromise on the quality.
Due to this reason, the tires of Hankook are often compared to other flagship brands like BFGoodrich, Continental, and Goodyear.
Last but not least, the company often offers a 60,000-mile tread life warranty on their products. It makes these tires one of the high-performing ones in the market. 
In the end, buying Hankook tires depends on one's preferences.
Whether you are going to buy all-season tires, summer/winter tires, or all-terrain tires, we recommend you include Hankook tires in your buying list.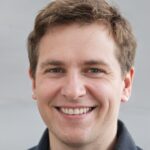 Steven Settles is a professional content writer with over 7 years of experience in writing for different niches, including brand reviews, technology, fitness, and more.
Currently, he is working as a content writer for WorstBrands, where he provides insightful reviews of different products, including home appliances, outdoor gear, fashion, and kitchen products. In his free time, Steven enjoys traveling and exploring new places.