Goodyear is the name we'll have heard; of course, we have mentioned them in most of our tire reviews for dominating other brands. So, we have finally come up with Goodyear Tires Review.
They are currently ranked no.2 in the top 10 tire brands of 2022 by CNET.
Moreover, they are one of the famous tire brands known for their innovation and supreme tire quality and are also one of the oldest tire companies.
If you want to buy value that gives you a complimentary ride no matter the weather condition or terrain, Goodyear tires are a perfect choice.
They are unique in design and have exquisite tread patterns to ensure good traction on the road surface.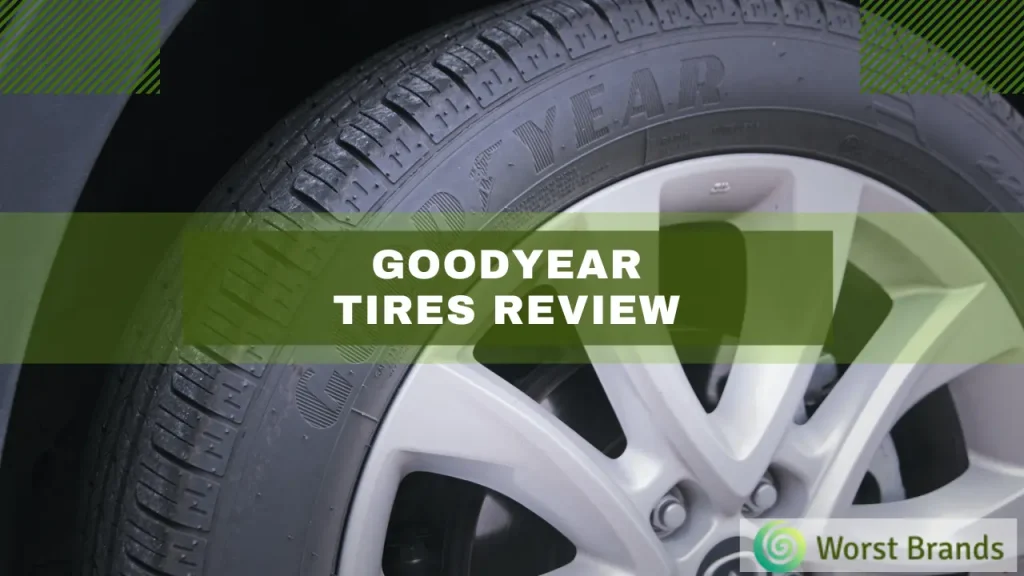 Also Read: Crosswind Tires Review
Who Makes Goodyear Tire?
The Goodyear is an American brand founded by Frank Seiberling in 1898, based in Akron, Ohio.
Goodyear is not a small brand; it has one of the supreme tires available in all categories.
The tires don't sound monolithic and are impeccable in all terrains and weather conditions.
They have tires available for SUVs, Crossovers, trailers, Cars, Minivans, light trucks, and passengers.
In addition, you can find tires by types such as Run on flat, Summer, Winter, All-Terrain, and Sports performance.
Goodyear Tires Warranty
According to the manufacturers, the tires can last up to 60,000 to 80,000 miles.
They are manufactured with top-notch materials and optimal technology for the driver's safer and more comfortable drive.
Furthermore, Goodyear offers you a 30-day pledge, in which you can decide whether to keep the tires installed or not, which is a great option.
6 Reasons to Buy Goodyear Tires?
Goodyear tire is a top-tier brand and has outgrown every brand in the tire industry.
Yet, there are some that I admired before installing them into my vehicles and trucks. I have stipulated these below.
1. Quality
When you're in the top-3 brands of the world, there are reasons why and quality is one of them. It's the same case with Goodyear.
As I have mentioned above, the quality of these tires is splendid.
The staff and hand-vetted engineers test these tires from every angle before trading them internationally and locally.
2. Durability
The Goodyear tires have robust durability, which boosts the overall longevity of the tires.
They are manufactured with upgraded technologies. The tires can easily handle rocks and gravel, thanks to the Kelvar technology.
Moreover, there are other technologies like DuPont, which increase the durability and stability of the tires.
Also, with Run-flat tire technology, you won't have to stop your tires when punctured, making it better than most of the conventional tires of today.
3. Excellent Handling
The exquisite and perfectly engineered tread pattern provides stability, impressive gripping, and control at high speeds.
The grooves and shoulder blocks enhance overall wet performance by evacuating water away.
Furthermore, the tires have Efficiency Grip technology improves handling performance in dry and wet conditions.
4. Warranties
We have mentioned the warranties, which the Goodyear brand will offer you when you purchase their tires.
Moreover, there is also a replacement warranty on highway auto and light truck tires.
However, it would be best if you met the eligibility criteria mentioned on their official website.
5. Trusted Internationally
The Goodyear tires have gained fame all around the world.
They are traded on all continents, including Australia, Asia, North America, and Asia. Moreover, they have 48 industries in 21 countries and 66,000 associates.
6. Wide Range of Varieties
As mentioned, Goodyear has all varieties available under their umbrella.
You can buy all-season to winter tires for your SUV, crossovers, and trucks with good tread wear warranties.
How Have We Tested Goodyear tires?
After reading many positive Goodyear tire reviews on the site, we decided to examine these tires.
We have analyzed these tires based on performance, durability, quality, tread, and efficiency parameters.
Let's leapfrog to the next phase of our blog.
Top 3 Goodyear Tires Review
Many other tire models are available from Goodyear Tire, yet we have picked our top 3 Goodyear tires for review. Let's hear them, respectively.
1. Goodyear Eagle F1 Asymmetric 3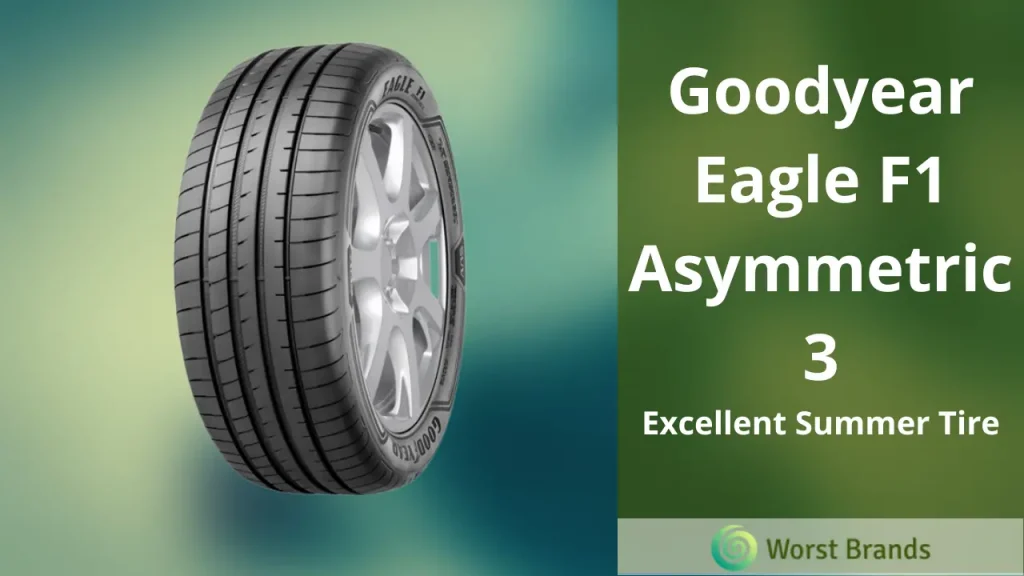 The Goodyear Eagle F1 Asymmetric 3 is a summer tire for sporty vehicles, also suitable for SUVs.
These are specially designed for summer, dry, and wet conditions. These are engineered adequately with advanced rubber compounds and technologies.
The tires are available in 17, 18, 19, 20, and 22-inches rim diameter sizes. Also, the tires have an exquisite tread pattern to create good contact with the road surface.
They also have W and Y speed ratings, so you can quickly push them to 149 MPH, backed up with 6-months of warranty.
Dry Road Performance
One of our team members tested this set on a Porsche Macan in a dry condition in Malaysia.
The provider said the tires have splendid performance and are good enough for the price. The performance is arguably the best in dry highway conditions.
The solid center rib creates good traction with the road surface.
Also, no noise was produced at high speeds, thanks to the SoundComfort Technology, which was not available in the previous model, Asymmetric 2.
The tires also absorb the road's harshness, which is pretty impressive from a premium tire.
These are pliable; however, the tester wasn't satisfied with the corners. Yet, we would still rate this tire 9/10.
Wet Road Performance
The wet road performance is the epitome of cool; the tires are also impressive on wet pavements.
The four circumferential grooves evacuate water and resist hydroplaning.
Also, the large shoulder blocks help tires to maintain good traction even in wet conditions.
Moreover, the tires have good gripping and braking performance in wet conditions.
Snow Road Performance
The tires aren't designed for winter conditions so I won't recommend you guys jeopardize these tires in winter conditions. There are other specific models designed especially for winters.
Things We Liked:
The tires have excellent braking and gripping performance in dry and wet conditions.
Resist hydroplaning.
Good warranty.
The tires are stable at high speeds.
Things We Didn't Like:
The tires could be a little better on corners.
Verdict:
The tires are good enough to take on dry weather conditions and highway roads.
The tread pattern with solid center rib with shoulder blocks sustains traction in wet and dry conditions.
The tires are controllable on a high-speed drive on the highway, so you don't have to worry about anything except driving snow conditions.
2. Goodyear Assurance ComfortDrive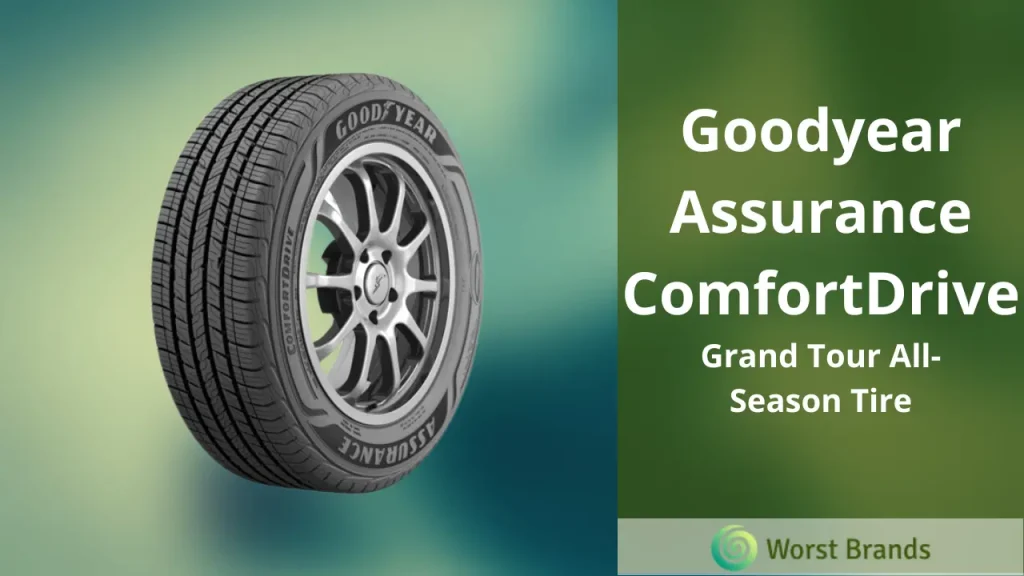 The Goodyear Assurance ComfortDrive is another excellent performance tire on our list, suitable for passengers, coupons, SUVs, and crossover vehicles.
The tires are available in 16, 17, 18, 19, and 20-inches rim diameter sizes with 60,000 miles of warranty.
Although, some customers reported that it could easily last 90,000 miles. I found this set relatively less expensive than other models from Goodyear.
The tire is designed to provide all-year traction with the enhancement of technology for a smooth and comfortable ride for the drivers.
Dry Road Performance
The dry road performance is excellent. I tested Assurance ComfortDrive on hot highway road after reading positive reviews on their website. Well, the tires are superb in dry conditions.
The tires are manufactured with Treadlock technology, which provides additional stability and handling.
Also, the tires don't produce annoying noise at high speeds, which you can experience with cheap tires.
Moreover, the durability is great, too, thanks to the ComfortFlex technology, which increases the tire's overall sturdiness.
Wet Road Performance
There was a little drizzling when I was coming back from the workspace.
The tires were not clumsy even when it was raining heavily, thanks to the 3 circumferential grooves that eliminated the risk of aquaplaning.
The tires maintained good traction on wet pavements, not making it difficult for me to drive in rainy conditions. I would rate 8.5/10 for wet conditions.
Snow Road Performance
The tires were supposed to provide good tractions in winter conditions; however, I couldn't absorb any.
The tires showed average performance on snow. However, they aren't suitable for severe winter conditions.
Things We Liked:
The tires have impressive dry and wet road tractions.
They have good braking performance on wet pavements.
Good treadwear warranty.
A little bit less expensive than other models.
Things We Didn't Like:
The tires aren't good in critical winter conditions.
Verdict:
If you don't want to change your tires every season, then Assurance ComfortDrive is an excellent choice for the drivers like you.
However, the tires aren't suitable for severe winter conditions, but they are good overall.
They have exceptionally dry and wet road performance with improved handling and stability.
Similar Blogs:
3. Goodyear Ultra Grip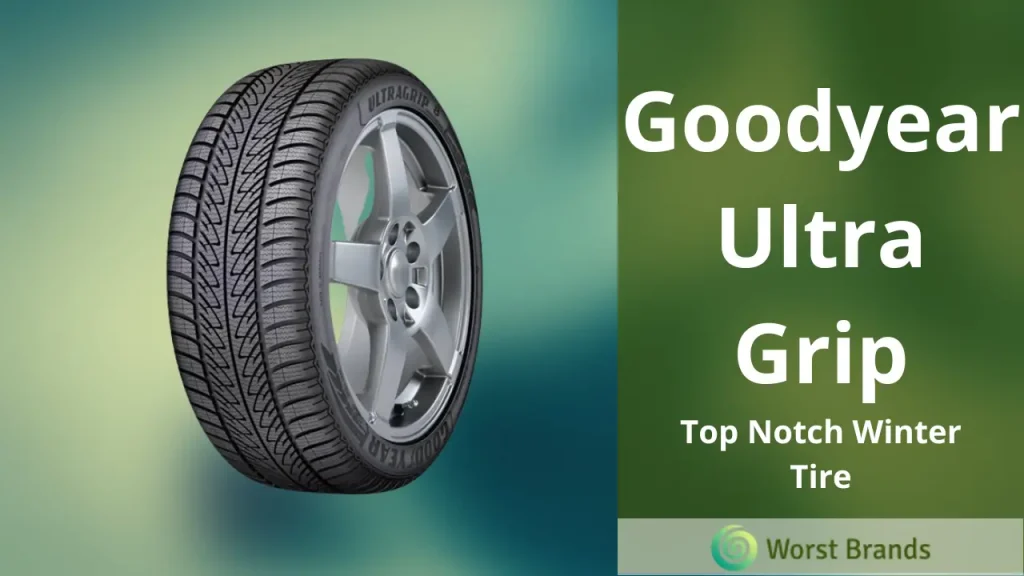 Finally, we are reviewing a winter tire on our list. The Goodyear Ultra Grip Winter tire suits SUVs, Crossovers, Minivans, passengers, and light pickup trucks.
The tire is specifically designed for winter conditions.
They are built with exquisite directional patterns with infused silica compounds for better tractions in snow and ice. Moreover, the tires are affordable and wallet-friendly.
Dry Road Performance
The dry road performance is terrible; it is manufactured for winter conditions.
So, I won't be risking again by testing Ultra-grip in dry conditions. The braking on a dry road is non-existence, also stability on corners.
Wet Road Performance
The wet performance is average, at least better than the dry performance. The circumferential grooves wipe away water and neglect aquaplaning from tires.
I admire their contact with the wet pavements, which provided me with enhanced stability and comfortability in wet conditions.
Snow Road Performance
The tires are phenomenal on snow terrains. I tested the cold weather of California in a light truck, where it was snowing in the winter season, where it was 6% to 7% inclined covered with snow.
I replaced these tires from BF Goodyear Touring A/T; after a few miles, the tires indicated an excellent grip and enhanced the overall stability in snow conditions.
Moreover, the tire has wide shoulder blocks and grooves which evacuate snow.
In addition, the tires have a 3-mountain snowflake symbol 3PMSF, which means these tires can be quickly taken into severe snow conditions.
Things We Liked:
The tires have excellent gripping in snow conditions.
The tires can handle deep snow.
I was pretty fond of the tread pattern.
Things We Didn't Like:
The tires have lousy performance in dry conditions.
Verdict:
Goodyear Ultra-grip is an excellent tire for winter conditions.
The tire has perfect evacuation of snow, which is why they maintain good traction in ice and snow terrains. Although, the tires are terrible in dry conditions.
In addition, they also have acceptable wet performance and do resist aquaplaning.
Are Goodyear Tires Good?
Goodyear Tires has been supplying and manufacturing supreme tires for over a century and is now ranked 2nd in top brands after Michelin.
So, of course, the tires are great and an ideal choice if you are looking for a durable, quality wised, perfect, efficient, and stable tire for your car, trucks, and SUVs.
Moreover, the tires are impeccable compared to other premium and cheap brands.
Goodyear manufacturers have adopted the latest technology to produce tires. The tires pass specific test criteria before making a step into the market.
Also, the brand is the official tire supplier for NASCAR and NHRA.
In the end, the Goodyear tires are good enough to compete and withstand different weather conditions and terrains.
Bottom Line
In the above Goodyear Tires review, we discussed our top 3 picks, from which we were inspired.
We have written this draft after in-depth research about the Goodyear tire brand.
We mentioned Goodyear Eagle Asymmetric Eagle 3, Assurance ComfortDrive, and Ultra-grip.
If you are looking for a robust summer tire, Eagle Asymmetric Eagle 3 is a perfect combo for your car.
Moreover, Assurance ComfortDrive provides you with all-year performance with hydroplaning resistivity and good traction in all kinds of tractions.
Ultimately, you can opt for the Ultra Grip Winter tire, which will be your friend in snow and ice condition.