Continental is a pretty old German brand, founded in 1871 as a rubber company. After that, they moved into the tire niche and captured this industry quite badly.
This company is well known for making quality tires that may be expensive for some people.
On the other hand, Continental is also under fire due to its alleged participation in World War II. However, that's not our main concern here.
In this Continental Tires Review Guide, we have added some of the top tires by the company.
We have evaluated them based on their performance in different conditions, pros, and cons. Let's dive into it.
How have we tested Continental Tires?
Before proceeding further, let us tell you about our testing criteria for tires. We have a team of several members that test the tires in our latest built tire lab.
Plus, we use our under-test tires throughout the year. We assess the tires on dry, wet, and snowy/icy roads.
Our research team reviews the customers who have used these tires, and then we present an honest guideline in front of you so that you can have an idea of how a particular tire is going to perform.
Top 3 Continental Tires Review
So after testing multiple tires from the company, we have come up with our top picks for Continental Tires Review.
1. Continental ExtremeContact Sport
ExtremeContact Sport by the company was originally launched to replace the old ExtremeContact DW in 2017.
This tire aims to focus on the market of coupes, sedans, sporty cars, and SUVs.
The main features of ExtremeContact Sport are to provide maximum traction and grip and a comfortable ride. But does this tire really supersede our expectations? Let's find out.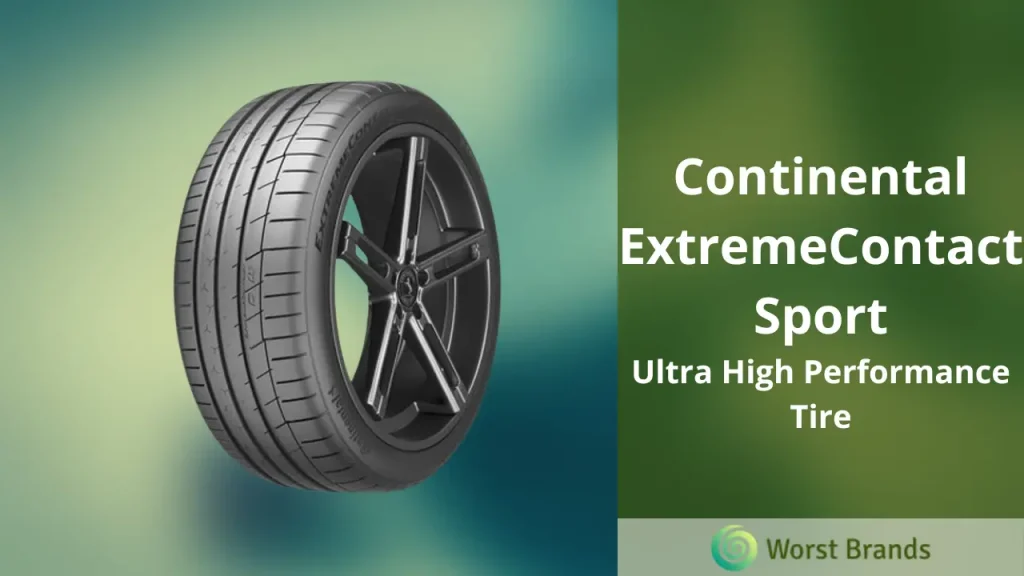 Dry road performance:
When it comes to performance, the ExtremeContact Sport leaves no stones unturned to give its best.
The six ribs' asymmetric pattern not only gives an aggressive look to the car but also adds to the aesthetic sense.
The tires deliver more responsive handling and steering, thanks to their large tread blocks, equipped with outer shoulders.
Compared to ExtremeContact DW, an increase in the traction and grip has been observed in the tire, owing to the patented saline technology of the company.
The cherry on top is an outstanding braking time, ensuring that the car's rider is on the safe side. Even if you accelerate the car, you won't feel any lag in the traction or grip.
When it comes to the driver's comfort, ExtremeContact Sport also wins the trophy as the tire has an additional polyester cord body.
This body minimizes the effect of the unbalanced roads and sharp jumps. In short, this tire is a bummer.
Wet road performance:
ExtremeContact DW has been famous for giving the best in the wet class performance, and ExtremeContact Sport continues the legacy of its predecessor. During our test rides, the tire was absolutely wonderful on the slippery roads.
The circumferential grooves in the tire give the tire traction and a solid grip on the road. Plus, these grooves also help in avoiding aquaplaning.
We're not trying to convey that ExtremeContact Sport is flawless on wet roads.
It does suffer when you increase the pedal inputs. You may feel a lack of traction; therefore, it is advised to keep the traction control ON.
This is especially important if you have a high-horsepower or a sporty car.
Snowy performance:
ExtremeContact Sport is an ultra-performance tire. It means it is mostly meant for dry road driving. So, how will it perform if you take the tire on a snowy road?
Unlike the performance on dry and wet roads, the experience of driving this tire on the snowy roads was pretty poor.
Yeah, it gives ample traction at slow speeds, but it won't guarantee you ample traction or grip to make sure that you are on the safe side.
The main problem is the absence of sipes and biting edges that help the tire grip the snowy roads.
Winter driving experience is okay with ExtremeContact Sport unless there are more than 3 inches of snow. In that case, you have to go with a winter tire.
Pros:
Very good performance on dry and wet roads
Traction and grip are ample to give you a safe ride even on high speed
The steering feels pretty quick and responsive
Quite a comfortable ride with a low noise output
Cons:
The tire is not built to drive during winter conditions
Verdict:
With all this chit-chat about ExtremeContact Sport, here comes the question: does this tire deserve your precious bucks?
We can confidently recommend it to anyone who wants a sporty look and an aggressive, high-performance tire unless you drive on heavy snow.
In the same essence, the tire also gives superior comfort and a quiet ride. What else do you want from a budget tire?
2. Continental TrueContact
The brand new Continental TrueContact tire is built with the latest technology so you can have a consistent driving experience.
As it is an all-season tire, the company claims that it won't disappoint you in any weather.
So, here we will find out if this tire really satisfies this claim. The target market of Continental TrueContact is crossovers, minivans, sedans, and coupes.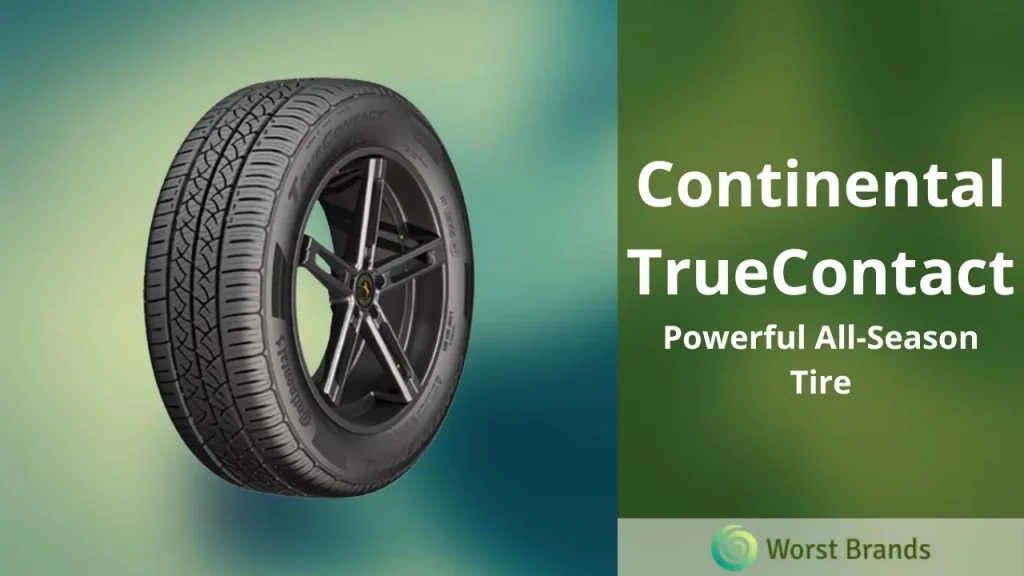 Dry road performance:
When it comes to dry road driving, we count Continental TrueContact in the top tires.
The traction has been enhanced by the use of the latest technology like Tg-F Polymers and +Silane additives by the company.
The steering and handling of the tire felt a bit premium, more like driving a sporty car.
Similarly, the grip levels were also high compared to other premium brands. But, Continental TrueContact is not the top dog.
The weak zone of this tire is the cornering grip. Like other premium tires, you can't push the tire to its corner.
Similarly, when driving at the top speeds, it seems a bit underconfident as it loses its grip quickly.
Wet road performance:
During all our testing experience, we have concluded that these tires are one of the best tires for performing on wet roads.
The special pattern design of the tire, along with +Silane additives, removes the excess water from the channels and helps in resistance against aquaplaning.
Compared to the dry driving, the ride of the Continental TrueContact was pretty satisfactory.
You hit a puddle of water, and you won't feel that the tire is losing its stability. Similarly, the cornering grip was also excellent.
The cherry on top is the tire's braking, which is by far the shortest among all the budget tires.
Suffice to say; Continental TrueContact is one of the best tires to perform in the wet category.
Snowy performance:
A new technology called temperature-activated polymer enhances the grip and traction of the tire on snowy roads.
Plus, siped intermediate blocks and lateral notches also play their part in the traction and the grip.
But all this is true only if you drive carefully on a snowy road. The tire is not suitable for the deep snow as there is not enough traction to keep you safe. Last but not the least, the tire performed better in the slush.
Pros:
Great wet road performance and satisfactory dry road performance at average speeds
Also provides good traction on the light snow
By decreasing rolling resistance, it improves the fuel economy of the tire
Comfortable driving
Cons:
Suffers on cornering grip and in heavy snow falling
Verdict:
With Continental TrueContact on your vehicle, you can expect a good performance and a smooth ride with better traction. It is a well-mannered and disciplined tire for dry and wet roads.
Although it suffers on the dry road at high speeds, it was quite satisfactory on the wet roads and in light winter conditions.
You should definitely put this tire on your grade if you are thinking of buying an all-season tire for your vehicle.
3. Continental TerrainContact H/T
Continental is a company that is not well-known for highway tires. Then, they launched TerrainContact H/T tire to target trucks and SUVs.
This tire comes with some really good specs on paper, but does it perform that well on the road? Let's find out.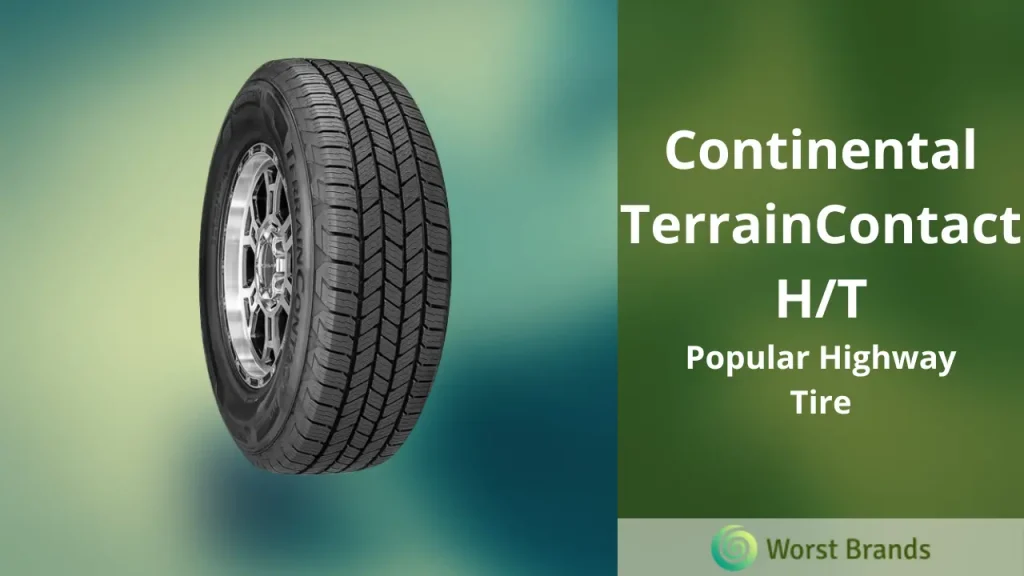 Dry road performance:
When it comes to everyday driving, TerrainContact H/T does not make any fuss. It has quick and responsive steering, and the straight-line driving is pretty good.
With its asymmetric pattern, the tire feels comfortable on the highway.
But it is not a flawless tire when it comes to highway performance. Things start to change when you take sharp turns or go at high speeds.
The tire starts losing its grip and traction, with the braking time becoming larger than the average.
Lastly, TerrainContact H/T may not be the best, but it is still very close to the top tires.
Wet road performance:
Like Continental TrueContact, TerrainContact H/T performs pretty well on wet roads.
The tire is one of the safest ones on wet highways. The traction and grip are quite excellent.
Similarly, you can feel that the aquaplaning is quiet on roads full of water. The cherry on the top is that TerrainContact H/T is one of those highway tires with the shortest braking time.
So, if you are a person who lives in areas with high rainfall, you can consider buying TerrainContact H/T for your truck.
Snowy performance:
With all that said, how does TerrainContact H/T perform on snowy roads?
Its larger sipes give adequate traction and grip on the light snow and even moderately deep snow. However, the ice traction is not the game of this tire.
Pros:
Very good performance on the wet road
Handling is quite good on both dry and wet roads
The tire has one of the best brakings in the highway category
Treadlife is pretty long
Cons:
The tire loses confidence while taking sharp turns
Not a good option for off-road driving
Verdict:
The final verdict of TerrainContact H/T is that this tire has been one of the best tires for highway driving.
The tire gives a pretty comfortable ride along with very little noise. TerrainContact H/T is one of our top recommendations for highway driving.
Other blogs you may want to read:
Why Should You Choose Continental Tires?
Let's look at some of the key attributes that make these tires worth a look.
1. Quality of the tires:
Continental Company often gives a 50,000-mile treadwear warranty on their tires. This warranty is a testament to the quality of the company's tires.
Secondly, the treadwear score is mostly 680 or above, which means it can last 5 times longer than other cheap tires.
2. Traction:
A driver seeks a tire with the best traction, and that's why you are here. As per the UTQG rating, the Continental tires often have an A or AA traction score.
3. Quiet and comfortable ride:
What's the need for a tire with long treadwear but a noisy and uncomfortable ride?
Continental tires are one of those tires that give a smooth ride with very low noise output.
Continental Tire Warranty:
Continental tires have a limited warranty covered under the total confidence plan.
According to this plan, all tires are eligible for a limited warranty plan for up to 72 months and will get a free replacement for the first 12 months.
Who makes Continental Tires?
Continental tires are made under the supervision of a German company, Continental AG.
There is a Continental Tire Manufacturer in Hefei, China, but their target market is only Asia.
Are Continental Tires Good?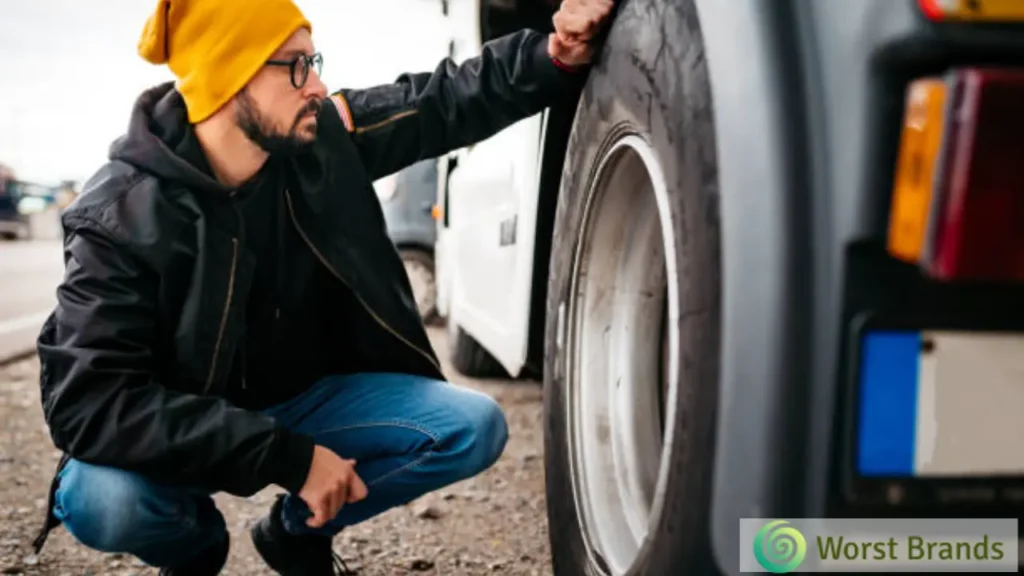 Continental tires stand out as a premium choice in the tire industry. Their range is praised for stellar performance in various conditions, whether on dry, wet, or light snowy terrains.
A notable feature is their impressive treadwear score and the accompanying 50,000-mile warranty, attesting to their durability.
The brand ensures superior traction, as many of its tires have high UTQG scores.
Additionally, users often commend Continental for their tires' quiet and comfortable ride.
Given their long-standing reputation and comprehensive warranty, it's clear that Continental tires offer both quality and reliability.
Common Continental Tire Complaints
The following are the major issues that customers often face while using Continental tires:
Not good in heavy winter
Loses traction on sharp turns
There is a common problem in the tires that may cause a blowout. That's why the company has recalled almost 94,000 of its tires.
The tires may develop sidewall breaks.
Sometimes, belt separation and partial tread loss occur
Final Thoughts
In 2022, we rank Continental tires as one of the top tires that provide quality and have low prices.
The company has been famous for making high–performance and all-season tires. And with the launch of TerrainContact H/T, they also strengthen their market of highway driving.
Having said all this, are Continental tires the best fit for your vehicle? The absolute answer is heck yeah.
These tires have the best traction and grip in the market. They also provide you with the best stability and ride on the road.
Suffice it to say you must place Continental tires on your radar. You would love to use these tires on your vehicle.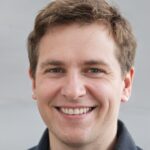 Steven Settles is a professional content writer with over 7 years of experience in writing for different niches, including brand reviews, technology, fitness, and more.
Currently, he is working as a content writer for WorstBrands, where he provides insightful reviews of different products, including home appliances, outdoor gear, fashion, and kitchen products. In his free time, Steven enjoys traveling and exploring new places.