If you are a person who lives in a cold country or from a northern area, you must have come across Nokian tires.
It is a Finnish company that is famous for making winter tires. As the weather is quite cold in Finland, this company only targets winter tires.
Until now, they have started making some good all-season and all-purpose tires. Nokian is also the only company globally with its own permanent testing facility center.
Now, come to the main point. Should you choose Nokian tires for your vehicle? How good are the Nokian tires?
To answer your question, we've prepared a Nokian tires review guide.
Nokian Tires, known for premium winter tires, delivers exceptional performance across various terrains and seasons. They stand out as a top choice with reliable grip, durability, and advanced technology.
In this guide, not only we'll review some of the company's good tires, but we'll also describe their pros and cons.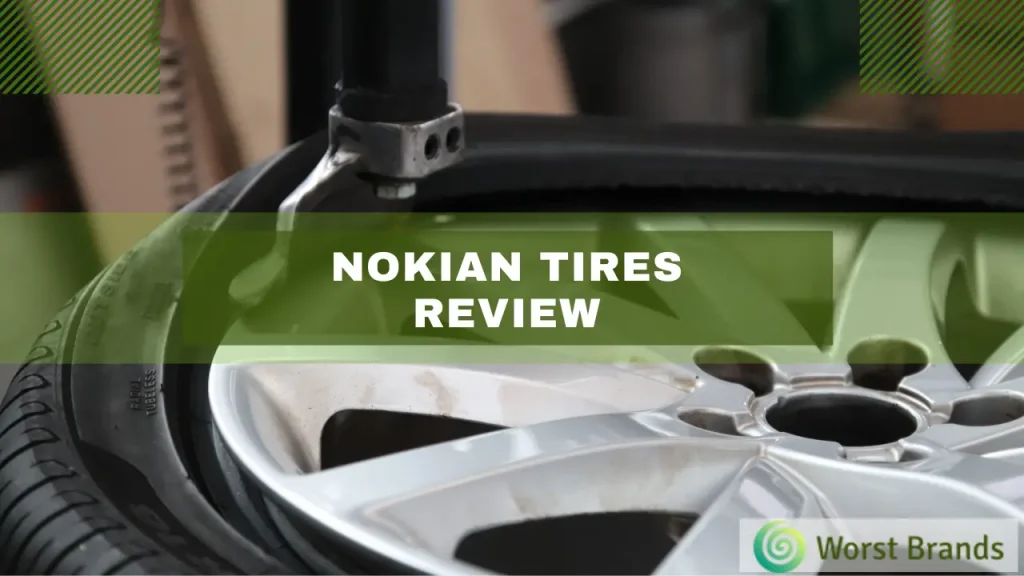 Why Should You Choose a Nokian Tire?
Nokian is probably the only company that has won many awards for its world-class winter tires. Now, they have started making tires in other categories.
However, different brands cater to various needs; for example, the Yokohama Tires are another reputable name you might want to check out.
According to our customer reports, they often find the products of Nokian comparable to those of Michelin, Goodyear, and Pirelli. Now, you know how good Nokian tires are and should invest in them.
Testing Criteria for Nokian Tires
You can trust us as we have tested hundreds of tires to date. Now, we're offering these tests in the form of reviews in front of you so that:
You can know which product is better for you
The ins and outs of a tire
Which tire company has better performance
Nokian Tires Review
Enough talks; now let's talk about our top picks of Nokian Tires.
1. Nokian ZLine A/S: Excellent high-performance tire
Nokian ZLine A/S is the company's all-season high-performance tire. With advanced Dynamic Traction Boost Tread Compound, Nokian tried to go one step ahead to provide comfort to its customers.
With a 50k treadwear warranty, the target market of this tire is sedans, minivans, and passenger cars. Let's find out how this tire performs:
Dry road performance:
On the dry roads, the performance of these tires was very good. With crisp handling and responsive steering, we can confidently say that ZLine A/S can be your go-to choice for the best high-performance tire.
Similarly, when we took our 2011 BMW X5 (test car for this tire) to its limits, the tire again showed us its class.
Not only was the traction fantastic, but the braking time was also excellent.
Likewise, the tire stopped at a safe limit, showing that you can expect high performance from this tire, and it won't disappoint you.
The only downside we found about these tires was they tear very fast as compared to the company advertised.
Wet road performance:
When it comes to the wet performance of ZLine A/S, the use of advanced technology along with 3-D sipes helped the tire a lot in getting the required traction and grip.
On slushy roads, the stiff outside shoulders of the tire gave the vehicle the necessary stabilization and responsive handling.
The frosting on the top is that contoured groove corners provide extra support while you corner or change the line.
Similarly, the wider grooves prevent the aquaplaning by channeling away the water.
However, the braking was not on par on the slippery road. It is good enough to keep you safe but is not according to our expectations. Other than that, everything was brilliant.
Snow performance:
Again, 3-D sipes and a stiffer outer shoulder design benefited the tire to get the maximum traction on snowy roads.
But ZLine A/S is a high-performance tire; so it can cheat you on snowy roads. It is recommended to use an anti-skid on your tires to avoid any problems.
Pros:
Grip and traction are excellent on both dry and wet roads
Give a comfortable and quiet ride
Steering is responsive
Cons:
The tire tears faster
It is not meant to be used on heavy roads
Verdict:
The final talk about ZLine A/S is that the tire has quite an exceptional performance both on dry and wet roads.
Not even for a moment do we realize that our car will lose any grip on the road.
No doubt, this tire lacks some traction on heavy snow and has below-average braking time on wet roads.
Yet, it was phenomenal with its quiet and smooth ride. So, is ZLine A/S on your radar?
2. Nokian Hakkapeliitta 9: Top Notch Winter Tire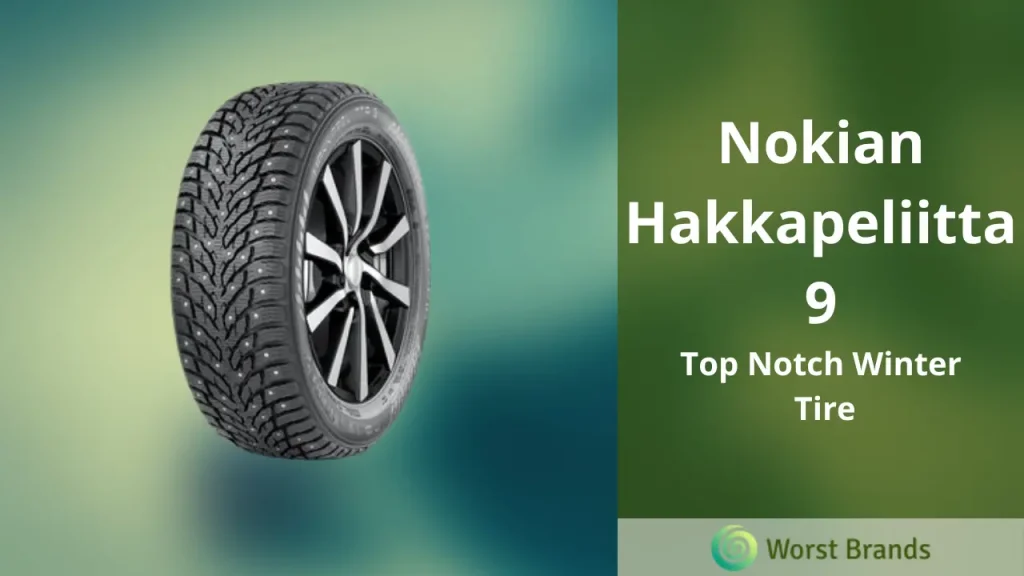 A studded tire, Nokian Hakkapeliitta 9, is the winter tire of the company. The tire was first launched in 2017 and was the What's New Award winner by Popular Science magazine.
The tire is made with Green Elasto Proof material with a topping of Canola oil.
This material not only makes this tire environmentally friendly but also gives it strength and agility on winter roads. Hakkapeliitta 9 is mainly built for passenger cars.
Dry road performance:
Okay, let's be honest. Since Hakkapeliitta 9 is a winter tire, its performance is not as effective on dry roads as it is on snowy roads.
Having said that, it still performs pretty well on the dry pavements. If you are a person who keeps light feet on the race, the tire won't cause any trouble to you.
The traction is good, and so is the grip. However, the braking capability of the tire suffers even on the normal drive. We're not saying that it would throw you on the edge of death.
Still, you have to be careful while using this tire on your car.
Wet road performance:
The wet road performance of Hakkapeliitta 9 is somehow better than the dry road performance.
Being a studded tire, you get extra stability from the tire on slippery roads. Similarly, we observed an extra wet grip while driving it on slushes.
Plus, unique and patented curves and straight stretches offer you step-up braking on slippery roads.
This advantage is also seen in the form of short braking distance, thus keeping you safe.
However, if you decide to go faster on this tire, you'll see the traction and the grip is gone. So, it is not recommended to drive faster on wet roads if you are using Hakkapeliitta 9.
Snow performance:
Now, it is the area where you'll feel that the tire is performing well. Extra tailored studs on the tire give it the required grip on snowy roads.
You can go as fast as possible without worrying about light or medium-heavy snow.
However, Hakkapeliitta 9 is not an excellent choice if you want to do maneuvers on the thick snow.
Other than that, the tire is calm and has optimized steering and handling. As long as you normally drive in heavy snow, feel free to adopt this tire as your go-to choice for winter tires.
Pros:
Very good snow and ice performance, including traction, grip, and stability
Handling is quite excellent on wet and snowy roads
Treadwear is okay
Cons:
Not a good option for dry and wet surfaces
Should not force the tire on heavy snow
Verdict:
Our final say about Hakkapeliitta 9 is that if you want a winter tire at a good price, you can purchase this tire on a priority basis.
However, you must remember that it is not good for dry roads and summer conditions.
So, if you are from northern areas or from areas where there is heavy snow falling, go for Hakkapeliitta 9.
3. Nokian Rotiiva AT: Epic All-Terrain Tire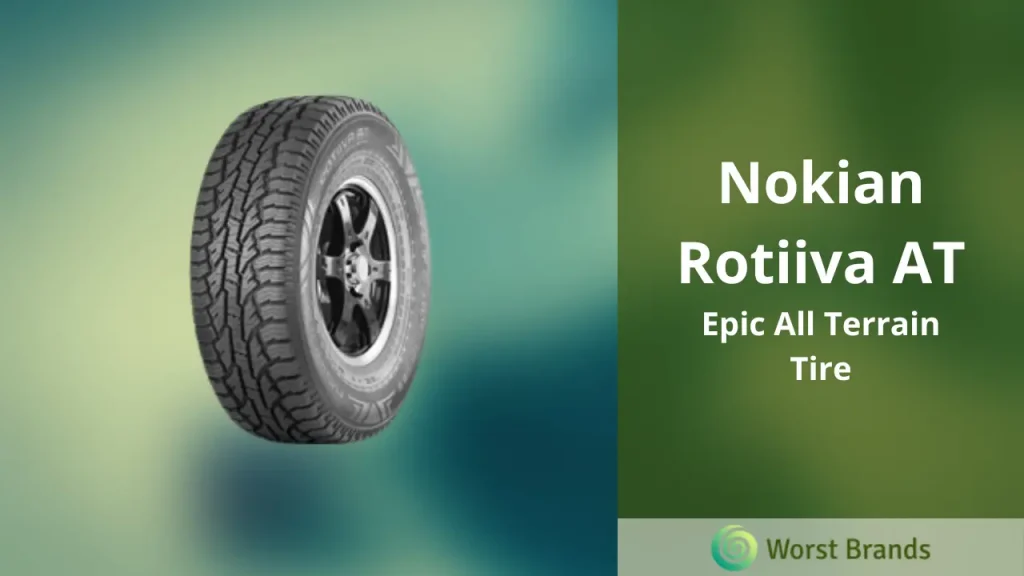 Lastly, there is a Nokian Rotiiva A/T tire in the guide of the Nokian tires review. It is an all-weather all-terrain tire.
Having said that, you can expect a decent performance on every kind of road from this tire.
It is meant to provide stability and tire structure to SUVs and trucks.
Dry road performance:
We tested the tires on a 2015 Dacia Duster, and the tire was pretty great in terms of traction and grip.
On regular tarmacs, you won't face any problems with this tire. We tested the tire for handling and the noise. We concluded that the steering was excellent, as well as the handling.
The tire won't show you nervousness whether you drive aggressively or corner. Similarly, the tread noise was not that much, but it was audible.
When tested for the braking, Rotiiva A/T again superseded our expectations.
If you're going fast and apply an emergency brake, it would stop immediately with a good grip on the road.
Wet road performance:
When it comes to the wet road performance, we took our vehicles through water ponds with unbalanced roads.
Rotiiva A/T was quite outstanding on normal wet pavements. However, if you try to test it in the mud, you can easily find out that it is not meant for this environment.
The center rib stabilizer increases the tire's stability on wet roads and improves the overall traction.
Plus, the main grooves keep the tire clean from any kind of water and stones that increase the tire's life.
Snow performance:
Rotiiva A/T is a rare tire that performs almost equally in summer and winter conditions.
Even if there is moderate snowfall, you can take the car out without worrying about slipperiness.
It grips well on the snowy and icy roads. Although heavy snowfall is not the cup of tea for this tire, you can enjoy riding on normal icy roads.
Pros:
Good traction on every kind of roads
Balanced on-road and off-road performance
It is a comfortable and quiet ride, thanks to the use of soft elements
Cons:
Sometimes, a softness in the cornering grip is observed
The treadwear of the tire is not excellent
Heavy snowfall should be avoided
Verdict:
Concluding the review, Rotiiva A/T is a tire meant to drive on every kind of road. Though the performance on unbalanced roads is a bit overrated, you can find this tire a good option to go on normal off-roading.
Plus, the use of high-quality rubber makes your journey comfortable and noise-free.
Who Makes Nokian Tires?
Nokian tires are made by a Finnish company, Nokian Tyres. The headquarters of this company is in Nokia, Finland, and they deliver their products worldwide.
Nokian Tires Warranty
Under the POTHOLE PROTECTION WARRANTY program, you can claim a free replacement or repair if your tire is damaged in a beyond-repair roadside hazard.
The company also offers up to 50k to 80k treadwear warranty to non-commercial vehicles.
Nokian Tire Complaints
Following are the common complaints that people often have from Nokian Tire company:
They can be expensive
They have poor treadwear life
Struggle on heavy snow despite being winter tires
The cornering grip is not excellent compared to other tires
Final Thoughts
The TL;DR of this review post is that Nokian is one of those companies that is famous for world-class winter tires.
However, they have equally established their authority in the all-season and all-terrain niches.
The company still suffers from wet and snowy braking, but they have promised to improve with time.
And we have seen they have kept their promise with the launch of Rotiiva A/T and Hakkapeliitta 9.
Alright, peeps, that's all about Nokian Tires Review. Give a shot at the products of this company, and you'll love them.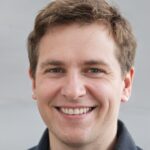 Steven Settles is a professional content writer with over 7 years of experience in writing for different niches, including brand reviews, technology, fitness, and more.
Currently, he is working as a content writer for WorstBrands, where he provides insightful reviews of different products, including home appliances, outdoor gear, fashion, and kitchen products. In his free time, Steven enjoys traveling and exploring new places.