Are you looking for the best tire in town under budget? The Douglas Tires are one of them.
These are the most refined brands; you can opt for your car wheels today. The tires are only available at Walmart.
Douglas tires are much more affordable than premium brands. I saved 100 bucks on these tires.
You can buy a whole set of tires for approximately $200; it also depends on the products, too.
Yet, I won't disparage premium brands because their cost is justified considering the top-notch quality and performance in severe weather conditions.
Most tire reviewing sites on the internet show only the positive sides of a product. However, we'll be fair with every set of tires by mentioning both pros and cons.
This Douglas Tires Review will mention tire performances on dry, wet, and snow terrains and the pros/cons.
So, you can be sure of what you are purchasing. So, without further ado, let's dive into the next phase of this article.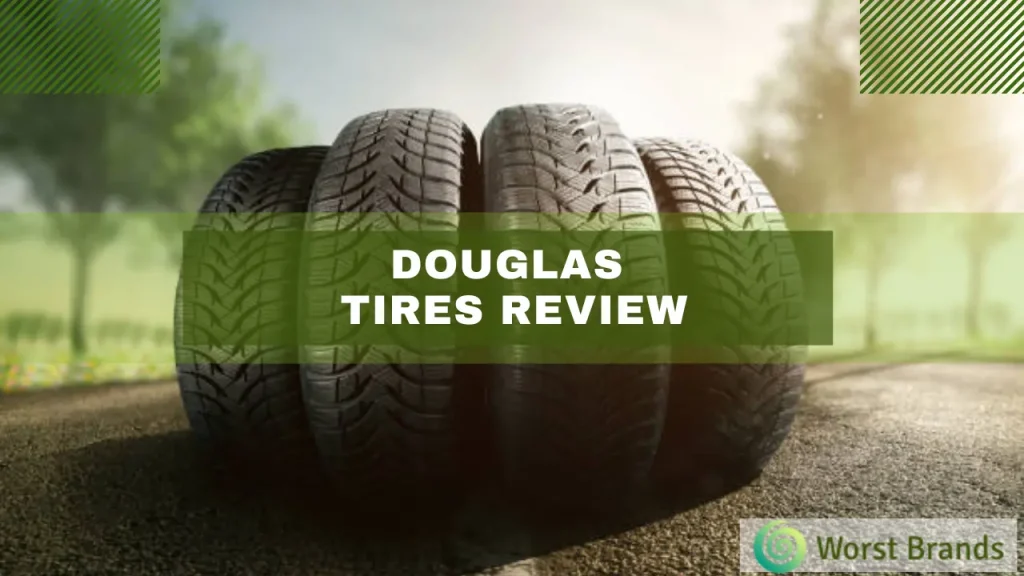 Who Makes Douglas Tires?
Douglas tires are a subsidiary of Goodyear's well-known tire brand, ranked 2nd after Michelin tires.
Of course, the name plays a vital role here. If you're skeptical about these tires' quality, let me tell you that the brand is owned by the world's most reliable and top tier.
The company has been in the market for almost 25 years, providing summer, performance, and all-season tires. They have tires for minivans, CUVs, and all-popular cars.
Douglas Tires Warranty
The average warranty offered by the Douglas Tire brand is 45,000 miles, which is pretty considerable according to the price tags.
You can find these tires on Walmart's online shop or any local shop in this market in your city.
How Have We Tested Douglas Tires?
You would find many irrational reviews on the tire, not reaching a consensus. However, we tested Douglas tires on parameters such as quality, durability, performance on different terrains, and much more.
Our team will give you comprehensive and honest reviews on every set pair so that you can purchase the best for your car wheels.
Douglas Tires Review
So enough of the chitchat, let's start our Douglas Tires Review.
1. Douglas Performance
This tire will suit if you have a passenger vehicle in your garage. The tires have decent performance in dry conditions. Besides this, the tires are pretty affordable at Walmart.
This tire is available in sizes of 15, 16, 17, and 18-inches. These tires have an enticing tread pattern design and excellent road traction.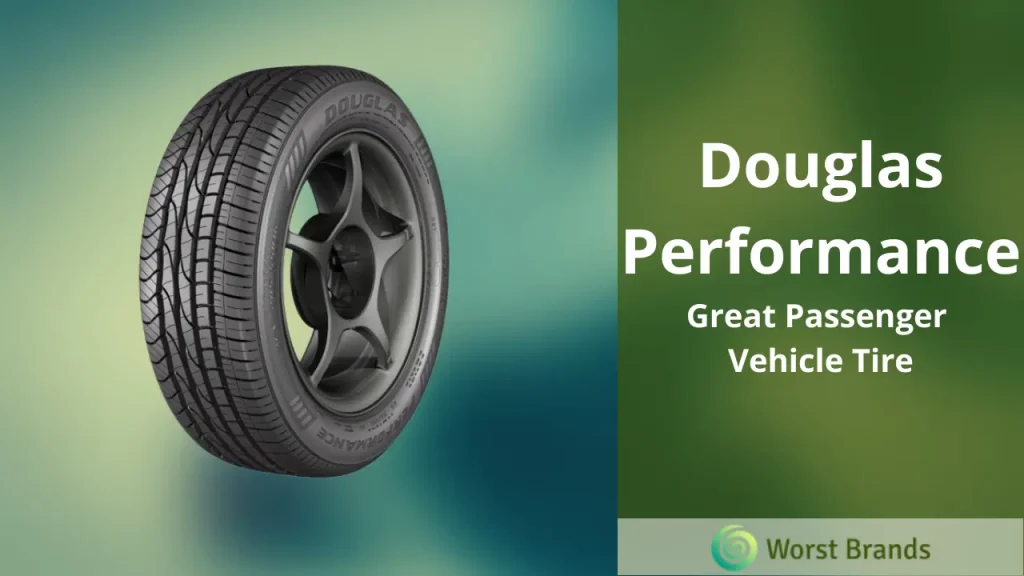 Dry Road Performance
The dry road performance of this set is quite an exception if you ask me. I tested this on dry roads on one of our company's passenger cars.
The tires didn't produce any noise, even at high speed. Also, it provided me with good braking performance on hot, dry pavement.
The tires have a sharp and smooth steering response, and excellent grip on dry terrain helps in comfortable driving.
Also, the asymmetric tread pattern design comes with sipes and outer shoulders to enhance handling performance on dry roads.
Wet Road Performance
Well, I won't lie, but these tires have average performance on wet pavements. However, considering the cost, it shouldn't be a problem, unless it rains daily there.
The tread pattern has circumferential grooves, and blades easily resist hydroplaning in wet conditions.
Snow Road Performance
I feel that these sets aren't manufactured for snow conditions. Also, I couldn't find any positive reviews about performance on snow terrains. So, it would be best if you didn't jeopardize these tires in winter.
What we liked:
The tires have excellent traction on dry roads.
These tires have a considerable warranty.
Tires can resist hydroplaning.
What we don't like:
I was not too fond of wet traction delivered by these tires.
Limited Warranty.
Verdict
Overall, the tires are good in dry and wet conditions but won't be recommended for snow and ice terrains.
Although, the tires are affordable and meet the desired requirements of a driver. Also, it has an exquisite tread design for better road traction and braking.
In addition, buy these tires from Walmart for a replacement warranty.
2. Douglas All-season
Douglas All-season is another budget-friendly tire on our list, with many things to offer drivers.
The tire can hold up to high speeds, as it has several speed ratings such as T, H, W, and S, available in different diameter sizes from 13 to 18 inches.
The tire is suitable for SUVs, crossovers, and minivans backed up with a similar mileage warranty of 45,000.
Although, the company claims that the tire is manufactured for all-seasons tractions.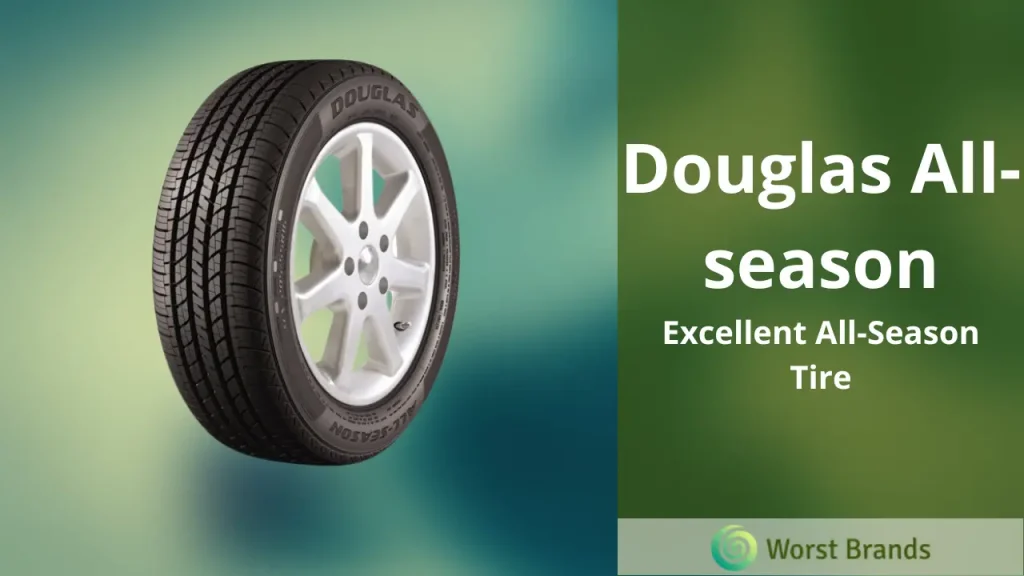 Dry Road Performance
I had a chance to install them on my Honda Civic, as I found these tires cheap at Walmart.
Besides this, the tires have impressive performance on a dry road, thanks to this tire's exquisite tread pattern design.
However, I couldn't find more information about the tread compound, design, or other things on its website.
Wet Road Performance
The tires have good wet performance. The circumferential grooves and blades channel away water and reduce the risk of hydroplaning on wet pavements.
So, you get a comfortable and smooth ride in wet conditions or during light rain.
Snow road performance
The tire is supposed to perform well in snow conditions. However, I would rate it 2.5/5. The tires couldn't satisfy our team in winter conditions. Although, these tires are pretty exceptional for dry pavements.
Things we liked:
The tires are budget-friendly.
Good dry and wet performance.
The tires efficiently manage high speeds on highway roads.
Things we don't like:
The tires don't have satisfactory performance on snow.
Verdict
In a nutshell, the tires have good performance in dry and wet conditions, but still, the Douglas All Season Tire fails to provide stability and traction in snow conditions.
Although, this can easily resist aquaplaning due to its grooves and blades.
In addition, you can also drive at high speeds without any hesitation with these tire sets.
3. Douglas Performance GT-H
The Douglas Performance GT-H is a great competitor to Douglas Performance. The tire comes in 14 to 17 inches sizes, suitable for SUVs, minivans, and crossovers. Also, the tire is economical, too.
The tire has a 40,000 miles warranty, less than the two models we just discussed. The tires have an aggressive tread pattern for maximum traction on dry, wet, and all-season tractions. Let's learn more about it.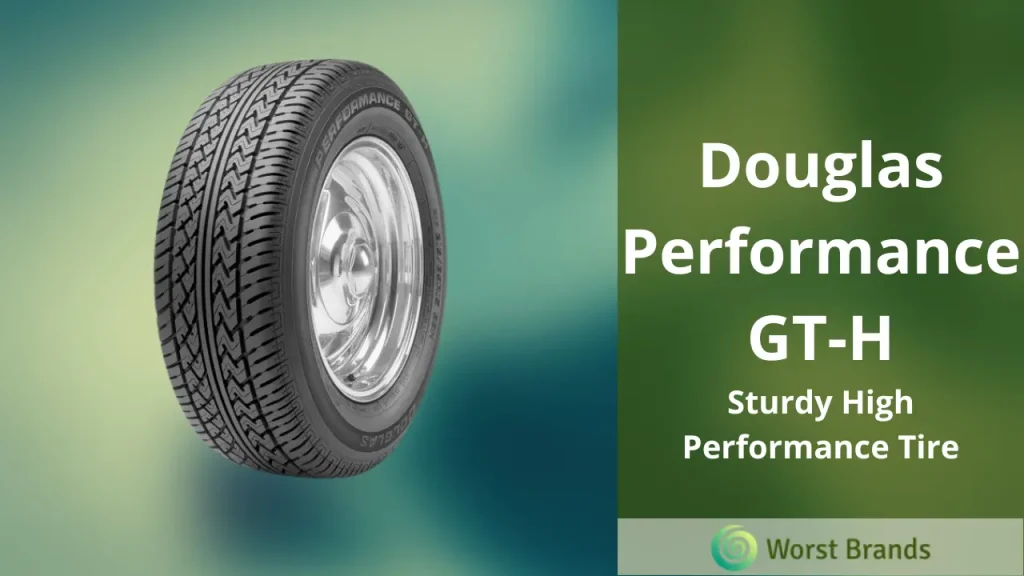 Dry Road Performance
The dry road performance of this tire is splendid. I was astounded by the premium tread compound, which is why this tire's longevity.
Moreover, the asymmetric tread design provides a comfortable and satisfactory ride on dry roads on highways.
The tire also comes up with radial polyester cord construction for smooth handling, providing a safe and secure drive.
Wet Road Performance
Considering the Douglas Performance, this model has much more excellent wet tractions.
The multiple grooves and sipes evacuate water quickly and resist hydroplaning in wet conditions, resulting in proper handling and griping.
Snow Road Performance
The snow performance is below average but considerable according to the cost of these tires.
The tread compound isn't made to challenge even light snow terrains, so I do not recommend these for winters.
Things we liked:
Good dry performance.
Budget-friendly tire.
Resist hydroplaning.
Things we don't like:
The tires have much less tread life as compared to other models.
Verdict
I would say these tires are pretty impressive compared to their siblings. Yet, this tire doesn't have much tread life.
It has acceptable performance on snow and excellent in dry/wet conditions.
In addition, the tires are budget-friendly and have well-engineered tread patterns for better cornering, handling, and gripping on different terrains.
Why Should You Buy Douglas Tires?
Following are a couple of reasons why our team considered testing these tires: –
Availability
As mentioned above, the tires are available only at Walmart and stores. You can head over directly to the store or buy online. The store has over 10,500 stores operating in 24 different countries.
Moreover, I found some tires on Amazon, such as Douglas Technologies Utility tires and others.
Cost-Effectiveness
The cost of the tires is pretty affordable; these are some dirt-cheap tires available at Walmart.
Most enthusiast drivers are looking for something affordable within their pocket budget; Douglas tires are an ideal choice for these drivers.
If you ever prefer buying Goodyear tires, consider buying Douglas first because they offer the same quality and performance as premium brands.
Good Warranty
As mentioned above, the tires have a 45k miles warranty, which is reasonable under such a price. However, this is one obstacle that is nonsense.
To be eligible for the warranty, tires must be installed at a Walmart store. If you mount these tires somewhere else, the replacement won't be issued.
Ensure you note this rule before proceeding any further to avoid any future inconvenience.
Handling
The tires are officially manufactured by Goodyear, as I have sermon above.
There is no change in the quality and other parameters; Goodyear engineers and staff supervise everything, and there isn't a distinct manufacturer for Douglas tires.
The tires have shipshape treadwear with sipes and grooves to provide a better, comfortable, and noiseless ride in dry, wet, and even snowy conditions. The tires can evacuate water and resist aquaplaning on wet pavements.
Pros and Cons of Douglas Tires
Pros
The tires have good dry and wet tractions.
The tires don't produce much noise, providing a pretty comfortable ride.
Goodyear, a top tire brand, manufactures these products.
The tires are affordable.
Cons
The tires have below average snow performance.
Not fuel economist.
Are Douglas Tires Good?
The tires are pretty economical if you compare them with premium brands names as Michelin, Goodyear, and Pirelli Tires.
Furthermore, these tires are mass-produced by Goodyear, a top tire brand in the world.
The quality, performance, and treadwear design are substantial. The brand has focused on innovation and tried to improve the quality of the tires on a higher note.
Goodyear would mind if any tirade pops up about their brand, so they critically analyze every product under their umbrella.
In addition, the Douglas tires are good if you are tight on a budget or want to try some affordable premium tires in the market. The tires won't disappoint you.
You might also like to read:
Conclusion
Overall, the Douglas tires have better performance. Above, we discussed Douglas All-Season, Performance, and Performance GT-H.
These sets have excellent dry road performances, although they couldn't satisfy us in snow conditions.
However, these sets are cheap at Walmart and other online shops. In the end, tires are backed up with a 45k miles warranty, which is ultimately satisfied with these price tags.
Take leverage from these cheap tires today!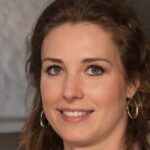 Crystal Hafley is a dedicated writer and content creator for WorstBrands, where she specializes in writing insightful reviews about kitchen appliances and fashion products.
With her expertise, Crystal provides readers with accurate and reliable information to help them make informed decisions about the brands and products they use every day. When she's not researching or writing, Crystal enjoys cooking and exploring the latest fashion trends.