As the world is shifting towards developing a healthier lifestyle, fresh juices are getting all the hype.
It's because it's hard to track down our daily dose of vegetables and even harder to force ourselves to enjoy having those.
So, thankfully there's this option of gulping delicious juices to get balanced nutrients. But, getting the right machinery to make fresh juices is a big task.
Most brands' juicers are not powerful enough, so you need to avoid them. In this article, we've mentioned some of the worst juicer brands for you to avoid.
How to Spot the Worst Juicer Brands?
The worst juicer brands are not user-friendly, leave a lot of liquid in pulp, and are not powerful enough for hard vegetables.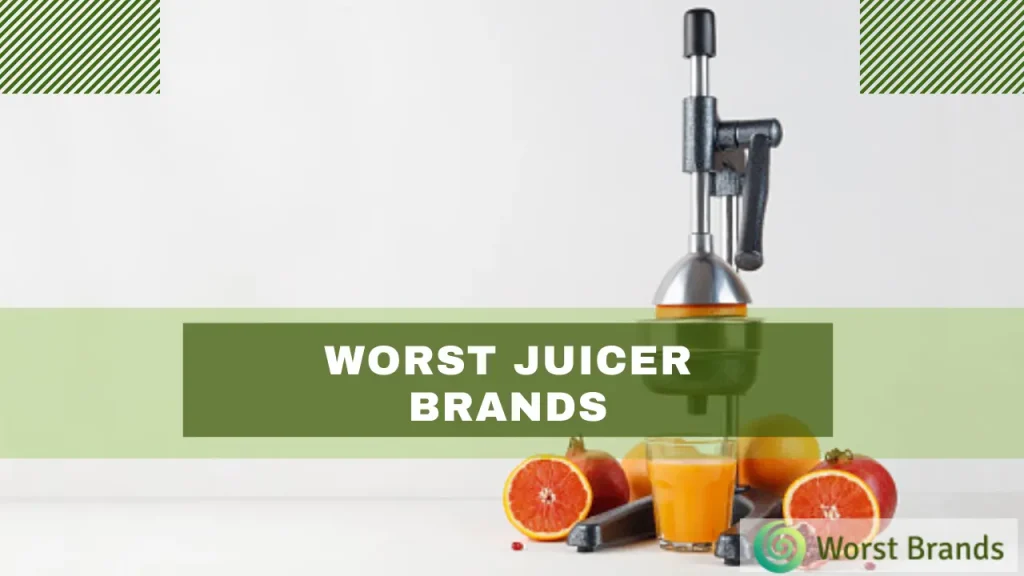 So, you can eliminate such brands by following these guidelines:
Check Reviews and Complaints
Look at the power rating of the juicer
Please read about the ease with which it gets cleaned
Check if it produces too much pulp with the liquid
Compare the price point with other brands offering similar features
5 Juicer Brands to Avoid:
Our extensive research and user feedback concluded that Vevor, Ninja, Nutribullet, Waring, and Dash are the worst juicer brands you should avoid.
We are saying this because they stop working within a few months and waste a lot of fruit juice in the pulp.
Also, some of them heat up, are very noisy, and cleaning them requires a lot of disassembling. Let's have an in-depth discussion about these brands.
1. Vevor
Vevor offers a plethora of options to meet all customers' demands. They include Commercial juicers, Electric juicers, and Manual Wheatgrass Juicers. Let's have a look at their expertise in juicers.
Sadly, they haven't been able to bag customer satisfaction. They market themselves as commercial juicers, but those same juicers leak a lot.
It results in the wastage of products and Vevor getting labeled as one of the worst juicer brands.
These commercial juicers require reassembling every time you use them. Since after every use, you have to clean it, so you have to separate the parts. It's not easier assembling it again with screwdrivers. Sigh!
Plus, customers mentioned that they received juicers that had cracks. Another thing that added more to their worry was when the company refused to offer replacement parts.
They didn't even provide new parts when the parts turned out faulty.
The pulp catcher doesn't fit well, which shows the poor manufacturing by the company. Not just that, spilling happens from this area where the pulp has to be collected.
Some parts are rusty, and the polish of the juicer leaves a greyish residue. This greyish residue is a major concern as it's not fit for human consumption.
There were metal strips seen in the juice that came off the edges. Cleaning edges was a tough task for many buyers as the sharp edges can lead to cuts.
2. Nutribullet
Nutribullet is much known for its blenders. They have been trying to enable people to shift to healthier nutrition.
Let's see how far they've succeeded in their mission and how good their juicers are.
Their juicers result in foamy juice. Although centrifugal juicers produce foamy juices, Nutribullet ones are too foamy.
It altered the taste to the extent that people considered buying foam separating lids.
The wide feed chute and speed dial increase the functionality of their juicers. But, at the same time, an 800W power juicer isn't as powerful as other centrifugal juicers.
In the 800W juicer, large amounts of pulp get produced. The pulp makes the juice unpalatable and thick. It's not something any juice lover would enjoy.
Also, their juicers heat up massively when you use them to make juice for several people.
It is an issue with almost all the worst juicer brands. Now, it's foolish to invest in a juicer that doesn't even let you serve juice to guests, so it's important to consider this.
In addition, the juicer gets stained easily. Some buyers reported that they tried washing it with soap and water, but it would still have the color.
Plus, the top of the juicer gets stuck. Sometimes no amount of muscle power can open it as it gets jammed. Hence, avoid this brand to save your money.
3. Ninja
Ninja is a brand by SharkNinja and has undergone years of evolution. As fast as the kitchen appliances industry grew, so did this brand.
But, customers always had their reservations about this brand offering too many features in a single product.
Ninja couldn't master the powerful cold press despite offering too many options. Their cold press leaves too much liquid in the pulp due to poor extraction.
Customers tried it with different fruits and vegetables, but it was to no avail.
Plus, the screen of their juicers clogs, so no juice comes out mostly. Then, if you try pressing the reverse button to unclog, it doesn't unclog. So, you are just stuck with a juicer that's not providing you with any juice.
Most of the models had a plastic food shoot. Such subpar materials led to their juicers breaking within a few months.
Further, the brand dared not to pay regard to such issues by saying they were out of warranty.
The feeding chute was small too. Customers had to cut the food into small pieces beforehand to fit in. It led to a slowed juicing process.
Also, their juicers are too loud when operating. People who make juices regularly know that a good juicer doesn't sound like a flying airplane. So, ditch this brand.
4. Waring
They introduced the first blender in America. Then, Waring brought innovation with various products, including grills, toasters, deep fryers, etc.
But, since it's been in the industry for 80+ years, we expected so much more from this brand.
There are some nooks in their juicers that are impossible to clean. That way, it is highly likely to grow bacteria inside it.
Further, the basket collecting pulp is not spacious at all. So, you have to keep clearing it up back and forth. It requires so much time and energy.
Also, there's some issue with the juicers because they don't work well with soft veggies.
As a result, only go for their juicers if you want to extract juices from veggies like cucumber and carrots.
The blades do not mill all the fruit pieces, so some float in the juice. Hence, you have to be extra careful feeding juice to children as those tiny pieces can cause them to choke.
The juicers also have a plastic-like smell. Consumers thought this would go away, but it didn't. Such a bummer!
Also, one major observation by customers was the vibrations their juicers undergo.
People had to make sure it was kept safe; otherwise, it would fall easily with that vibration.
Some of their juicers have stainless steel exteriors. But, the actual mystery lies in the fact that the inside is plastic. It can result in a stinky juicer and can undergo breakage easily.
The speed of their juicer's motor causes micro oxidation of nutrients. It is indicated by the foamy juice extracted. So, why not choose something that is entirely made up of nutrients?
5. Dash
Dash juicers are very affordable and, at the same time, look very high-quality. They offer compact options too, so let's look at further details.
Their products are not suitable to be used in the UK. Mostly the juicers are 120v and have USA plugs, so they are not suitable for use in the UK.
The machine is not well-manufactured as O-rings get displayed. It results in juice leaking from that part, so it's rightfully considered one of the worst juicer brands.
Along with that, the gear keeps on slipping. Plus, the juicers are not even dishwasher friendly. How can a brand make a product like a juicer without considering customer ease?
Their juicers offer zero durability. Many reviews mentioned that the plastic part breaks in two halves after weeks of usage. They said it's not of any use to repair them as they'll break again.
Another major concern was that their juicers blew up. It happened suddenly and could have caused much harm, so customers decided not to get any product from this brand.
It is hard to unlock the juicers after usage. Plus, the parts get difficult to assemble as you use them.
Their blades are not sturdy, so they don't provide the power required to extract juices. Why would anyone buy such a useless juicer?
Related Articles:
Final Thoughts:
The fact that juices help people gain energy while maintaining a calorie deficit is remarkable.
Not just that, it can be your substitute for your caffeine addiction too. For this reason, we tried to ensure you are aware of the worst juicer brands.
They could hinder your journey to mindful eating that's about to begin. So, avoid them and look out for the best brands according to your budget and needs.
That way, you'll see the results of clean eating, and your life will change for the good. Cheers!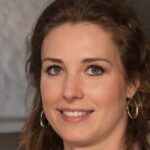 Crystal Hafley is a dedicated writer and content creator for WorstBrands, where she specializes in writing insightful reviews about kitchen appliances and fashion products.
With her expertise, Crystal provides readers with accurate and reliable information to help them make informed decisions about the brands and products they use every day. When she's not researching or writing, Crystal enjoys cooking and exploring the latest fashion trends.