You don't need an introduction to a dog's diet if you have a pet dog. But there are some things you should consider before buying food for your pet.
A pet dog needs a decent diet with the full nutrients it requires. So you should always take a minute to check the ingredients.
As we are talking about the dog food brands to avoid, we would like to give you a perception of some deficient food elements.
For example, corn is said to be just a filler for dogs. They don't get digested in the stomach of dogs and possibly cause a blockage.
But they are also a source of carbs and proteins. Byproducts, artificial ingredients, and wheat middlings are also avoidable ingredients.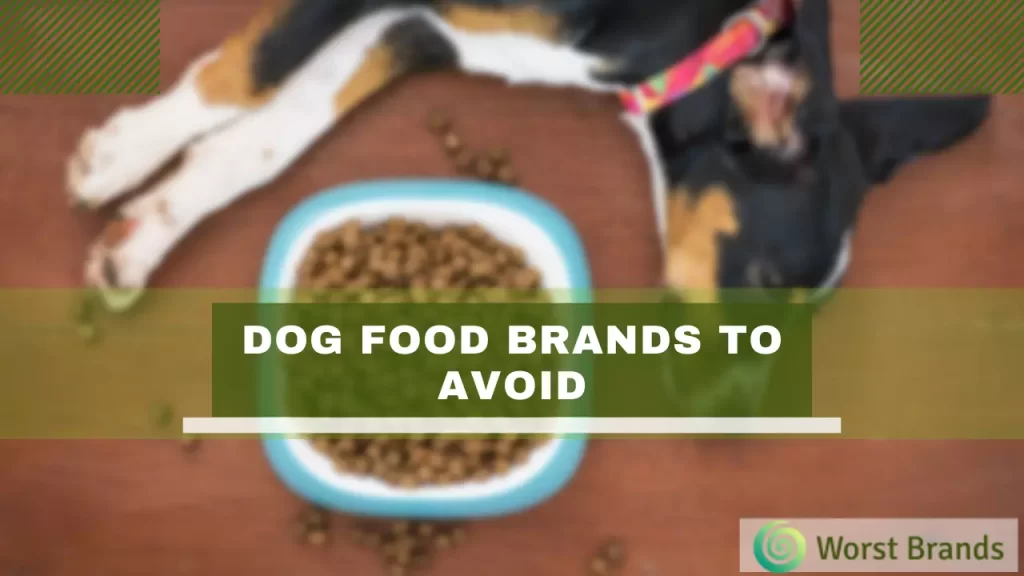 Related: Worst Cat Food Brands
For the care of your puppy, it is better to take knowledge of the worst dog food brands.
We are here to help you with your pet's diet. The main reasons for these food brands are usually the lack of healthy ingredients or low-quality elements.
13 Worst Dog Food Brands to Avoid
Based on our research and testing of different brands, below is the list of the 13 dog food brands to avoid.
Purina Dog Chow
Twin Pet Dog Food
Purina Beneful
Kal Kan Complete Adult Food
IAMS Pro-Active Health
Kibbles'n Bits
Cesar Filets
Pedigree
Ol' Roy Complete Nutrition Dog Food
Gravy Train
Alpo by Purina
Wegmans Bruiser kibble
Diamond Dog Food
How We Tested Dog Food Brands
We have reviewed a number of dog food brands and their ingredients to conclude our list of the bad dog food brands to avoid. Moreover, we also got feedback from the dog owners about the below-mentioned brands to make an unbiased list to help you take care of your dog.
---
Similar Blog: Worst Dog Shampoo Brands
1. Purina Dog Chow
Purina is not a new name in the pet food industry. This brand was launched in 1893.
It may have some good products, but not for a dog. Corn, wheat, and soy are the main ingredients in it.
It also has some artificial preservatives and colors. Almost all the ingredients in it are just filler. This food can cause digestive problems for your dog.
Purina has a history of dog foods, but now, it is avoidable due to a lack of quality- ingredients.
It also has meat and bone meal which is not harmful, even in a small amount. It can cause constipation and blockage of the bowel.
This brand is also quite expensive than others. Some customers reviewed that their dogs were sick after this diet option.
2. Twin Pet Dog Food
Twin pet food contains corn, wheat middlings, and bone meal as its primary elements. So it is not considered a preferred brand for dog food.
Wheat middlings, also known as wheat mill runs, are the byproducts of grain processing. It has several negative effects on dogs.
It is a dry food element that can cause dehydration. The dog can gain dry and itchy skin from these kinds of dry foods.
By-products of meat and bone meals cause dogs digestive problems and constipation.
It is due to low essential amino acid content in nutrition. Another noticeable ingredient is animal fat.
It is not recognized as a positive ingredient because they don't mention which animal they are taking it.
It is available at an affordable price, but it would be better to avoid it if it is valid for dogs.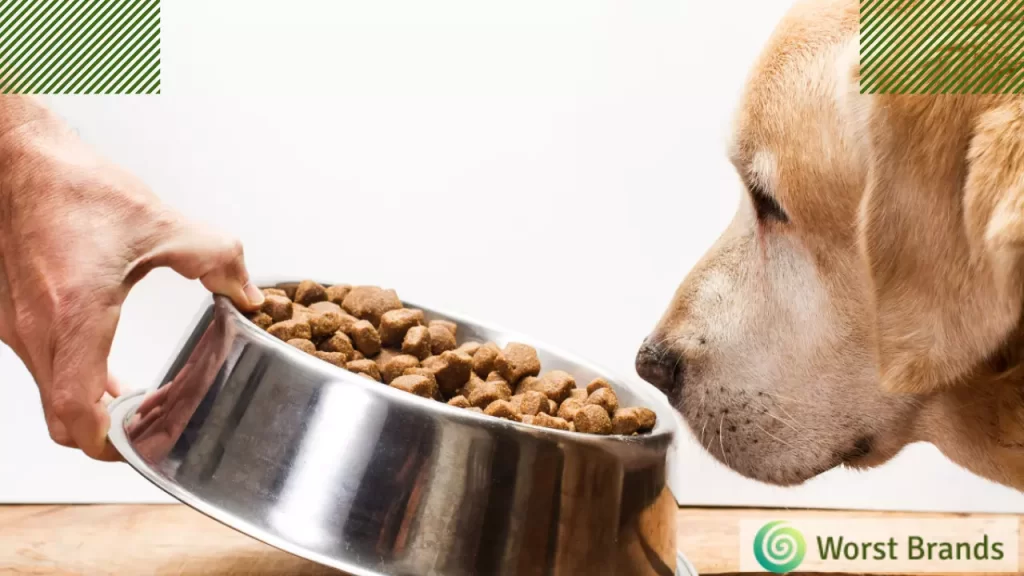 3. Purina Beneful
Beneful is another dog food brand introduced by Purina. But it is also on the list of worst dog food brands due to its lack of quality ingredients.
As Purina Dog Chow, the main ingredients its brands contain are whole-grain corn and soybeans.
It also uses a considerable amount of artificial dyes and preservatives that a dog cannot digest easily.
It uses real meat like beef, chicken, or salmon, but it is not that good when we look at other ingredients in its composition.
Synthetic protein replaces natural protein. It contains fillers that can leave canines with allergies and several skin problems.
The excessive use of artificial ingredients was the primary concern of Beneful.
This brand got many negative reviews from customers.
4. Kal Kan Complete Adult Food
Kal Kan is another old dog food brand. It was introduced in 1936, but later then, in 1968, Mars Petcare company bought this.
Most of these brand items were renamed after Pedigree (Another dog food brand by Mars), and few remained for Kal Kan.
Although it produces a few products, it failed to get a good reputation. Customers have many negative reviews about this brand.
The five main ingredients are corn, soybean meal, chicken byproduct, wheat, and bone meal.
It also contains some amount of animal fat. None of the above ingredients is considered the quality element for dog food.
The chicken byproduct and soybean are good protein sources but have lower biological value.
Many customers reviewed that their dogs started throwing up and dying after consuming this food brand.
5. IAMS Pro-Active Health
This is dry dog food. The only positive ingredient in it is chicken, a good source of protein.
However, it contains cornmeal and by-products, much like other bad dog food brands.
This brand also contains sorghum and beet pulp. Sorghum is just a filler and has the same negative effects as corn. Beet pulp is a high-fiber by-product and does not provide essential nutrients.
Many customers reported about their dog's health, like they started to vomit and get sick.
6. Kibbles'n Bits
Corns are upfront in the ingredients of this brand. Dogs find it difficult to digest, and it can harm their digestive system.
The other main ingredients are wheat and soybean, and that's why it is on this list.
It also contains many carbs and a low average of healthy fats.
Animal fat is also in its ingredients. Animal fats contain BHA (Butylated Hydroxyanisole), which causes kidney problems if taken in large amounts.
Customers are not happy with this brand. As reported by them, their puppies don't like and eat it. Some of the customers also mentioned hair loss and skin problems.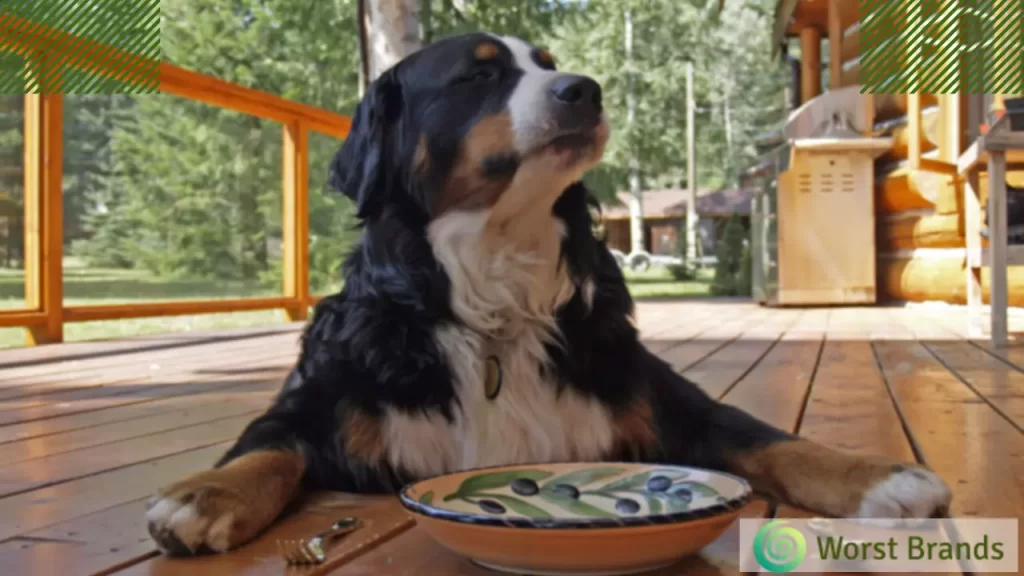 7. Cesar Filets
Unlike other brands, it contains a high amount of salt. Salts draw water from the body and cause dehydration and vomiting.
A large intake of salt can lead your pets to heart and kidney diseases. Other ingredients are wheat gluten and wheat flour.
Gluten meals can develop harsh allergies in your dog. It also contains meat by-products and artificial dyes.
Cesar Filets has both dry and wet dog foods, but they must be avoided due to their low quality. Most of the ingredients are just filler and useless.
Artificial dyes are nothing in dog food but harmful in many ways. The proportion of macronutrients is also a point to consider.
It contains above-average protein and below-average carbs. 25 percent protein is good for adult pet dog nuts. It contains about 45 percent of protein.
8. Pedigree
Pedigree is the second brand by Mars that is on our list of dog food brands to avoid. It has been producing pet foods since 1957.
There are a variety of dog foods for all ages and sizes in this brand, but it is not an ideal option. As in the previous Mars brand, its primary ingredient is corn.
It also contains other low-quality ingredients such as meat by-products, wheat gluten, and artificial flavors. These are heavy carbs food filled with fillers.
Varieties of foods and affordable prices are the reasons for its fame, but it does not meet the needs of good dog food.
It has negative health effects in the long term. A customer reviewed about liver problems of his dog.
9. Ol' Roy Complete Nutrition Dog Food
Ol' Roy is also manufactured by Mars company. It has a good selling ratio in America.
But after researching and reading many customer reviews, we decided to put this brand on this list.
Many customers had complained about the health issues of their dogs. The dogs started to throw up immediately. They showed several skin problems and digestive issues.
Ol 'Roy is affordable in price, but the selection of its ingredients lets this brand be on this list. The main ingredient, as in many other worst brands, is corn.
This brand is rich in carbohydrates. The proportion of macronutrients is present as 56% of carbs, 11% fats, and 25% percent protein on average.
Carbs take time to digest. They are used to provide energy, but actually, dogs don't need that many carbs.
10. Gravy Train
Gravy Train is another one of the old manufacturers of dog food. It had a good reputation in its time, but now, it is one of the worst brands of dog food.
It was the first brand to have gravy when dry kibble is mixed with water to make food tastier. But it should not be the reason to buy this product. It has plenty of bad reviews from customers.
This brand uses some real meat. However, the proportion is very small compared to the by-products used in its formation.
It has ingredients that are discussed before in all of the above brands.
It contains corn, soybean meal, wheat middling meat, and bone meal as its major ingredients. These are all the common elements in the worst dog food brand.
Gravy Train also admits that it adds euthanasia drugs in some of its foods that make your pet unconscious if used in a large amount.
11. Alpo by Purina
It is the third brand owned by Purina, which is on this list. It has ingredients that you are already familiar with. Alpo got many customers complaining about getting sick and even dying after consuming this food.
The only thing in which pet owners take more interest is its price. It is available at a very low price but at the expense of quality. So, you should not risk your dog's health by just saving some bucks.
There is no natural source of protein in it as in real meat. It contains meat and bone meal for protein but is of low biological value.
Wheat gluten is also an avoidable ingredient present in it.
12. Wegmans Bruiser kibble
This is full of fillers. Customer reviews let this brand be the worst.
Chicken by-products, yellow corn, soybean, and corn gluten meal are primary ingredients.
These ingredients confirm its cheap quality. It also contains artificial preservatives that are harmful to dogs. It has complaints about dogs getting sick and having digestion issues.
Just like other cheap brands, it also comes at a low price tag but compromises its quality. It would be better to choose another option for your dog.
13. Diamond Dog Food
The first ingredient mentioned in it is the chicken by-product. There is no real meat to provide natural constituents.
It is quite better than other brands mentioned above but with a high price tag. It has no artificial ingredients or fillers, but looking at other ingredients is avoidable at some points.
Corn, soy meal, and wheat are low nutritional ingredients in its formation.
Diamond dog food also has some positive reviews from customers. Still, if you afford something better, it would be much better.
Related:
Most Reliable Dog Food Brands
Now, I will let you know the 3 most reliable dog food brands to help you select the best one for your pet.
1. Wellness Dog food
Wellness is one of the best dog food brands on the market. It has ingredients to provide full nutrition to your dog.
The first ingredient is chicken. Other primary ingredients are chicken meal, peas, barley, and oats.
These nutrients have a great health effect on dogs' health. Oats and barley are great sources of carbohydrates and fiber. There are no artificial preservatives.
Another benefit of choosing Wellness is that it confirms its quality in all varieties, such as dry or wet foods.
It has products for all ages and sizes of dogs. It is pretty expensive, but the quality it comes with explains its price.
2. Blue Buffalo
Blue Buffalo has the power to compete for the best brands of dog food.
It has real meat as its first ingredient. Some other ingredients are chicken meal, brown rice, and flaxseed.
It also has some healthy grains in some products but not fillers. There is no harmful ingredient to the dog.
Flaxseed is a source of omega-3 and 6 fatty acids. Unlike worst brands, it contains natural flavors and has good biological value.
This brand is also a little pricey, but looking at its quality, you must go for it if you can afford it.
3. Canidae Grain-Free Dog Food
The major gain of this brand is salmon and salmon meal in its ingredients list.
It contains omega-3 to help the immune system and skin health. These are real and rich protein sources.
Canidae has so many positive reviews from customers. It does not do any harm even to the sensitive stomach of pets.
It does not have artificial ingredients for the protein source. Minerals are chelated that have better absorption and show better health effects.
This brand also has varieties for every dog.
Frequently Asked Questions
Why is Purina bad for dogs?
It has been linked with anemia, obesity, allergies, kidney disease, and even some forms of cancer.
The major reason behind all these health problems is the high concentration of artificial ingredients and preservatives.
It also doesn't contain any real meat or vegetables and is loaded with corn syrup.
What foods are dangerous for dogs?
Food items that are dangerous for dogs include chocolate, raisins, grapes, onions, carrots, apples, and many other types of food.
It's also advisable to avoid giving your dog any supplements or vitamins with any of these food items. In such cases, you should consult with a vet for further advice.
Conclusion
You can see that all the bad dog food brands contain the common ingredient. Constituents like Corn, bone meal, and soy meal are of zero nutrition.
The worst brands also don't have real meat. Meat and meat byproducts are mentioned in these brands, but there is no known source of this meat.
On the other hand, the best dog foods have natural sources of proteins. They include real meat.
An ideal food brand might be expensive. However, quality is the main thing. Hope our reviews will help you to look out for the best brand for your pet.
If you still have any queries, leave a comment. Our expert team will respond ASAP.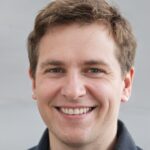 Steven Settles is a professional content writer with over 7 years of experience in writing for different niches, including brand reviews, technology, fitness, and more.
Currently, he is working as a content writer for WorstBrands, where he provides insightful reviews of different products, including home appliances, outdoor gear, fashion, and kitchen products. In his free time, Steven enjoys traveling and exploring new places.