Blenders are a culinary item that can be of best assistance to someone creative with their food. Smoothies, sauces, spreads, and desserts may all be made using this ingredient.
However, not all blenders help you put forward the best meals. They are not versatile, the power rating is not enough, and they are not sturdy.
In this article, we've mentioned some of the worst blender brands that you should give miss.
They do not cut down the prep time for your meals and don't deserve a spot on your countertop.
So, let's dive right into the brands and save you the hassle.
How To Spot The Worst Blender Brands?
The worst blender brands produce blenders that break apart in a short time, are not powerful enough, and their parts don't fit well.
So, the best way to identify the worst blender brands is:
Read if you could adjust time and speed easily
Check Reviews
See if there is a safe dishwasher label.
Inquire about the Warranty
Ensure they do not have a reputation for exploding
Look if they have options other than plastic jars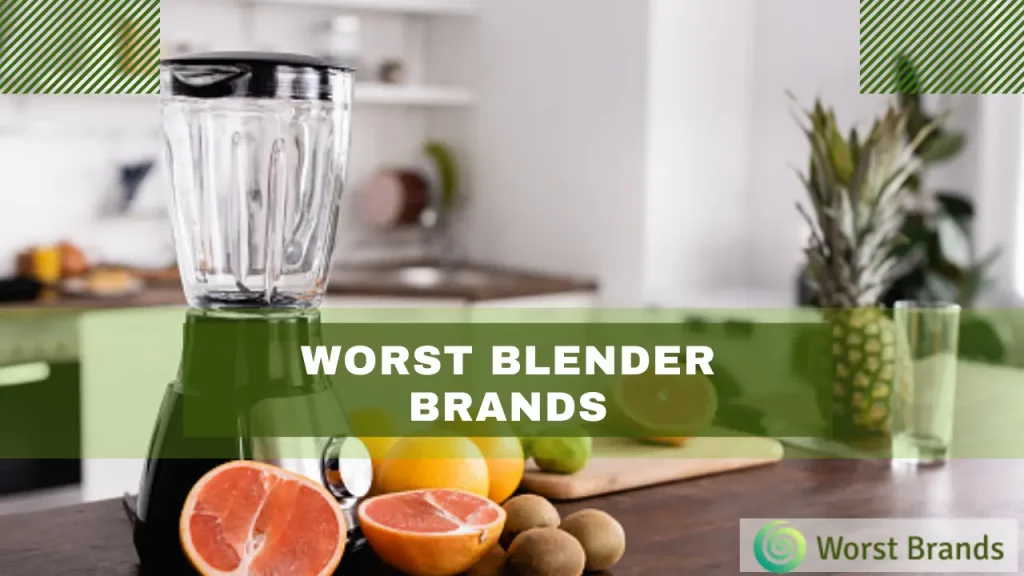 Related:
5 Blender Brands to Avoid in 2023:
According to our team's research, Hamilton Beach, Black & Decker, Blendtec, Bodum, and Vitamix are the worst blender brands that you shouldn't spend on.
They do not offer a promising Warranty, get stains easily, the blades are loose, and vibrate a lot while operating.
In addition, they also don't offer multiple features and do not blend well. Here are the brands and the insight on why you should avoid them.
| Brand | Issues | Additional Notes |
| --- | --- | --- |
| Hamilton Beach | Plastic-like smell, dull blades, explosions, weak sipping cover | Blenders may have incomplete blending and confusing instructions |
| Black & Decker | Jar breakage, unintentional operation, low power | Some blenders have overwhelming control panels |
| Blendtec | Defective items, no adjustable blending time, loud operation | Blender may dance on the countertop when in use |
| Bodum | Difficulty with lid attachment, ineffective ice crushing | Plastic build may lead to poor durability and spills |
| Vitamix | Intermittent operation, decreased durability, high prices | Some blenders may have defective speed settings |
1. Hamilton Beach
Hamilton Beach was founded in 1910 by Frederick. It went through a global expansion in 1995, and that's why Hamilton's blenders are well-known worldwide. Let's talk about why we think it's one of the worst blender brands.
Most consumers noticed a plastic-like smell while they turned the blenders on. They said the smell grew stronger as time passed.
Also, there was another odd smell too. A woman mentioned that it was there due to milk getting deposited at the bottom over time.
She said she couldn't clean it because of the shape of the area, so it was bound to build up.
The blender's cord is small, and the blades are too dull. The blades aren't sharp, so then they couldn't blend properly. They are non-removal, too, so it's hard to clean them.
There is a push-button present on some of their jars. The issue with that is users coincidently pressed it, and the blend exploded on their faces.
Plus, the sipping cover is not strong at all. Despite it being close, liquid exploded all over the wall through it.
"'Hamilton Beach Personal Blender" is only filled halfway for it to work effectively.
Along with that, most of their blenders are already small in size than expected.
Many reviews start that Kale is not well blended by their blenders. So, if you decide to add Kale to your smoothie, you'll have to chew those tiny Kale pieces.
Another confusion surrounding their blenders was the unclear direction. The boxes had a safe dishwasher sign, but there were directions to hand wash inside.
2. Black and Decker
Black and Decker is an American brand and was founded in 1910. By the early 1980s, they had to face a lot of competition.
It was due to Japanese and German manufacturers setting their foot in the market.
The brand diversified its products and divided them into home appliances to stand strong. But their blenders aren't much of a hit.
Their jars break frequently. Since the replacement costs are more than the blender if the blender is not under warranty, that worsens the issue. Black & Decker should ensure good customer service.
Some of their blenders start working as soon as they are placed on the base part. Even if it's not well set, but just the plug is on, it will work.
It sure can be worrisome for people whose children play around with such things.
People mostly received damaged boxes and blenders. They said it looked like someone had used the blenders and then repackaged them poorly.
The BL2010BG runs on low power. It used 550W of power which means it cannot do harder blends. Get your hands off this brand!
In addition, the control panels have way too many buttons. It led to customers feeling overwhelmed using it as it made things confusing.
The flimsy plastic built makes a lot of noise. So, you cannot use their blenders for early morning smoothies as they'll wake the whole house.
Their 'Crush Master 10-speed blender' gives off smoke and explodes. Big wide holes appear on the jar, and even if replaced, the issue happens again.
3. Blendtec
Blendtec is traced back to when its founder invented the wheat mill. It sells commercial as well as home blenders. Here is a list of reasons we include it as one of the worst blender brands.
Many customers received defective items in a row. For the first time, the blades were loose, and for the second time, there was leakage at the base.
Some blenders have no adding time option. So, you have to re-run the blender if you have to blend for a longer time.
The 'Total Blender Classic' is the loudest blender ever. It almost feels like construction is going on if you turn it on.
Total Blender Classic's electronic touch panel has glitches. Plus, the manual is not well-explanatory.
Their 'Designer Series Blender' dances on the countertop when operated. It can be very concerning as it could fall off too.
The most annoying practice of this brand is that they offer a warranty from the manufacturing date. All other brands offer a warranty from the purchase date.
Also, certain lines on their jars make taking the food out difficult. Alongside that, their bottom fans scrap off with time.
4. Bodum
Bodum came into being in 1944 in Denmark. They are insanely famous for their coffeemakers. This brand has been a choice of coffee enthusiasts for the longest time.
Here we'll shed some light on their blenders. Firstly, the lid of their blenders is hard to put on and remove. It's annoying to even think about it.
Further, it cannot crush ice properly. Although, it has a nice setting on display to crush ice too. It doesn't seem like they stay true to their words.
Also, some food items get stuck to their lids because of their shape. Upon opening, it spills all over the place. It is disheartening for a customer to pay so much and still go through spills.
Preprocessing has to be done for some green veggies. Otherwise, it won't blend properly.
You are preprocessing means you have to cut the veggies into small pieces.
Most blenders under their line are made of plastic by the brand. It makes them weak, and so it dances all over the countertop.
Those blenders even have a suction cup to keep them in place, so why does it not stay in place?
The durability is very poor owing to the plastic build. Most models break within a few months, and people usually receive different colors than the ones they ordered.
5. Vitamix
Vitamix Blender founder's family member suffered from a chronic illness, and they found a solution which was whole-food nutrition.
Afterward, it became the family's mission to enlighten others about the advantages of whole-food nutrition.
They were intrigued by how a blender could make healthy food taste delicious. So, they decided to manufacture some. Let's talk about their brand quality.
One major issue with their blenders is that they operate tentatively. If you buy this, you'll be standing in your kitchen hoping it won't stop for the 7th time.
The durability has gone down the drain. Previously, their models used to last ten years, but now they don't last months.
Some reviews said they received products that didn't turn on as soon as they tried to use them.
Vitamix's blender's prices aren't very economical. Still, they don't provide glass pitchers at that price.
You better avoid this brand; otherwise, you'll be in for disappointment.
People are frustrated with their defective speed settings. They said you could hardly notice any difference in shifting speed from 6 to 10.
The blenders are fragile compared to the older models they produced. Further, they vibrate insanely as soon as turned on. People had to hold them to restrict their movement manually.
You might want to read:
Conclusion:
We recommend you invest in a higher blender on the price spectrum. The reason is that blenders are used multiple times in a day and are more of an investment.
Plus, they motivate you to make nutritious meals if they are from a good brand.
Hopefully, you must've gained some insight into what features the worst blender brands have.
Now, analyze your preferences and then choose a blender that is compact but at the same time functional Please don't hesitate to contact us if you have any queries.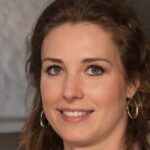 Crystal Hafley is a dedicated writer and content creator for WorstBrands, where she specializes in writing insightful reviews about kitchen appliances and fashion products.
With her expertise, Crystal provides readers with accurate and reliable information to help them make informed decisions about the brands and products they use every day. When she's not researching or writing, Crystal enjoys cooking and exploring the latest fashion trends.