Yogurt is a versatile food option and a much-loved one too. It can be a filling choice for breakfast or your guilt-free dessert at night-time. You can even eat it as an energizing snack in the middle of the day.
There are endless yogurt brands that offer multiple flavors and ingredients. But, getting stuck with the wrong kind of yogurt brand can rob you of all the health benefits it offers.
We are here to ensure you don't stumble upon any of the Worst Yogurt Brands that will ruin your day.
As a bonus, we've also mentioned the three best yogurt brands for you to choose from. After reading this, you'll be clear about which brands deserve your hard-earned money and which don't.
So, without further ado, let's get right into it.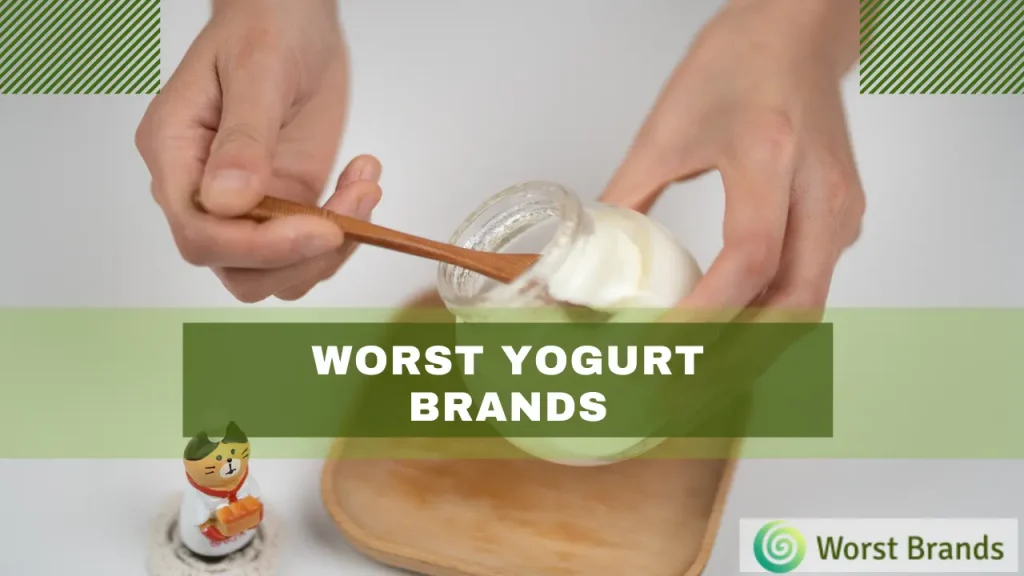 How To Spot Worst Yogurt Brands?
The worst yogurt has a watery consistency, is too sweet, and contains additives. Therefore, the best way to identify these brands is:
Look at the ingredients the yogurt contains.
Check if FDA has recalled the brand
Compare the quantity it offers with other brands in the same price range.
Go through reviews
Research the vegetarian options they offer
Check if they offer healthy and low-sugar flavors.
Research about the fruit added. Check if it's real or not.
Related: Worst Ice Cream Flavors
5 Worst Yogurt Brands to Avoid
As per our team's research, Trader Joe's, Dannon, Powerful Yogurt, Noosa, and Silk are the brands you should avoid.
Because they contain artificial sweeteners and Carageenan, they offer a weird combination of flavors and inconsistent taste. Some of them are not Celiac friendly and not cost-effective either.
Let's look at these brands and see why you should avoid them.
1. Trader Joe's
This brand is big on keeping its suppliers a secret. Recently, the recalls from the FDA on some items Trader Joe's sells under its label drew the attention of many.
It uses McCain foods which were called out for Salmonella and Listeria contamination. So, let's talk about some other issues with this brand.
Along with that, people came across gelatin pieces while eating. The gelatin pieces are derived from animal sources so it can be a significant concern for vegetarians.
Trader Joe's yogurts are either too sour or too sweet. Some reviews complained that the packaging says four teaspoons of sugar on one pack itself. This is way too much!
One thing we'd give them credit for is the product branding. Their product branding is spot on with vibrant colors that make flavors easy to identify, but that's about it.
Inside that packaging, you'd find combinations of pineapple and Kiwi. Customers hated this flavor the most because of the kiwi aftertaste.
Plus, the pomegranate greek yogurt has a bland taste and runny consistency. Customers further mentioned that they should add authentic pieces of fruit as most brands do. It will add an oomph to the flavor.
Some say it has a strange texture that requires stirring to blend; otherwise, it's not thick. This one sure is more of a pain than a brand.
Greek yogurts are supposed to be low in calories. But, this brand failed to provide that either as their Greek yogurt contains high calories. What a disgrace!
Reasons to Avoid:
People received stale products
After eating, your mouth feels like it's coated with something.
Greasy on the lips
2. Dannon
Dannon was previously named 'Danone.' But it was named Dannon to make it sound more American.
Plus, to cater to the sweet tooth preferences of Americans, they introduced flavored yogurt. Let's share with you where they stand today in terms of quality.
Their yogurt 'Light & Fit Greek Non-Fat Yogurt' is genetically modified. There is no clear evidence that says genetically modified food is terrible. But, it's certainly not as beneficial as organic food.
Plus, their yogurts are flooded with artificial sweeteners and artificial flavors. So, eating their yogurt is stuffing your mouth with potential carcinogens. Do you want to put your life at risk because of a yogurt?
The taste of Dannon's yogurt is unpleasing. Many buyers stated that they are too sweet and mostly taste like cottage cheese.
If a yogurt tastes like a cottage cheese even before expiration, it must contain something wrong.
Dannon's Activia yogurts raise health concerns. People reportedly got stomach aches and coughed real hard after having these.
The reason behind it was the cherry pits in their yogurt. You sure don't want to get choked by a yogurt!
Also, their yogurts have a clumpy appearance that makes them look expired. Not just that, the water content is way too high. After trying them out ourselves, we can say they are just water with a drop of flavoring.
The packaging changes too often. This could be a good thing at times, but they involve modified flavors too. It leaves buyers confused and frustrated with the new flavors.
Reasons to Avoid:
Quantity decreases from time to time.
The blueberry one had a too strong taste
Packaging gets torn easily, leading to air going inside.
3. Powerful Yogurt
It is the first Greek yogurt in the US produced for men. They offer 20-25 grams of protein per serving to help men build muscle. Plus, their products are made with non-GMO ingredients. Why is it under the Worst Yogurt Brands label? Let me tell you!
One major bummer of this brand is the presence of carcinogens. The yogurt contains Carrageenan, which involves an ongoing debate about it being a carcinogen. Apart from that, Carrageenan causes bloating and digestive problems.
They offer a protein shake comprising greek yogurt. It sounds weird, but that's how they market it.
Although it offers multiple flavors, they are all bland. The flavors have been reviewed as 'flavored water.'
Plus, chunks of slime have been found in their products. Considering they are produced to cater to those passionate about fitness, it's such a big turn-off.
Buyers stated that they now check if it contains slimes by pouring the product into a clear container. Save yourself from this hassle!
The protein shake that contains greek yogurt offer no filling effect whatsoever. If it doesn't satisfy your hunger pangs, how will it help you stay fit?
Plus, on the other hand, protein is mostly filling, so it's a shock that their Greek yogurts aren't.
Powerful yogurt packaging is not very sturdy. It breaks apart, leaving you to regret spending money on a brand that didn't consider user-friendly packaging.
Reasons to Avoid:
Taste is inconsistent
Artificial sweeteners
Send in wrong flavors when ordered online
4. Noosa
Noosa came into being at a coast in Australia. It was founded out of a pure passion for creamy yogurt.
Koel Thomae, the cofounder, reached out to Rob Graves, a dairy farmer, about producing this dreamy yogurt. Let's look at what their yogurt offers after all these years.
Their Frozen Yogurt Gelato seems appealing, no doubt. They have brought the two things together to upscale the popularity of this brand.
But, their yogurts surprisingly have awful taste. The strawberry flavor tastes like medicine, and the blueberry one is too tart.
Plus, their yogurt is significantly high in calories. It offers 140 calories in four-ounce packaging, which varies further depending on the flavors. Why will a customer not prefer some dessert over yogurt?
Some of their marketing strategies made people angry. The mango flavor, for example, was just plain vanilla with too little mango. How can a person trust a brand with such tactics?
They are not Celiac-friendly at all. Hence, gluten will trigger immune responses in some of you if you are gluten sensitive. It's better to avoid this brand than to suffer from illness.
Also, the products are not vegetarian-friendly either. One of the non-vegan ingredients is gelatin. So, vegan yogurt lovers, stay away.
Reasons to Avoid:
Expensive
Poor shelf life
Difficulty closing lid once opened
5. Silk
Silk is an American brand that Dannon currently owns. They make the best almond milk and soy milk products.
Their expertise lies in providing flavorful and high-quality milk options. But we can't say that about their yogurts.
They offer some sugar-free yogurt options, which is commendable. But, these same options contain additives like 'Chicory Root Extract.' It made people fall sick and upset stomachs.
Silk offers yogurt in small containers. The problem lies in the price they charge for that small quantity.
Everyone likes spending mindfully on things they have to buy regularly, like yogurts.
Their 'dark chocolate dairy-free yogurt alternative' has an odd taste. Plus, their 'Almond dairy-free yogurt' is too sugary.
The flavors have a terrible aftertaste too. There is a tanginess that stays. Along with the terrible aftertaste, it has a liquid texture. You sure want yogurt with a specific thickness, so skip this one.
Reasons to avoid:
Not an appetizing consistency
Soymilk yogurt only comes in larger cups
Many customers received rotten yogurt
Top 3 Best Yogurt Brands
The pleasure of devouring flavored yogurt is beyond explainable. It can very quickly become a side dish on your dinner spread.
So, to ensure you don't stay devoid of this healthy food, we've listed some brands. These brands are brimming with benefits, so you don't want to miss them.
1. Chobani
It was founded in 2005 after its founder hired a yogurt master from Turkey. It hasn't failed to satisfy customers ever since.
Chobani's yogurts offer the perfect blend of taste, and their fat-free yogurts are suitable for lactose-intolerant people. Kudos to them for catering to all!
The 'Chobani Greek Yogurt' in blueberry is very filling. The customers love the blueberry pieces as they feel they add the right color and taste.
Also, their yogurts are all naturally made. They are made involving live cultures and include high protein content. So, you can consider them healthier in every sense.
What do we love?
Reasonably priced
Low sugar content
Creamy
2. Siggi's
Their yogurt 'Skyr' is a much-loved yogurt from Iceland. Its founder Siggi felt the need to produce it after she felt that America lacked a yogurt that wasn't very sweet.
Some people reviewed it as 'This is the most creamy and tasteful yogurt they've ever had.' It says a lot about their quality.
Also, 'Siggi's Plant-based Yogurt' offers multiple flavors. They are applauded for containing 3x more proteins than any other brand.
They contain a low amount of sugar, making them a healthy snack.
Siggi's products are Gluten-free, non-GMO verified, and preservative-free. This brand has mastered the art of luring customers as what more will one need in a yogurt?
What do we love?
Endless variety
Fat content low
A substantial amount of Calcium present
You might also love to know:
3. Yoplait
It is the world's largest franchise brand of yogurt. Yoplait offers a wide selection of products, and they've evolved a lot over the years.
Yoplait yogurt, especially the 'Strawberry Low-fat yogurt,' has a refreshing taste. The strawberries are in the right amount and the correct size. Bravo to them!
Plus, the quantity they offer for the price is commendable. Many people said they keep buying it because of how cost-effective it is.
The size and shape of their yogurt cups are perfect. So, you can have it on the go, and it doesn't tip here and there. It sure stays true to the idea of 'Grab and go'!
Also, the consistency is not too watery and not too thick. It doesn't need blending and melts in the mouth like anything.
What do we love?
Does not give a bad aftertaste
Great variety
Not expensive
Final Thoughts:
The goal is to feed onto something that has nutritional value. People on diets rely on low-fat yogurt to satisfy their cravings and as a source of protein. Plus, it's a good source of probiotics and calcium too.
But, choosing the right brand of yogurt is a tough choice. We hope this article enlightened you about the worst yogurt brands to avoid.
As a bonus, we have added our top picks too. Keep in mind to choose a preservative-free brand that contains no added sugar.
If you still have any questions, comment them down, as we'll be glad to help.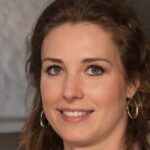 Crystal Hafley is a dedicated writer and content creator for WorstBrands, where she specializes in writing insightful reviews about kitchen appliances and fashion products.
With her expertise, Crystal provides readers with accurate and reliable information to help them make informed decisions about the brands and products they use every day. When she's not researching or writing, Crystal enjoys cooking and exploring the latest fashion trends.