Finding the best laptop for professional use has never been easy. It is because today's market has such a diverse choice of technological brands.
All of the brands are innovative, yet some have fallen short of market expectations.
Indeed, you would prefer to have a perfect laptop model for your personal or office use. So, this is why it is so important to be aware of the worst laptop brands that you should avoid at all costs.
So, never buy a laptop based only on the brand's name. You could be overpaying for a poor laptop simply because of the name.
The primary consideration when purchasing a laptop is its intended use. For example, if you want a laptop for gaming, its requirements may differ from a regular or office laptop.
Based on customer reviews and surveys, Samsung, MSI, LG, Apple, Gateway, Razer, and Microsoft are among the worst laptop brands to avoid.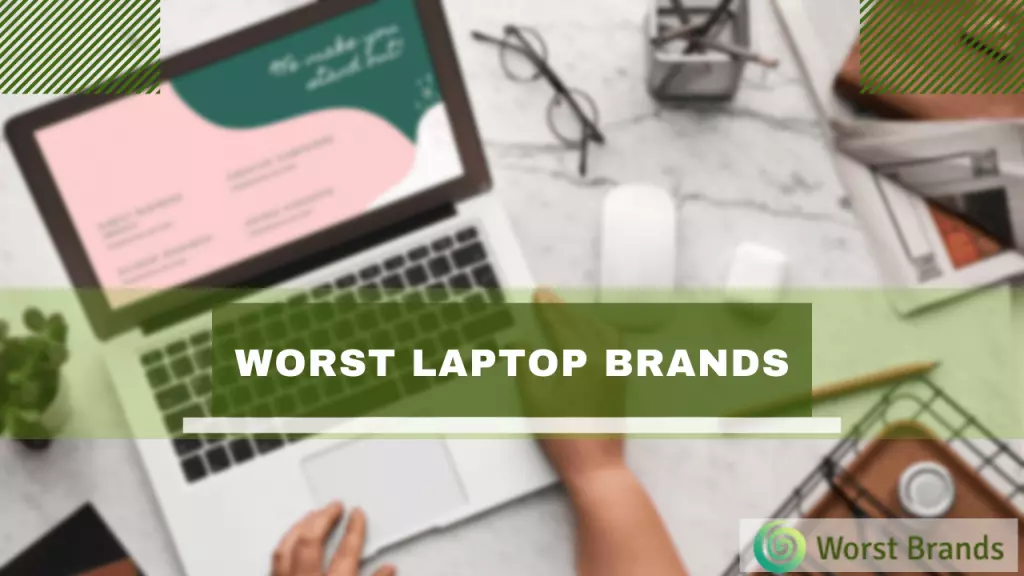 Related:
Now, let's walk through the worst brands of laptops.
List of 7 Worst Laptop Brands to Avoid
We looked into laptops thoroughly and compiled a list of the 7 worst laptop brands to avoid on the recommendations of our research team.
| Brand | Main Reasons to Avoid |
| --- | --- |
| Samsung | Bland design, low battery life, high price |
| MSI | Lack of technical and customer support, bulky designs, gets hot during use |
| LG | Poor quality mouse pad and keyboard, not good for gaming |
| Apple | Lack of innovation, touchpad, and keyboard quality, low specifications |
| Gateway | Gets hot, has battery life issues, high priced |
| Razer | Gets hot, battery life issues, high priced |
| Microsoft | Lack of versatility, high price range, limitations of connectivity ports |
This list will help you choose the best gadget for you and avoid the bad ones.
1. Samsung
You may have seen this brand at the top of the list for mobile phones, but the same cannot be said for laptops.
Samsung laptops cost a lot but come with a few faults worth knowing. Let's start with the design of Samsung laptops, which is just ordinary.
These laptops also fail when it comes to battery life. It might be the main defect in this brand. Moreover, Samsung laptops are pretty basic in the competition of innovation.
Another flaw of the Samsung laptop is that it does not offer a good warranty. A lot of customers have reported this issue on various customer forums.
So, if you're buying a laptop from Samsung, best of luck with the company's aftersales service.
Main reasons to avoid
Bland and plain design
Rough warranty
Low battery life
High priced
2. MSI
If you are a fan of E-gaming, you might be aware of this laptop brand.
They have graphics cards that are mainly built for gaming. However, certain drawbacks need your attention before buying.
MSI laptops have one of the most attractive looks, but most MSI laptops are hefty and large. It might make you feel uneasy when you use it.
Another thing to consider before buying this laptop is its price. Its advanced processors and graphic cards make them versatile, but they do not come under the average price.
Although MSI comes with advanced technology, it has some heating issues that affect its performance. It gets warm during long use.
Another downside of this laptop is its lack of customer and technical support. There is a need to solve some tech issues.
MSI may be a good option for a gaming laptop, but it needs more varieties for selection other than gaming.
Main reasons to avoid
Lack of technical and customer support
Bulky designs
Gets hot during the load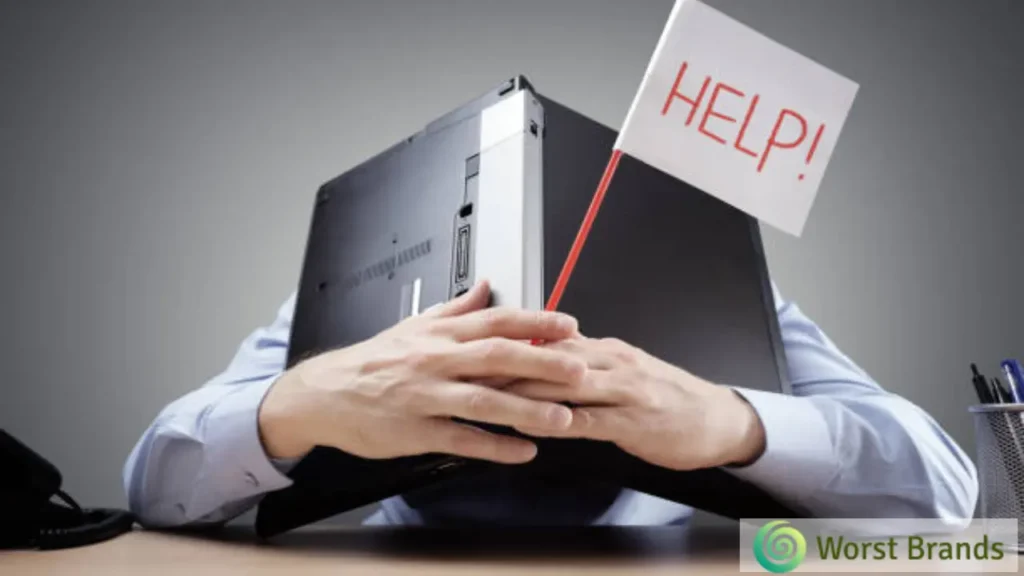 3. LG
LG laptops are well-known for their lightweight and large-screen displays.
But their Gram series laptops have disappointed its users. This is why we have included LG in our list of the worst laptops.
The Gram series comes with various displays and slim designs, but these laptops are quite pricey. You can look for another decent brand easily in this price range.
The main reason for LG to be on this list is its touchpad and keyboard design, as reviewed by many customers.
The touchpad is not that comfortable. It has palm rejection issues and causes accidental clicks or touches.
The design of the keyboard is also not standard in some laptops. The keys are too small, and the edges of the keyboard have enough space.
Due to this, it has various key issues. Most LG laptops do not have a touch screen. The design is also very plain and simple.
The audio feature is also a point to consider. It does not provide that quality of sound, and you might need to use an external sound source.
Main reasons to avoid
Poor quality of mouse pad and keyboard
High price range
Not good for gaming purposes
4. APPLE
You may be thinking we've gone insane since we've included Apple in our list of the worst laptop models.
But take it easy! Apple has been added to our list as a result of the customer feedback we received in our research.
This brand is famous as the best in technology, but that is not the case for everyone.
Apple laptops are quite expensive, so is it worth paying so much money when there are cheaper alternatives? Check out some issues with the Apple MacBook before buying.
Many MacBooks have USB Type-A ports and don't have Type-C ports which are more beneficial. Type-C ports can transfer data with more speed and support relatively more amperes of charging.
Another drawback of the MacBook is its limitations in hardware upgrades. This is almost in all Apple laptops.
Some adaptations can be made before buying it, but there is no option for upgrades of memory or processors after that.
Apple still doesn't consider giving touch screens to its laptops. There is not a single MacBook with a touch screen.
This is not a defect for all users, but a touch screen can be more useful to students or professionals.
Main reasons to avoid
Much more expensive than other brands
Limitations in hardware upgrades
No touch screen
5. Gateway
Acer and Gateway are the same company with different brands.
Gateway has not been much famous in recent years, but now, Acer decided to bring back the laptops of this brand.
Many Gateway computers and laptops are affordable but don't have extraordinary features.
They process cheap processing and graphics performance. The style is also cheap.
Some of the users also find trouble with the style and place of the touchpad and keyboard.
The touchpad is so sensitive that it moves the cursor while typing. Users also report some keyboard issues.
Gateway might be a good option if you are looking for a mediocre laptop with a low price range.
Main reasons to avoid
Lack of innovation
Touchpad and keyboard quality
Low specifications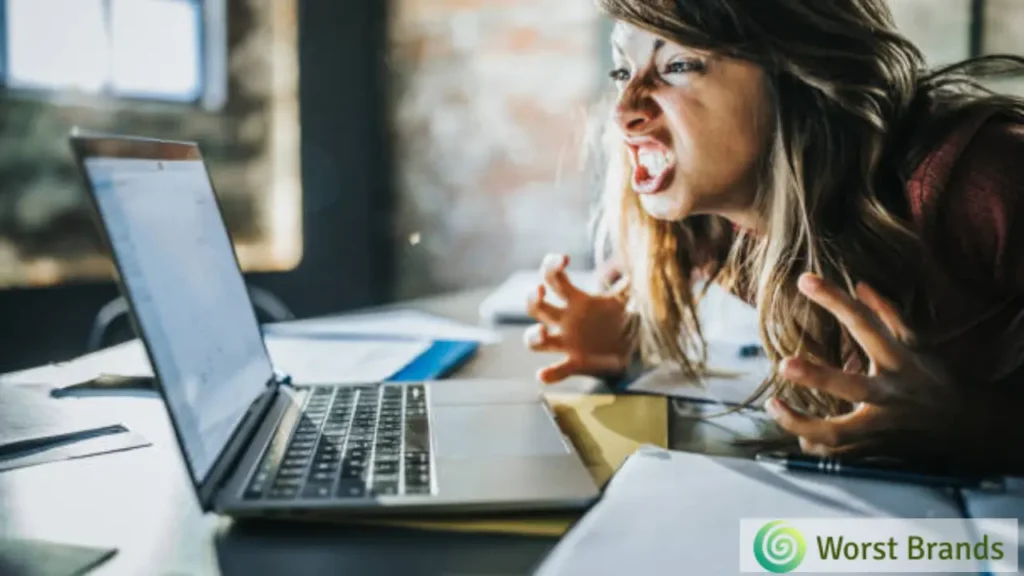 6. RAZER
You might have seen this brand on the list of the best gaming laptops. But it also comes with a few downsides, even for gaming.
The quality and specs of most of Razer's laptops are great, but their price tags are much higher than their competitors.
It also gets warm during a long performance, and cooling fans sometimes become louder. If you have used MacBook, the color on this screen will not be as vivid.
Moreover, it has battery issues in some laptops that may provide uneasiness in long use.
For example, Razer Blade 17 lasts only for about 3 and a half hours after full charging.
The design is quite simple. Some users also write that it has an old keyboard layout. The space bar is not wide enough, and (the left and right) arrow keys are also much smaller.
This laptop has surely got some good looks, but they will have to improve many major issues like battery timing and heat up.
Main reasons to avoid
Gets hot
Battery life issue
High priced
7. Microsoft
Microsoft is also on the list of worst laptop brands because of its lack of innovations.
There are no major upgrades between models, and most of the laptops have the same design.
They come with only one or two USB ports and no SD card reader. Below-average battery life is also reported in the reviews.
Its price is also not justified by its qualities, and someone may look for other options in the same price range.
Almost all Microsoft laptops don't have Thunderbolt support. They are also not an option for gaming because many of them don't have specified Graphic units.
Microsoft launched advanced laptops with ARM processors to boost speed, but there is still a need to meet the market demands.
Main reasons to avoid
Lack of versatility
High price range
Limitations of connectivity ports
Can a laptop last 10 years?
The lifespan of a laptop depends on the type of use. Laptops with heavier uses tend to have shorter lifespans.
Laptops are usually designed to last a few years at best, but some people think they can last much longer.
A few people even say they can last 10 years or more. But in reality, laptops last for a short period of time, and it is hard to find one that lasts for 10 years.
A recent study by HP showed that laptops last only an average of 3 years before they start to show serious signs of aging compared to 2-3-year-old models.
They also found out how long it takes for the laptop's life span to shorten from its initial time until it reaches a certain point in which it starts falling apart.
Frequently Asked Questions
Which brand of laptop is most reliable?
One of the brands of laptops that is most reliable is Lenovo. They are popular in terms of quality, durability, and value for money.
Lenovo has a wide range of laptops to cater to different needs. If you are just looking for something basic, then it might be worth checking out Lenovo ThinkPad T450s or Lenovo ThinkPad T580.
If you are looking for something with a bit more power but still isn't too expensive, check out the Lenovo ThinkPad P51s or X260.
What is the lifespan of a laptop?
On average, a laptop can last around 4 years. However, the lifespan of a laptop depends on its usage and the environment it is used in.
A laptop in a classroom or library will last longer than one used by an individual on their commute or at work.
Your laptops may die sooner if they are dropped, exposed to liquids, or left in extreme temperatures such as hot and humid weather.
Our Recommendations
As we describe the list of worst laptops, there are some recommendations for the best brands for your convenience.
Note your requirements before purchasing a new device and look for the best option for you in your price range.
Related: How to Fix an Acer Laptop That is Not Turning On
Conclusion
It is not easy to find the best laptop for your need. You should consider your requirements.
For example, if you are looking for gaming laptops, get a laptop with more specifications of Graphic cards and processors.
Due to the wide range of brands out there in the market, we tried to make it easy for you to choose the best ones and avoid the worst laptop brands.
The requirement may vary from user to user. There are some essential points to be noted before buying your device.
Weight of laptop
Quality and specifications you are getting with your price
Screen size and display
Battery lifetime
Connectivity, ports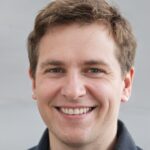 Steven Settles is a professional content writer with over 7 years of experience in writing for different niches, including brand reviews, technology, fitness, and more.
Currently, he is working as a content writer for WorstBrands, where he provides insightful reviews of different products, including home appliances, outdoor gear, fashion, and kitchen products. In his free time, Steven enjoys traveling and exploring new places.