Covid times made us realize the importance of smartphones the most. When you could not travel to your loved ones due to travel restrictions.
However, we used to video-call them, and it seemed a blessing. Plus, it proved to be a quick way to escape boredom too.
But, you must've noticed the increasing demand has made buying a smartphone more hard.
There are endless models and brands to choose from. So, to ensure you don't bump into the worst phone brands, we have compiled a list of brands you should avoid.
After checking every mobile brand based on our parameters, we are here with the results.
According to results, the worst phone brands include Xiaomi, Infinix, HTC, LG, Motorola, Nokia, and Oppo. Most of their models have complaints regarding slow processor, poor battery power, or hanging problem.
After reading this, you'll be able to pick a phone with the correct specifications and not the one with an underwhelming performance.
So, without further ado, let's get started.
How To Spot Worst Phone Brands?
Here is the checklist to follow before buying any mobile. This will also help you to identify the worst phone brands:
Check Reviews and Complaints.
Look at the Warranty.
Compare the price point of different brands.
Research about the frequency with which they provide OS or IOS updates.
Check the processor the brand uses on recent models.
Read about the aftermarket service.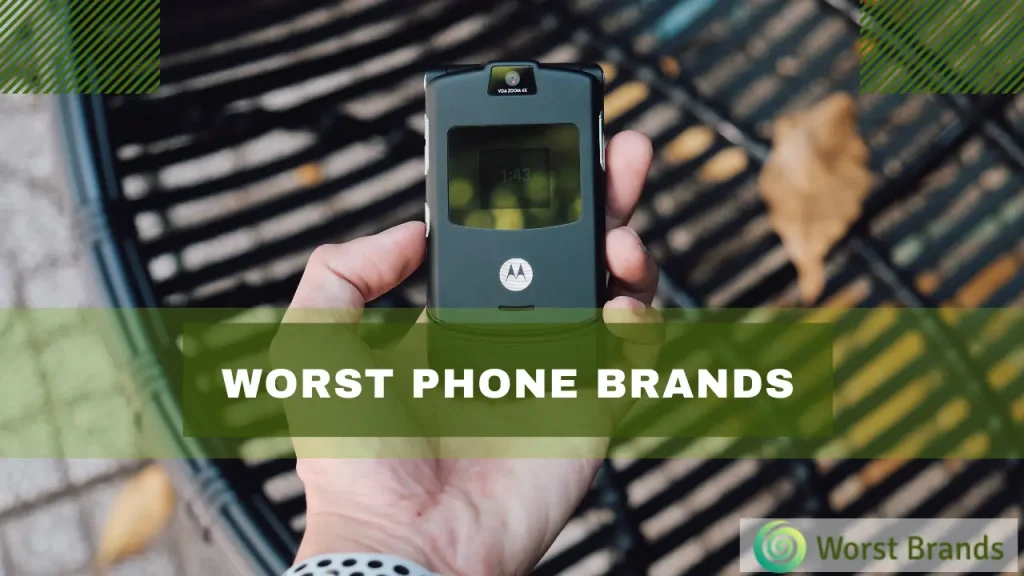 Worst Phone Brands to Avoid
As already told Xiaomi, Infinix, HTC, LG, Motorola, Nokia, and Oppo are the brands you should avoid.
Because they don't value user privacy, their battery power deteriorates, show poor results in low light photography, and don't give frequent updates on phones. Some of them offer poor WIFI connectivity and hang out too often.
Let's look at these brands and see why you should avoid them.
1. Xiaomi
Xiaomi was founded in 2010 and is a Chinese manufacturer of phones and home appliances etc.
In the last six months of 2021, it became the second-largest seller of smartphones after overthrowing Apple Inc. Let's discuss the features its smartphones offer.
Surprisingly, despite acquiring popularity in the market, it is criticized majorly. People buy it due to the affordable price point, but privacy issues are a primary concern now. It saves the screens you swiped, your search queries, and URLs.
Also, the camera performance of Xiaomi phones is inconsistent. Its results deteriorate within a few months of usage, and their low-light photography is a disgrace. You would notice the blurry quality of their images.
In Xiaomi MI 11i, there is no wireless charging. Its battery power might seem reasonable initially, but it gives consumers a hard time as it weakens 2x after a few months.
Occasional UI Gremlins were seen on models like "MI 11i Ultra." The phone starts lagging, screen brightness goes away, and it has blasted in some cases. Sounds like a nightmare!
The Storage capacity is poor in many of their phones, like the Redmi 7A. Plus, it has a micro USB port instead of USB-C, present in almost all phones.
Another feature that is very crucial to luring customers is the design of phones. Most of its phones have mediocre designs.
One such example is "The Black Shark 3" its design is not appealing to non-gamers.
The aftermarket service is intolerable. Customers have to wait for weeks for repair when their phone is under warranty, and they send it for repair.
Reasons to Avoid:
No headphone jack on some phones
Personal information is stored by the phone.
Low-light photography doesn't provide good results.
Battery power deteriorates faster
Health hazard as it blasted in some cases.
Low storage capacity
Mediocre designs
Disappointing aftermarket service
2. Infinix
Infinix is based in Hong Kong, where its mobile phones are manufactured. Interestingly, it is the first smartphone brand that got manufactured in Pakistan. Let's have a look at their expertise in smartphones.
Infinix phones have an old interface style. This was reviewed as not easier to navigate and made the phone difficult to use for simple tasks.
Stay away from this brand if you want a user-friendly phone.
Plus, OTG is not supported by Infinix's phones. So, if you are habitual of connecting a USB-mic to your phone or connecting your smartphone with other devices, this one is not for you.
It has one of the least reliable cameras. Bright colors such as red are shown as burnt orange.
A customer reviewed this for their "Infinix Zero 5G camera." Plus, they offer 30x zoom but just after zooming 2x, the image quality drops.
Also, the size of most of their phones is so big that it doesn't quickly get in your pocket.
Some said you have to use their phones with both hands as they are more massive than your average smartphone.
If we talk about user-friendliness, their soft buttons don't work quickly when the screen protector is on.
How will you ensure the safety of your phone's screen without a screen protector?
Another complaint was that their phones hang while opening large files and playing games. They heat up within half an hour of playing games.
What else will make it more transparent that these phones are not worth your hard-earned money?
They also show internet connectivity issues as data is received late, be it WhatsApp messages or calls. Not just WIFI connectivity but hotspot issues are also visible.
Also, the smartphones keep turning off. When they are opened, people have lost all their data. Avoid Infinix at all costs!
Reasons to Avoid:
Poor customer care
Display visibility poor in sunlight
Not user-friendly
OTG not supported
Frequent hanging nature
Hotspot issues
Turn-off unexpectedly
3. HTC
HTC was founded in 1997. It began with Laptop production and launched its first android phone in 2008.
Now, it has stopped making phones. But, let's look at what it achieved so far in the smartphone market.
The body of their phones gets fingerprints because of its finish. It was especially noted in "HTC U Ultra."
The rest of the look of their smartphones has a pretty average design, too, nothing that would compel a buyer towards it.
To use headphones, you have to utilize USonic USB-C earphones or Bluetooth headphones because their models have no standard headphone jack.
Hardware is disappointing, too, as some of its phones have Snapdragon 210 processor, which is not so efficient.
Due to this, most apps were not run smoothly on this phone. 3D graphics were not supported, and the phone hung while trying to show those.
Low-quality lenses are used as mostly the focus is not on point and low light pictures show graininess, a low pixel density of 234 ppi, and poor contrast.
Sound is low even when it's increased to maximum volume. Plus, at maximum volume, sound quality is harsh too.
Reasons to Avoid:
Built-in storage is not enough
Touch-screen functionality is poor
Fingerprints imprinted on the phone's body
Some models have no standard headphone jack
Slow processor
Grainy pictures
Sound is low
4. LG
LG has a long history to it as it was founded in 1958. It launched its first Android smartphone in 2009.
Before that, it was manufacturing home appliances. Here are all the reasons why its smartphones failed to gain positive responses from consumers.
Firstly, their phones stop working all of a sudden. Apart from this black screen issue, people also complained about the phone hanging during downloading and playing games.
The next major issue is the button placements of their phones. The google assistant and volume buttons are closely placed, so users press one while pressing another.
Internet works slow on their phones. With that, it also has poor GPS and calls connectivity. So, it fails at all the things people tend to buy a phone for.
Fingerprint sensors are faulty on their phones. The LG Velvet 5G has a fingerprint sensor that doesn't work. The designs are so slick that they slide off from any surface.
LG phones are difficult to operate as the performance is not smooth. Plus, their booklet is not of much help either.
Reasons to Avoid:
Fragile phone
Horrible battery life
Screen blacks out
Button placements are not user-friendly
Calls are cut without any visible reason
Faulty fingerprint sensor
5. Motorola
Motorola has come a long way since it distributed the wireless headphone handset.
In 2014, Motorola mobility was bought by Chinese company 'Lenovo.' Here is what they've accomplished to produce in recent years.
One of the significant issues with this brand is the LCD of phones instead of OLED.
So, since the colors and clarity of the images are better with the OLED, it should've been considered by a brand.
This company doesn't support contactless payment services that involve using NFC sensors.
By using that, payments through Google pay, etc., are possible. Since Motorola doesn't use that, they remove customers' ease of contactless payments.
Another difficulty is that they offer only one OS update and two security updates. This used to be acceptable in older times, but now cheaper phones offer more updates than this.
The building involves plastic. Some phone models are built all-around plastic with no hint of metal. This doesn't give a premium look either.
The Snapdragon 400 series processor is used mainly, which is a slow processor. You can't expect a heavy-duty game to be played on this phone.
On its Moto e7i, there's a 2 GB ram and Unisoc SC9863A chip. Both these features don't support gaming at all.
So, stay away from this brand if you are fond of playing games on your phone.
Reasons to Avoid:
No USB-C
Inconsistent cameras
Plastic build
LCD instead of OLED
Doesn't support contactless payment
Fewer updates
Slow processor
Ram doesn't support gaming
6. Nokia
By 1998, Nokia became best selling brand in the world. Then, in 2014 it sold its mobile phone section to Microsoft.
Nonetheless, It's been prevalent throughout its transition from brick-like phones to now their modern phones.
This brand needs to be appreciated for its durability. The durability factor is so good that every new model they release is tested with a more challenging durability test. It is because of Nokia's perfection in durability over the years.
On the other hand, a feature lacking in Nokia's phones is that they don't work on Verizon. Verizon offers mobile broadband internet services.
This is what customers have been demanding from them for a while, but they fail to deliver so.
Also, Nokia progressed slowly when it comes to upgrades. OS upgrades are done quite faster in other competitor phones as that way the customers are satisfied by improvements with each upgrade.
Storage issues are pretty common too. For Nokia 8.3 5G, there have been reviews saying that Nokia could've amplified the smartphone game by offering more storage.
Plus, the audio quality is poor. You would notice brassy voice quality and sound breaking mid-way. This is not a feature anyone would be willing to compromise in a phone.
The G10 model has a MediaTek Helio G25 mobile platform, giving it a sluggish performance. Also, their phones are comparatively big, so they aren't easy to hold or carry.
Reasons to Avoid:
Slow charging
Fingerprint sensor issues
Don't work in association with Verizon
Slow OS upgrades
Storage is less
Brassy audio
Sluggish performance
7. Oppo
Oppo was launched in 2004 and has expanded to over 40 countries since then. Then, in 2011 Oppo launched its first smartphone, which was appreciated and endorsed by Leonardo DiCaprio. Let's look at where Oppo stands today.
Like the X5 pro, its models are high-speed phones due to having Snapdragon 8 Gen 1 chip.
But, at the same time, it's costly, making people overlook the fast processing.
Plus, their phones are bulky. They are huge to adjust in pockets, and holding them is difficult too due to the significant weight.
Along with that, most of their phones have no IP rating (Ingress protection).
Ingress protection signifies if the phone is waterproof or not. So, since it is not mentioned, we assume they are not waterproof either.
Few models have a tricamera set-up, but that doesn't even perfect the phone's zoom feature.
In addition, the portrait mode lags. It is supposed to have a blurry background, but this is very selective on their phones. Images include oversaturated colors, too, even though it has an AMOLED display.
Oppo phones do offer fast charging, and that's a big plus. But, they should've ensured that they are also providing wireless charging options with it.
Reasons to Avoid:
No headphone jacks in most models
Expensive phones
Inconvenient to carry
No IP rating
Zooming is not well supported
Wireless charging is not provided
Conclusion:
If you find the right phone, you have the world in your hands. After all, anything you want to know about is one search away.
But, it's tough to choose one brand as so many brands have made quite a stir in the market. So, we mentioned the worst phone brands that don't stay true to technology's vision, making lives more manageable.
Keep in mind your individual preference, and choose accordingly. Then, sit back and enjoy the endless functionalities of a phone by just tapping on a screen.
Still, got any questions? If yes, ask us in the comments section below, as we'll be glad to help.
Related Articles: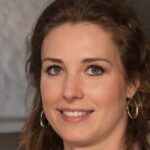 Crystal Hafley is a dedicated writer and content creator for WorstBrands, where she specializes in writing insightful reviews about kitchen appliances and fashion products.
With her expertise, Crystal provides readers with accurate and reliable information to help them make informed decisions about the brands and products they use every day. When she's not researching or writing, Crystal enjoys cooking and exploring the latest fashion trends.