Sailun Tires is a well-honored premium tire brand, ranking in the top 20 globally and 10 Chinese brands.
The tires are relatively cheap compared to other premium brands like Bridgestone, Pirelli, and Michelin. The tires have top-tier performance with many things to offer.  
They are a Chinese brand, significantly supplied to North America, Europe, Australia, Asia, and other places. With much quality and performance, such tires are elusive to buy.
The company attracts customer ratings from over 150 regions, gaining camaraderie with enthusiast drivers worldwide. These are their top choice.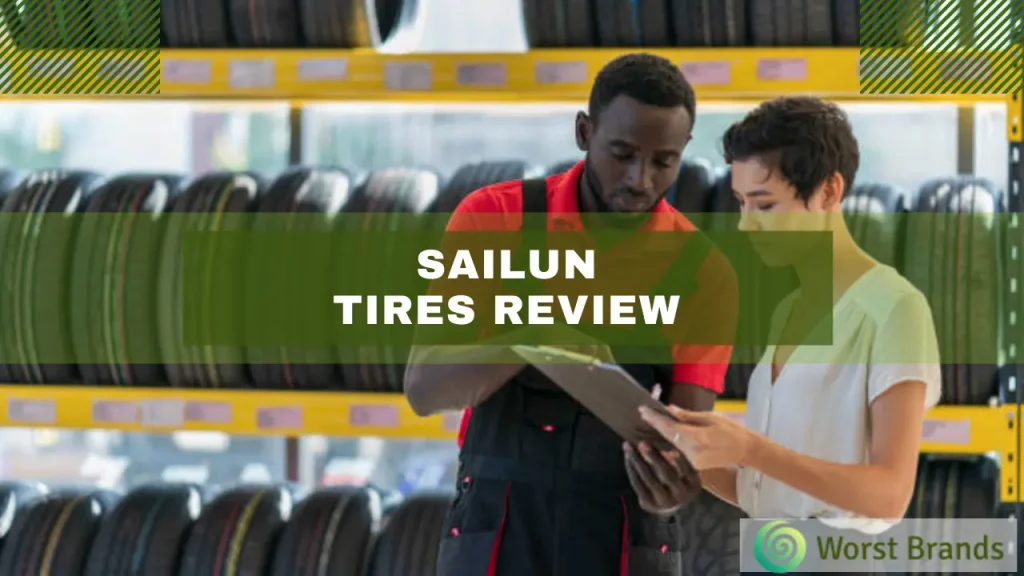 In this blog, my team will give you a comprehensive guide about Sailun Tires Review so that you can buy the right product for your car wheels.
Sailun Tires deliver strong performance in diverse conditions, especially on dry roads. Though varying in wet and snow terrains, they offer great value for money.
Who Makes Sailun Tires?
Sailun itself manufactures its tires. The company has plants in Qingdao, Dongying, and Shenyang.
The company opened its first plant in Vietnam in 2014. Currently, the company has all kinds of tires under its umbrella.
You can buy tire sets for SUVs, trucks, passengers, crossovers, and mid-sized vehicles.
Sailun Tires Warranty
The tires have a starting warranty, and the least is 40,000 miles, although I couldn't find some of the tire warranties on their original website. Yet, the miles warranty can vary for different types of models from the company.
How Have We Tested Sailun Tires?
We are a team of integrity. You may see reviews stating the positive sides of the products. However, that's not the case with us. We test regularly.
Our team has analyzed Sailun tires on the following parameters: –
Fuel efficiency.
Performance characteristics of tires in various weather situations, including dry, rain, and snow.
The tire traction with the terrains, and much more.
Top Sailun Tires Review
After testing, here is our detailed Sailun Tires Review

1. Sailun Atrezzo SH406: Powerful All-Season Tire
The Sailun Atrezzo SH406 is an all-season tire manufactured for passenger vehicles, pickups, and performance cars with the highest ratings compared to other family models.
The tire is available in sizes 13, 14, 15, 16, and 17 inches.
It has excellent performance in dry and wet conditions, yet no treadwear warranty is available with this model.
The performance, quality, aggressive tread pattern, and positive ratings on the online market made me do a little test drive with this pair of tires.
Dry Road Performance
The exquisite tread pattern has a solid center rib, which is one of the reasons why my car didn't feel clumsy at all.
Moreover, thanks to the sipe design, the tire is fuel efficient because of its low-rolling resistance.
The symmetrical tread pattern and the center also provide a quiet and comfortable ride on the dry conditions of the highway.
Wet Road Performance
On the way back from work, there was a bit of drizzling on the road. However, thanks to its grooves, SH406's hydroplaning resistance capability provided me with a controllable, smooth, and comfortable ride.
In addition, the tread pattern has high-angled blocks for better traction with the terrain.
Snow Road Performance
By examining this tire's design and tread pattern, I didn't risk it in severe snow conditions, although the tires have average performance on light snow. I'll neglect it, considering the cost of the tires.
Things we liked:
Excellent performance in dry and wet conditions.
Fuel-efficient and resist aquaplaning.
It provides smooth and comfortable handling in almost every terrain.
Things we don't like:
No treadwear warranty is available from the manufacturers.
Verdict
Overall, the tires have exemplary performance in wet, dry, and snow performance.
I abet the improved handling on dry road conditions. Although, I can't locate the treadwear warranty provided by the company.
In addition, the tires can resist rolling resistance and hydroplaning, which is another plus point.
2. Sailun Atrezzo 4Seasons: Excellent All-Weather Tire
The tire isn't explicitly designed for summer or winter; this is an all-weather tire, which means you can drive with it in any weather condition. The tire is available in sizes of 13, 14-, 15-, 16-, and 17-inches.
The tire is specifically designed for sedans and coupes. The tire suits all weather conditions, so you don't need to change your tire every season.
The tires have a mileage rating of 60,000 KM. However, I believe that tread life can be improved.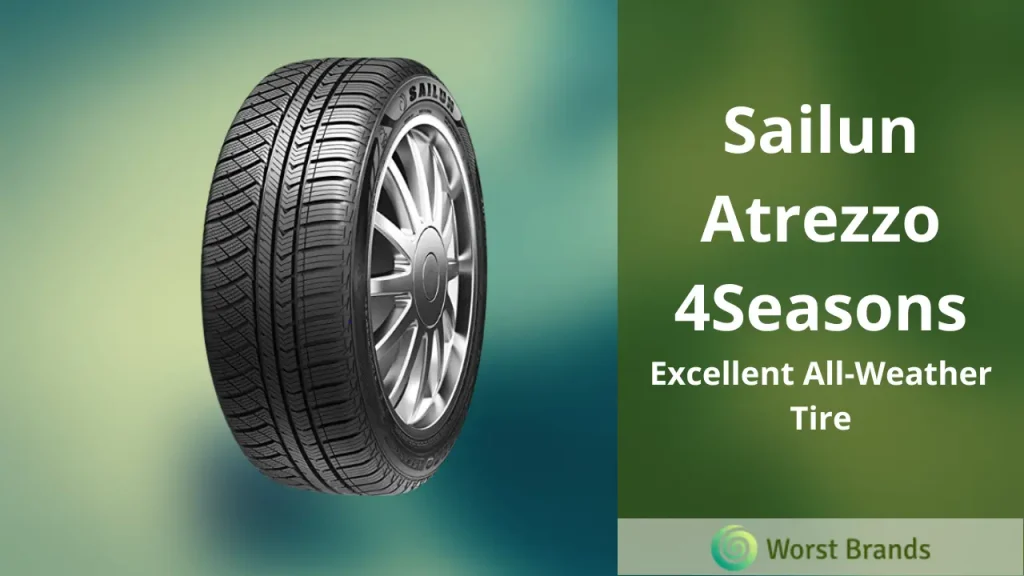 Dry Road Performance
As I've mentioned above, the tire is for all weather conditions. So, I decided to test these on a dry road testing.
It's a pretty good radial tire with impressive side walls. The overall performance of these tires was excellent on a dry road.
I did push the acceleration a bit, yet I didn't feel any changes in the performance.  The ride was comfortable, with absolutely no noise produced during the journey. I would rate it 4.5/5 for dry terrains.
Wet Road Performance
The tires have superior traction on wet terrains, thanks to the three circumferential grooves, which wipe away water and prevent aquaplaning.
The asymmetric tread pattern design with side walls improves stability and handling on wet pavements.
Snow Road Performance
On the side walls are four seasons symbols, with a mountain snowflake. However, I did test these tires in minor snow conditions for a better outcome.
If you look at the tire tread design, it's pretty complex. The one side of this tire is much more likely all-season. In contrast, the other side has winter characteristics.
Thanks to the zig-zag pattern and exquisite block design, the tires had an above-average performance on snow pavements.
What we liked:
Excellent all-year performance
Dry, wet, and snow handling is good.
I liked the overall tread pattern design.
What we don't like:
The treadwear warranty could be a little longer.
Verdict
I was impressed with the snow performance, although I wasn't expecting this from a 4 Season after reading some bad reviews on websites.
Moreover, the tires have a superb dry and wet outcome compared to most of the other models from Sailun.
In addition, you'll get many features at affordable price tags, so why not give it a shot?
3. Sailun Atrezzo Elite: Top-Notch Summer Tire
The Sailun Atrezzo Elite is ideal for higher speeds and is manufactured for passenger cars. It is a summer-manufactured tire, so you'll get a comfortable ride on the highway in dry conditions.
The tire is available in 14 to 18 inches diameter sizes. It has a salient tread pattern for better road performance.
Dry Road Performance
Well, as the title says, the tires are specifically made for summer and dry pavements. The tires have excellent braking performance on dry roads, which I must abet about it.
The asymmetric tread pattern design with staggered layer grooves provides a comfortable ride on highway roads.
Also, the tires have T, V, and H speed ratings, which means you can accelerate your car without hesitation on dry roads.
Wet Road Performance
If you want me to rate these tires' performance on wet pavements, I will rate this 3/5, as the performance isn't the same as on dry roads.
The three circumferential grooves, on the other hand, allow water to flow away and keep the driver from sliding out of control.
Snow Road Performance
The tires have below-average performance on snow terrains; I won't recommend you guys risk your car with these pairs in winter conditions.
Things we liked:
On dry roads, the tires perform quite well.
Average performance on wet terrains.
It provides good stability and traction with the road on highways.
Things we don't like:
Not good on snow surfaces.
No Tread life warranty is provided.
Verdict
Overall, the tires perform well in dry conditions and average on wet pavements. The tires can channel away from the water and protect the tire from aquaplaning.
However, the tires can't evacuate snow in winter conditions, so don't risk it. It can result in the crackability of the sidewalls.
5 Reasons Why You Should Buy Sailun Tires?
Here are some key factors why you should opt for these tires.
1. Quality
Sailun tires give customers the value they deserve. The tires have exceptional performance in all terrains and weather conditions.
Since being launched in North America, the tires have dominated the state.
Also, the tires are a great competitor to all premium brands in terms of quality and performance.
If you are looking for all-season tires, then SH406 is one of my ideal choices for all weather conditions.
2. Handling
The tires have precise handling in corners, snow, dry, and wet conditions.
The unique tread pattern has grooves to provide stability on wet pavements by channeling the water and preventing the risk of aquaplaning.
Also, the spike blocks and silica compound infused in the tread make it easier and more comfortable for the driver by providing reassurance on the road.
3. Cost-effective
The Sailun tires are approximately 35% to 40% more inexpensive than premium brands like Michelin, Goodyear, and Pirelli.
4. Trusted Worldwide
The tires have gained worldwide fame because of their top-notch performance and delivery according to the customer needs.
The Chinese company has shown excellent performance and rapid growth in 2022.
5. PTPA Seal
However, the tires have outclassed performance, which is enhanced by the PTPA (Parent Tested Parent Approved) seal.
It is an American reward that the consumers highly appreciate. You'll be astounded to know that Sailun Tires is the only company to receive this award.  
Pros and Cons of Sailun Tires
Pros
Splendid dry and wet performance.
Tires can resist hydroplaning.
The company has a variety of choices for your automobile.
Budget-friendly tires.
Famous worldwide.
Cons
Most of the models don't have good snow performance.
Fewer treadwear warranties.
Are Sailun Tires Good?
Considering our team reviews and recommendations of the above products, these tires are highly recommended if you are tight on budget and looking for a top-tier tire brand.
As I've mentioned, the tires have a PTPA seal, the first company to accomplish this reward.
Moreover, the tires are reliable, durable, and infused with tread compounds to ensure customer safety.
Most models have good traction with dry, wet, and snow surfaces. Tire products like SH406, Inspire, etc., have excellent performance in all seasons.
Furthermore, Sailun tires have gained a lot in North America, which is another reason I got to experience these tires.
The products are undoubtedly comparable to all premium brands out there.
In addition, the tires are excellent and ideal for your SUV, crossover, trucks, and passenger vehicles.
Also Read:
Conclusion
To conclude Sailun Tires Review, the performance of their tire models is excellent and impressive in dry and wet conditions.
If we consider the cost of the tires, the deficiencies can be ignored. We have tested three models in this blog: Atrezzo SH406, Elite, and 4Seasons.
If you want all-season tires, opt for SH406, which has good all-year performance, even in snow. The tire has the abilities you want in a tire.
Moreover, if you are looking for every weather condition, Atrezzo 4Season would be a good choice. However, these tires have a low treadwear warranty.
In the end, Atrezzo Elite for hot summer conditions. It is a perfect tire for dry road conditions, and most importantly, it is more affordable than most models.
The Sailun tires come with top-notch quality, durability, and comfortable handling.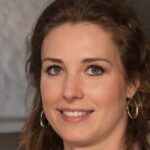 Crystal Hafley is a dedicated writer and content creator for WorstBrands, where she specializes in writing insightful reviews about kitchen appliances and fashion products.
With her expertise, Crystal provides readers with accurate and reliable information to help them make informed decisions about the brands and products they use every day. When she's not researching or writing, Crystal enjoys cooking and exploring the latest fashion trends.