Hundreds of tire companies are in the market that are making products from mid-range to premium segments. It puts a user in a perplexing situation.
To take our readers from this bewildering condition, we have developed a Delinte tires review guide.
Delinte is a tire company that offers competitive products in the mid-range price segment.
The company was established in 2009, and since then, it has made top-class tires. In fact, this company has been among the top 75 tire companies in the world.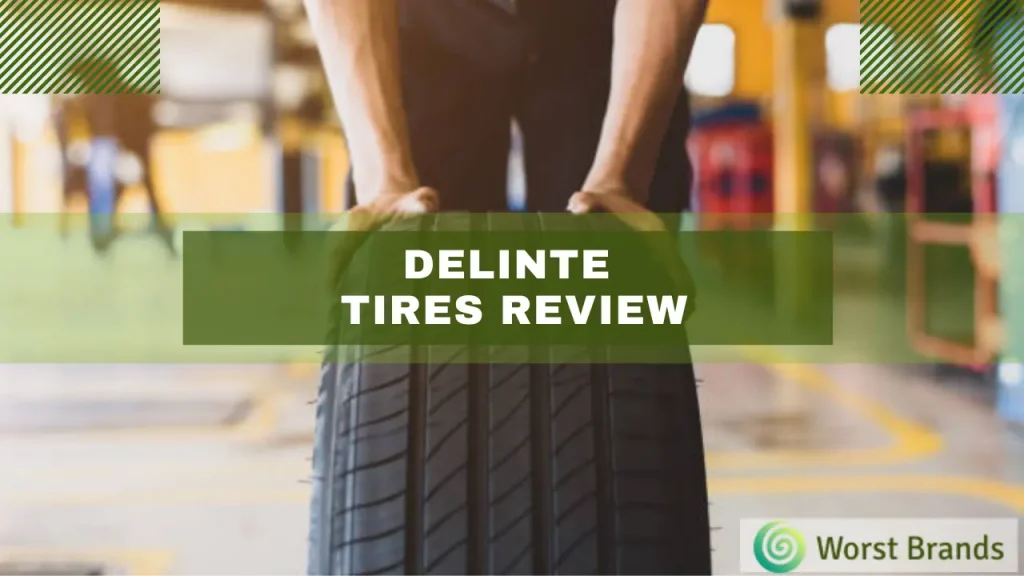 Similar Blogs:
Why Should You Choose Delinte Tires?
There are some genuine reasons that you should go for Delinte tires. Here is the brand overview of this company:
Quality:
This is the most important yet decisive factor in choosing a product. Delinte is a company that fully satisfies its customers in this regard.
Not only are its tires of superior quality, but the company's customer service is also par excellence. The tires like Thunder D7 are the proof of this thing.
Durability:
The second thing after quality that a customer focuses on is durability. Now, this is the area where the tires of Delinte excel.
They have good tread material, but also the company gives warranties that ensure the maximum longevity of its products.
Handling:
If you think of a good tire, it should provide optimum handling. Yes, it is the case with Delinte.
The unique tread patterns of the tire are blended with the special silica compound that offers you the desired handling along with traction, cornering, and grip.
Comfort:
Some people may think Delinte is a budget company; its tires may suffer in the comfort department.
But, nay man, nay! The products of this brand deliver you first-class comfort without breaking your bank.
Some of the tires of Delinte come with spacings with unique bitch blocks in between, which ensures a reduction in the noise levels and enhanced comfort.
Related: Dextero Tires Review
Who Makes Delinte Tires?
Century Tire makes Delinte tires. In fact, Century is a subsidiary of Sentaida Group Co. Ltd, and they launched the Delinte tire line in 2009.
Delinte Tires Warranty:
The company gives you a warranty in the following departments:
Road hazard program for the selected brands for up to 6 months
40K-50K treadwear warranty
6 months of free workmanship for the selected tires
Delinte Tire Complaints:
Following are the most complaints from the Delinte tires:
Not meant for harsh conditions
Short tread life
Cornering performance is not good
How have we Tested Delinte tires?
After putting our best in the tire niche for more than 7 years, we are confident enough to give our reviews on various tire industries.
During our work, we did different test tires like Delinte under various conditions, including dry, wet, and snowy environments.
Plus, in our built-in lab, we assess the quality of these tires.
In the end, we offer you a totally honest review so that you can have the best and more optimum tire for your vehicle.
Delinte Tires Review
Enough talks! Let's move to the main section and look at some of the top tires of Delinte.
1. Delinte Thunder D7: Sturdy High-Performance Tire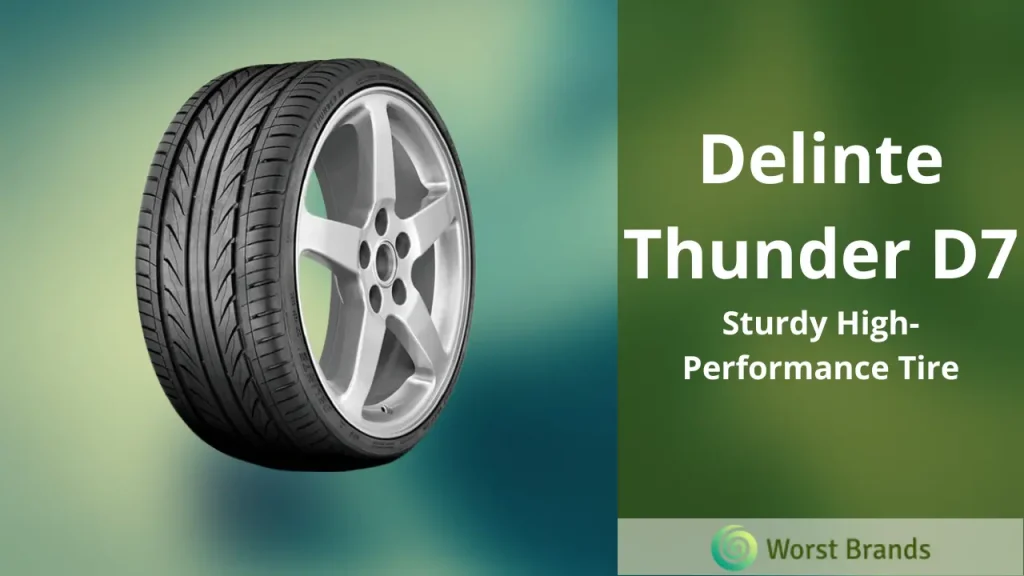 An ultra-performance plus ultra-season tire, Delinte Thunder D7 is the one that you may be looking for in your car. The tire covers many sports cars, coupes, sedans, and SUVs.
This tire may not be the quickest high-performance tire in the market, but it's definitely worth your bucks in this price range.
So, what are our first thoughts about Thunder D7? Let's find out in this review:
Dry Road Performance:
When it comes to the dry road performance of Thunder D7, it was bingo. And let us infuse this thing in your mind that this tire is one the best high-performance in its price bracket.
It's because of the silica compound built in its tread design. This compound has many advantages and gives you optimum traction, grip, and handling on dry pavements.
However, things didn't go as we expected. Despite being a high-performance tire, it cheats you on the high speed. No, it doesn't mean you won't get what you are looking for, but it won't satisfy your expectations.
In short, the handling would be a bit inferior on the top limits of your car. Plus, throttling the car may also result in low traction.
Wet Road Performance:
Equipped with four circumferential grooves and enhanced silica elements, Thunder D7 is meant to perform well. And, it did perform good except at high speeds.
At normal speeds, you will see good traction and a good grip on the tire. Plus, adequate handling will enhance your experience on watery pavements. Braking time is a little caveat on the slippery roads.
However, if you throttle your car like we did our Mitsubishi Pajero, we saw a disturbing performance from the tire. Especially, the traction department suffers more from the water on the roads.
Snow Performance:
We'll be honest with you. The winter performance of this tire is poor. Most of the mid-range high-performance lags when it comes to the performance on the snow.
You may get enough grip to continue your driving on light snow. But handling miserably fails.
Additionally, you are doomed if you mistake taking Thunder D7 on heavy and dense-packed snow.
The reason is simple, the extreme winter conditions posed a hard challenge to this tire, and you may want to go with a winter tire if you want to drive on snowy/icy roads.
Pros:
Dry and wet road performance is great
Excellent handling and cornering at normal speeds
Offers you a comfortable ride
Cons:
Extreme winter conditions are a nightmare for this tire
Tread life is also objectionable
Verdict:
Our final say about Thunder D7 is that this tire is a good performer for mediocre drivers.
The high-speed driving and winter conditions are not the categories to perform. But, still, you can get enough performance in your optimum price range.
2. Delinte DX10: Top-Class High Terrain Tire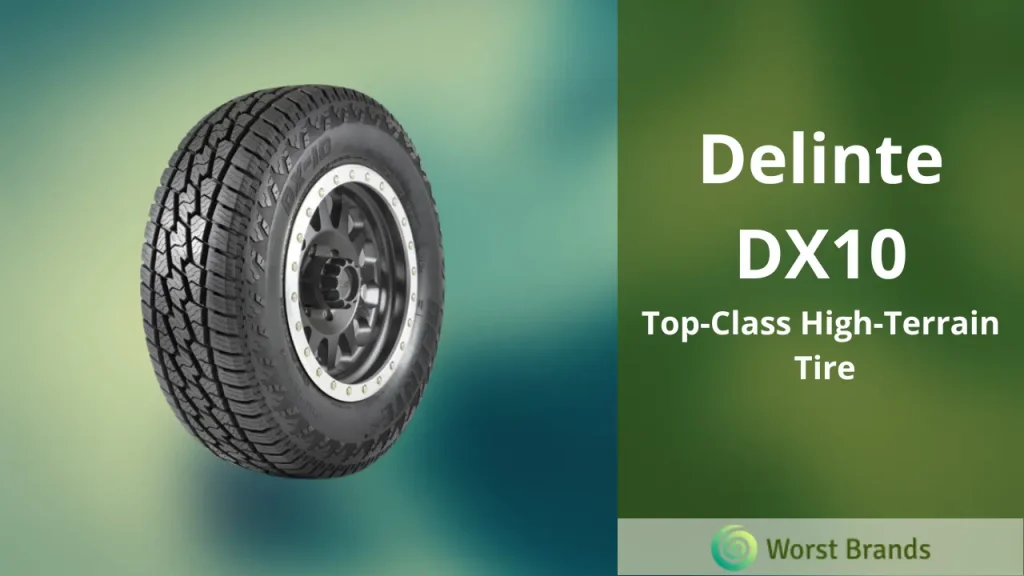 Some tires are too expensive to afford. At the same time, some tires are too cheap to buy.
Then comes the tires like Delinte DX10, which offer you the qualities of an expensive tire in a mid-range segment.
This tire is meant for pickup trucks, campers, 4-wheelers, and SUVs. Let's find out more about this tire.
Dry Road Performance:
When it comes to the dry off-roading experience of Delinte DX10, it expresses some good scores.
With the new bench-shaped shoulder design, this tire offers some really good traction.
Being an off-road tire, it also has a special feature. The latest Zig-Zag Middle Block feature not only decreases the noise but also removes the sharp-edged stones from the tread, thus protecting it from damage.
The cherry on top is that the company has equipped the Delinte DX10 with High Stability Tread Corners that improve the cornering performance and driving stability and comfort.
However, you have to be more careful while taking it out on highways or for doing sprinted driving.
Wet Road Performance:
Delinte DX10 has an asymmetrical tread pattern along with two lateral grooves that run along the entire circumference of the tire.
These grooves enhance the wet driving experience as they not only remove the extra water from the tread but also give an excellent resistance against aquaplaning.
Plus, you would see that no slurry, gravel, or wet road can damage the road due to a five-block tread pattern.
This technology's additional benefit is giving you the optimum traction and grip on the road, minimizing the road noise. Again, we warn you not to push your vehicle to its limitations if you use Delinte DX10.
Snow Performance:
Delinte DX10 is a snow-rated tire. This means that you can take it out in winter, and the tire would give its best.
However, Delinte was not generous enough to make it the best in the snow category, as you can see some lags in extreme conditions.
In this case, we recommend you go for a special winter tire or opt for a winter-modified version of this tire (we didn't get that, but you can try it).
Pros:
Good for dry and wet offroads
Protection against sharp-edges stones
Excellent aquaplaning
50K warranty
Cons:
High speeds could be a major concern for Delinte DX10
Not a suitable option for winter driving
Verdict:
Delinte DX10 is ideal for a driver who wants a good A/T tire in the budget segment. It gives good performance in dry and wet conditions.
On the other hand, it is a bad option for a person who wants a tire that can give the best performance even at high speeds.
However, seeing its price segment, we were quite happy with the tire's performance.
3. Delinte DS8: Excellent All-Season Tire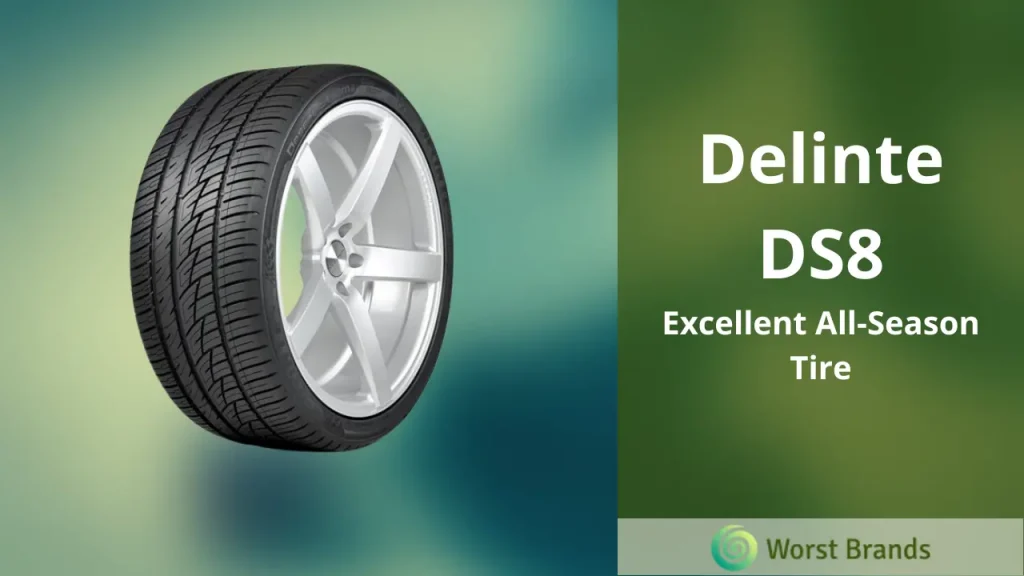 Delinte DS8 is an all-season tire that also gives a boost to your car. This tire is meant for minitrucks, SUVs, and 4-wheelers. Looking at the tire specs, we should expect good performance from it.
But does it offer what it claims? We had something to say about DS8:
Dry Road Performance:
Delinte DS8 offers traction up to three levels with the Staggered fitments and big block patterns.
Its state-of-art look and aggressive design give your vehicle a modern look. But that's not why we are here.
The company claims that this all-season tire is an ultra-performer too. In that case, you should expect a good highway performance. Luckily, we did get what we expected from it.
Delinte DS8 runs fiercely on a dry road without losing traction and grip. Plus, there was an exception in the braking department.
Similarly, we had a great handling response from the tire. We didn't see any complaints from Delinte DS8 on normal and dry speeds.
Wet Road Performance:
With the wide-cutting main grooves plus two parallel non-interfering designs, you can drive your car effectively at high speeds.
Unlike other high-performance tires, the tire had three grooves but no compromise on its traction or grip.
Talking about the traction, it was solid with adequate stability. This means you can take the tire on the wet highways, and it won't disappoint you.
However, braking on slippery roads may be where you may not like the tire. Plus, you may feel a bit under cornering performance from this tire at high speeds on the wet pavements.
Snow Performance:
The Grip Optimized Groove enhances the grip on the snow, meaning you can take your vehicle on a snowy road.
This design has an additional benefit as it gives you ample traction and grip on the road.
But, again, Delinte DS8 is not a good option if you think of driving the tire on heavy snow.
Our suggestion is to go with a winter tire if you are from an area with heavy snow falling.
Pros:
Phenomenal dry and wet driving
Good road comfort along with enough traction and grip
50K treadwear warranty
Cons:
The extreme winter environment is not a suitable choice for Delinte DS8
The tire produced noise on highways
Verdict:
You might be thinking of getting something that gives you comfortable driving with an ultra-performance; Delinte DS8 can be your next target.
This tire gave us almost no issue other than driving on the tough snowy roads. Overall, Delinte DS8 is a quite good high-performance option for sprinted drivers.
Final Thoughts
At the end of Delinte Tires Review, people often think a cheap tire should be cheap quality-wise. But, hey, we are here to clear your misconception.
The thing is that Delinte tire is one of those brands that put its everything to give you all without hurting your bank.
On the negative side, the tire might not drive in harsh conditions. But, we are ready to sacrifice on this, as this company is already offering a lot of qualities in a pretty affordable price range.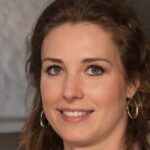 Crystal Hafley is a dedicated writer and content creator for WorstBrands, where she specializes in writing insightful reviews about kitchen appliances and fashion products.
With her expertise, Crystal provides readers with accurate and reliable information to help them make informed decisions about the brands and products they use every day. When she's not researching or writing, Crystal enjoys cooking and exploring the latest fashion trends.