Dextero Tires is a subsidiary of a Singaporean brand-named Giti. The Giti holds 10th rank in the world's top tire business, supplying its products in more than 130 countries globally. They also have 8-plants operating worldwide.
Moreover, the company is innovating and manufacturing high-quality tires for the best response from their consumers.
They have tires available for SUVs, crossovers, minivans, trucks, and cars. The tires have an impressive grip and can create good traction with the terrains. They are made of high and top-tier materials for the best repercussion.
In the next phase of our blog, we'll give you a comprehensive Dextero Tires Review so that you can choose the best tire for your car wheel!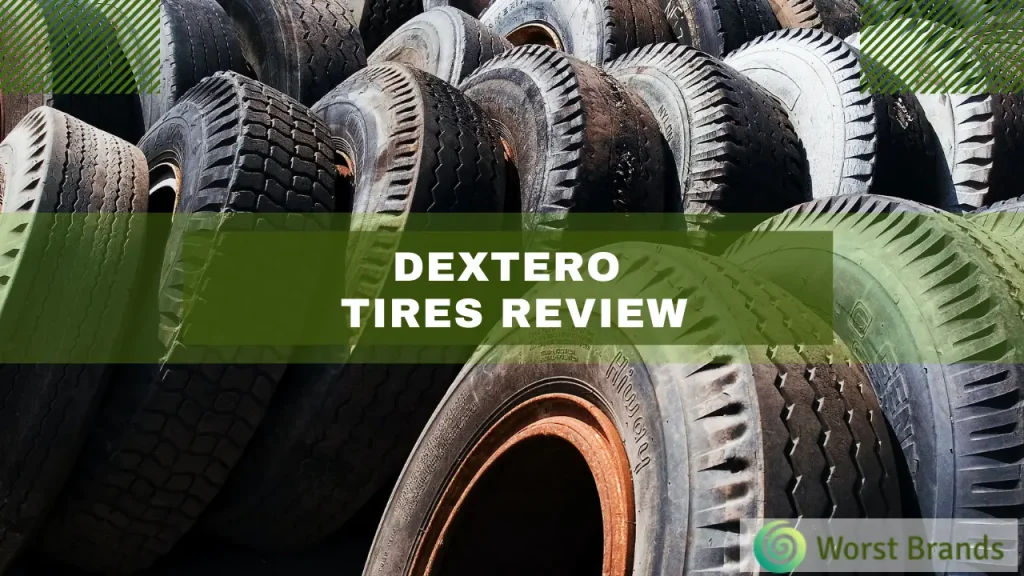 Why Should You Choose Dextero Tires?
There are number of mouth watering features of Dextero Tires, that will grab your attention. Let's talk about some of the key factors here.
Reliability
Dextero is arguably among the top reliable tire brand you can buy today. If you're an enthusiast driver looking for various sets for snow, dry, wet, and winter conditions, then Dextero tires are an ideal choice.
Different sizes are available for every condition and car wheel, and you can purchase and install whatever suits your car.
Quality
Dextero tires are manufactured with high-quality raw materials for better road performance in every climate.
As mentioned, one thing that excites us is that these tires are manufactured by Giti, which means the same materials are formulated in Dextero tires.
If you consider the price and the quality, I would say these are a perfect choice. The tires are affordable and comparable with brands like Michelson Tires and Bridgestone Tires.
Durability
Giti manufacturers use top-notch materials and reinforcements for the longevity and safety of their customers.
Silica plus polyamide compounds and reinforcements such as steel belts and beads provide smooth cornering and durability.
Handling
The dynamic and improved tread pattern design of these tires provides smooth and precise handling in snow, dry, wet, and winter conditions.
The side sips and circumferential grooves channel water away, which helps to prevent aquaplaning.
The tires have excellent and responsive braking, wet handling, and wet-turning; these are some of the quietest tires. Whether you drive slow or fast, the tires won't produce any noise.
Who Makes Dextero Tires?
As mentioned, Dextero tires are manufactured by Singaporean company Giti. They are developed at the Giti US manufacturing plant and an R&D center in North America.
The plant has been operating since 2017 and supplies all over the world. Please note that these tires are only available in Walmart, so keep that in mind.
Dextero Tires Warranty:
The warranty of these tires depends on the roads, climate, and how you drive your vehicle.
Although, according to the brand, the initial warranty on some of the tires is 50,000 miles.
How Have We Tested Dextero Tires?
We have experienced staff employees working under our umbrella who have tested Dextero tires in terms of efficiency, durability, and performance on different terrains and weather conditions.
As said, the company supplies every weather condition tires worldwide. In hindsight, we have tested multiple times, and now we are ready to provide you a detailed Dextero Tires Review.
Dextero Tires Review
1. Dextero DRT1: Dynamic All-Season Tire
Dextero DRT 1 is an all-season touring tire that suits crossovers and passenger vehicles perfectly. The tire is impressive in all conditions, such as dry, wet, and winter.
There are 50 sizes available of this tire model in 13″ to 15″, all manufactured in the USA. However, this is just the basic tire with just 45,000 miles guarantee, also available V, T, H, S, and W ratings.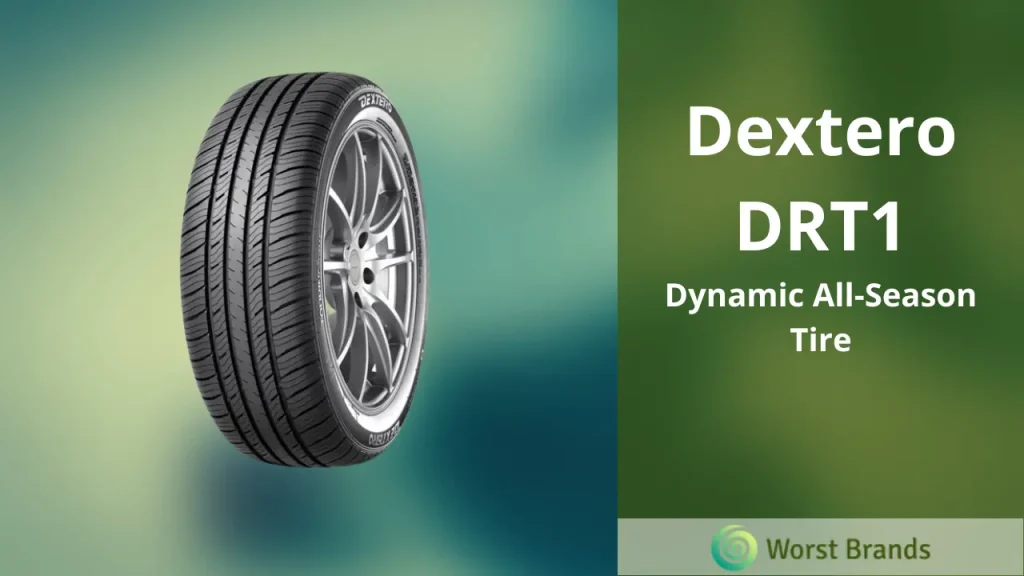 Dry Road Performance
By looking at the low-price tag, I was skeptical about the performance. Yet, the tire performed quite well on the highway.
Furthermore, the tread pattern design created traction with the terrain and provided me with a smooth and comfortable ride.
However, I was still disturbed by the noise produced, so don't go with the advertisement.
Wet Road Performance
There was a bit of rain during the highway excursion; however, my car didn't feel clumsy because of the tire's excellent performance.
The four-main circumferential and lateral grooves with side sipes channel water away and resist hydroplaning.
In addition, the tire also provides a good grip on wet terrain and fast corners.
Snow Road Performance
The tread pattern with the unique design structure won't let you feel a jolt while driving in snow. The tires have an effective evacuation of snow in winter and snow conditions.
Things We like:
Good all-year performance.
Suitable for dry and wet conditions.
Budget-friendly.
Things We don't like:
Low mileage warranty.
It is a bit noisy.
2. Dextero DHT2: Perfect for SUVs, Crossovers, and Light Truck
The Dextero DHT2 is an all-season tire for SUVs, Crossovers, and light trucks. Considering the price, the tires won't disappoint you in dry, wet, and winter conditions.
However, while testing these tires, you should be aware that they can cause heat dissipation because of a lack of rolling resistance.
It's an M+S rated tire, available in 15, 18, and 20 inches. The tire has a 50,000 miles warranty, which is average but acceptable in terms of price.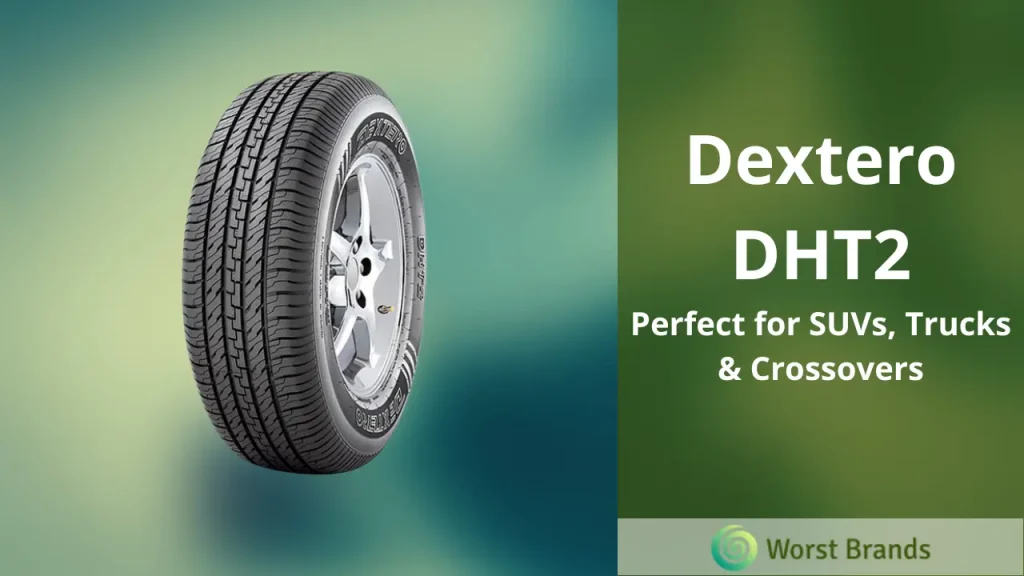 Dry Road Performance
The tire has impressive highway performance. I installed them on Range Over for long testing on a dry surface. The tires were excellent and smooth.
The exquisite tread pattern design creates good traction on the uneven terrains.
The tires are also suitable for high-speed driving. The tire's overall performance on dry roads satisfied our team and us.
Wet Road Performance
The tire tread pattern design has 4-main circumferential and lateral grooves for better and improved handling in wet conditions.
Also, the grooves maneuver water away and reduce the risk of aquaplaning on the damp road.
Snow Road Performance
The wear-resistant treadwear and grooves won't slow down your speed on snow. The tire has impressive performance in winter, especially on snow terrains.
The side walls won't crack during snow, which elicits us to give this tire homage.
Things We like:
Affordable tire.
It has good handling in dry and wet conditions.
Versatile treadwear design.
Things We don't like:
The treadwear warranty could be a little bit more.
Heat dissipation.
3. Dextero DAT1: Suitable All-Terrain Tire
Dextero DAT 1 is a decent tire with a fair price tag. The tread pattern design is unique and not made like a standard tire.
During our testing, the tire has performed pretty well on a light truck in snow, dry, and wet conditions.
It's an M+S rated and comes in 15, 18, and 20-inches sizes. Also, they come with 50,000 miles warranty. The tires are pretty aggressive in snow and off-road drive.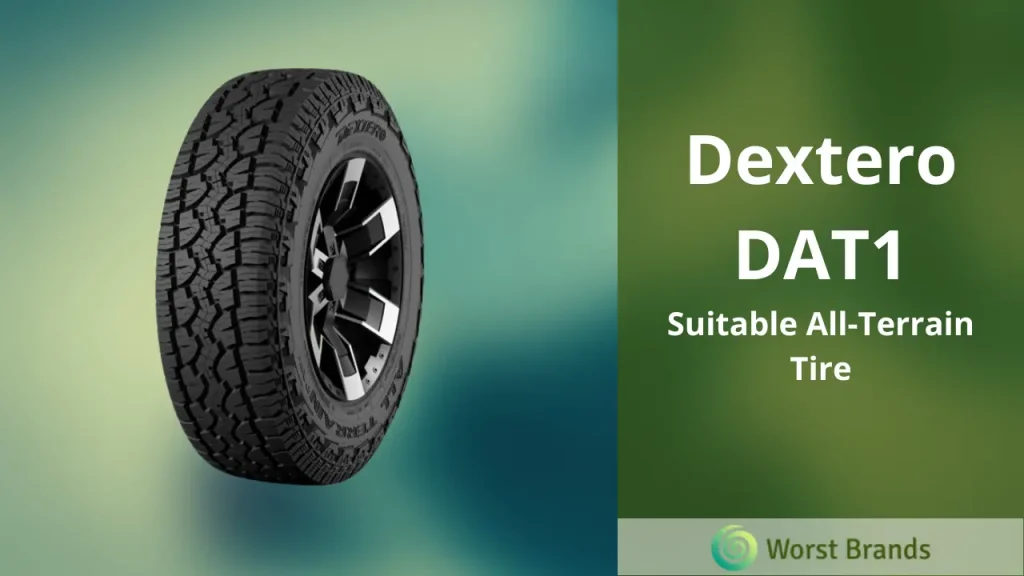 Dry Road Performance
I installed them on my old truck to check the performance on dry roads in my area.
The tires were excellent on fast corners and maintained good traction with the arid terrain. The center rib provided me with smooth handling on dry roads.
Moreover, you won't feel any jolt in your neck while driving on off-road terrains because of the self-cleaning mechanism of the tire.
Wet Road Performance
The wide shoulder blocks, grooves, and superior tread pattern don't lack the tire's performance in wet conditions. The tracks wipe the water away and prevent the risk of hydroplaning.
In addition, the tire is manufactured rugged tread compound for better performance and longevity.
Snow Road Performance
The tires may perform well in snow. However, they are not suitable for severe weather conditions.
So, make sure you keep that in mind. The cracks on sidewalls may occur in deep snow and have less snow evacuation.
Things We like:
Durable tire.
They performed excellently in dry and wet conditions.
Unique tread pattern.
Things We don't like:
It doesn't perform well in severe snowing conditions.
Are Dextero Tires Good?
The tires didn't satisfy us on critical challenges on uneven terrains; however, if you want a smooth ride, Dextero tires are a good choice.
The quality, durability, and performance in dry/wet conditions might persuade you to purchase this tire brand.
Moreover, they have tires for all-season, summer, performance, and winters/snow.
You can try DTR 1, the best all-season touring tire for SUVs and crossovers, or DHT2, a unique set of tires manufactured for light trucks and SUVs.
Also Read:
Final Thoughts
Overall, the Dextero tire models have impressive and excellent performance in wet and dry conditions.
However, DAT1 lacked a bit in severe snow conditions. Yet, it would be best if you compromised on that by considering the price tags of the tire.
The tires are formulated with high-quality materials and reinforcements for better road performance and durability.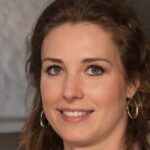 Crystal Hafley is a dedicated writer and content creator for WorstBrands, where she specializes in writing insightful reviews about kitchen appliances and fashion products.
With her expertise, Crystal provides readers with accurate and reliable information to help them make informed decisions about the brands and products they use every day. When she's not researching or writing, Crystal enjoys cooking and exploring the latest fashion trends.