If you are concerned about your damaged and dull hair, Eufora Shampoos are here to save the day!
My friend went through the same situation and tried several products, but nothing clicked. Things changed when she discovered Eufora Shampoos.
Read all about it in this Eufora Shampoo Review!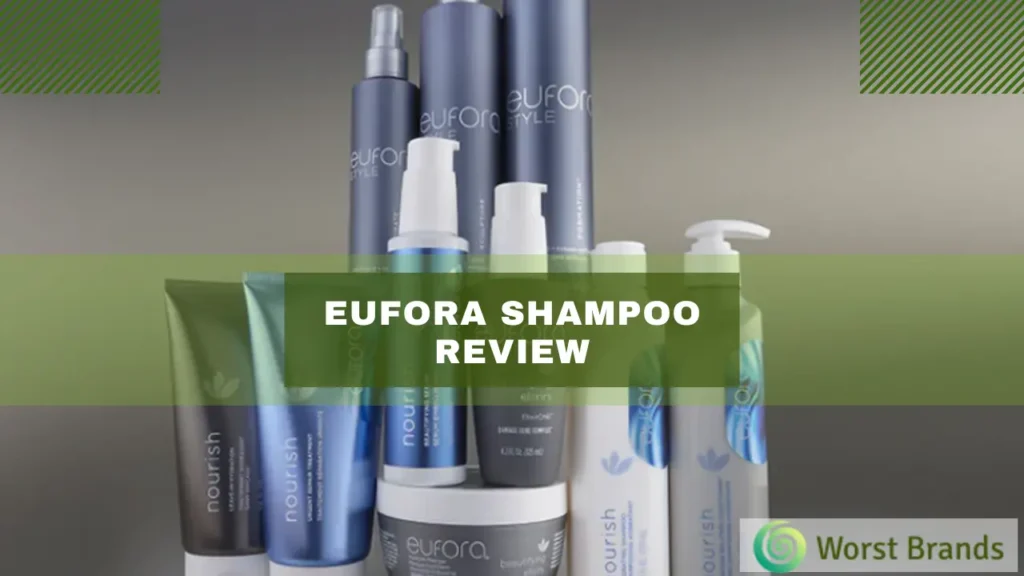 Eufora Shampoo Review
Eufora has formulated many Shampoos, but I will share some of their top shampoos today. 
1. Curl'n Enhancing Shampoo
Curly hair looks captivating, but only people with curly hair know the struggle behind maintaining those curls.
Having curly hair and managing those curls is one of the hardest things I have to do daily.
I tried many products, and not one enhanced my curls as I wanted; bouncy and smooth.
It was before my stylist recommended me to try Eufora Curl'n Enhancing Shampoo. My curls have been popping ever since I started using this shampoo.
This formula contains CrambeAbyssinica (Mustard) Seed Oil that helps restore shine and bounciness and protects the hair from irritants. 
While Tomato Fruit Ferment Extract is recognized as a rich antioxidant that does miracles for frizzy and curly hair.
It locks the moisture and naturally produced oil that keeps your strands hydrated and minimizes grime and sebum buildup.
However, this shampoo is only ideal for people with curly hair. There are many other options for those with other hair types.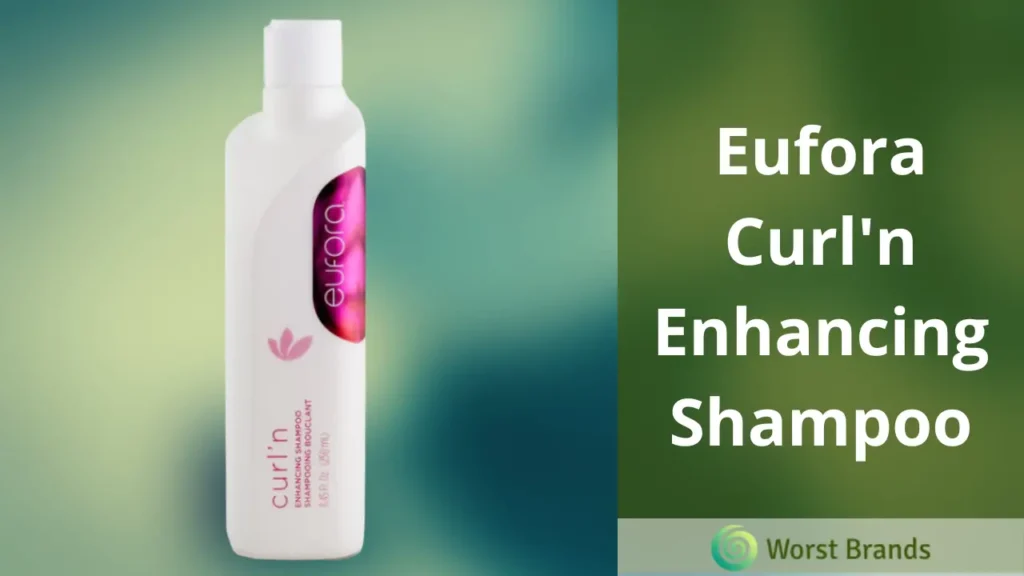 Pros
Improves Curl Structure
Ensures Cur Retention
Cons
Not suitable for all hair types
2. Nourish Urgent Repair Shampoo
My friend had damaged, and dry hair. She was hopeless about her hair getting any better. But Eufora's Urgent Repair Shampoo came to rescue her hair situation.
This Eufora Shampoo is infused with organic and nourishing ingredients that help repair damaged hair adding strength and shine. It is also cruel free, & eco-friendly.
Camellia Sinensis, Witch Hazel, and Passiflora Edulis Extract combined in this formula rejuvenate and revitalize your damaged hair.
Wheat Amino Acid adds strength to your hair from the inside out. It keeps your hair moisturized, soft, and smooth.
These ingredients go deep into your hair follicles and secure the cuticles that determine your overall hair texture.
You can pair this shampoo with its Urgent Repair treatment to thoroughly treat your damaged hair and scalp.
Despite its benefits, the presence of Cetyl Alcohol caused mild irritation and burning in her skin.
A patch test is suggested to make sure you are not allergic to any of its ingredients.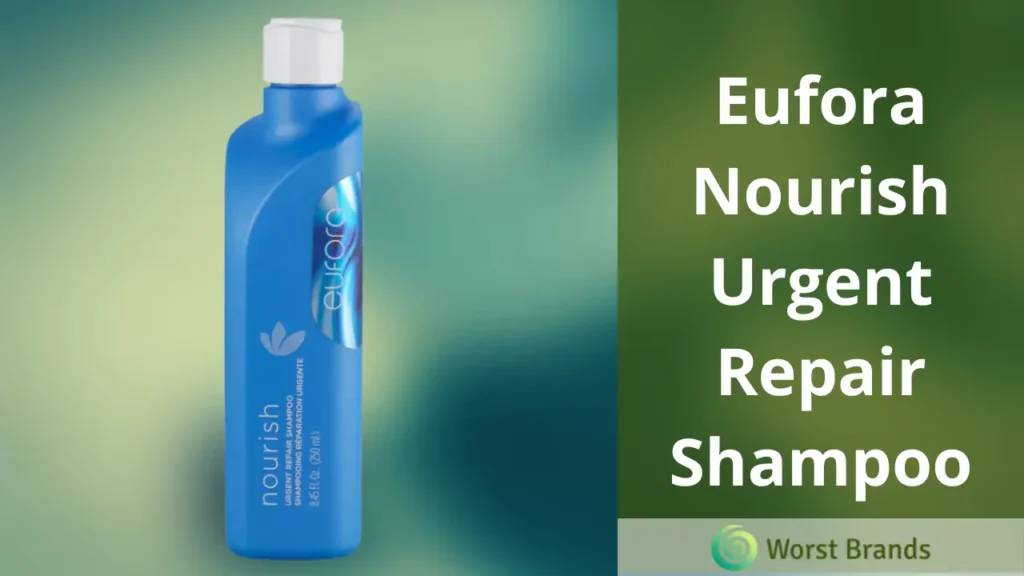 Pros
Revitalizing
Provides nourishment to hair
Removes scalp buildup
Cons
3. Beautifying Elixirs Bodifying Shampoo
Having limp and lanky hair with no volume is aggravating. My elder sister used to bite my ear off by complaining about her limp hair.
I was already using Eufora Shampoos, so I suggested she try Beautifying Elixirs Bodifying Shampoo.
The formula secures the cuticle layer, providing utmost care to hair strands. It contains hair color retention ingredients that protect them from chemical damage.
Sage and thyme essence eliminate the greasy look by removing any traces of excess oil.
It also soothes the scalp and stimulates blood flow preventing hair loss and leaving your hair healthy and full. That was indeed a turning point for her hair.
However, this formula might dry or irritate people with sensitive skin.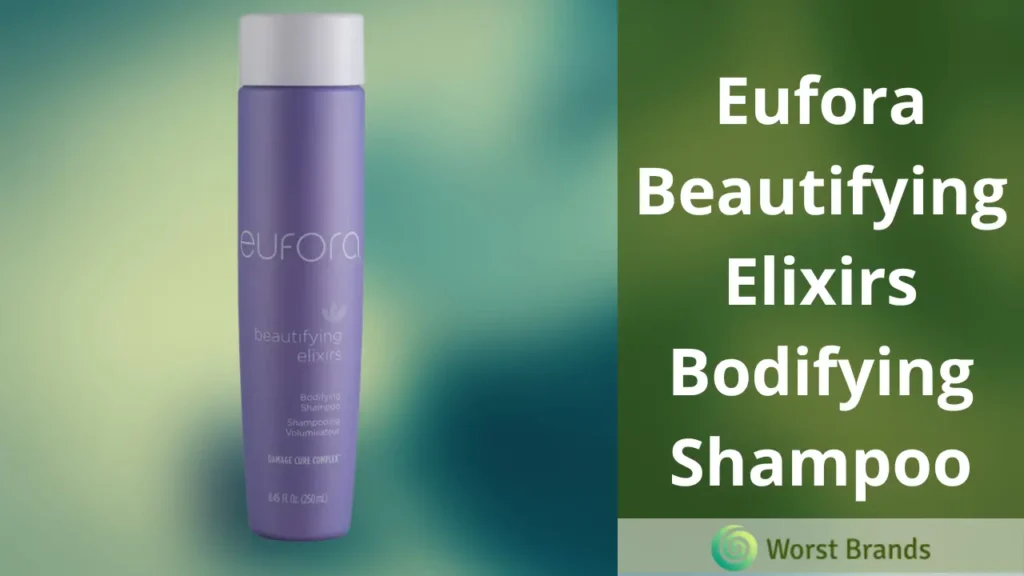 Pros
Volumizing the hair
Adds shine
Removes excess oil
Cons
Comparison Table of Different Eufora Shampoos
| Products | Treats Damaged Hair | For All Hair Types | Repairs Damaged Hair |
| --- | --- | --- | --- |
| Curl'n Enhancing Shampoo | No | No | Yes |
| Nourish Urgent Repair Shampoo | Yes | No | Yes |
| Beautifying Elixirs Bodifying Shampoo | Yes | Yes | Yes |
Eufora Shampoos: What do Consumers Say?
According to the customers, Eufora Shampoos have improved their hair texture and experienced a dramatic change in overall hair health.
People are fond of Eufora shampoos as it has a notable rating of 4.4/5 on Ulta and amazon.
Consumers claim that their hair has turned out more nourished and healthy.
They stated that it lathers well, giving you a thorough cleanse and leaving your hair volumized, fresh, and enticing. 
People with curly hair like me love how well it enhances the curls leaving them bouncy and soft for a long time.
Customers appreciate the consideration of the brand for keeping their shampoos sulfate and paraben-free.
However, certain shampoos of Eufora might be too strong for people with sensitive scalps, causing itchiness and irritation.
Some complaints regarding the packaging were also received that people got their bottles broken or leaking.
This product is relatively expensive, so they get disappointed when that happens.  
Moreover, you may also like to read the following:
Is Eufora Shampoo Really Good?
Although Eufora Shampoos are considered expensive, these shampoos are long-lasting; a little goes a long way.
You can get an 8.45 FL OZ bottle for around $30 ($3.55/FLOZ)
The shampoos are packed with restoring properties and recover your hair from severe damage. They promote your hair to be luscious, healthy, and alluring.
Considering these shampoos' benefits, we think they're worth every penny.
Why Choose Eufora Shampoos?
Here are some reasons I choose Eufora Shampoos for my hair's well-being.
Treat Damaged Hair
Eufora Shampoos are formulated to go all the way to your hair follicle and repair the damage from root to tip.
As a result, they strengthen hair to prevent breakage.
Sulfate and Parabens Free
Eufora Shampoos are Sulfate and Parabens free, which can endanger your hair's health and texture.
They are known to dry out your hair of its natural oil, leaving them brittle and thin.
Balance Excess Oil Production
Ingredients like Sage and Thyme balance the excess sebum production that leaves your hair greasy. It prevents grime and grease buildup.
Where to Purchase the Eufora Shampoo?
Eufora's shampoos are known worldwide and are available in most authorized stores. Here are some stores that retail them.
Walmart
Amazon
Riteaid
CVS
Ulta
eBay
Kroger
Sally Beauty
Walgreens
bed bath and beyond
Target
Possible Drawbacks of Eufora Shampoos
There are some plausible side effects of the ingredients used in any shampoo. Here are some possible side effects of using Eufora Shampoos.
Ammonium Laureth Sulfate can cause severe skin irritation and strip off the hair of its natural oils.
Alpha-iso methyl ionone can trigger fragrance allergies in people who are sensitive to scents.
Cocamide MIPA may cause dryness and flakiness and cause nausea. 
Cetyl Alcohol is known to cause itchiness, redness, burning of the skin, and peeling.
Is Eufora Shampoo Sulfate Free? 
Yes, all Eufora Shampoos are free from harsh chemicals like Sulfate and Parabens. They are also gluten and petroleum-free.
Common Ingredients Found in Eufora Shampoos
Some common Ingredients found in all Eufora Shampoos are mentioned below.
(Aqua)
AchilleaMillefolium Extract
AesculusHippocastanum (horse Chestnut) Seed Extract
Aloe Vera Leaf Juice
Alpha- Isomethyl Ionone
AmmouniumLaureth Sulfate
Benzyl Salicylate
Butylene Glycol
Caprylyl Alcohol
ChamomillaRecutita (MAtricaria) Flower Extract
Citric Acid
Cocamide MIPA
CocamidopropylBetaine
Etylehexlglycerin
Glycol Distearate
Hexyl Cinnamal
Hexylene Glycol
HumulusLupulus (Hops) Extract
Hydrolyzed Hair Keratin
Hydroxyisohexyl 3-Cyclohexene Carboxaldehyde
Lemon Grass Extract
Limonene
Linalool
Melissa Officinalis (Balm Mint) Extract
Panthenol
Fragrance (Parfum)
Polyquaternium-10
Rosmarinus Officinalis (rosemary Leaf) Extract
Stearamidopropyl Dimethylamine
Frequently Asked Questions
Q1: Is Eufora Shampoo Safe? 
Eufora is known for its safe and natural products. The company uses natural ingredients without harming the earth and animals.
Q2: How to Contact Euphora?
I like to contact them over the phone.
So, you can call them at 1-800-6-EUFORA. If you are calling from outside, you can dial 760-330-9941.
Bottom Line
Eufora Shampoos may be the answer to your hair woes. With various formulations for different hair types and concerns, Eufora Shampoos are tailored to help you achieve the hair you've always wanted.
Whether you have curly, damaged, or limp hair, Eufora has a shampoo to meet your needs.
So, we suggest you grab your bottle as soon as possible and start your journey to healthy, luscious, and bouncy hair.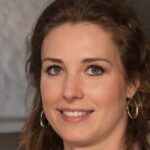 Crystal Hafley is a dedicated writer and content creator for WorstBrands, where she specializes in writing insightful reviews about kitchen appliances and fashion products.
With her expertise, Crystal provides readers with accurate and reliable information to help them make informed decisions about the brands and products they use every day. When she's not researching or writing, Crystal enjoys cooking and exploring the latest fashion trends.