So, you are looking for tires that satisfy your vehicle needs and are a bit light on your pocket? Well, Primewell may be the brand that you are looking for.
It's a Chinese brand that works under the umbrella of Firestone in North America. Primewell is a newer brand; that's why only a handful of people know about it.
In fact, I came to know about this company through my friend while I was looking for some affordable tire options for my Wrangler 2005.
I immediately thought to give it a shot, and I was quite surprised to see the quality of their tires.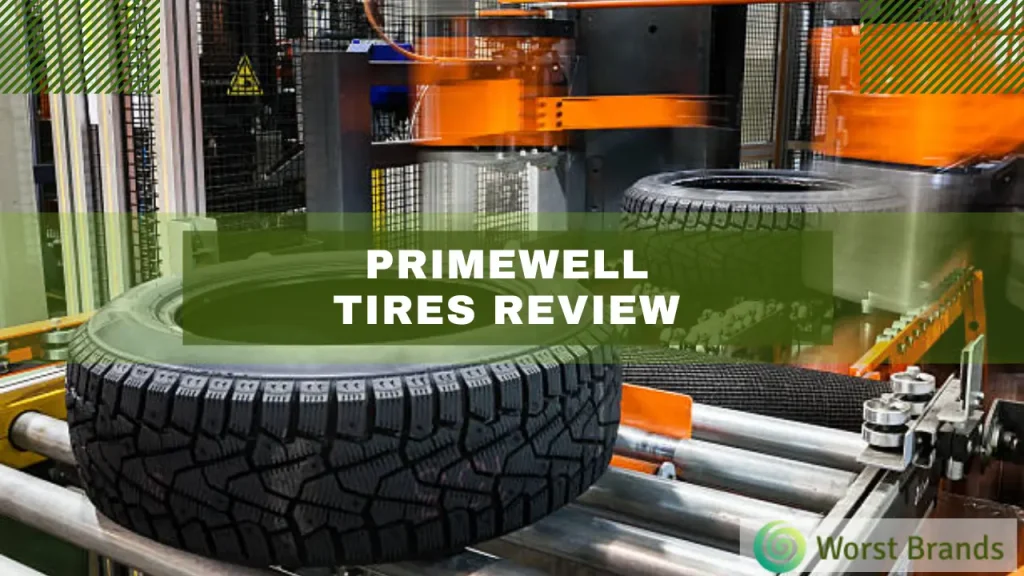 But you may be thinking of what Primewell tires best fit your vehicle.
No worries, as I've prepared a Primewell Tires Review to answer your queries and explain all your doubts. So. let's dive into it. 
Why Should You Choose Primewell Tires?
A question often comes to mind: Plenty of options like Westlake, Goodyear, Continental, and Pirelli Tire are available in the market.
Then, why should you choose Primewell tires? There are some reasons behind choosing the Primewell tires.
First, they offer affordable products. Secondly, their tires provide pretty good performance for the price.
And last but not least, Primewell is known for making tires that deliver quite comfortable rides. Above are the pros that make me choose Primewell tires.
How Have We Tested Primewell Tires?
As I explained earlier, I have been in the tire industry for more than 7 years, and during that time, I've tested a lot of tires.
As you know, Carolina's weather is quite versatile; therefore, I use these tires throughout the year and assess their quality based on their performance on dry, wet, and snowy roads.
Primewell Tires Review
The below guideline reviews Primewell tires on the factors mentioned earlier. For a quick overview, we have prepared a table to summarize the performance of Primewell Tires.
| Attribute | Valera A/T | Primewell PS830/850 | Valera H/T | Valera Touring II |
| --- | --- | --- | --- | --- |
| Dry Road Performance | Excellent | Good (issues at high speed) | Excellent (issues at high speed) | Top-notch (issues with aggressive driving) |
| Wet Road Performance | Excellent | Good (not for tricks/maneuvers) | Good (issues at high speed) | Solid (issues with aggressive driving) |
| Snow Road Performance | Excellent (up to 3 inches) | Okay (light snow only) | Okay (up to 2 inches) | Good (light-winter conditions only) |
1. Primewell Valera A/T
The tires are designed for 4 × 4 vehicles and SUVs; Primewell Valera A/T offers a grip for any road condition.
These tires can be a good fit for your vehicle if you want to go off-roading.
The company ensures performance on all terrains, which now depends on your vehicle's engine power.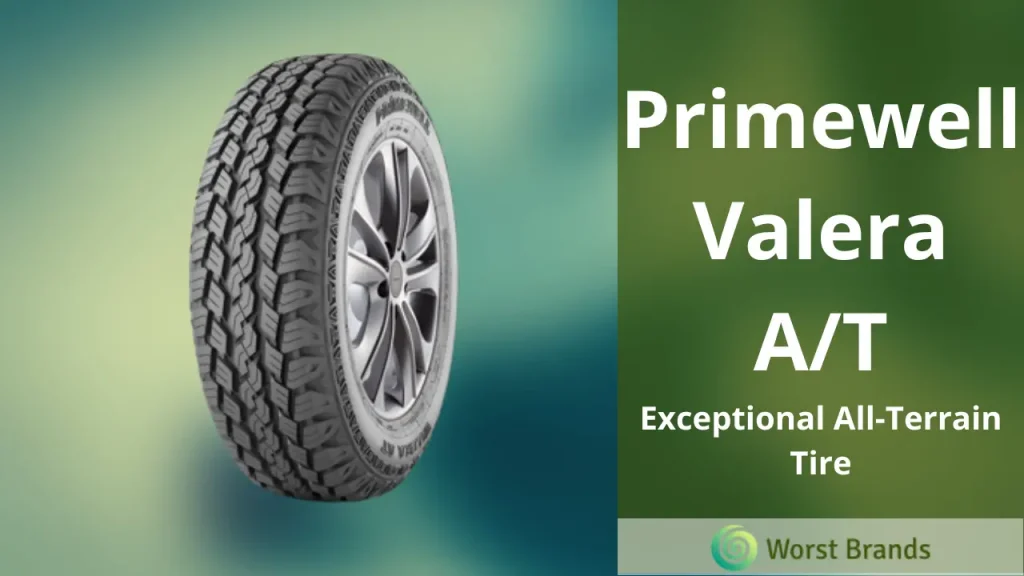 Dry Road Performance:
When it comes to the road performance of Valera A/T tires, I almost have no complaints, neither at moderate speeds nor at higher speeds.
I drove a Wrangler equipped with these tires, and my only regret was why I didn't get my hands on these tires.
Not only do they give a more aggressive look to the vehicle, but they also give more strength and agility. Plus, the grip and traction on the road are also excellent.
Wet Road Performance:
Valera A/T delivers the same performance on wet roads. Even when I throttled the car on a slippery road, I felt confident in the tires.
It seemed that I was floating. The cherry on the top is the tires' longitudinal grooves that gave aquaplaning resistance. Simply, no complaints at all.
Snow Road Performance:
On the light snow, Valera A/T nailed the performance. They were excellent in the case of traction and grip.
I even tested the tires in the deep snow (up to 3 inches). No problem at all. Icy roads were no competition to the tires.
Pros:
Excellent traction and grip even at high speeds
The cornering grip is also good
Excellent wet and dry performance
Cons:
Verdict:
Finding a tire that saves money and gives an extraordinary performance is pretty hard, but Valera A/T proves me wrong.
Although these tires make some noise, I would happily pass on the sound levels for the price range and performance they offer. 
2. Primewell PS830/850
With its incredible all-season performance, Primewell PS830/850 tires are meant to be used with passenger vehicles, cars, and crossovers.
Before continuing further, let me clarify the difference between PS830 and PS850.
Technically, they both have the same specs and the same tread design.
Both tires are called all-season tires, with the minor exception being that the 850 is more aggressive than its counterpart.
Overall, they have the same tires and have the same driving skills.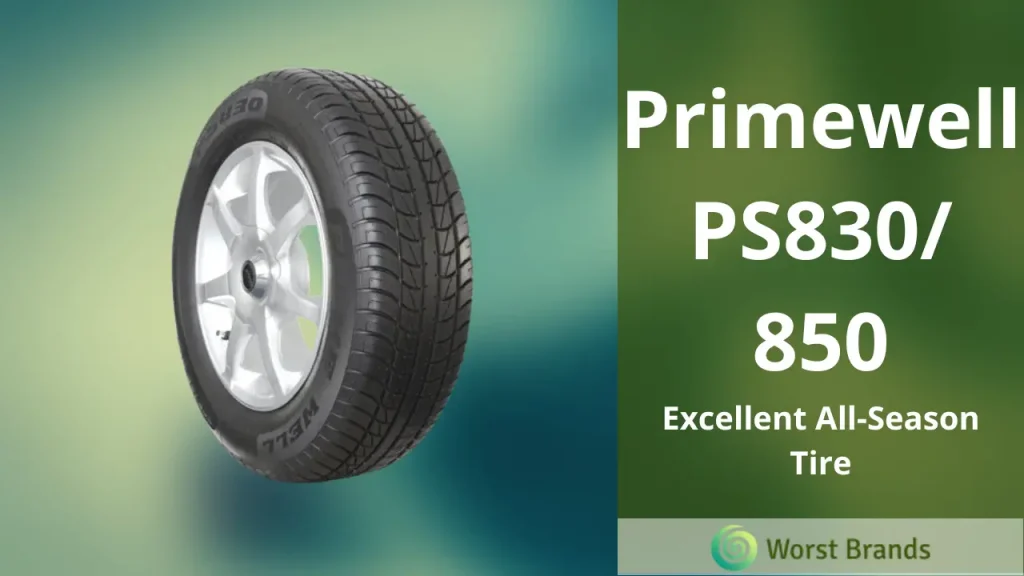 Dry Road Performance:
Talking about the dry road performance, I got a chance to hands-on PS830/850 with Hyundai Accent. There is one particular feature of these tires that I really like.
These tires have increased shoulder grooves, meaning that you can get enhanced lateral and longitudinal traction that prevents you from slipping at high speeds.
However, the tires squeal if I drive at a fast corner. The grip is also an issue at high speeds unless you want to do burnouts.
Aggressive driving can also cause the tire to understeer. I can only say that if PS830/850 are not the best of the best in dry road performance, they are not the worst either.
Wet Road Performance:
Okay, let's keep things short by saying that PS830/850 has good wet-road performance. But only if you don't test the tires to their limits.
Grip and traction are decent, and it's safer to say that both these tires hold the road quite decently, with the PS850 performing better.
To be honest, aquaplaning resistance was also there, which I wasn't expecting. Braking distance is also safer, but not the best in class.
Having said that, you can expect a good wet road performance as long as you have no plans of doing tricks or maneuvers.
Snow Road Performance:
Generally, all-season tires are not good with the snow, and the same case is with PS830/850. You can drive them on the light, snowy road.
However, I recommend not using these tires if you are from Vermont or Alaska.
Pros:
Offer comfortable performance
Good aquaplaning resistance
Decent price range
Pretty quiet and has low noise levels
Cons:
Traction and grip are not good at higher speeds.
Verdict:
So, after all this nattering, let me tell you PS830/850 is one of the top-selling tires of Primewell.
They provide a comfortable ride at a competitive price tag and have a bonus advantage of good off-roading driving.
With the excellent performance, I can expect the Primewell PS830/850, suitable for every season/weather.
3. Primewell Valera H/T
The third on the Primewell tires review list is a highway tire, Valera H/T. It is a tire specialized for larger vehicles like trucks, vans, crossovers, and SUVs.
Although Valera H/T doesn't give your vehicle a sporty look, it provides comfort, low noise levels, and silent highway driving.
Tested on Mazda3 Hatchback 2011, let's have a detailed look at the tire's performance.
Dry Road Performance:
When it comes to dry conditions, Valera H/T provides a phenomenal result. You can feel the grip and traction, and the best thing is that the rubber contents in the tire hold the ground quite well.
Also, the break time was good. However, things start to change when you touch the upper part of your meter.
You can feel a bit of lag in the steering control. But if you are really looking to speed and want stability, why would you go for a highway tire?
Wet Road Performance:
Wet road performance is quite similar to dry road performance. In fact, traction on the slippery road is proportional to the vehicle's speed.
Valera H/T offers satisfactory grip and traction but only at moderate speeds. You should expect a loss of control when you cross the speed limit. 
Snow Road Performance:
Valera H/T tires are okay to use on icy roads unless there are more than 2 inches of snow. Primewell introduced the open-slotted shoulder design in these tires.
The design provides stability and the ability to run over snow-covered roads. But again, I suggest you use snow tires to avoid any accidents.
Pros:
Outstanding grip at normal speed
Give a comfortable ride
Comes in the affordable budget segment.
Cons:
Verdict:
In the end, Valera H/T may not be the best of the best highway tires for your vehicle, but they have some qualities that other budget tires hardly do.
Comfort and smooth riding for a long journey are the things of these tires to discuss.
I don't see any reason not to have these highway tires for your vehicle for the price they are offering.
4. Primewell Valera Touring II
The good value-for-money product, Primewell Valera Touring II, is another all-season tire. But does it really justify its price tag? Let's find out.
It is a tire that best fits CUVs, minis, and cars. The purpose of this tire is to provide the ultimate comfort, quiet ride, and quite good handling.
The best part is that all this comes without putting a strain on your pocket.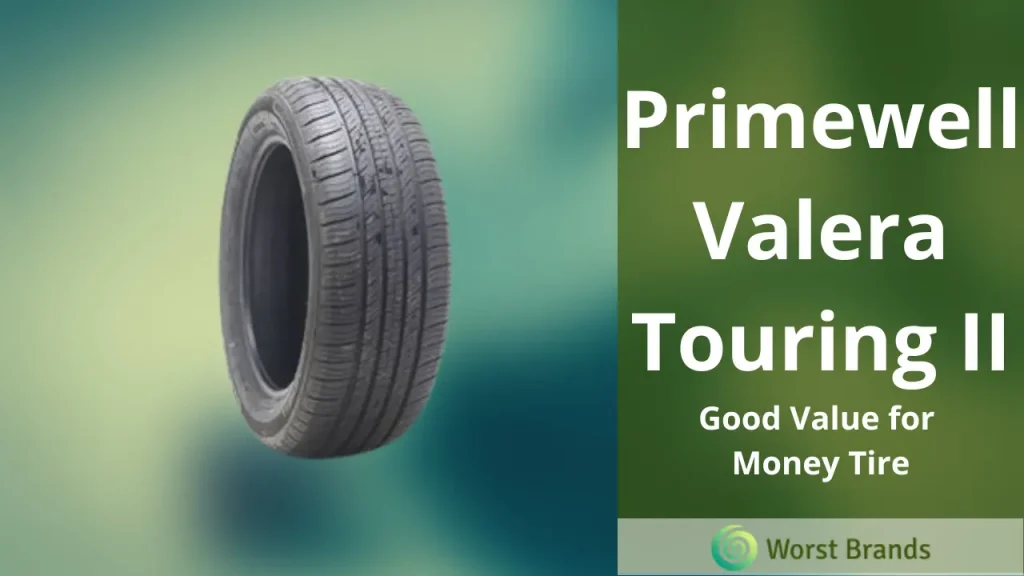 Dry Road Performance:
If I can summarize the performance of the Touring II in one word, it would say it is top-notch.
Even at the higher speeds, the tire was calm and offered a smooth ride. However, you can only expect the best of this tire on a straight-line drive.
Once I started pushing the vehicle aggressively, the tire grip on the road felt underconfident. Certainly, these tires are not built for high performance.
Again, if you drive like a saint, I can guarantee you good traction, grip, and brake time without sacrificing the mileage.
Wet Road Performance:
Putting Touring II on the test on my Subaru Forester 2018, I was quite pleased with the tire's performance on the wet road.
Due to their deep channels, these tires did provide resistance to hydroplaning.
The grip and traction were solid on slippery roads while driving at average and top speeds.
Again, if you put your vehicle in aggressive mode, you can feel nervousness in the steering control.
Snow Road Performance:
Snow performance is also quite similar. Again, there is good grip, upright traction, and under-control driving.
However, I would recommend only using these tires in light-winter conditions because the company didn't design them for heavy snowfall.
Pros:
Best grip and traction at normal speed
Silent and comfortable ride
Have a reasonable price
Dynamic rib system and resistance against aquaplaning
Cons:
Not a good option for high-speed drivers
Verdict:
All in all, Touring II are the tires that justify their price segment. Starting at $68, they give a sporty look to your vehicle and have a dynamic rib system.
The cherry on top, they reduce noise levels through their variable pitch design. 8/10. I would recommend it to anyone who is not a fan of speeding
Final Words
The final call is that Primewell is a brand with a wide range of tires for a decent price.
Still, they offer products that perform well and give a quiet and comfortable ride.
I've compiled a list of some of their best tires in this Primewell Tires Review. But choosing a tire totally depends on your choice.
No matter your preferences, you should keep the Primewell tires on your watch list. I guarantee they won't disappoint you.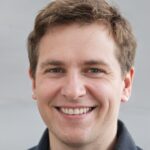 Steven Settles is a professional content writer with over 7 years of experience in writing for different niches, including brand reviews, technology, fitness, and more.
Currently, he is working as a content writer for WorstBrands, where he provides insightful reviews of different products, including home appliances, outdoor gear, fashion, and kitchen products. In his free time, Steven enjoys traveling and exploring new places.