More than billions of new clothing pieces are consumed each year. Each season fashion designers would create clothes.
However, people find it hard to wait for a whole season to update their wardrobe. That makes them go for the only remaining choice, a fast-fashion brand.
These brands remake the famous designs from the walk shows and send them at a much lower price.
Which is one of the main reasons people are die-hard fans of these brands.
However, you can't always trust these brands despite being so convenient. As you never know, a wolf might be in sheep's clothing.
If you are a fan of fast fashion brands, you need to know the traitors.
Therefore, to keep you on the safe side, we have researched that Shein, Boohoo, Forever 21, H&M, Mango, Uniqlo, Urban Outfitters, Victoria's Secret, and Missguided are the fast fashion brands to avoid.
So now, let's cut the chase and dive right into it.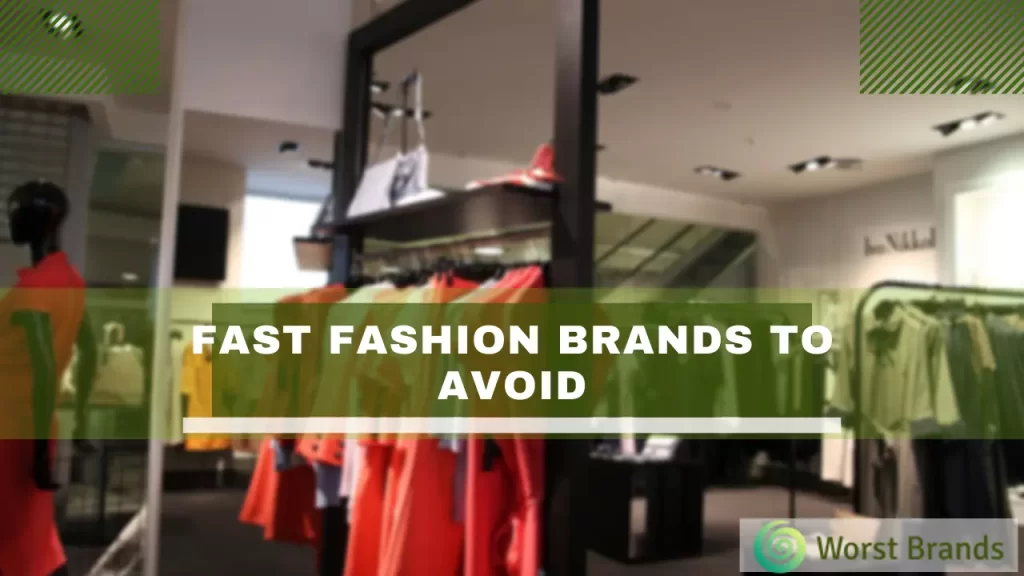 You may also love to read our following blogs on other fashion brands:
What Is Fast Fashion?
Fast fashion is a term for clothing that is produced quickly and cheaply, often at a lower quality.
It is designed to be worn a few times until it is no longer fashionable. Fast fashion can be found in most major retailers, both in-store and online.
There are many different reasons people choose fast fashion over other options.
The clothing is often cheaper than higher-quality clothing, and consumers believe they are getting more for their money with fast fashion.
List of Fast Fashion Brands to Avoid
1. Shein
This Chinese fast fashion brand, with more than 20 million followers on Instagram, is one of the most popular fast fashion brands among Gen Z.
Moreover, it is also said that it adds more than 500 pieces. We hope you know where this is heading. Yes, you heard it right.
More clothes production means Textile waste, use of dangerous chemicals, climate change, and much more.
Shein has received a lot of criticism in the past years. Looking at the high number of new clothing pieces produced with such speed, even a child would know they would need many workers for it.
However, more shocking is that Shein's pieces are cheap and made of crappy material that falls off quickly.
So, the revenue is that big to offer wages to its employees. It means there are chances that Shein might be involved in labor trafficking.
2. Boohoo
In the past decade, Boohoo has been one of the most fast-growing fast fashion brands.
This US-based fast-fashion brand targets customers aged between 16 to 40. Boohoo is known for offering up to 36,000 products at one time.
However, what made it count among the bad fast fashion brands to avoid?  Don't worry; we'll break t down in this article.
Boohoo is disliked among the crowd due to its poor quality clothing, contributing to the throwaway culture.
Although it is one of the most budget-friendly pieces, people still have a lot of bad things to say about this brand.
Come on, who wants to spend their money on cheap and unsustainable clothes even if they have to pay peanuts for them?
Moreover, Booho was also shamed for its poor-quality clothes in the parliament.
3. Forever 21
Launched in 1984, this American fast-fashion brand is filled with conversions.
From producing low-quality, cheap clothing pieces to forced labor and body shaming, the list of acquisitions goes on and on.
Based on an investigation of the U.S. Labor Department, the workers at Forever 21 are paid a total of $4 per hour, which indicates that F0rever 21 has violated labor laws.
Forever 21 hasn't signed the Bangladesh Accord, which clearly shows that Forever 21 is also not taking its workers' safety and rights seriously.
Moreover, Forever 21 is very discretive about the materials and fabric to make its products.
More than 50 designers, including Adidas, have sued Forever 21 for copyright violation. In 2011, it sold jewelry made of the toxic metal Cadmium.
With so much proof on our hands, this brand is one of the worst fast fashion brands you should avoid like a plague.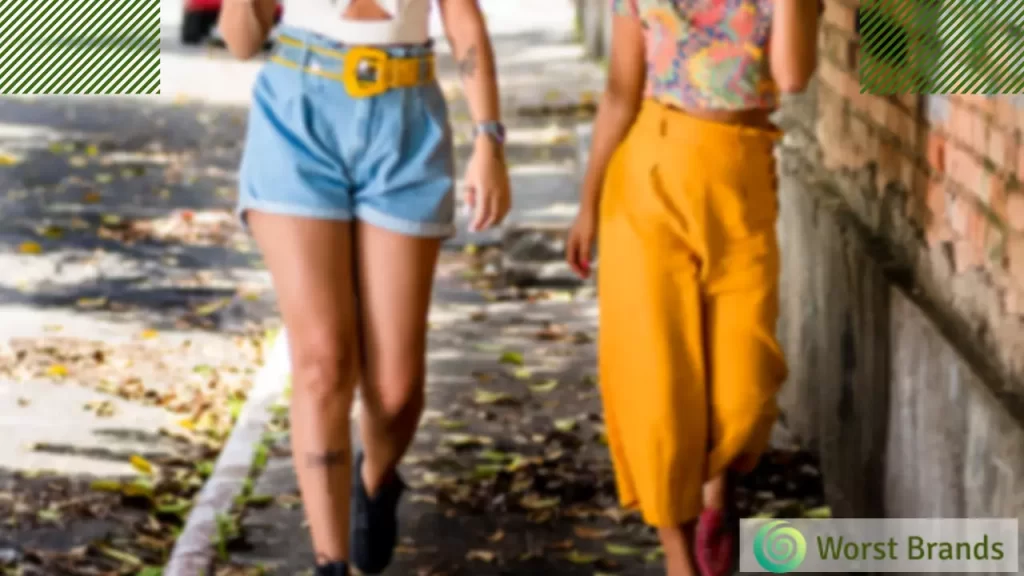 4. H&M
Hennes & Mauritz, or H&M, is one of the giants of the fast-fashion world.
With more than 3,500 stores in 57 countries globally, it is the world's second-largest fast-fashion brand. From adults to children, you'll find many trendy options in H&M.
Moreover, It is known to produce thousands of new pieces each week.
However, the production of clothes indicates that this brand is involved in a high amount of textile and fabric waste production.
In 2018, H&M was accused of paying low wages to its garment workers.
According to D.W, H&M was also among the bad clothing brands to avoid that turned a blind eye to garment workers' plight. It led to the death of more than 100 people in Tamil Nadu, India.
However, H&M is putting efforts into eliminating the harmful chemicals from its products.
If, rather than burning the clothes, H&M would sell its unsold clothes, it would significantly reduce greenhouse gas emissions. 
5. Mango
With multiple stores in 110 countries, This Spanish brand is an extensive network fast fashion brand.
Mango is going more towards being a sustainable brand by producing items with recycled polyester and organic cotton.
Moreover, it takes steps to eliminate hazardous gases and reduce water consumption. It is also working on removing carbon and greenhouse gas emissions.
However, as far as we have seen, it hasn't put any real effort into lowering them yet. Mango is also accused of paying low wages to its garment workers.
Moreover, in 2013, when the Rana Plaza in Bangladesh collapsed, more than 1000 garment workers died.
Mango was one of the companies that refused to compensate even though it was one of the brands that used factory products. 
6. Uniqlo
With 2000+ stores in almost 15 countries globally, Uniqlo is one of the most famous brands among Japanese consumers.
In March 2020. 62.8% of people purchased a fashion item from this fast-fashion retailer.
However, this brand does have its fair share of acquisitions, one f them being labor rights violations.
In 2016, Uniqlo received many complaints from their workers for being forced to work excessively long hours at meager rates under life-risking conditions.
Moreover, it has a consumer rating of 1.69 stars, proving that people are not satisfied with Uniqlo.
7. Urban Outfitters
Urban Outfitters was founded in 1970 and is considered one of the world's largest fashion retailers. Urban Outfitters pieces are cool and trendy.
However, they are pretty famous for over-working their American workers, and the worst in 2015, they were forced to work for free on weekends.
Moreover, many items of this brand are made with synthetic fabric, and it is not putting any effort into reducing CO2 emissions.
Urban Outfitters is also known for material and water wastage. In 2020, it was accused of plagiarising Australian artist Mitjili Napurrula's design.
8. Victoria's Secret
Founded in 1977, Victoria's Secret is America's famous lingerie, beauty, and clothing retailer. However, it seems that Victoria's Secret cannot hide its secret anymore.
That being said, the brand's list of allegations continues. Let's first begin with high-speed production.
Victoria's secret restocks its design twice a week. Did it ring a bell? This brand is not certified by Official Labour Standards.
So, it is unclear whether the garment workers at Victoria's Secret get fair wages and treat well.
Using synthetic fabric, child labor, and sexual harassment are some other significant accusations for which these brands have been under fire. 
9. Missguided
Missguided is a UK-based fashion retailer that was founded in 2009. It is known for its rapid production.
Imagine a brand producing 1,000 new styles weekly and selling bikinis at £1.
It is not only a sign that this brand overworks its garment workers and has a big hand in producing textile waste.
Moreover, Missguided is also known as one of the least sustainable fast fashion brands, which makes complete sense because, in 2017, it was caught using cats, minks, raccoon dogs, and rabbit furs.
In addition, Missguided is also accused of gender discrimination among its employee.
Although the brand's slogan is "empower women," it pays its female employees much less than males.
More Fast Fashion Brands to Avoid
Yesstyle
American Eagle
Fashion Nova
Aerie
Brandy Melville
Anthropologie
Garage
Nasty Gal
Romwe
Old Navy
Gap
How to Spot Worst Fast Fashion Brands?
It can be difficult to identify the bad clothing brands as there are so many. However, some of the pointers that can help include the following:
1. Poor Quality of the Product:
Most of the worst fast fashion brands don't really produce quality products. It can either be poor quality or too expensive, which is not a good combination.
2. Short Run Time:
They only produce products for a short time due to their high production rate. They are constantly in a race against the clock to meet customers' demands and needs.
3. Discontinuity of Style:
Fast fashion companies cannot really develop their style as they are constantly under pressure to produce more.
4. Unethical Production Methods:
Unethical clothing brands will always try to find cheaper ways to reduce costs. This usually leads them to use unethical production methods, which are bad for the environment.
5. Poor Customer Support:
The brand will not take responsibility for its products and customers. This is often a result of their poor customer support.
3 Sustainable Fast Fashion Brands
Now that you know about some of the unethical clothing brands, you might wonder about the most reliable ones.
Therefore, we have also compiled a list of 3 of the sustainable fast fashion brands for you.
1. Zara
This Spanish brand is one of the fastest fashion brands in Europe. In 2019, Zara's brand value was approximately 17.18 billion U.S. dollars.
From clothes, shoes, and swimwear to accessories, beauty products, and perfumes, Zara has everything to offer.
You'll find everything here whether you want to buy something for yourself or your children.
Moreover, Zara has more than 2000 stores in 100 different countries.
It is also said that it takes Zara one week to develop a new design until it comes to the stores, which is pretty quick if you compare it to the other fashion brands.
Zara follows a rigorous routine that makes complete sense, looking at its success today.
2. Primark
ABF (Associated British Food) owns this Irish fashion brand, which is considered one of the best fast fashion brands regarding sustainability. It is known for producing "Amazing fashion at Amazing prices."
During the Rana Plaza tragedy, Primark was among the first fast-fashion retailers to sign Bangladesh Accord.
Moreover, it also helped provide financial and basic food support to the families of the factory victims.
Primark offers a wide range of high-quality products, from womenswear, childrenswear, and menswear to footwear, lingerie, accessories, and beauty products. 
3. ASOS
Founded in 2000, this UK-based top fast fashion brand is one of the most successful fashion retailers.
ASOS opts to offer its customers the latest trends. It also provides 2,500-7,000 per week, the most valuable fashion brand currently.
Another thing that makes ASOS one of the best fast fashion brands is the price.
Although ASOS offers its product at a meager price, it doesn't compromise on quality, just like the other fast fashion brands.
You can find a lot of branded goods at a very affordable price. 
Some other brands to avoid:
Mistakes to Avoid When Buying a Fast Fashion Brand
There are many mistakes that people make when purchasing fast fashion. Surprisingly, it is not always the more expensive brand that is the worst.
Here are some of the biggest mistakes people make when buying fast fashion.
1. Focusing On Price:
Regarding fast fashion, price is the only thing that matters. People often focus on the price of the product instead of the quality.
They think it has to be of good quality because the price is low.
This is usually the opposite of the truth, as fast fashion companies will often choose to sell low-quality products at high prices.
2. Buying Unsustainable Products:
Buying fast fashion products is problematic as most use environmentally damaging materials such as polyester and synthetic fabrics.
The environment should always come first, and we should not have to put up with bad quality products just because they are cheap.
3. Purchasing Too Much:
Buying too much is one of the biggest mistakes that consumers make. It is not only a bad financial decision but can also lead to unnecessary waste.
The reason why buying too much is a bad idea is that you might be able to find similar products at lower prices.
You may also have to purchase extra packaging and delivery services.
4. Buying Without Comparison:
Another common mistake is buying without comparison. Fast fashion companies usually give the same products to many retailers at the same time.
This means that if you do not compare products, you will probably spend more than necessary.
5. Not Knowing Your Size:
If you have never bought fast fashion before, this is probably the biggest mistake that you can make.
If you do not know your size, you will spend more money on fast fashion items than necessary.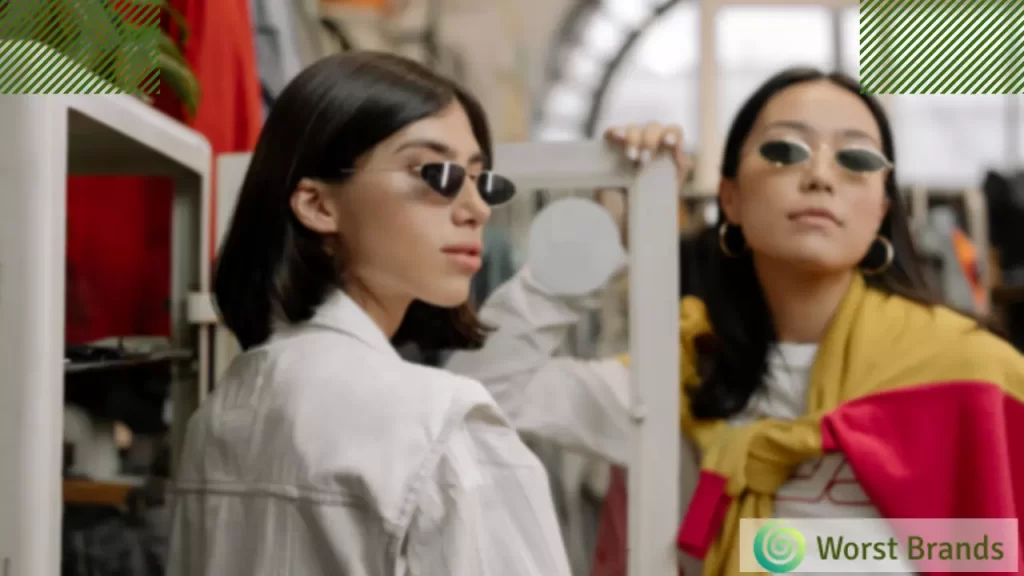 6. Buying With Poor Quality:
Some fast fashion brands sell poor-quality products at the lowest prices.
This is a problem because consumers will not know whether the products are of good quality.
They will just think that they are getting a good deal. If you want to avoid this problem, you should always ask the seller about the quality of the product before purchasing.
7. Careless Purchasing:
Buying fast fashion is not something that should be taken lightly. This is because it is a product you will buy for the rest of your life.
Therefore, you should take the time to ensure that you are buying something that will look good for the rest of your life.
In conclusion, Fashion is a form of art, and it takes a lot of effort to produce high-quality products.
Fast fashion companies are not really able to produce high-quality products.
8. Not Reading the Reviews:
Reviews are very important when it comes to buying fast fashion. You should always read the reviews before you buy.
This will help you to avoid buying something that does not suit you.
9. Buying From an Unknown Seller:
The last mistake that people make is buying from a seller who is unknown. You should always research the seller's reputation before buying from them.
You should do this because you may end up with an unsatisfactory product or a scam.
10. Not Reading Labels:
The last mistake that people make when buying fast fashion products is not reading labels.
There is a lot of information on the back of the label. You should always take time to read the labels and understand how the products are made.
What is the difference between ethical fashion and fast fashion?
Summing up, there are some differences between these two types of fashion, but they are still similar in many ways.
Fast fashion companies usually have very low prices, but they also lack quality.
It is important to make sure you know the differences between the two before making any decisions.
Ethical fashion companies will give their customers what they want and what the customer needs without putting the environment at risk.
They will produce high-quality products and sell them for reasonable prices.
You should also ensure that you buy from a reputable company as this will save you from the unnecessary waste of poor-quality fast fashion products.
If you do not want to waste your money, you should learn to buy ethical fashion instead.
1. Go To The Source:
You should always go to the source to buy sustainable fashion products.
If you want to buy something ethically produced, you should look for brands certified by the B Corporation.
The reason why you should buy from the source is that it is the most sustainable option.
This is because it does not rely on other people, and you are not buying from a fast-fashion company.
2. Ask The Seller Questions:
You should always ask the seller questions when buying ethical fashion products.
For example, you could ask them what their philosophy is, what they think of the environment, and how their company is run.
This will help you ensure you buy something that suits your needs.
3. Look For Products With A Good Reputation:
You should only buy from companies that have a good reputation. You should always check the reviews of the company before you buy.
Some fast fashion companies have been in the business for a long time. However, this does not mean that their products are of high quality.
There are companies out there that are more reliable, and they will produce high-quality, sustainable fashion products.
This means you do not need to waste money on cheap and unreliable products.
4. Shop Online:
One best way to buy sustainable fashion products is to shop online.
This is because there are so many websites that offer sustainable fashion products.
You should always compare different websites to find the ones that have high-quality products.
5. Look For Certified Brands:
If you want to buy sustainable fashion then you should look for brands that are certified by B Corporations.
They are known for their commitment to the environment and their workers. This is a great way to ensure you buy a sustainable product.
6. Know the Impact:
You should know about the impact that you are making when you buy fast fashion products.
You should try to make as little impact as possible on the environment and the workers who produce the products.
If you want to buy ethical products, you should look for companies that do not impact the environment and the people who produce the products.
7. Be Aware of the Labels:
If you want to buy ethical fashion, you should be aware of the labels.
You should look at the labels to see where the clothes were made and whether or not the company has any environmental impact. This will help you to make informed decisions.
Frequently Asked Questions
Is fast fashion bad?
Fast fashion has become a part of our culture. However, many negative consequences arise from the production of these clothes. For example, it has been shown that these products can cause serious harm to animals and the environment.
Q2: Do fast fashion brands really matter?
The answer is an obvious 'yes' as fast fashion brands are known for their speed, low prices, and high quality.
However, there is a major downside to fast fashion: the impact these brands have on the environment.
Fast fashion brands are notorious for their unethical production methods. They use materials that are harmful to the environment, such as synthetic fabrics and polyester.
These brands are also not responsible for their products, meaning they do not care about the quality of their products.
They are also infamous for their short run time, leading to their customers having to buy more products in the future.
Conclusion
Summing it up, fast fashion is growing rapidly. However, it also affects our globe, let's say destroying it.
Although fast fashion brands help people stay in the trend without breaking the bank, they still lack quality.
Fast fashion brands produce items in excessive quantity ad it is not rocket science to guess that a considerable part of that production goes into rivers.
Apart from that, a few fast fashion brands produce their products very unethically.
To keep you on the safe side, we have mentioned a few of these worst fast fashion brands to avoid.
Moreover, we have also highlighted why you should stay away from them.
So, if you have any of these brands' items or were thinking about buying them, make sure to give our article a go-through before you make any decision.
This was all about the worst fast fashion brands. We hope you find this helpful.