Summer is around the corner, and just like everyone, you might be getting ready to enjoy some quality time on the beach.
Good quality sunscreen is a must-have in such weather. But choosing the right match is not an easy thing do.
A recent study finds out that almost 60% of sunscreen brands use Oxybenzone- a hormone-disturbing chemical in their products.
This article will tell you about a few worst sunscreen brands that you should avoid, like the plague.
In addition, you will also know about some of the best sunscreen brands. Now without further ado, let's dive right into it.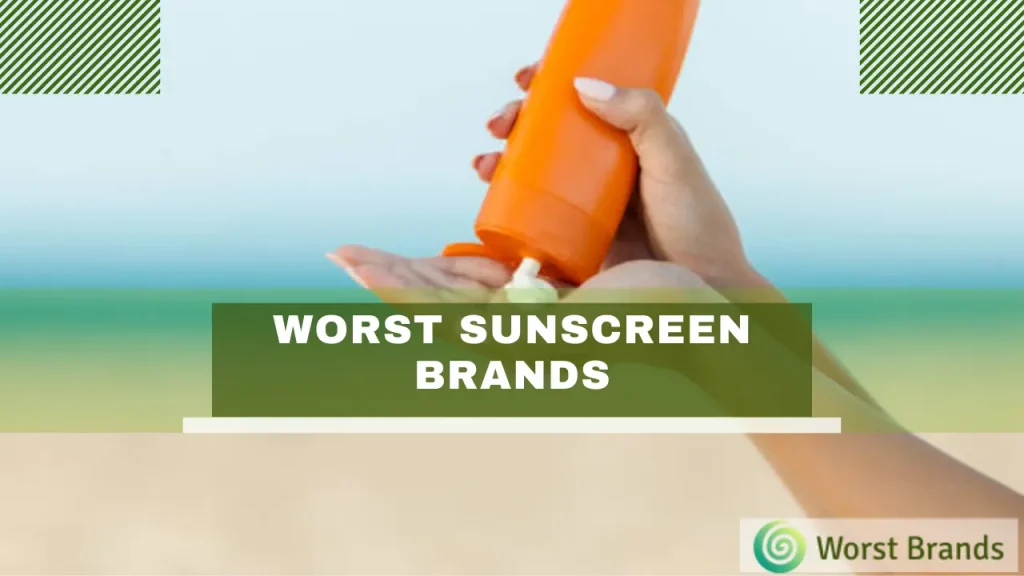 Related:
List of Bad Sunscreen Brands To Avoid:
As per our team's research, Neutrogena SPF 70, Loreal SPF50+, Traders Joe's nourish SPF 50+, Walgreen sports SPF 50, and Hawaiian Tropic silk SPF 15 are the worst sunscreen brands to avoid
These are marked as bad sunscreens because of bad ingredients, toxic chemicals, overpricing, and not being absorbent enough.
Now let's discuss why you should avoid adding these brands to your collection.
1. Neutrogena Ultra Sheer Dry-Touch Sunscreen SPF 70
We all know how crazy we are regarding the skincare products of Neutrogena unless it comes to sunscreen.
Our team has researched a few toxic sunscreen brands. Unfortunately, Neutrogena SPF 70 was on the list.
The brand claims that Neutrogena SPF 70 is ultra-sheer dry; when we tried to find out the evidence regarding this claim, customers were not satisfied.
They stated that this sunscreen isn't even semi-sheer and too thick to absorb. It takes hours to dry and leaves a visible white residue on the skin.
Moreover, the product contains Oxybenzone- a chemical that disturbs hormones and damages cells.
It also includes methylisothiazolinone which can cause allergic reactions and toxicity in high doses. So it is better to avoid buying this one.
Main Reasons to avoid:
Toxic chemicals.
Too thick to absorb.
It Takes hours to dry.
2. Loreal Invisible protect Dry oil spray sunscreen, SPF 50+
Loreal is a reputable brand having a wide range of cosmetic products, including sunscreens.
We decided to research Loreal invisible protect Dry SPF 50+, but it is disappointing to see significant drawbacks in our favorite brand.
After applying the gel-like formula gives an oily look that various customers don't appreciate. You have applied some greasy oil on your skin which refused to get absorbed.
Moreover, the price is relatively high for the quantity they are providing.
It also starts chipping off on rubbing after an hour of applying. You need to apply this product repeatedly; otherwise, it will be ineffective.
It feels sticky on the application and can't be used with any other cream because of its texture. Furthermore, a strong alcoholic smell also makes it worse for your skin.
Main Reasons to Avoid:
Feels sticky.
Strong alcoholic smell.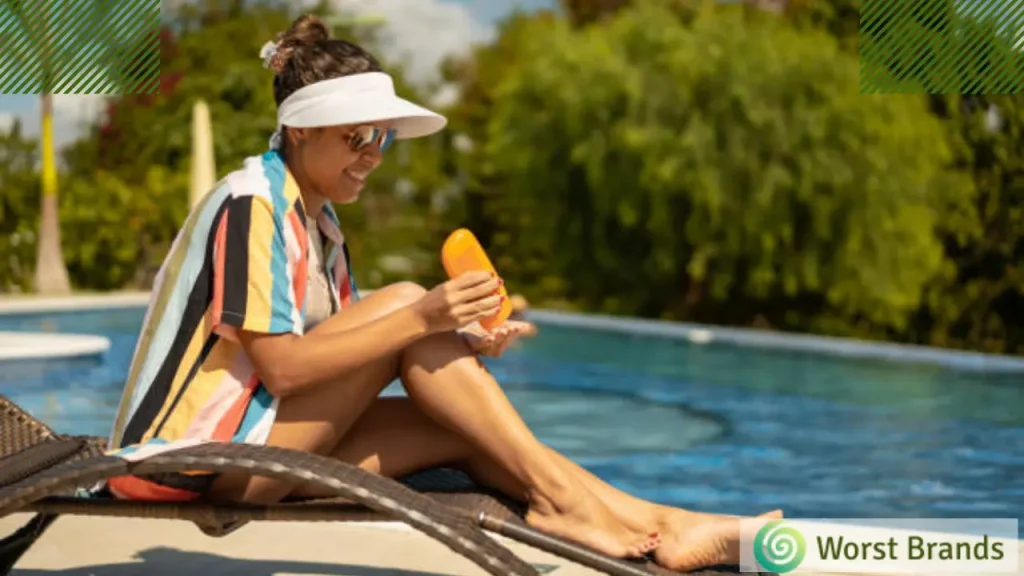 3. Traders joe's Nourish Spray Sunscreen SPF 50+
Next on the worst list is Traders Joe's Nourish Spray SPF50+ because it contains a few concerning ingredients. It has active chemical elements which are not safe to use on the skin.
As mentioned earlier, Oxybenzone can cause several health issues, including hormonal disturbances.
Moreover, it is a bit sticky after applying it to the skin. The price is slightly higher than its alternatives, which provide the same quantity at a lesser price.
Furthermore, it is extra drying on the face for normal to dry skin customers and runs out quickly. You have to apply the product repeatedly because it is not long-lasting.
If you have sensitive skin, you'll also notice breakouts. If you want people to consider that you rolled in oil, you might choose this one because your body looks so shiny after applying this product.
Main Reasons to Avoid:
Toxic chemicals.
It feels sticky.
4. Walgreens sports continuous spray sunscreen SPF 50
Another on our list is Walgreens SPF 50 sunscreen. The brand claims no use of toxic chemicals in its sunscreen.
But when we researched this, we found this statement wasn't true. Many customers complain about having rashes after applying this sunscreen.
The smell is also like harsh chemicals and toxic waste. Do not apply it to kids' skin because it may burn their skin. The harmful chemicals in the product can also damage your hair.
Most users state that their hair seems like they were soaked in bleach for hours when they get in touch with this sunscreen on the neck.
So make sure to prevent this product from getting in your hair. It'd be better not to spend your hard-earned cash on this product.
Main Reasons to Avoid:
Harsh smell.
Toxic chemicals.
Not suitable for sensitive skin.
5. Hawaiian Tropic Silk Hydration Clear Mist Spray Sunscreen, SPF 15
The last one on our list is Hawaiian Tropic Silk Hydration Clear Mist Spray Sunscreen, SPF 15.
The brand claims to have no toxic substances in the product, but the research says the opposite. The users have felt sunburns even after applying this sunscreen.
It shows that it is not absorbent enough and does not stick well on the skin. You have to spray a thick layer; otherwise, it will not protect you. Moreover, the smell is strong and not suitable for asthma patients.
Furthermore, it is advertised as chemical-free, but it contains octocrylene, which is harmful to reefs.
Another problem is it disappears quickly. So you have to apply it in sufficient quantities to cover all the spots.
Main Reasons to Avoid:
Contains toxic chemicals.
Not absorbent enough.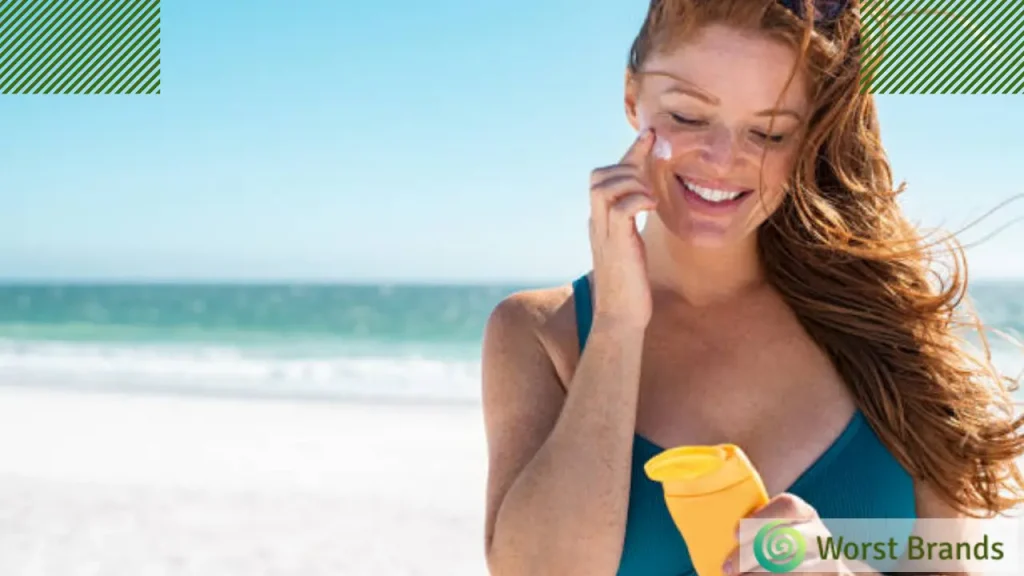 3 Reliable Sunscreen Brands (Our Pick)
Many sunscreen brands promise to provide quality at any cost. Being the best alternative, they tried their best to deliver your wish list products at marked-down prices.
It is not possible to expect the same quality from each brand. But we hope our recommendation list will help you buy quality products at affordable prices.
1. Kiehl's Activated Sun protector Lotion SPF 30:
The first best alternative on our list is Kiehl's Activated Sun protector Lotion SPF 30. It is a lightweight gel-like texture for the face and body that provides your skin protection from the sun.
It has Filter technology with antioxidant protection that allows the skin to protect itself from solar radiation and UV rays.
The non-comedogenic sunscreen is free from paraben and fragrance and suitable for all skin types, including sensitive.
Now, you don't have to buy two separate sunscreens, one for the skin and another for the body, because they can be used on the skin and face.
Try this one if you are fed up with applying heavy and greasy sunscreen. It won't disappoint you.
Moreover, it absorbs quickly and leaves no residue on the face. If you want to maintain your skin smooth and not feel a burning sensation, add this sunscreen to your collection.
Main Reasons to Pick:
Lightweight and easy to apply.
Absorb quickly.
Suitable for all skin types.
2. Sun Bum Spray SPF 50
The Sun Bum Spray SPF 50 contains all the essentials needed to protect your skin from UVA/UVB rays and enrich the skin with vitamin E.
Vitamin E is an antioxidant that works as an antioxidant that helps neutralize free radicals that cause premature skin aging.
It smells excellent while providing great coverage to all skin areas. After applying this sunscreen, your skin will not look oily and greasy, which means it works smoothly on the skin. A lightweight, easy to blend formula is also suitable for your little one.
A vegan and reef-friendly product is suitable for all skin types, whether medium tone or fair. Moreover, it doesn't cause any breakouts.
If you want to enjoy your beach vacations with the great scent of sunscreen, grab your hands on this product.
Main Reasons to Pick:
Smells great.
It isn't greasy and oily.
UV rays protection.
3. Equate (Walmart) Ultra lotion SPF 50
Now you can enjoy a beautiful sunny day without worrying about sunburn and overexposure.
Equate Ultra Broad-spectrum lotion SPF 50 protects you from UV rays with its non-greasy and quickly absorbent formula.
It safeguards you from harmful rays such as UVA/UVB and prevents you from sunburn and other skin diseases.
Using the formula according to the given measure will reduce the risks of skin cancer and premature aging caused by the sun. The SPF 50 has water resistance for about 80 minutes.
An effective formula is suitable for all skin types, including sensitive ones. Get your hand on budget-friendly sunscreen that promises to provide complete protection to your skin.
Main Reasons to Pick:
Protection from sunburn and overexposure.
Budget-friendly.
Non-greasy.
You may like to know:
Conclusion:
We have tried to cover all the brands you should avoid while shopping for sunscreen.
Ensure you know about the sunblock ingredients because toxic chemicals can lead to several health issues, such as asthma.
Keep in mind what you are looking for. From brand to the price range, check everything before buying.
There are various options available you can choose according to your needs. We hope that you'd like our suggestions.