Biolage is one of the few shampoos that people actually rely on, and it has been a staple in the hair care routine of most influencers in the past few months.
It is a very gentle shampoo which is why most people love it.
But, if you are planning on buying this shampoo but are not sure about it, keep reading because this Biolage shampoo review will clear your confusion completely.
So, let's get right into it:
Matrix Biolage Shampoo Review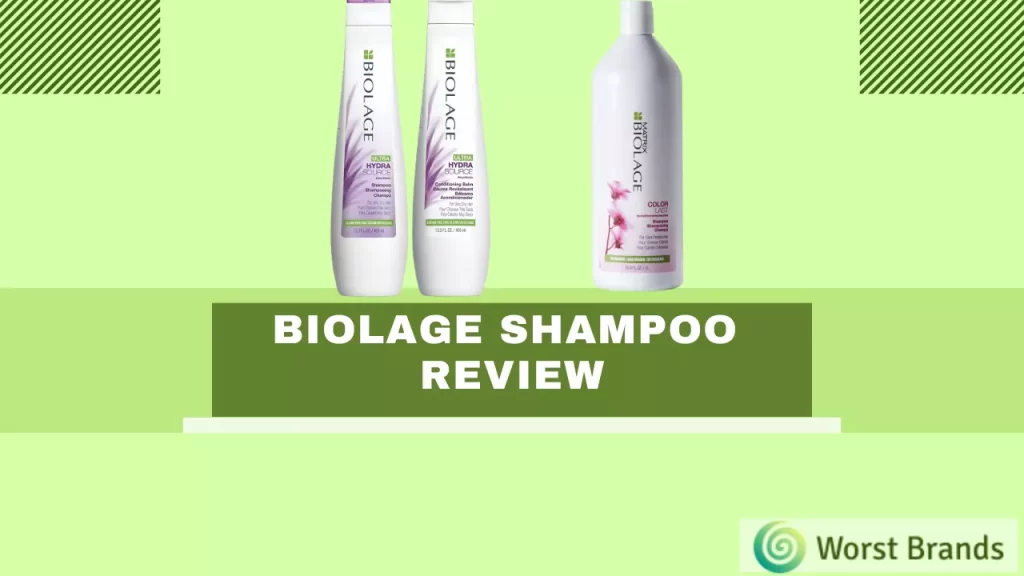 Related: List of Bad Shampoos
Description of Biolage Shampoo
Biolage shampoo is a very mild but deep cleansing shampoo that is free from paraben and silicone.
It is also vegan, which means it is great for people who don't use animal-derived ingredients. The shampoo is perfect for giving your hair a deep cleanse every other day.
Biolage shampoo is made specifically to make your hair shiny and healthy. It also makes the hair super-manageable, and the brand claims that it shields the hair against excessive humidity.
This shield concept is great because most brands don't even consider excessive humidity a problem, let alone address it.
It will not strip your hair off of moisture that most shampoos do, and it locks in hydration and humidity.
Your hair will feel a lot less frizzy after washing them with Biolage shampoo, and there will also be a substantial decrease in dryness.
The fragrance of this shampoo is great and is not very overwhelming or artificial.
Using this shampoo with a conditioner and hair mask would certainly increase its effects. But Biolage shampoo on its own also works pretty great.
One of the biggest plus-point is the price of this shampoo because you get quite a lot of products at such a reasonable rate.
It is rare to find a shampoo at a pocket-friendly price that does not compromise on quality and is made ethically.
Does Biolage Shampoo Work? Based on Customer Reviews
The users have given this shampoo 4.6 out of 5 stars which is an accomplishment for the brand as it has 2194 ratings.
It means the majority of these 2000 people would have loved this shampoo.
Some people have been using Biolage for years, and they still love it because it does the job and does not damage their color-treated hair.
Some buyers also say that their hair has never felt better. After they started using Biolage, they started loving their hair. Even people with coarse and dry hair totally swear by this shampoo.
Those who have extremely dry shampoo have found Biolage to be very soothing, and it has also made their hair more manageable.
I have found the perfect shampoo, says a user with 4c hair. The people who cannot stay in humidity as their hair start getting frizzy have also found this shampoo very helpful.
Once they shampoo their hair with it, the frizz reduces a lot and does not come back for a while, a user says.
While some people are totally raving about this shampoo, there are others who are not completely on board with it. A user of Biolage shampoo pointed out that it contains sulfates.
Now, we all know that sulfates are needed in some shampoos, but the haircare community agrees that they are bad for your hair.
Another user complained that this shampoo caused an extreme hair fall. Her hair started falling rapidly as soon as she started using this shampoo. Then she stopped using it but gave it another go and again faced the same situation.
Though not a lot of people have complained about hair fall, it is possible that the person is allergic to some ingredient used in the product.
Benefits & Drawbacks of Biolage Shampoo
Benefits
Makes the hair manageable
Reduces frizz
Makes the hair smooth
Free from parabens
Vegan
Drawbacks
Contains sulfates
It might cause a minor allergic reaction
Is Biolage a Salon Shampoo?
Yes, Biolage is a salon brand, and it is mostly recommended by hairstylists or hairdressers.
The purpose of this brand is to bring the "clean beauty" concept to the hair industry. Also, the brand claims that they care deeply for the environment and they prefer ethically sourced products over anything else.
Also, Biolage is known to team up with different salon owners, and these collaborations help them both to grow.
And obviously cannot argue with the fact that Biolage actually is a great hair care product.
Not many shampoos can compete with Biolage in the salon industry because it is not only a unique brand, but it does what it says. All the products by Biolage work, and they are reasonably priced too.
If you look at the shampoos by other salon brands, they are expensive to the extent that a regular person or student cannot even buy them.
But, Biolage has introduced this concept of reasonably priced products to the salon industry, and we are here for it.
Read here our review on Shampoo Brands:
FAQs (Biolage Shampoo Review)
Q.1: Is Biolage used for professional treatments?
Yes, most salons use Biolage shampoos and conditioners for professional hair treatments. Biolage shampoos ensure that the hair remains healthy and does not get damaged by excessive exposure to sun, humidity, or heat.
Q.2: Is biolage shampoo good?
Yes, Biolage shampoo is legitimately good based on the customer reviews. Everyone seems to be loving this product, and it certainly does what it says; otherwise, you cannot have so many positive ratings if the product is not good enough.
Q.3: Does Biolage shampoo contain sulfate?
Yes, Biolage shampoo does contain sulfate, which by far is the only negative point that it has. Other than that, it is free from parabens, artificial coloring, and silicones. So, if shampoos with sulfate don't suit you, then it is better to avoid Biolage.
Conclusion:
All in all, Biolage is a pretty good shampoo brand, and people seem to be loving all its shampoos so far.
It suits almost all hair types so, everyone can use it, but it does contain sulfates, so just watch out.
If you are planning on buying this shampoo, you surely should give it a go.
According to reviews on the internet, this shampoo is worth every penny. Also, it does not damage your hair, and what else do you need?