Do you get lost in front of the supermarket's long aisle of shampoos? We are aware of the situation.
However, identifying your hair type and needs will help you choose the right shampoo. Our hair requirements are ever-changing, reflecting our present lives. 
Aveeno shampoo has a pleasant smell; it makes a gentle foamy lather. The shampoo cleans your hair and scalp of dirt, oil, and chemical build-up.
If you've been complaining about your rough, dry, lifeless strands, then someone might in your friend circle recommend Aveeno shampoo to you.
Aveeno shampoo is available in various formulations to address specific scalp and hair issues.
Because of the varied opinions, most users find it challenging to choose from a wide range of Aveeno shampoos.
Well, I have been using it for quite a while, and now I am writing an Aveeno shampoo review based on my personal experience and consumer feedback.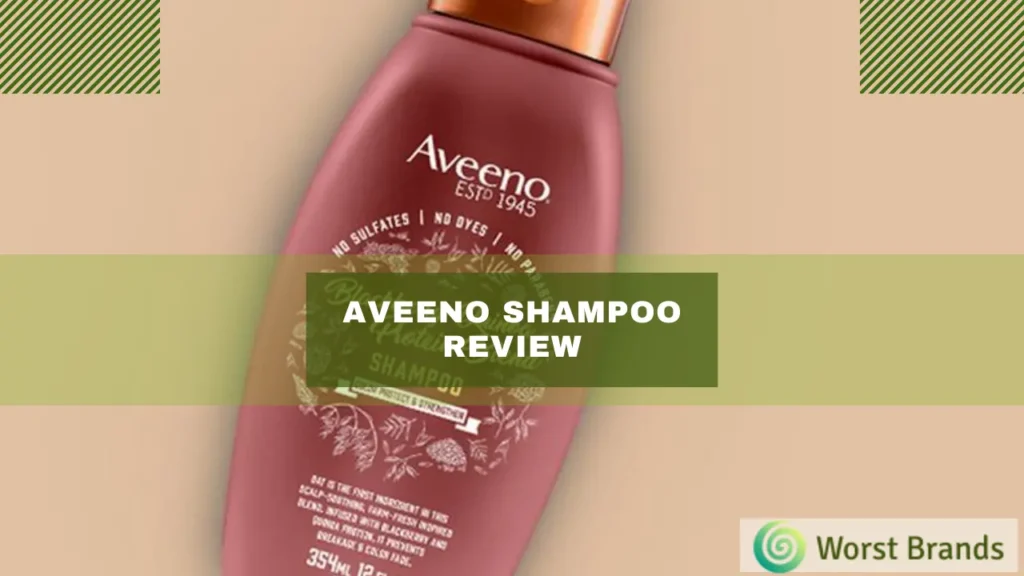 About Aveeno Shampoo Brand
In 1945 two American brothers, Sidney and Albert's musher, are studying the benefits of oat.
Because of its capacity to soothe and nourish the skin, oat has been utilized in skincare since ancient times.
The brothers discovered finely milled colloidal oatmeal to be effective in treating dry skin.
The AVEENO® trademark was created after the pioneering work of Mayo Clinic dermatologists was recognized.
Aveeno is among the few healthcare brands with a reputation for dermatologically verified, hypoallergenic products.
The company claims Aveeno shampoos contain oatmeal and natural shea butter, both relaxing.
They not only effectively wash your hair and scalp, but they also help to seal in moisture, allowing your hair to remain naturally silky, strong, and healthy.
While the product has plenty of great features, the real question is, is the popularity worth it?
We will explore that question in this Aveeno Shampoo review.
Aveeno Shampoo Review
There is a vast range of Aveeno shampoos for different hair types.
In this post, we've compiled a list of some top-rated Aveeno shampoos according to personal and Customer reviews.
It will help you find the one that's right for your hair type and texture and the one that is just hyped. So let's dive into the explorer world. 
1. Aveeno Scalp Soothing Oat Milk Blend Shampoo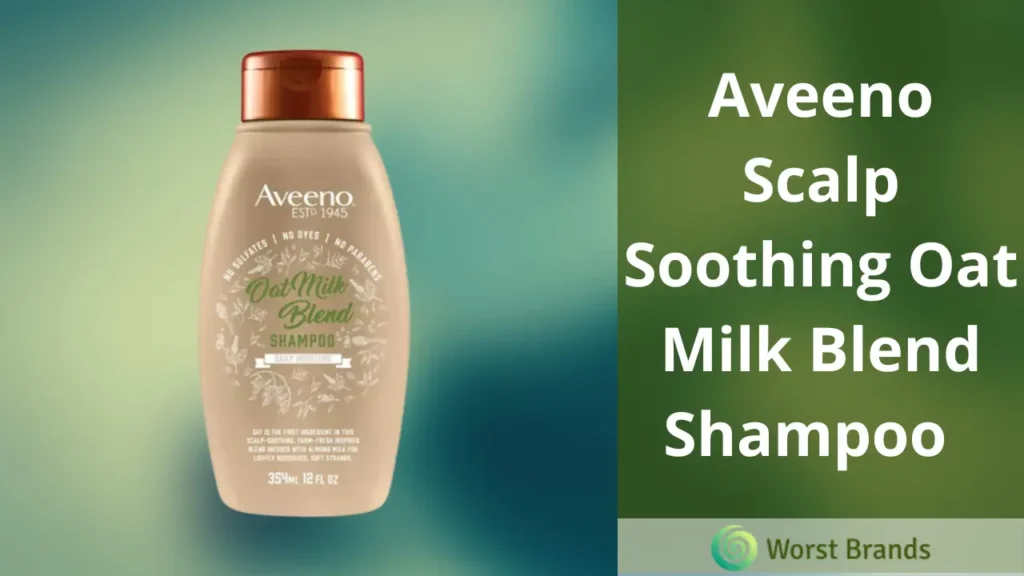 Aveeno's scalp-soothing oat milk shampoo hydrates your hair daily.
This Aveeno Shampoo is free of hazardous ingredients like dyes, sulfates, and parabens; it's safe to use on natural or color-treated hair daily.
This nature-inspired shampoo, made with various natural ingredients, gives each strand the appropriate balance and smoothness from root to tip.
One of my friends has been using it for some time now, and she reviewed, "it is on my favorite list.
My hair doesn't feel heavy or left greasy. This shampoo has a beautiful vanilla scent.
My scalp is susceptible, and itching and my troubles have entirely vanished. After using it, my hair feels clean, silky, and shining".
If I side with her review of the shampoo, some other consumers don't show so much trust in the product.
One reviewed that "it's like she washed her hair with some cheap body bar soap."
The other stated, "It didn't have a nice lather and left my hair feeling dirty as if I hadn't washed it in a long time. I believe it is excessively thick". 
Aveeno Scalp Soothing Oat Milk Blend Shampoo got a 4.5 star out of 5. It means 72% of people recommend it, and the rest don't find this shampoo suitable for them.
2. Aveeno Scalp Soothing Apple Cider Vinegar Blend Shampoo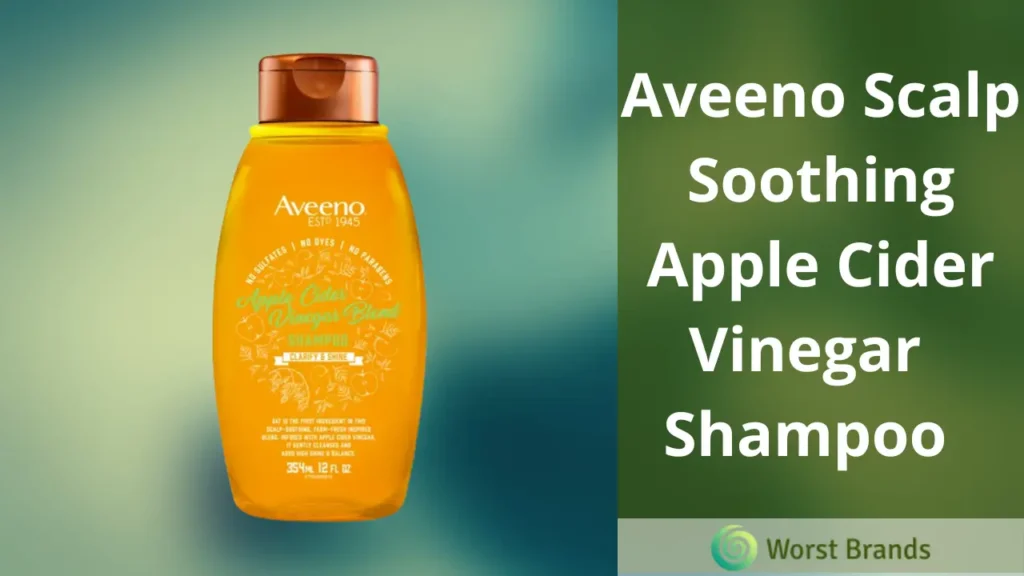 In this scalp-soothing shampoo, colloidal oat extract is the first ingredient. Its one-of-a-kind mix contains apple cider vinegar, which helps to boost shine from root to tip.
It softly washes and gives volume to your strands, making it ideal for greasy or dull hair.
This sulfate-free balancing shampoo is color-safe and free of colors and parabens.
This shampoo works wonder for oily hair. As I, too, have an oily scalp. My hair feels clean after using the apple cider.
This shampoo, I believe, has made a positive difference in my hair. Hair does not get highly oily if you go three days without shampooing. It softens and nourishes my hair.
Another happy customer noted, "ACV shampoo makes the hair soft. It also helps strengthen the hair and eliminate frizz, making it easier to manage."
However, based on the negative review. Several customers have claimed that the shampoo has caused more hair fall and dandruff.
A customer said, "It greatly irritated my scalp," in one bad check! My scalp was covered with large flakes, which made it quite itchy. After using it, my hair became sticky and oily." 
According to one claim, "I noticed my hairline was narrowing, and when I showered, there was a lot of hair in the drain and my brush. My hair seemed to be drying and not hydrated properly."
Aveeno Scalp Soothing Apple Cider Vinegar Blend Shampoo received a 4.4 out of 5-star rating.
This suggests that just 78% of people recommend this shampoo, while the rest think it's a mismatch.
3. Aveeno Pure Renewal Shampoo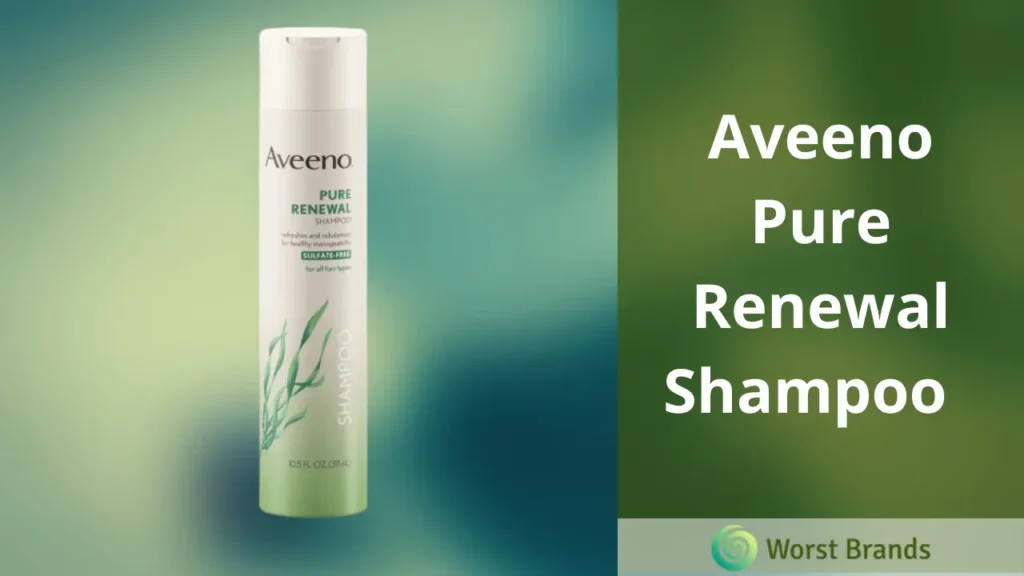 The Aveeno pure renewal shampoo contains seaweed ingredients for further benefits. This moisturizing shampoo is sulfate-free and ideal for all hair types.
It aids in the maintenance of the hair's optimal moisture level, resulting in healthier-looking hair after each wash.
This balancing shampoo is safe for colored hair and makes your hair silky and manageable after styling.
Aveeno pure renewal shampoo has received mixed reviews. Customers who are pleased with this product have expressed their gratitude. "It made my hair look fuller and cleaner!
This shampoo has a wonderful scent and removed the same product buildup from my hair without leaving it dry and gnarled."
One happy husband describes his joy "my wife adores this product; she likes how it softens and conditions her hair; the scent is pleasant.
She loves how silky her hair feels now that she's not using all those harsh chemicals."
Well, every coin has its other side. Also, the unhappy customers reported, " I couldn't even comb it after showering.
My drain is plugged since I've lost so much hair. This shampoo irritated my skin and resulted in significant hair loss."
The other said, "I felt so itchy after using this shampoo!! Just to get some relief, I feel like I need a wire brush on my head. The shampoo is very thick, making it difficult to get it out of the bottle."
Aveeno pure renewal shampoo received a 4.3/5. This means 70% of people recommend this shampoo, and others have disagreed with its best qualities.
Is Aveeno Shampoo Worth Buying?
Yes, Aveeno shampoos are worth buying. They are made of high-quality ingredients and are available for all hair types.
We have used several shampoos from the brand, and they have worked well.
Aveeno is a dermatologically-tested brand. All of its products are tested to be up to the mark. They are safe and made from quality ingredients.
Aveena shampoos come in several flavors for different hair types. They have different products for kids as well as adults.
Most of their formulas are made of fresh and nutritious ingredients, like milk, quinoa, almond, oat extract, etc.
Also Read:
Is Aveeno Shampoo Good For Curly Hair?
Yes, Aveeno has several shampoos that are good for curly hair types. These include the Oil Hydrating and Kids Curly Hair shampoo with Oat Extract & Shea.
I used the brand's shampoo for adults' curly hair, which worked exactly as I expected.
Aveeno has 2 shampoos designed for curly hair. They improve the hair's manageability by making your head feel lighter.
The first one is Kids Curly Hair Shampoo with Oat Extract & Shea. As the name may suggest, it is ideal for children.
It is made of shea butter, providing the much-needed creamy formula to soften curly hair.
The shampoo does not use any harsh cleaners. Instead, it consists of oat extract that hydrates the hair and removes the frizziness.
Another similar shampoo is the Oil Hydrating Almond Oil Blend by Aveeno. It also uses oat combined with almond and avocado oil. Plus, it does not use sulfate in its formula.
The shampoo is free of any dyes or parabens. It utilizes the best of its blend by providing moisture to curly hair.
Aveeno Shampoo for Oily Hair
Aveeno does have a shampoo for oily hair. It goes by "Aveeno Apple Cider Vinegar Sulfate-free Shampoo." The product works well on oily hair.
It removes the excess oil from one's hair. However, you wouldn't lose the original shine in the process.
The shampoo maintains your hair color and vibrancy. It also works well with conditioners.
The Aveeno Shampoo for oily hair works effectively to offer soothing effects on hair. It has a very pleasant scent of Anjou pear, apple, and saffron.
The shampoo is designed specifically for adults' oily hair.
Moreover, it is infused with apple cider vinegar to strengthen one's hair from the root. Like all other Aveeno formulas, it is free of dyes, parabens, and sulfate.
Aveeno Shampoo For Itchy Scalp
You can solve the Itchy Scalp by getting your hands on the Aveeno Skin Relief Soothing Shampoo. It is made specifically to fix dry scalps.
The shampoo uses a formula to fix fragile hair. We have used this shampoo, and it also has some other benefits, like strengthening hair.
It works effectively on sensitive scalps as it is infused with colloidal oatmeal.
Aveeno Shampoo for itchy scalp does not use soap or any other highly concentrated ingredients in its formula. It is a mild formula that works gently on dry scalps.
The result of this shampoo can be observed even after one use. It leaves the hair shiny and soft.
Aveeno Shampoo For Colored Hair
Does Aveeno have a shampoo for color-treated hair? Yes, it does. It is known as Blackberry Quinoa Protein Blend.
As you may expect, this shampoo is made of several nutrients. All of them are necessary to maintain your hair color and vibrancy.
The best part of this Aveeno shampoo is that it preserves the color for a long time.
The Aveeno shampoo for colored hair is made of protein. It prevents color fading and strengthens the hair from the root.
Not only is it good for color-treated hair, but it also works well on heat-styled hair.
It provides an additional layer of protection needed to prevent hair damage during styling.
Is Aveeno Shampoo Sulfate Free?
Yes, all Aveeno shampoo formulas are sulfate-free.
Aveeno uses quality ingredients in its shampoos. Their products are sulfate-free. Plus, they also do not use any dye or paraben.
Hence, there are no side effects of using Aveeno shampoos. You only need to worry about choosing the right product for your hair type.
Pros And Cons of Aveeno Shampoo
Pros
Gentle enough to use every day
Clinically proven to treat itchy scalp
pH balanced solution
Skin-friendly
Sulfates, parabens, and dyes are not used in this product.
Beneficial for all hair types.
Cons
Those with severely sensitive skin may not be able to use it.
Some people may find it oily.
The odor may be too intense for certain people.
Is Aveeno Shampoo Cruelty-Free?
Unfortunately, Aveeno shampoos are not cruelty-free.
The brand has also mentioned it on its website. They may test on animals if the government requires it.
Aveeno shampoos do not conduct animal testing for all of its products. However, they do it if it is required.
They have mentioned that the quality or safety of their products will not be compromised by seeking alternatives to animal testing.
Final Verdict
Finally, we hope that you found this information helpful. Every person has a unique hair type. And there is a separate hair care routine for each type of hair.
Aveeno has a shampoo for every hair type that has been carefully designed. Oats are the first ingredient in each shampoo.
These shampoos don't include harsh chemicals like sulfates, parabens, or colors.
After reviewing every aspect of Aveeno shampoo, I urge you to try any of their products and see how they work!
Choose Aveeno shampoos that best suit your hair type and address your hair issues from our extensive selection.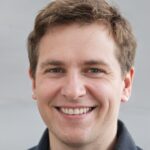 Steven Settles is a professional content writer with over 7 years of experience in writing for different niches, including brand reviews, technology, fitness, and more.
Currently, he is working as a content writer for WorstBrands, where he provides insightful reviews of different products, including home appliances, outdoor gear, fashion, and kitchen products. In his free time, Steven enjoys traveling and exploring new places.