As more and more people discover the joys of playing the piano, the market for these instruments has become increasingly crowded.
There are hundreds of piano brands available in today's market. Most pianos are assembled with inferior production methods and can be messed up in the music room.
Without knowing about the worst piano brands on the market, it is difficult to pick a quality option.
As per our experience, research and user feedback, the worst piano brands are Alesis, Costzon, Kurzweil, LAGRIMA & some low-profile Chinese piano brands.
Additionally, it is important to keep in mind that buying a piano is a significant investment and not just a regular household item.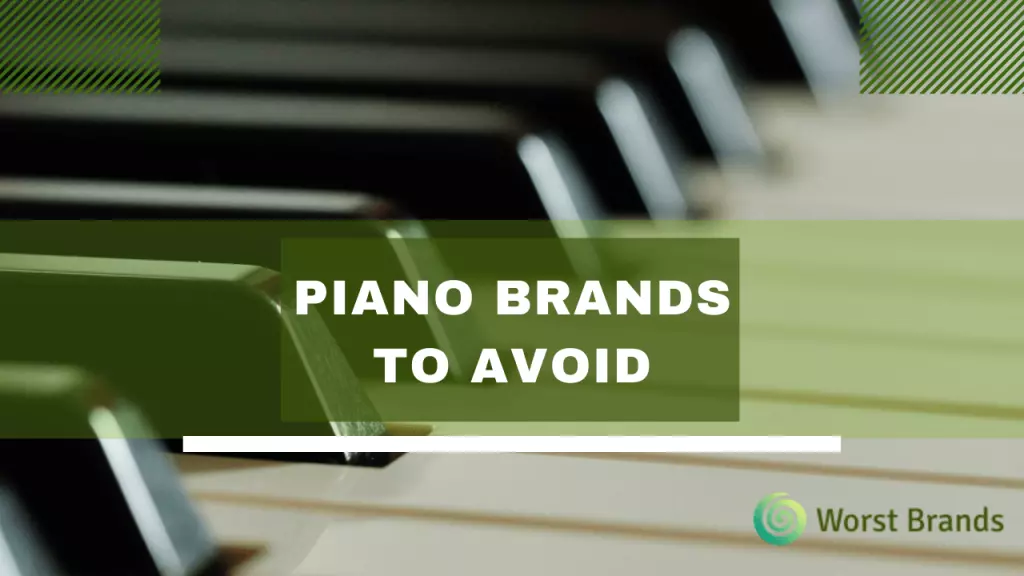 List of 5 Piano Brands to Avoid
Our expert team has tested and reviewed 20 pianos available on the market and out of these different brands and models we have shortlisted 5 worst pianos.
We have made this list of piano brands to avoid based on their performance, sound quality, durability and price.
Here is our list of the worst pianos to stay away from.
1. Alesis Digital Pianos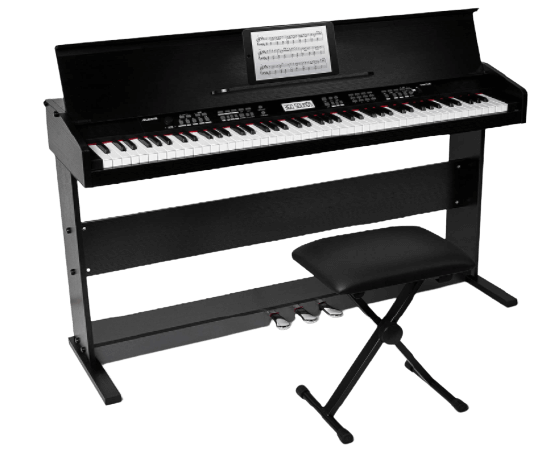 Alesis is known for its electronic musical instruments at affordable price ranges. But their Digital pianos got a negative response from many of their users.
The Alesis Virtue is an 88-key beginner digital piano that lacks sound consistency and may ruin your performance.
The following are the reasons to stay away from this brand.
Variation in sound and often drops in volume
Some keys stop registering sound after a few months
The keys are very flimsy and fall off easily
The build quality is poor; especially since the H stand is too fragile
2. Costzon Digital Pianos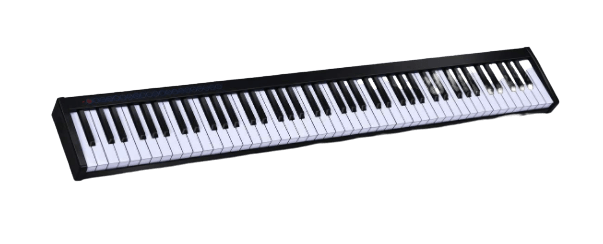 Costzon Pianos are cheap in price and performance as well. Most of their pianos are manufactured in China and produce mediocre sound quality.
The Costzon is an 88-key portable electronic piano that can be used by adults as well as professionals.
However, you must avoid it for the following reasons.
The sound quality is terrible
The keyboard is very flimsy, and some keys don't respond well
Slow to respond during rapid playing
If you press the same note multiple times, there will be variations, even if you apply the same pressure in each press
Build quality is also very cheap
3. Kurzweil KA90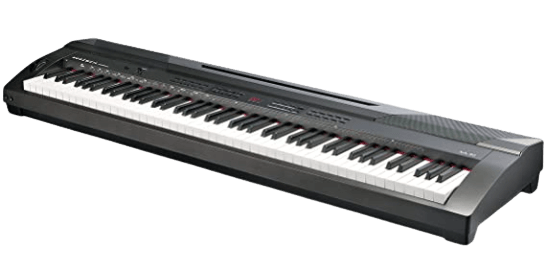 Kurzweil is famous for producing quality musical instruments at reasonable prices.
They have a vast list of satisfied customers. Yet, Kurzweil KA90 has failed to satisfy its users.
Check out the following drawbacks of this model.
Keys are heavier to press, which makes the deviation in the 'velocity curve.'
When you play chords, one note is louder than the rest
Its auto accompaniment is just a gimmick and doesn't provide harmonic or rhythmic support for the melody
The sound quality is also mediocre and feels like an artificial
4. LAGRIMA Piano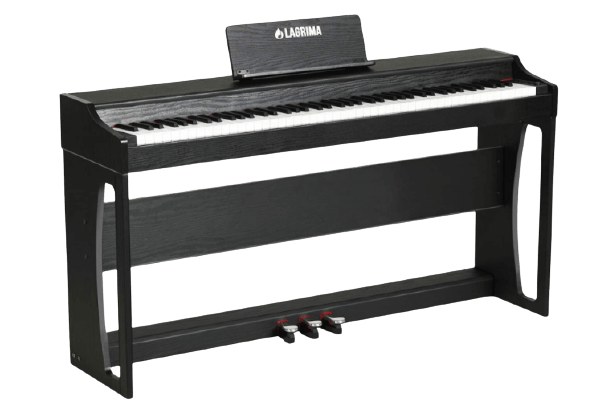 LAGRIMA is another Chinese piano company. They have a good reputation in the market for providing decent digital pianos at low prices.
But, the model LAGRIMA LAG-630 and LG-803 are not worth buying. The electronic pianos with 88 fully weighted hammer action keys.
The following are the reasons to include them in our list of the worst piano brands.
The sound quality is poor and inconsistent, with some background noises
The keys are sticky and too small and often don't respond well
Cheap plastic is used to make these pianos and the keys are very fragile and fall off quickly
These pianos are not reliable and stop functioning properly after a few months
In case of any issue, the company doesn't accept any valid claim made by its users
5. Avoid low-profile Chinese Brands: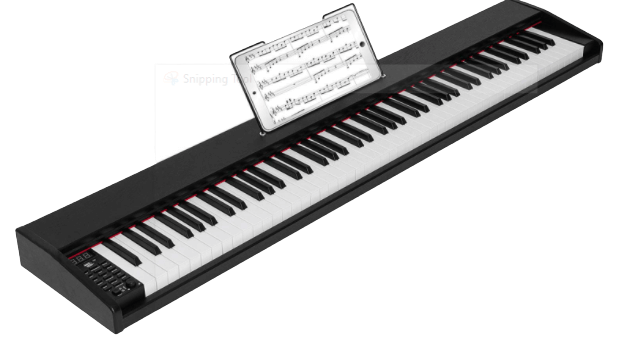 Don't buy a piano from a company whose name is unfamiliar to you. There are a number of fake sellers that exist on the online market. Chinese piano brands are available in the market at lower prices.
If you are interested in these brands, research the internet to find credible sellers with good reviews.
But most of these pianos are poorly manufactured. So you must not waste your money on any unreliable piano model.
However, these low-profile brands have low prices with multiple features, but they start making issues right from day one.
For instance, the sound deviation, the toughness of the piano keys, the sound of similar sounds from different keys, the fluctuation in volume levels on pressing the same key, and more.
Also, check the following posts:
Most Reliable Piano Brands

in 2023
Nowadays, the piano market is so saturated. So, it has become difficult to know the difference between the worst and most reliable pianos.
But, no need to worry, as our team has researched for you. Here is the list of our recommendations for durable piano brands.
1. YAMAHA P71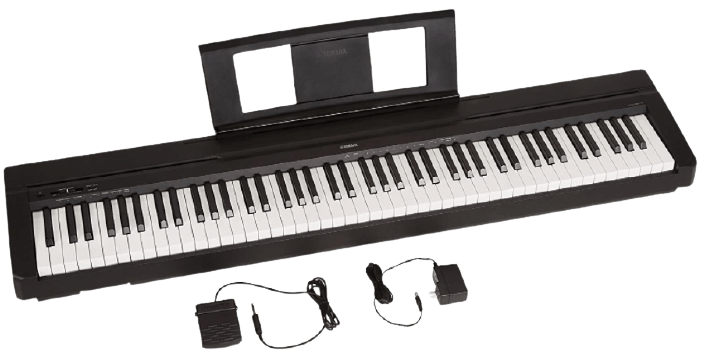 No discussion takes place regarding the quality digital piano brands without mentioning YAMAHA.
In today's world, they are one of the most reliable manufacturers with various versatile products.
The YAMAHA P71 piano has everything a pianist would like. It includes 88 graded hammer keys, a pleasing design, quality music, a decent range, and a built-in speaker system. Also, it is lightweight, compact, and easy to play with.
2. Casio PX-S1000
The Casio PX-S1000 is a great choice for beginners and amateurs to begin their musical careers.
It is an 88-key slim electronic console piano with triple-sensor hammer action keys.
The Privia PX-S1000 comes with a sustain pedal, sheet music stand, headphones AC adapter, and cushion bench.
3. Nord Piano 4

Nord is a well-known Swedish Piano company. They manufacture handmade pianos of top-notch standards.
Nord Piano 4 is a stage piano made for professionals and studios, with advanced features like multiple stacking and wavetable synthesis.
It is an expensive instrument, which is made with premium quality material.
Frequently Asked Questions
What features should I search for in a digital piano?
It relies upon your musical career objectives. If you want to be a pianist, you'll need a range of piano tones, an 88-note weighted console, a harpsichord, and other basic features.
On the contrary, if you aim to use the digital piano to organize, you will require a sequencer with an entire arrangement of instruments.
How long do pianos last?
On average, it lasts 40 to 50 years if you place a piano in a mild climate. However, if a piano is played 16 hours a day in a cold environment, it lasts ten years or less.
A piano's age relies on the piano's usage, how regularly you maintain it, and the environment wherein you have placed it.
Conclusion
Every brand has its distinct features and points of interest. Therefore, you must evaluate the importance of the piano in your life before rushing to buy it.
There are a number of low-profile brands available on the market. Mostly these pianos are assembled and manufactured using inferior quality material.
So, it is imperative to know the worst piano brands to avoid before making a final decision.
Never take advice from any sponsored shops and YouTube videos made by music shops selling pianos.
These shops only recommend to you the brands that they carry and that they are partners with.
So, It is crucial to take advice from experts or your music teachers because they are unbiased sources.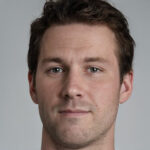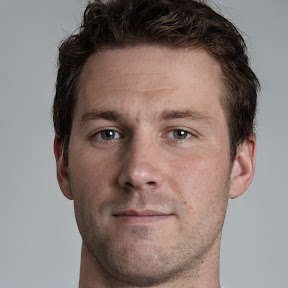 As the Lead Editor and Author at WorstBrands, Christopher Evans has earned a reputation for fearlessly honest brand reviews. Beyond his professional expertise, he takes immense pride in being a devoted father and embraces his insatiable wanderlust. With a passion for travel, Christopher's adventures influence his unique perspective on brands and their impact. His captivating writing not only guides consumers but also offers invaluable insights to companies looking to improve their products and services.