So you're sipping on your latte, and you look out the window to see an attractive autumnal scene—until you notice those pesky leaves cluttering up your lawn.
Now, if you think any leaf blower will do the trick, think again. Some leaf blowers can turn a simple yard cleanup into a full-blown disaster.
Today, we'll unveil the worst leaf blowers that will waste your time and money and test your patience to the core.
Let's be real: having a terrible leaf blower is the only thing worse than raking leaves by hand or dealing with dysfunctional lawn mowers.
Worst Leaf Blowers to Avoid
Based on performance, reliability, and battery issues, the worst leaf blowers to avoid are MAXLANDER, Alloyman, BLACK+DECKER, Tingmengte, SEYVUM.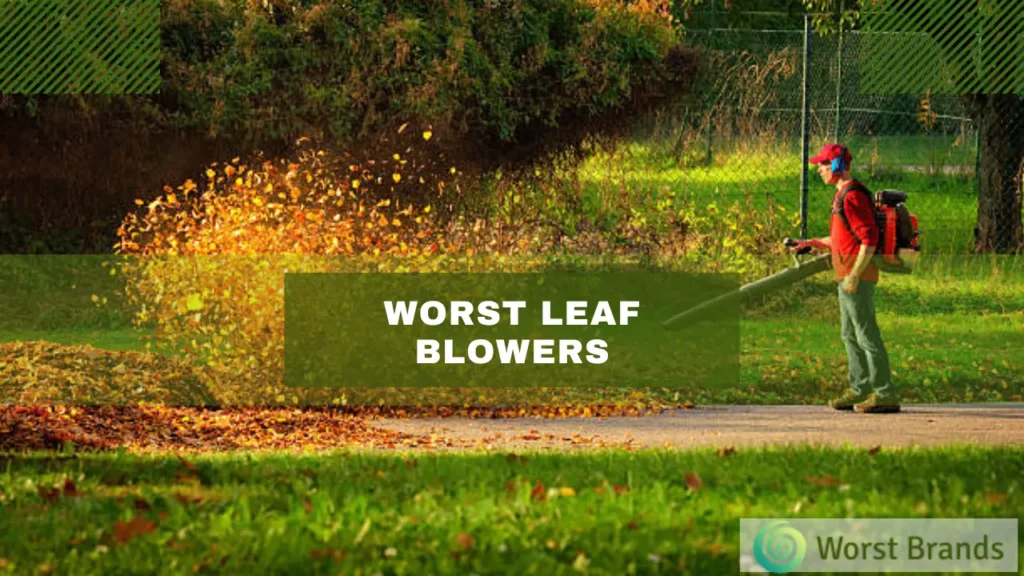 1. MAXLANDER Cordless Leaf Blower
The MAXLANDER Cordless Leaf Blower promises convenience with its battery-powered operation, but it needs to catch up in practice. One of its major drawbacks is the battery life.
Despite fully charging the batteries per the instructions, they only lasted 20 minutes.
And if you're hoping for customer service to resolve such issues, don't hold your breath; my attempts to contact the company were silent.
As for the vacuum bag that comes with this leaf blower, it's far from durable. It developed holes after just 5 uses, spewing out leaves and dust as I was trying to clean my yard.
To make matters worse, the machine showed clear signs of poor construction when smoke began emanating from the engine, forcing me to halt my yard work.
Overall, its unreliability and lack of customer support make the MAXLANDER Cordless Leaf Blower a prime candidate for the bad cordless leaf blowers.
If you're looking for a dependable, efficient leaf blower, I'd recommend steering clear of this one.
2. Alloyman Leaf Blower
Opting for the Alloyman Leaf Blower was a decent idea, given its 2-in-1 leaf blower and vacuum functionality. However, disappointment quickly set in upon first use.
A significant design flaw exposes the air intake fan, a hair trap waiting to happen. I've used multiple leaf blowers before and have never encountered this hazard level.
Another point of contention is the poor ergonomics—its handle lacks balance, making the device cumbersome.
The instruction manual is also unhelpful, completely omitting any information about the dust collection bag.
Construction quality also leaves much to be desired. Parts, particularly the blower tubes, do not connect securely, requiring DIY solutions like duct tape to maintain integrity during operation.
If you thought dealing with duct tape was only for generator mishaps, think again.
If you've tossed the box like I did, you'll be stuck with a product that feels more like a puzzle than a helpful yard tool.
Even worse, its air pressure falls noticeably short, rendering it ineffective for blowing leaves.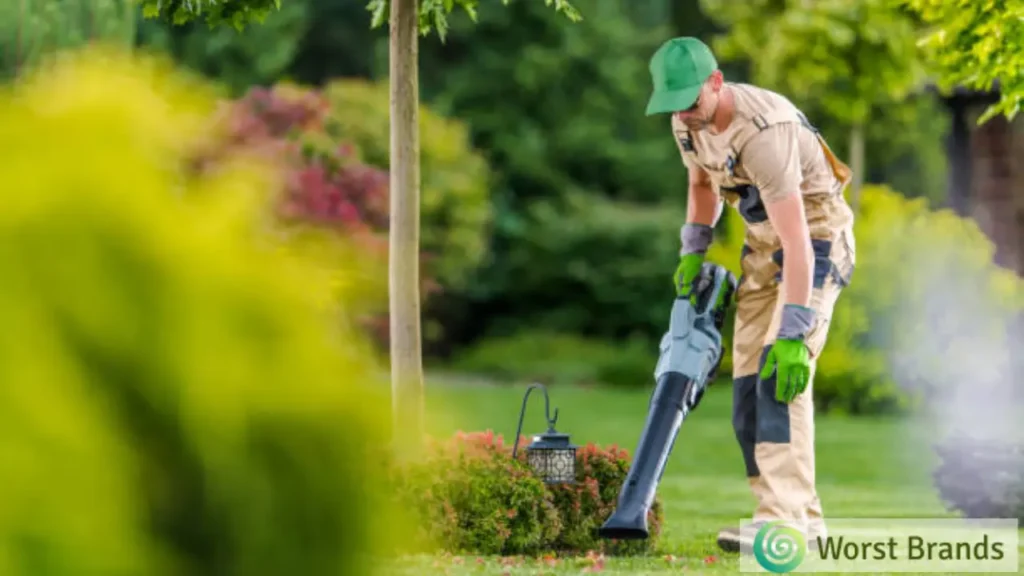 3. BLACK+DECKER 20V MAX Cordless Leaf Blower
I was drawn to the BLACK+DECKER 20V MAX Cordless Leaf Blower for its reputable brand and promise of up to 90 MPH wind speed.
Though, I found that its capabilities didn't match the brand's reputation.
One glaring problem is the battery life—on a full charge, I barely got 5 minutes of high-speed operation before the unit shut off. This issue persisted even when I tried swapping out batteries.
Considering I own other battery-powered tools from BLACK+DECKER that perform well, this was particularly disappointing.
Despite its lightweight and adjustable speed features, the limited battery life significantly compromises its functionality.
I've used other leaf blowers with similar battery capacity, and they lasted for a reasonable amount of time.
In contrast, the quick overheating and shutdowns are why it is one of the worst cordless leaf blower brands.
4. Tingmengte Cordless Leaf Blower
Next on our list of the least reliable leaf blowers is the Tingmengte Cordless Leaf Blower.
Here again, the battery issues are persistent, making it difficult to recommend for sustained use.
The unit may boast a lightweight design and a high speed of 150 MPH, but it falls short in real-world applications.
Users continually repress the trigger as it cuts out after a few seconds, disrupting the workflow.
Moreover, a full battery charge barely provides 3-4 minutes of operation, reducing its utility for even the smallest of yards.
Charging the device also presents challenges; numerous users have reported that the charger appears defective and unresponsive.
In terms of customer service, the experience remains underwhelming. Many have found themselves waiting days for an email response that never comes.
Adding to the list of drawbacks, there have been instances where customers received units showing signs of previous use, although they were ordered as new.
Given these consistent issues, especially with battery life and customer service, avoiding this leaf blower is better.
5. SEYVUM Leaf Blower
Despite boasting a 580 CFM air flow capacity and a seemingly decent noise level of 65 dB, the SEYVUM Leaf Blower leaves much to be desired in terms of functionality.
One glaring issue is the force of air; users report that it's simply insufficient for any serious yard work.
Specifically, the device offers 3-speed settings, but even the highest setting struggles to move small gravel, making the first 2 settings virtually useless.
Another concern relates to battery removal. Users have noted that detaching the battery from the unit requires excessive effort, pointing to a poor design choice that affects overall usability.
In short, due to the issues with power and design, this SEYVUM model isn't one to consider for reliable lawn care.
Conclusion
Before you make a decision you might regret, let's have a quick reality check.
You've got the lowdown on some of the worst leaf blowers: machines that promise the moon but barely lift a leaf.
Don't let your autumn sanctuary become a stress zone by choosing a leaf blower destined to let you down.
The wrong choice won't just cost you money; it might also take a toll on your patience and weekend relaxation. As you've seen, even established brands can miss the mark.
After all, you wouldn't also settle for a subpar chainsaw or bad mop brand. So, make the wise choice: invest in quality and reliability. Your perfect autumn yard and your peace of mind depend on it.
To spare yourself the headache, aim for quality and reliability. Your perfect autumn yard and peace of mind depend on it.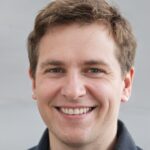 Steven Settles is a professional content writer with over 7 years of experience in writing for different niches, including brand reviews, technology, fitness, and more.
Currently, he is working as a content writer for WorstBrands, where he provides insightful reviews of different products, including home appliances, outdoor gear, fashion, and kitchen products. In his free time, Steven enjoys traveling and exploring new places.