WorstBrands.com is a participant in the Amazon Services LLC Associates Program, an affiliate advertising program designed to provide a means for sites to earn advertising fees by advertising and linking to Amazon.com
Are you still unsure about Volador's quality or which Volador longboard is best for you? Well, our Volador longboards review can help you in removing all doubts you may have.
Today, they are one of the top longboard sellers on the market. The reason for their popularity is the high quality, unique graphics, pocket-friendly prices, and most importantly, their boards are easy to ride. Although their boards are best for all levels but it is a top choice for beginners.
Let's find out the top 3 Volador longboards with pros and cons in our review and see which one would be best for your riding level.
Volador Longboards Review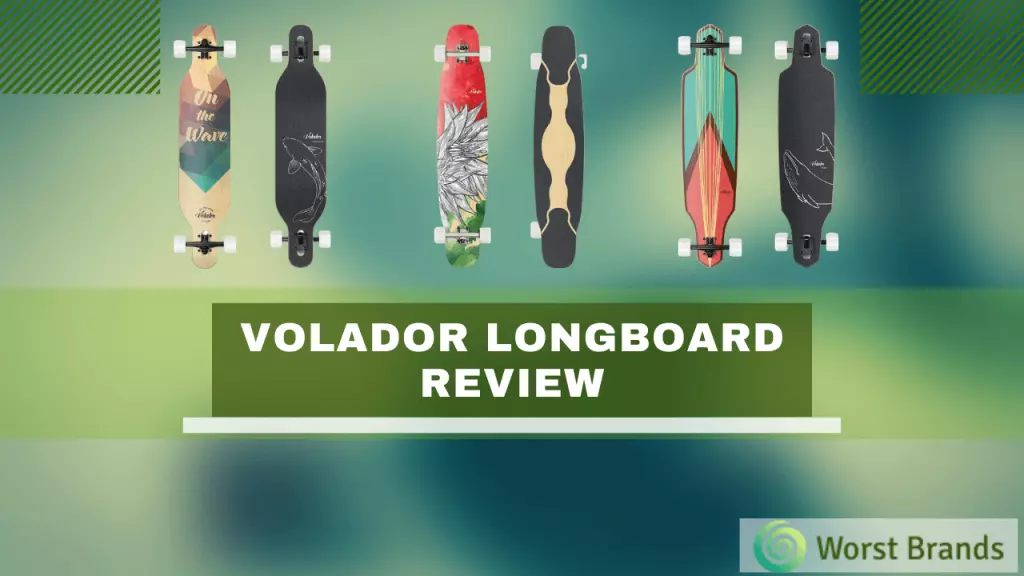 Note: While making a Volador longboard review, we gathered feedback from all levels of riders, from beginners to pros. We also conducted online social media surveys to know the users' experience with the brand.
1) Volador 42-inch Freeride Longboard
Let's start with the best Volador freeride longboard. This board is perfectly suited to beginner riders who want to take their boarding experience to an advanced level.
Volador's 42-inch Freeride Longboard is built for speed and can be used for downhill riding, carving, commuting, and cruising. This board is preferred by almost every rider because it allows them to go at great speeds to any place they like.
Construction
The board's deck is made of high-quality wood, with 8 layers of hard maple, which is fixed with epoxy glue for further strength. It is 42 inches in length and 9 inches in width.
So, the deck gives sufficient room to set your feet on the board since the dimensions and size of the board play such an important part in deciding the level of comfortability and stability while riding.
Moreover, its durable deck offers you excellent flexibility and shock-absorbing features that lead to amazing performances.
Because of the deck's excellent wheel flares, it avoids any wheel bite and lets you do fast turns from any angle. As a result, you may have a perfect downhill ride and cruising.
Shape & Design:
This drop-through is designed to provide you maximum balance while carving without the risk of wheel bite. The board's grip tape keeps your feet solid and steady.
The Volador freeride longboard can easily withstand the weight of 250 pounds.
Another thing that makes these boards stand out is their unique artwork. They have such a vast array of interesting graphics designs at cheap costs.
Wheels & Bearings
The wheels of the Volador Freeride Longboard are made of polyurethane with a 78A hardness rating. The size is 70mm x 51mm, which is big enough to sustain large bumps and ideal for hard terrain, especially when going downhill.
When it comes to the bearing, they are made from Chrome steel with very high-quality ABEC 7 bearings. They have a lot of strength and can easily turn.
2) Volador 46-inch Maple Dancing Longboard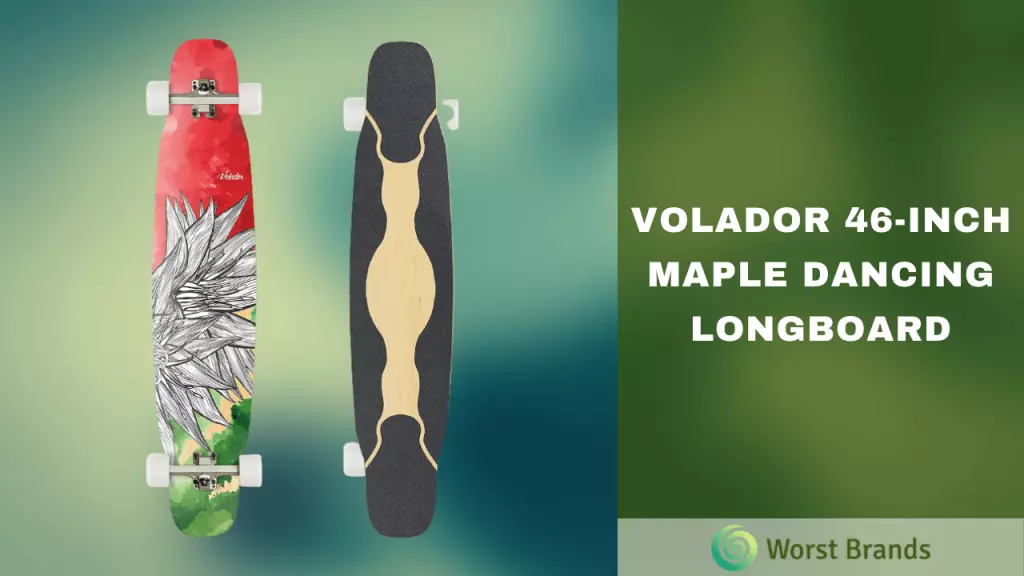 The second one in our review list is the Volador 46 inches Maple Dancing Longboard. If you are the type of rider who likes to dance on the board and looking for a quality board within budget, it is a perfect choice for you.
The Volador dancing longboard is dedicated to the riders to perform stepping tricks with complete freedom and allows you to carve smoothly.
Construction
Since it is a dancing board, the deck is built from the flexible 8 layers of hard maple, making it sturdy enough to hold heavyweights. It can support a weight of 250 pounds without affecting the board's longevity.
As you can see in the name, the deck is 46 inches long and 10 inches wider, which means you will have ample space to perform stepping tricks on the board. A longer deck means more flexibility and shock-absorbing capability on rough and hilly roads.
Its large deck makes your ride more balanced, comfortable, and safe. Also, it lets you perform various tricks on the board without any embarrassment.
Shape & Design:
The shape of the board is slightly concave, which is designed to do powerful paddling acceleration. Moreover, its wheel wells and raiser pads reduce the risk of wheel bite.
When it comes to designs, the Volador advanced longboards are eye-catchy due to their unique designs and artwork. They have a wide range of designs to select, depending on your preference. Their range starts from simple vintage designs to avant-garde designs.
Wheels & Bearings:
This 46-inch longboard has PU (polyurethane) wheels, which is an extremely durable material. The wheel is 70 x 51mm in size and has a hardness rating of 78 that ensuring the stability of your board on a bumpy surface.
The board has ABEC-9 bearings that make it easier to make quick movements when riding at high speeds.
This dancing longboard also includes adjustable 7-inch genuine aluminum reverse kingpin trucks, which give you more control.
3) Volador 40-inch Maple Longboard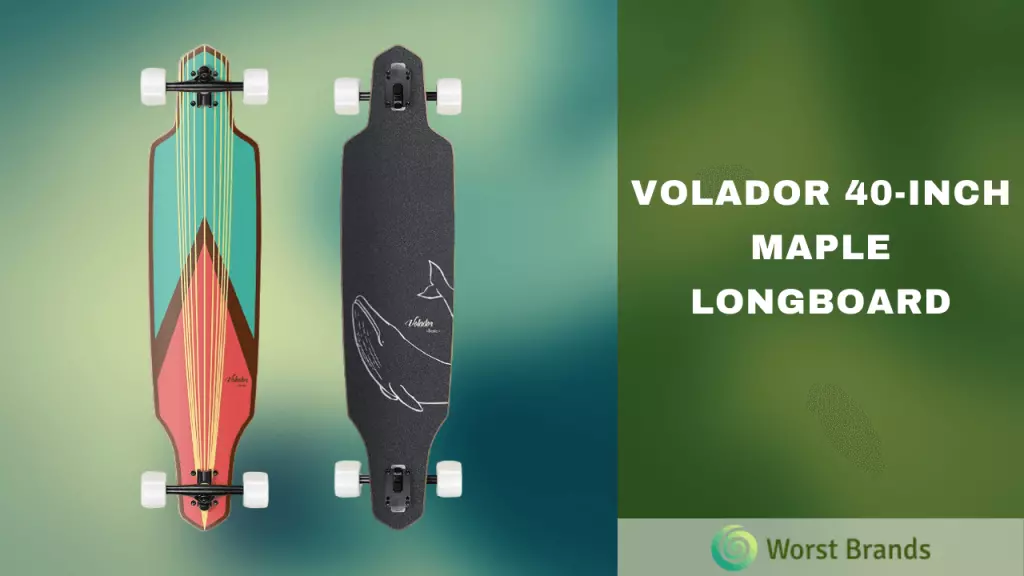 The last one on our list is the Volador 40-inch Maple Longboard. This board is a perfect choice for younger riders on a tight budget and wishes to buy a quality cruiser longboard.
This basic cruiser is quite sturdy. Indeed, it is a perfect combination of price and quality. Let's check out the quality of its parts.
Construction
The deck of the longboard is undoubtedly its most important component. It is made of top-quality 8 layers of hard maple, much like the other Volador models.
The length of the deck is 40 inches long and 9 inches wider. Although it is not as long as the other two models, you will have enough space to place your feet comfortably.
The Volador 40 inch Maple Longboard can easily support a weight of up to 250 pounds due to its sturdy construction.
Shape & Design
The nose and tail of the deck are tiny, allowing you to gain speed by cutting through the wind. The deck's design has passed technical testing to prevent wheel bite at any angle. So, while riding, you will enjoy the board's great turn at high speed.
These longboards' designs and artwork will undoubtedly make you stand out in the crowd. They appear to be long-lasting and unlikely to fade.
Wheels & Bearings:
Polyurethane is used to make the wheels, which is a very durable material. These wheels have an 80A durometer hardness rating and a 70mm diameter. Therefore, you will get a smooth ride, even on bumpy surfaces.
To make the ride gentle and smooth, this longboard uses ABEC-9 bearings. It also improves the precision of the board.
Frequently Asked Questions
Are Volador longboards good?
Volador longboards are definitely worth purchasing, and you can get a quality longboard for a very low price. Their boards are made of premium hard maple and high-quality components. The Volador Freeride is their most popular longboard among beginners because it provides you high speed and complete control on the ride.
Is VOLADOR 46-inch Maple Dancing Longboard is good for dancing?
Yes, the Volador 46-Inch Maple Dancing longboard is a perfect choice to perform stepping tricks with complete freedom. The board is wide enough and allows you ample space to place your feet on the deck. So, you can dance and carve smoothly.
Final Words
We hope you found our Volador longboard review helpful. Volador is one of the top-choice longboards among beginners in 2022. If you are looking to buy a quality board without breaking your bank account, this brand is a decent option.
They offer various types of longboards for different styles of riders, ranging from beginners to experts. But, they are more popular among new riders because their boards are easy to ride.
Our recommended choice for a beginner is the Volador 42-inch Freeride Longboard. This board is neither short nor too long, and it meets all of the basic criteria. Moreover, the deck is great, graphics are engaging, and overall sturdy board to ride on.
When buying a new longboard, you must check out the worst longboard brands in 2022.