WorstBrands.com is a participant in the Amazon Services LLC Associates Program, an affiliate advertising program designed to provide a means for sites to earn advertising fees by advertising and linking to Amazon.com
Are you searching for ideas about how to get the best beginner longboard in 2023?
There are a number of longboard options out there. But the Quest Super cruiser longboards are the perfect blend of low price and high quality with unique designs.
Quest has various popular models, but its Quest Super Cruiser is one of the top choices among beginners and professionals for cruising.
We have made a Quest Super Cruiser Longboard review for you right after a long study. So let's find out if Quest Super Longboard is worth buying.
Quest Super Cruiser Longboard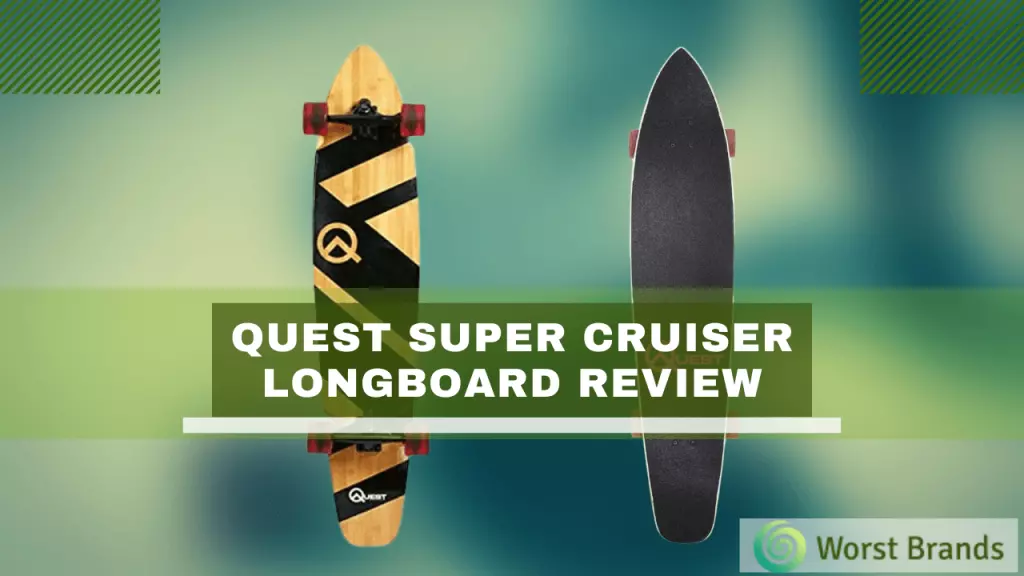 Quest Super Cruiser's Technical Specifications
The dimensions of the board are 43 x 9 x 44 inches.
It has super fast ABEC 7 bearings.
The longboard is 9.6 pounds in weight.
A robust pair of 7 inches aluminum trucks are employed.
Quest Super Cruiser Longboard – Key Features
The Quest Super Cruiser longboard is made with the original Artisan Bamboo and Hardwood Maple.
Bamboo and other materials, such as hardwood maple, make a sturdy and flexible board. You get a fun ride that is both balanced and performs well.
The length of the board measures 44 inches, which is a huge size. However, it weighs only 9.6 pounds, which is considered lightweight for such a large cruiser board.
This longboard's lightweight design will make your ride more pleasant and traveling from one location to another much easier.
Moreover, its unique design will keep you steady, whether riding on uneven terrain or downhill.
The most painful thing for the cruiser is the wheel bite issue. It often occurs when a wheel collides with the deck during a sharp turn, preventing forward motion.
But, in the Quest Super Cruiser, wheel bite is not dangerous. This board has 4mm risers that avoid wheel bite and make your cruising more fun.
The Quest Cruiser's bearings are slower, so the longboard isn't as quick.
But, despite all concerns about sluggish bearings, they provide better control for a more pleasurable and safe ride for beginners.
So, it is a good choice for a beginner because the ride is smooth and does not strain the muscles unnecessarily.
The slow bearings give you complete control over your ride with great precision. This is why it is a decent option for doing tricks.
Another important feature of the Quest Cruiser is its rust and corrosion-resistant aluminum trucks. These trucks are quite durable and can sustain large jumps.
So, it is very helpful because this longboard features a kick tail and a kick nose for performing great tricks.
Similar Blogs:
Quest Super Cruiser's Parts and Quality
1) Deck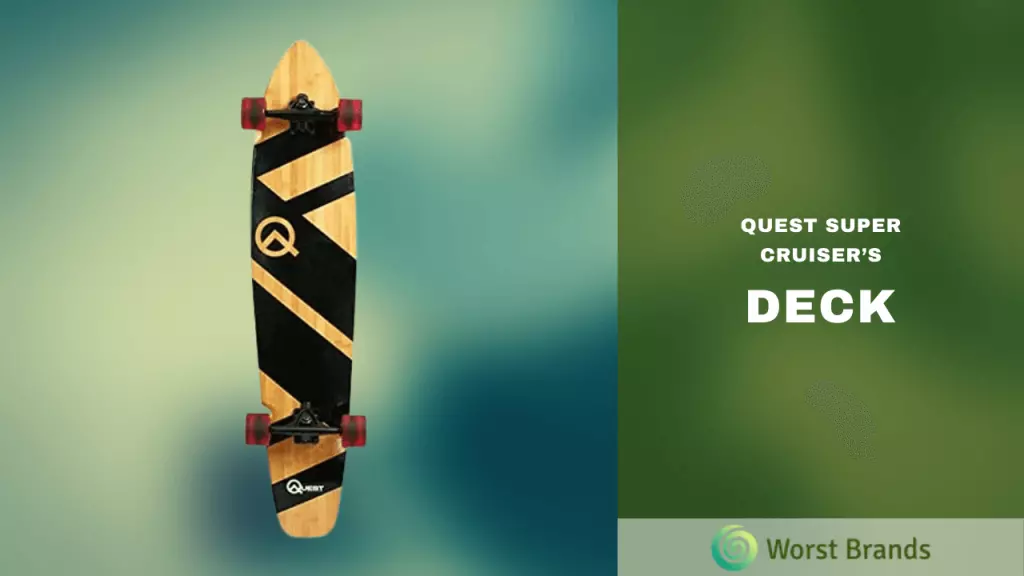 The board's deck is very appealing and attractive due to its unique handmade designs. Its tail and nose have some elevation, which prevents wheel bite.
The deck of the Quest Cruiser measures 44 inches long and 9 inches wide.
The size of the board is massive, which is ideal for a heavyweight. It can easily hold a weight of up to 250 pounds.
Also, the Super cruiser's deck provides ample room to place your feet comfortably on the deck. The grip tape on the deck keeps you stable and comfortable while cruising.
2) Wheels & Bearings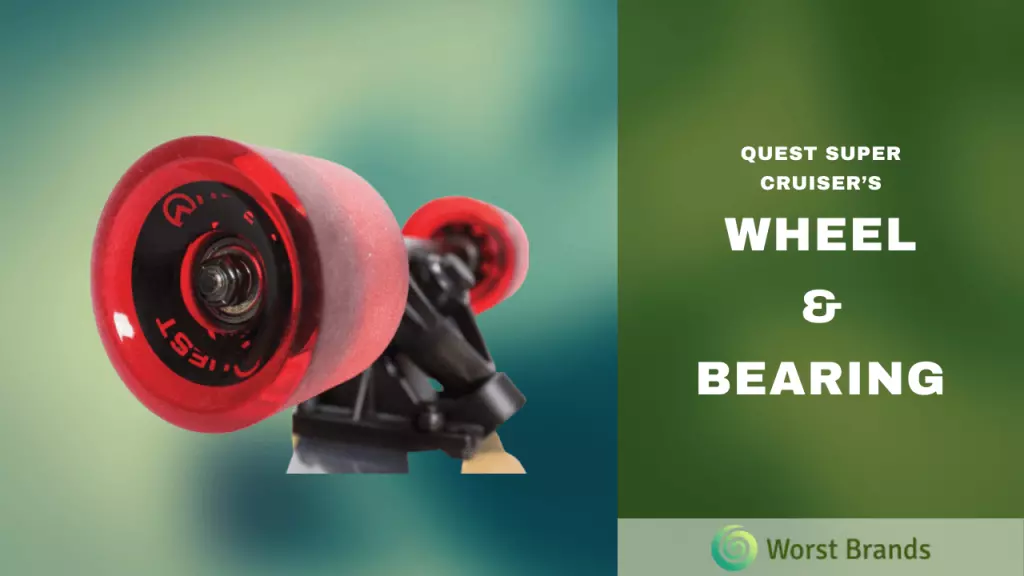 The wheels are the most crucial aspect of this Quest Super Cruiser that you will likely be interested in.
The wheels have a diameter of 70 mm and a hardness rating of 80A. These big size wheels allow you to ride fast if needed.
As a beginner, it is always challenging to ride on bumpy tracks. But the Super cruiser's wheels make it simpler to ride smoothly and safely.
Its bearings include genuine parts and an ABEC 7 speed regulating rating. You should only improve them if you are skilled enough to do stunts and sharp flips.
3) Trucks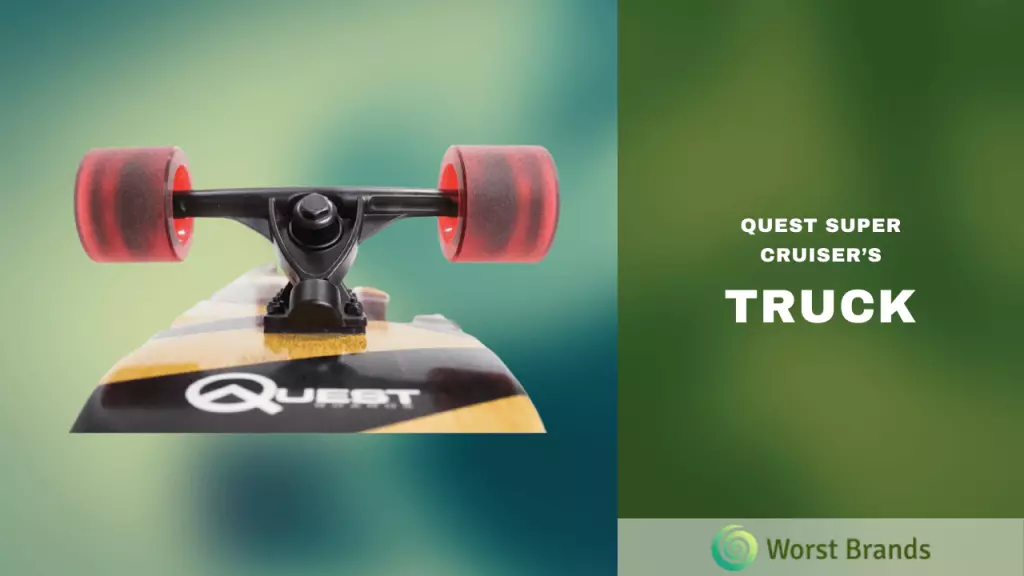 The trucks of the Super cruiser are made of aluminum that is 7 inches long. Such trucks are ideal for new riders as they make it easier to have fast turns. Also, the truck's position keeps the deck a bit higher for smoother and quicker turns.
Riding the Quest Super Cruiser
Who Is This Cruiser For? The Quest Super Cruiser is an excellent option for short-distance transportation.
However, the size of the board will make it difficult for you to place it in the classroom or workplace.
But, if carrying a board is not an issue, it is an excellent choice, especially for new riders who do not want to spend a lot of money.
Should you Buy the Quest Super Cruiser or Not?
To be honest, this cruiser board is a steal for such a low amount. The board looks great, and the parts are top-notch.
The board functions perfectly and provides a great experience of commuting around the town.
So, it is the best choice for all the riders who are hesitant to spend huge amounts on high-end boards and looking for something that can offer them maximum value at the lowest price.
Frequently Asked Questions
Are Quest longboards good?
Quest is one of the top-selling longboards of 2023. Their boards are of high quality, have unique designs with handmade artwork, are easy to ride, and are affordable. They are popular among beginners and professionals due to their sturdy bamboo longboards. Their model Quest super cruiser is a top choice.
Does the Quest Cruiser longboard comes fully assembled?
Yes, the Quest Cruiser longboard comes fully assembled and requires no extra effort to assemble the parts. You can ride right after unpacking. However, it is recommended to check the trucks and wheels for adjustment.
Our Final Verdict:
The Quest Super Cruiser is a top choice. It is great in terms of quality, service, and performance.
The fascinating thing about the board is that you receive a longboard of such high quality and beautiful design at such a low price.
Another amazing aspect of this quest super cruiser longboard is its handmade artwork, which will make you stand out in the crowd.
This deck is built of sturdy bamboo and is both light and robust.
However, the board is lighter than its counterpart maple wood boards, but the deck's strength is remarkable. It can easily withstand a heavy weight of up to 250 pounds.
It is undoubtedly one of the best cruising longboards for both beginners and experienced riders available on the market.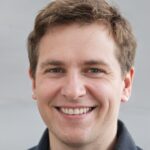 Steven Settles is a professional content writer with over 7 years of experience in writing for different niches, including brand reviews, technology, fitness, and more.
Currently, he is working as a content writer for WorstBrands, where he provides insightful reviews of different products, including home appliances, outdoor gear, fashion, and kitchen products. In his free time, Steven enjoys traveling and exploring new places.