WorstBrands.com is a participant in the Amazon Services LLC Associates Program, an affiliate advertising program designed to provide a means for sites to earn advertising fees by advertising and linking to Amazon.com
When it comes to purchasing new tires, it is always challenging to find a brand that offers you the best quality at the lowest possible price.
But, luckily Starfire tires are easily accessible to everyday drivers on the market in 2021.
A lot of people ask, are Starfire tires made by Cooper Tire & Rubber Company?
The answer is Yes. Starfire is a subsidiary brand of Cooper tires.
Most of the Starfire tires are made in the US. However, some tires are also made in China.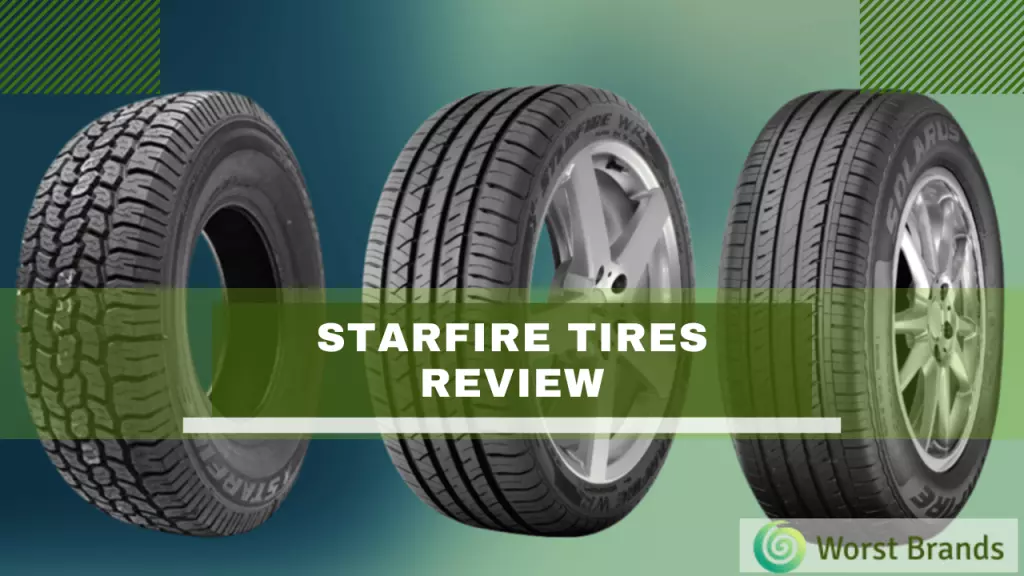 You may like to know:
Before we begin our Starfire tires review, let us make it clear that these tires are neither the cheapest nor the most costly choice. However, they are priced halfway between premium and affordable tires.
Most of the everyday drivers have appreciated these tires' quality, which is why Starfire was one of the top tire sellers in 2020.
So, if you are looking to buy good tires without spending a massive amount, this brand is a decent choice.
Sounds interesting?
But, brace yourself; there are some unfavorable responses from the users too about the quality of these tires that you should know before buying.
Top 3 Starfire Tires Review
We have made the Starfire tires review to help you choose a suitable model to save your time and money.
In this guide, we will show you their top three models, along with their benefits and drawbacks.
1. Starfire Solarus Tire Review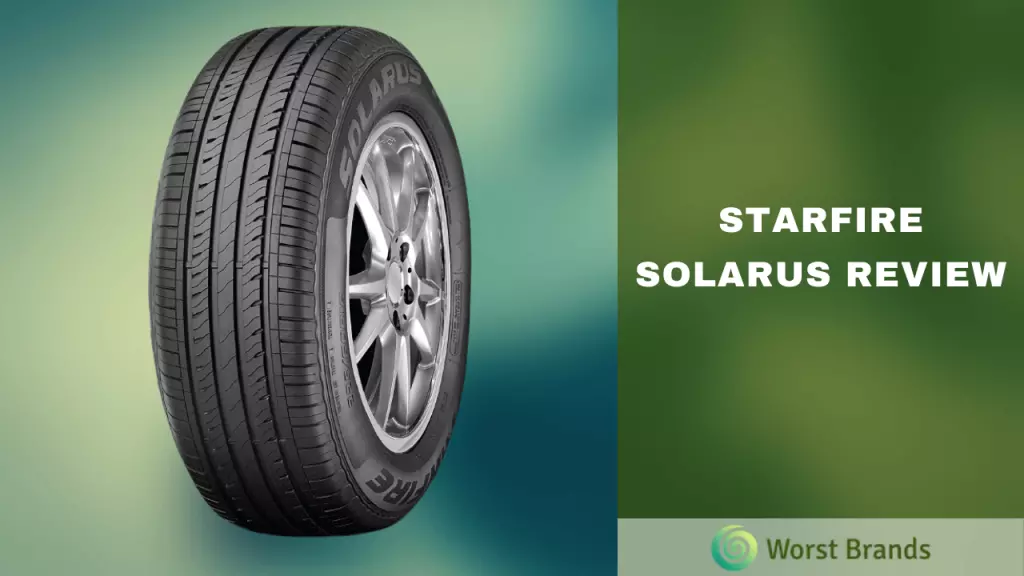 Best For: Passenger vehicles and SUVs
Tire Type: All season (A/S)
Tread Life: 50,000 miles
Performance: Touring
The first one in our review list is the Starfire Solarus All-Season Touring Tires. These tires are designed for passenger cars and SUVs with a 50,000 miles treadwear warranty from Starfire.
Throughout the season, you will have a smooth and comfortable riding experience.
The Solarus tire provides excellent all-weather traction and grip on the road. Its symmetric tread pattern helps the tire to have maximum grip in dry, rainy, and cold weather.
If we talk about the on-road performance, the tire gets a high score among its competition. The drivers liked the quick handling, good grip, and low noise on the highway.
Under wet conditions, the tire is an average performer. You can have complete control of the ride while moving at an average speed.
But, if you are accelerating too fast, you risk gliding on the road on the sharp turns.
Moreover, the tire also performs well in light snow. Our overall rating for the Starfire Solarus Tire rating is 3.8 out of 5 since the improvement is needed under wet conditions.
Top Features
All weather traction
Reduced road noise levels
Enhanced durability
2. Starfire WR Review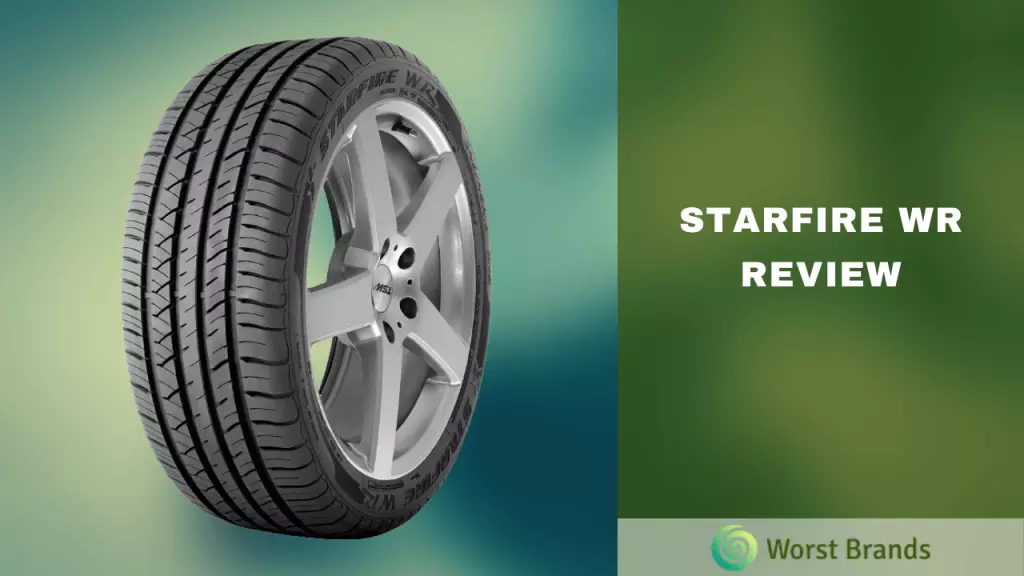 Best For: Passenger Car, Minivan
Tire Type: All season (A/S)
Tread Life: 55,000 miles
Performance: Ultra High Performance
The Starfire WR tires ultra-high-performance tires are designed for minivans and passenger cars.
Its asymmetric tread pattern, which includes chamfered element edges, enables cross-rotation, minimizes uneven wear, and extends tire life.
Our on-road testing revealed that it is an excellent performer in terms of comfort from the perspective of a daily driver.
The tires might get a little bouncy over some impacts. Despite that, it rides well and doesn't make much noise when driving on the highway.
When it comes to wet performance, the Starfire WR Tire has scored higher than its counterparts.
Although there is some room for improvement overall, it is a decent pick for rainy weather. It allows you to make immediate brake without gliding on the road.
We would rate the Starfire WR Tires 4 out of 5 due to their reliability on both wet and dry tracks.
Top Features
High speed controllability
All weather traction
Longer lasting tread life
Some other tire reviews you may like to read
3. Starfire SF-510 Tires Review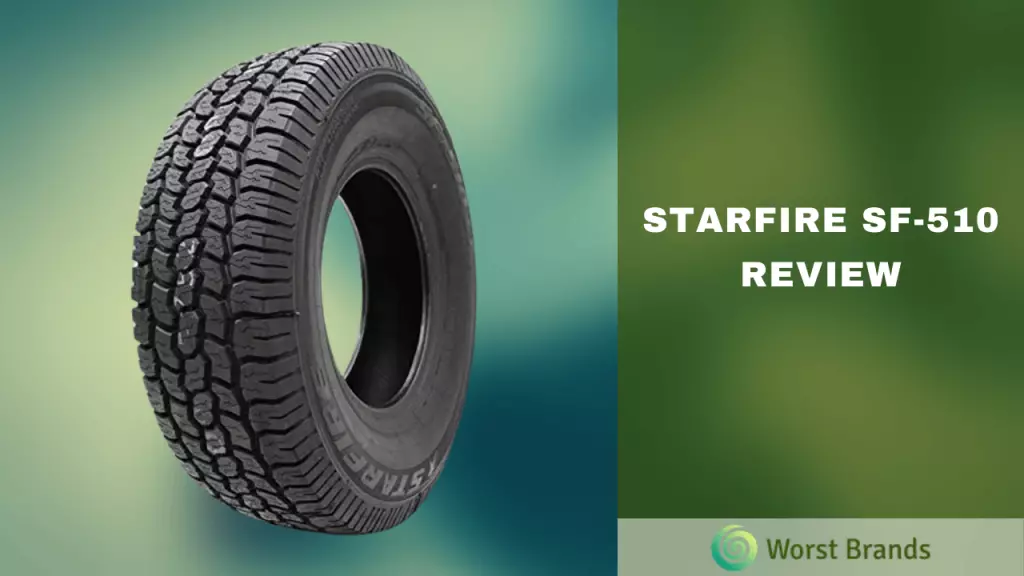 Best For: Light Truck
Tire Type: All season (A/S)
Tread Life: 50,000 miles
Performance: All Terrain
The last one on our review list is the Starfire SF-510 tires. These all-terrain tires are made for light trucks to perform well throughout the season. On this model, the company backed a 50,000 miles treadwear warranty.
You'll be totally delighted with the Starfire SF-510 if you often drive on hard-packed surfaces.
Even in rainy circumstances, traction on dirt and gravel is outstanding without compromising on-road performance.
This all-terrain tire is constructed with a robust design to deliver outstanding performance with complete comfort for a smooth and quiet ride.
But it is not recommended for drivers who want to go off-roading to the extreme level, such as mud driving.
Our overall to the Starfire SF-510 tire is 4.5 out of 5.
Top Features
Five-rib tread design
Modern sidewall styling
All terrain traction
All weather traction
Related Posts:
Frequently Asked Questions
Are Starfire tires good?
Yes, the Starfire tires are a decent choice if you are on a tight budget and want to put quality tires on your vehicle.
Are Starfire tires quiet?
The tires from the Starfire deliver quiet performance on the highway. Normally, the cheap tires are made from average quality material. So, you can expect some sort of noise from the cheap tires, but Starfire is an exception.
Conclusion: Are Starfire Tires Good?
Yes, Starfire tires are good. Starfire is a reliable tire maker, especially for those who need high performance at an affordable price.
The best thing about this brand is you will get top quality in most of their models since it is a sub-brand of Cooper tires.
Many people get disappointed with the brand because they set too many expectations.
To be fair, for such a low price, the quality of Starfire is quite appreciable. So, if you are an owner of a second-hand vehicle, this brand is a decent choice.
We hope our Starfire tires review would help you to make the proper selection.