Haida is from a Chinese brand Haida Group, with other brands such as Tianfu, Panda, Kailiwei, and Collaborator.
The Haida Group is known for product quality, innovation, customer satisfaction, and excellence in the market.
Most people might be apprehensive before purchasing these cheap tires, Yet the brand gives you value.
The brand has vigorously worked to achieve customer demands and satisfaction by providing them with top-notch tires.
In this Haida Tires Review, we'll primarily focus on the performance and quality of this brand's products.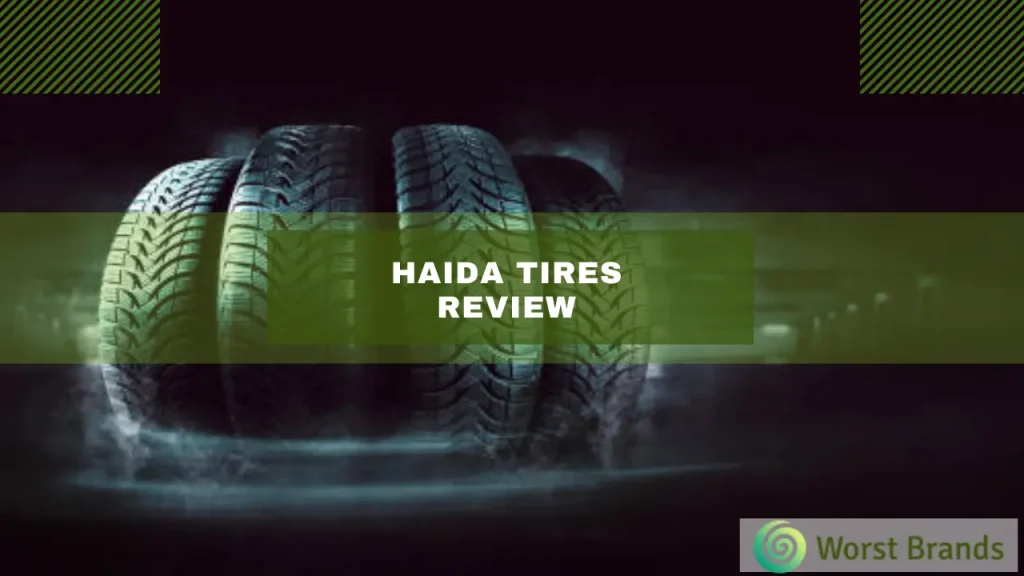 Similar: Goodyear Tires Review
Who Makes Haida Tires?
Sichuan Haida Rubber Group is a Chinese brand that manufactures its tires in Sichuan, China.
The brand focus on developing tires for commercial, sports, truck, and passenger vehicles.
The brand has adopted advanced technologies to make its tires safer and more secure for drivers.
The products are divided into 25 series, covering light trucks, heavy vehicles, SUVs, sedans, etc.
Also Check:
Why Choose Haida Tires?
Let's discuss why we chose Haida tires and why you should too.
Quality
The tire quality is exceptional at this price tag. The manufacturers use top-tier materials to ensure tire quality.
As I've said above, the company makes its tires impeccable and pliable for everyday use.
Durability
The tires have steel belt reinforcements, increasing the tires' longevity. Also, the tire resists rolling friction, which provides good mileage.
Exceptional Handling
These tires are available in different tread pattern designs such as asymmetric, directional, etc., which makes your driving responsive.
The tire also resists aquaplaning and evacuates water from the tires pretty efficiently.
The good tread pattern of HD818 and HD878 withstand snow and provide comfortable drive-in winter sessions.
Varieties
There are more than 1,000 varieties of tires available on their website. There are 25 series of tires, presented in different sizes.
You can tire for passengers, SUVs, crossovers, light trucks, and sedans.
How Have We Tested Haida Tires?
There are a lot of dishonest reviews on the internet about tires. Although, we are a team of integrity.
We have tested Haida tires on parameters such as quality, rolling friction, longevity, and performance.
Haida Tires Review
In this phase of our Hairda Tires Review, we'll delve into more about the tires and discuss our top picks from the company. Let's dive into it.
Haida HD921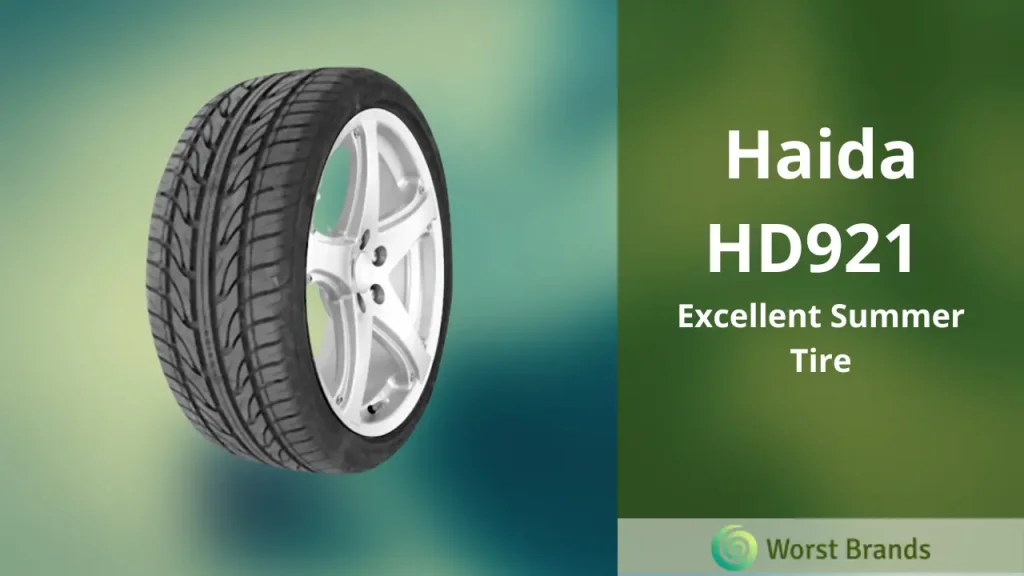 The Haida HD921 is a summer tire with a generic directional tread pattern, which provides you with comfortable driving on dry and wet surfaces.
Although, the tire seems slightly noisy on dry roads and highways.
The tire is suitable for your passenger and SUVs and comes in 16, 17, 18, 19-, 20-, 22-, and 24-inches diameter sizes. Also, the tire has several speed ratings such as Y, H, W, and V.
Dry Road Performance
The grip from these tires on a dry road is excellent. The tread pattern is unique; it is much different.
It has biting edges and irregular blocks, stabilizing your driving on dry roads and providing you grip on corners. The tires have impressive maneuverability, a plus point of this product.
I would rate it 8.5/10 for dry road performance. Besides that, the tire also resists rolling resistance, which makes it environmentally friendly.
Wet Road Performance
The tire has four circumferential grooves and shoulder blocks, which evacuate the water efficiently from the tire and resist hydroplaning.
With that said, the tires don't lack wet pavements. The directional tread pattern plays a vital role in maintaining good traction even on rainy days.
Snow Road Performance
I don't think the tire is suitable for snow pavements, as it is a summer tire. Most of the testers don't recommend driving summer tires in winter.
Things We Liked:
Excellent grip on dry surfaces
The tire resists hydroplaning pretty efficiently
Resists rolling friction
Affordable
Things We Didn't Like:
Verdict
Overall, the tire is an excellent option for summer drives. It is also an ideal tire for sporty vehicles.
It withstands hydroplaning and rolling friction, making it efficient on dry and wet surfaces.
Haida HD878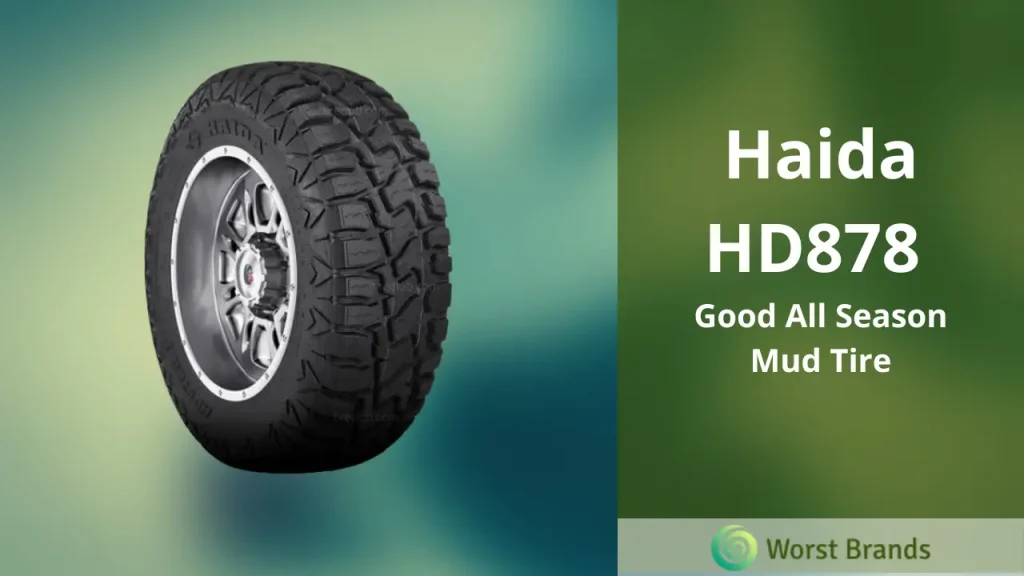 The Haida HD878 is a perfect tire for mud and snow. The tire is suitable for trucks and SUVs. Also, this tire will be your friend if you are an enthusiast off-road driver.
The tire is available in 16, 17, 18, 20, 22, and 24-inches diameter sizes, having speed ratings of S (112 MPH MAX).
The tire has an exquisite 3D and wide tread pattern, maintaining momentum in sand, mud, and snow.
It results in more excellent traction with the road surface. In addition, there isn't any warranty provided by the company on their websites.
Dry Road Performance
The tire is also suitable for on-road drive. One of our customers reported that he had driven this tire for more than 20,000 miles, and the tread didn't lose any wear.
Although, the tire has 3-side ply walls. I don't think the tire is suitable for extreme off-road drive because of the sidewalls, which won't be supported in rocks.
Wet Road Performance
The 3D tread pattern design has wide grooves, which flush water away and resist hydroplaning in wet road conditions.
So, it won't be a problem for you to take these tires on rainy days.
Snow Road Performance
The great thing about this tire is its self-cleaning ability. It evacuates mud and snow quickly, which is excellent and ideal for everyday use.
I didn't find myself stuck in the snow, so I would rate it 8/10 for snow road performance.
Things We Liked:
Suitable for snow and mud terrains.
Resists aquaplaning.
Excellent grip on wet and dry surfaces.
Things We Didn't Like:
The sidewalls could be improved.
Verdict
Although, I was impressed with the overall performance of these tires.
However, the sidewalls aren't suitable for an extreme off-road drive. In addition, the tire has adequate performance on dry, wet, and snow.
Haida HD818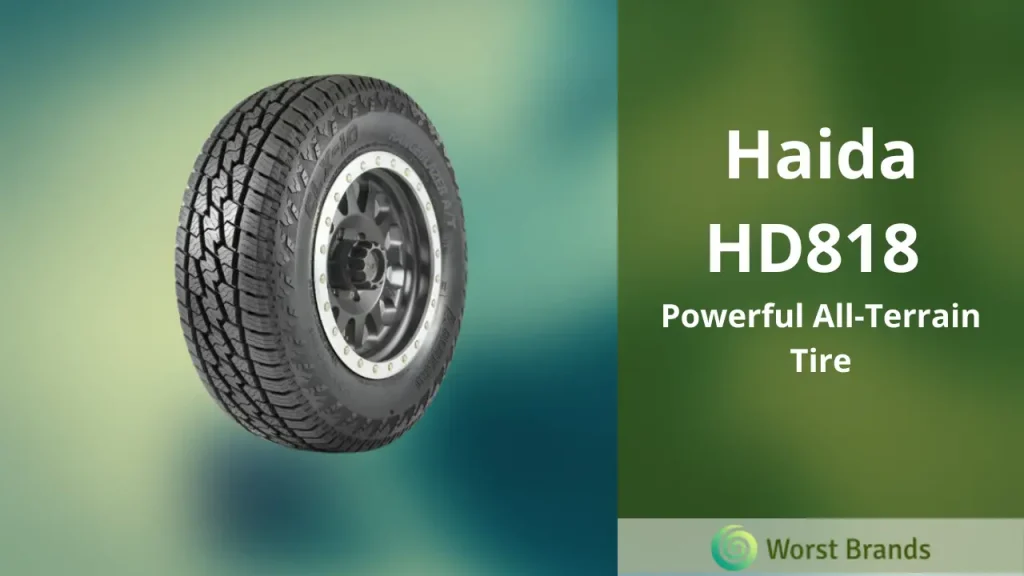 The Haida HD818 is an all-season tire that efficiently provides dry, wet, and winter traction.
Moreover, the tire has an aggressive tread pattern, which results in better tractions in all terrains.
I couldn't find more sizes than 15 and 16 inches. However, the tire is suitable for light trucks and SUVs, with a speed rating of S.
Dry Road Performance
The aggressive tread pattern provides driver efficient control and stability at high-speed on the dry surface.
Also, I like the footprint design, which increases the controllability of tires and evacuates mud adequately on the rough terrains.
Wet Road Performance
The staggered circumferential grooves wipe the water away and resist aquaplaning.
I was driving on 100 MPH on a rainy day, and the tires didn't feel clumsy on wet pavements, which is excellent for affordable tires.
Snow Road Performance
I was not able to test these tires on snow terrains. Although, by reading some of the reviews on the internet, I think the tires are pretty good on snow surfaces.
Things We liked:
The tire has excellent grip on dry and road surfaces.
Budget-friendly.
The tire resists hydroplaning.
Things We Didn't Like:
Verdict
The tire has all the essential elements, which is ideal for all-season.
The tire is affordable and maintains good traction on dry roads. In addition, the tire is excellent for everyday use.
Pros and Cons of Haida Tires
Pros
Affordable
Good Performance on Dry and Wet Surfaces
Excellent Tread Pattern Designs
Cons
Produces noise at high speeds
Are Haida Tires Good?
The Haida Tires are great if you are tight on your pocket. The brand has a lot of varieties to offer to its customers.
As discussed, more than 1,000 items are available in different sizes for specific vehicles. Also, the tires are pretty affordable and won't let you break your bank.
The tires have exquisite and perfectly engineered tread patterns to provide smoother, comfortable, stable, extra gripping, and maneuverability on the roads.
The Haida Group has received an ISO14001 certificate for producing environmentally friendly tires. In short, the Haida tires are an excellent option for your vehicles.
Conclusion
Haida has a lot of varieties to offer. For the Haida Tires Review, we tested 3 tires from them HD921, HD878, and HD818.
Haida tires don't just come with an affordable price tag, but they also deliver commendable performance on both wet and dry terrains.
Whether you're driving a passenger car, SUV, or truck, Haida seems to have a vast variety to cater to diverse needs.
They've harnessed advanced technologies, ensuring safer driving experiences.
So, if you're seeking a blend of affordability, performance, and environmental consciousness in your tires, Haida might be the right choice for you. Safe travels!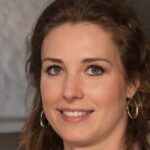 Crystal Hafley is a dedicated writer and content creator for WorstBrands, where she specializes in writing insightful reviews about kitchen appliances and fashion products.
With her expertise, Crystal provides readers with accurate and reliable information to help them make informed decisions about the brands and products they use every day. When she's not researching or writing, Crystal enjoys cooking and exploring the latest fashion trends.