WorstBrands.com is a participant in the Amazon Services LLC Associates Program, an affiliate advertising program designed to provide a means for sites to earn advertising fees by advertising and linking to Amazon.com
Getting a cool stylish car is what everyone dreams of. But these are not the only factors that you should look for in a vehicle. There are undoubtedly other factors that are must to consider.
As much as you should know what to look for, you should also know what to avoid so that you don't end up regretting it.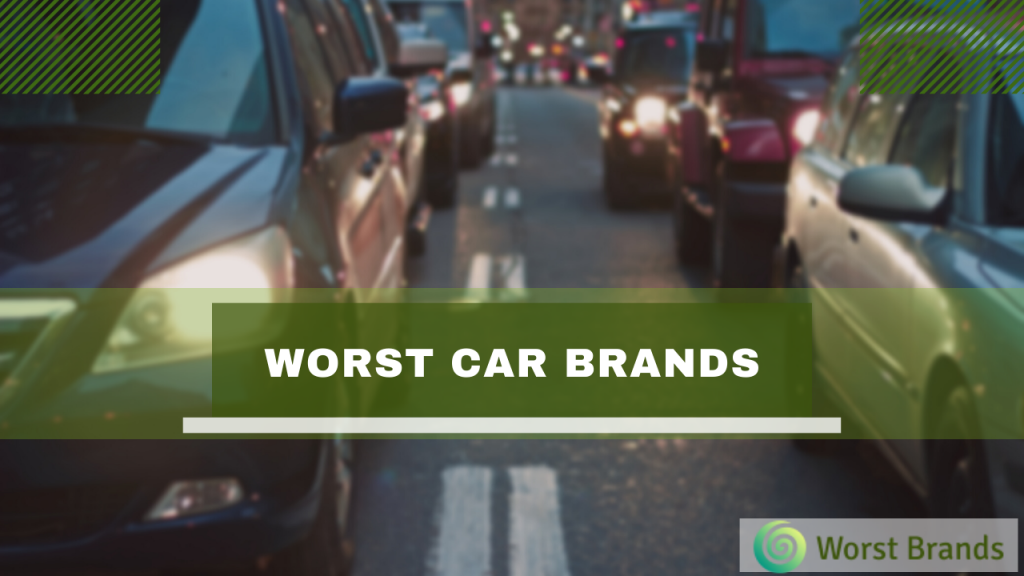 If you are thinking about buying a car, then make sure to read this article as we have brought 13 worst car brands that you should avoid while searching for the best ones.
So without any further ado, let's get started.
List of 13 Worst Car Brands
Note: Considering a whole brand terrible is not the right thing to do. The brand might produce some bad models, but it does indeed have a few good ones amid the bad ones. That is precisely what our review is based on. We have selected the brands mentioned below because they have produced models that the majority of the people are complaining about. One more thing to note is that the below-mentioned brands are selected solely based on consumer reviews. There isn't any prejudice involved in this review. So, it is possible that your opinion and choice may vary.
1. Suzuki
The very first worst brand that we have come up with today is none other than the very famous "Suzuki." Now there is no doubt that Suzuki is one of the most popular brands.
But few models have compelled us to included Suzuki on the top of our "Worst Car Brands."
Suzuki has a terrible build quality which was the reason that it performed poorly in the crash test. Suzuki is said to be offering a few of the most budget-friendly cars.
And getting poor build quality and inadequate safety features on such a low budget is inevitable. Let's have a go through the overall drawbacks of Suzuki cars.
Reasons to Avoid
Difficult to find spare parts (especially in the US and Europe)
Mundane and boring design
Poor build quality
2. Volkswagen
The next brand that we would like to tell you about is Volkswagen. Now, it may surprise you to see the name of Volkswagen in our list of car brands to avoid, but if you don't know much about this brand, let us do the job.
Talking about Volkswagen, this German brand has been quite famous for creating top quality vehicles on the market. But, surprisingly we have found that there are numerous users who are not happy with the brand due to unreliable cars.
Most people have said that the main problem with this automaker brand is that it might be cutting costs to provide a somewhat less expensive "luxury sports experience."
If we talk about the overall quality and design, there is no debate that this company deserves appreciation. But when it comes to dependability, this brand doesn't have some good scores to show.
Before we move on to the next brand, let's first have a brief look at the overall cons of this brand.
Reasons to Avoid
Airbag malfunctioning
Oil leakage in some models
Suspension concerns
3. Nissan
Number third on our list is Nissan. This Japanese-originated company is called the "world's largest electric manufacturer." This brand does have a few of the top-selling cars to offer.
But, it is no lie that there are some not-so-appreciated models as well. One of the biggest problems with Nissan is that its cars are not considered reliable.
Apart from the reliability, some consumers have also complained about malfunctioned sensors, non-responsive push-button ignitions, and some complaints about the CVT.
Also, the annual maintenance of Nissan might cause you a little expensive as the ownership costs are above average.
Below we have mentioned some cons of Nissan. Check them out before moving to the next brand.
Reasons to Avoid
Oil leakage in some models
Rusty bodywork
Problems with the AEB system
4. Dodge
The next worst car brand that we are about throw some light on is Dodge. Dodge is one of the most recognizable and oldest automakers of America. This brand is famous for its stylish sports cars and work trucks.
Now enough for the good points, let's talk about why we have decided to include this brand in our list of worst car brands.
Dodge cars are said too few of the worst cars when it comes to reliability. Many people have complained about fragile dashboards, low mileage engines, lifters failing, and many more.
Make sure to check out the below-mentioned drawbacks of Dodge.
Reasons to Avoid
Lifter failures
Exhaust failures
Coolant leaks
5. Ford
Ford is yet another car brand that has a poor reliability rating. The consumers have put it at the bottom end of the scale.
Ford is popular for its fantastic infotainment technology and better fuel economy offering. Also, it has a strong tradition of producing "high-horsepower muscle cars."
Now back to the topic, no matter how good a brand Ford is, there are still some problems with a few of its models.
Consumers have complained about oil leakage and AC and ventilation problems. Few said that the exhaust produces terrible sounds.
Apart from these problems, the annual maintenance of Ford is also above average. Few more issues have been mentioned below.
Reasons to Avoid
Issues in the ignition system
Oil leakage
Spark plug failure
6. Hyundai
The next brand, or the sixth-worst car brand we would like to tell you about, is the very famous South Korean company Hyundai.
Hyundai produces high-quality cars with the same feature as Japanese cars but at a more affordable price. Another thing that we like about Hyundai is the extended warranties.
However, there are still some significant problems that we came across while reviewing some specific models of this brand.
The main issue that almost everyone faced was engine failure. The engines of few cars keep ticking off, which can lead to increased oil consumption.
Before we move on towards the next brand, let's go through the overall cons of this brand.
Reasons to Avoid
Seat belts issues
High fuel consumption
Defects in the crash sensor
7. Cadillac
Cadillac used to be one of the best car brands when it came to reliability and driving experience. However, gone are the days when Cadillac was among everyone's favorites.
Some models prove that the quality Cadillac used to offer back then is now nowhere to find.
This brand received a lot of negative feedback. Consumers are pretty frustrated due to the number of problems they had to face due to these cars.
From electric systems to suspension defects, the issues with this car brand are countless. Therefore, to include this brand in our list of worst car brands was pretty right.
If you are still not convinced, then look at some other reasons you should stay away from this brand.
Reasons to Avoid
Engine issues
Transmission failure
Uncoated cue screen
8. Subaru
This Japanese car brand is the world's twenty-first largest automaker. The models produced by this brand are pretty well-known for their "exceptional combination of boxer engines and all-wheel drive."
However, with time its reliability score has dropped down. Many issues related to Subaru have been noticed. But, most consumers have complained about the engines. Almost every model of Subaru is said to have gasket problems.
Moreover, Subaru engines are also noticed to be pretty noisy. Also, few people said that some Subaru models had a very high repair cost.
We have mentioned the overall cons of this brand below.
Reasons to Avoid
Fuel pump failure
Unreliable
Defects in brake light switch
9. Chevrolet
The next brand on our list of worst car brands is Chevrolet. Now, this brand is one of those popular brands. It is famous for producing reliable and affordable vehicles. From beefy trucks to subcompact cars, this brand has it all to offer.
However, based on the 2019 ranking, Chevrolet or Chevy was ranked as one of the smallest reliable car-producing companies.
Chevy cars mostly have mechanical issues, electric systems, and evap issues. One Chevy model caused a lot of injuries and accidents. That is because the rear wheels got locked when the breaks were applied suddenly.
Let's take a brief look at the overall flaws of this brand.
Reason to Avoid
Pass lock failure
Problems with the fuel level sensor
Some models have caused fatalities
You may also like to read: Worst Tire Brands
10. Chrysler
Chrysler was founded in 1925, which makes it one of the oldest car manufacturers. It is one of the "Three Big" automobile companies in the US. This brand is famous for its "well-engineered" cars.
However, if it's on this list, it's because there's a good reason for it. Chrysler owners complained about their cars getting stalled suddenly amid driving.
Few consumers also said that their cars would shut off while they are on the road. This often-caused breakdown is the biggest reason that people call Chrysler unreliable.
Moreover, the interiors of these cars are of very cheap quality. Take a look at the few more cons of Chrysler.
Reasons to Avoid
Engine failure
Transmission problems
Intermittent ignition
11. Jeep
Jeep is one of the brands with the longest history and has significantly impacted the automotive industry. It is known for the unique and rugged designs of its cars.
However, despite the popularity, there are still few issues why consumers have labeled this brand as one of the least reliable car brands. Moreover, it came 8th in the list of "worst car brands 2019".
There were a lot of complaints about the integrated electronics. While talking about a particular model of this brand, few drivers complain that it is death wobbly, and it gets pretty challenging to control it in such a situation.
Let's have a quick go-through of the overall cons of this brand.
Reasons to Avoid
Leakage in the exhaust
Blocked fuel injectors
Electric malfunctions
12. Mini
To see this brand here might be a little shocking for you because it has an excellent reputation. However, some people say otherwise.
There are many concerns about the build quality. A consumer also complained that the model they had would make squeaking sounds in winter, and when it was summer, it would be comparatively quiet.
Before we move towards the last brand, let's briefly look at some drawbacks of this brand.
Reasons to Avoid
Clutch failures
Leakage problems
Issues with the radiators
13. Land Rover
So, the last car brand that we have here is Land Rover. This brand is one of the most "iconic British car manufacturing" companies. It is popular to have the world's most incredible "four-wheel-drive" vehicles.
However, it has been noted to have a very high number of issues. Most people complained about these cars being unreliable. At the same time, there were also some issues related to the failure of the air suspensions systems.
Let's look at why we have put this brand here on our list of the 13 worst car brands.
Reasons to Avoid
Leakage issues
Air spring failure
Problems in the steering shafts
So this was all about the worst car brands. Now, let us bring you 3 of the best car brands that you should buy. Ready? Then let's get started.
Top Car Brands
1. Porsche
This German luxury and sports car manufacturer is one of the most valuable brands. This brand has a very high reputation when it comes to reliability.
Porsche has scored many wins, such as lap records, pole positions, and much more. There isn't any single area where this brand lacks.
2. Tesla
Tesla cars with innovative technology, modern design, and high-quality performance are among the best cars worldwide.
Tesla cars are pretty cheap when it comes to fuel savings and services and insurance. Tesla also has a significant number of safety features that can be quickly activated and deactivated.
3. Honda
You might already know that Honda is the world's largest motorcycling manufacturer. However, it does offer a few of the most fuel-efficient and lightweight cars.
The cars produced by this American motor company are known for their reliability, durability, style, and efficiency.
Final Words
This was all about the worst car brands in 2021. The brands that we have mentioned above might be popular. But the main reason behind including these brands in our list was because people have faced issues with most of their models.
While reviewing these brands, we have concluded that any brand that has issues related to reliability, oil leakage, engine failures, and electronic failures should be avoided.
So when you decide to buy a car, make sure to cross-check these factors. Moreover, to help you in your decision, we have also mentioned the 3 best car brands. So was your first car mentioned in our list?