Samsung has been serving since 1983, while LG launched its first product in 1947, making Samsung 9 years more mature in this industry than LG.
But both of these multinational companies have the same origin country, i.e., South Korea.
These companies lead the appliances industry with their efforts and consistent hard work.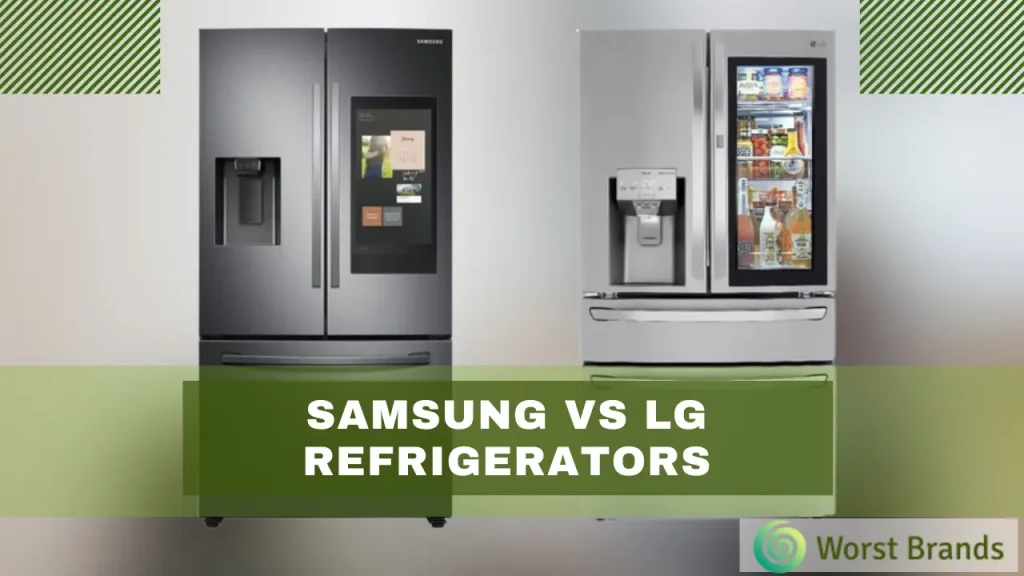 However, choosing between these two brands might be challenging. So, here is a detailed review of Samsung VS LG refrigerators to let you decide your best pick among the two.
Samsung vs LG Refrigerator Reliability
Both of these brands end up serving best to their users in one way or another. Samsung leads in design and modern finish. At the same time, the LG has high-end cooling features combined with good styles.
We have penned down each brand's overall performance to give you a generalized overview of each brand.
Related: Samsung Refrigerator Review
1. Overall Performance of Samsung:
Samsung refrigerators are the epitome of class and modernism combined with high-tech features.
It has a conventional multi-flow air system and many new yet more advanced cooling technologies.
One of which is the famous and unique technology, Flex Zone. It enables you to switch your refrigerator to a freezer or vice versa.
In addition, the moderate humidity-temperature control system regulates the internal and external temperature.
These refrigerators are also known for making standard ice cubes and crushed ice bites. Also, the adjustable glass dividers enhance the space. But it is slightly pricier than LG.
2. Overall Performance of LG:
With their innovative 3-door French door and side-by-side refrigerators, LG has set the quality mark for its competitors.
Also, its Insta View technology has taken up the lead that allows you to see the fridge content without opening it.
These are also cost-efficient choices except for their luxurious range, being the quietest fridges. But quality demands a price. Doesn't it?
The water pitcher is another smart feature that fills automatically to fulfill the water and ice demands. Moreover, its spherical ice cubes are also another differentiating feature.
Although the ice maker can be troublesome, the linear inverter compressor, vacation mode, and textured signature finish make it stand out.
Features of Samsung and LG Refrigerators
To give you a deep insight into the brands, we have listed some important yet common features of refrigerators that you consider before buying.
Outlook: Which Is More Aesthetically Appealing or Stylish?
In a nutshell, Samsung is a more stylish brand with innovative designs compared to LG.
However, LG has an edge when it comes to its performing technology. But Samsung has privilege over the LG ones, making them more stylish and appealing to its users.
Variety: Samsung offers more models than LG, which means more designs and color options. Also, its handless series (pocket style handles) let it take the lead overall.
Finish: Does Samsung Have More Finish Options Than LG?
LG offers traditional stainless steel, black and white, and LG signature steel models.
Samsung offers fingerprint-resistant stainless steel and black stainless, bespoke custom finish (available in 12 colors), and fingerprint-resistant Tuscan stainless steel refrigerators.
Door Styles: Do Both Brands Offer the Same Door Styles?
These brands offer unique and slightly different door styles from the other appliance brands.
However, when we compare these two brands solely, Samsung has more door styles for its customers.
But LG's side-by-side 3-door configuration models are the most innovative door style among its traditional ones.
Samsung Door Styles:
Bespoke Door (Customizable)
3-door French Door
4-door French Door
4-door Flex (Convertible into fridge or freezer)
Side-by-side door
LG Door Styles:
4-door French Door
3-door French Door
Top-freezer style
Side-by-side Door
Bottom-freezer style
Installation: Do Both Have Counter-Depth And Full-Depth Fridges?
Yes, both of these brands have a counter-depth design for the seamless finish and a full-depth design for large roomy spaces.
These can easily fit into the desired space of your kitchen. But both of these brands are leading because of serving the best counter-depth refrigerators.
Shelving/ Capacity: Do Samsung and LG Fridges Accommodate Equal Storage?
You cannot choose one brand for the shelving style or storage capacity. Both are equally good for their spacious designs that can accommodate loads of groceries well.
Samsung and LG have the best storage options available in their French-door series, but you can go for the one that suits your needs and preferences.
Smart Features: How Is Connectivity Options Different In Both Refrigerators?
LG has more refrigerators that have connectivity options than Samsung. But Samsung offers the latest smart connectivity options that serve 10 times better than LG.
It operates with Alexa and offers better features such as music and TV show. You can also search for recipes and plan your meals as well.
The smart connectivity technology of LG operates via an app ThinQ® that handle the alerts and alarms and other settings from a single touch.
In comparison, the Samsung connectivity option is termed Family Hub™.
Noise-Level: Who Is Quieter Samsung or LG?
Generally, noise in refrigerators is due to the ice build-up around the fan. So it makes a humming sound. Both of these brands serve quieter refrigerators in general.
Samsung fridges have noise levels ranging between 32 and 47 decibels. While in LG, it ranges between 42 and 47 decibels, making LG refrigerators quieter than Samsung refrigerators. Because of its LoDecibel™ Operation, LG is ultra-quiet even during defrosting.
Cooling Technology: How They Both Differ In Cooling?
Although Samsung and LG perform best in terms of cooling but to narrow it down, we can say that LG is best-known for efficient cooling.
Still, Samsung is best known for its smart cooling technology. You can choose one of them based on your preferences.
Samsung Cooling Technologies:
Multiple airflow system- exhaust vents mediated
Twin cooling- double compressors mediated.
Twin cooling plus-double compressors and triple evaporators mediated
Triple cooling (only present in luxurious range)
LG Cooling Technologies:
Linear cooling TM is a unique technology that keeps food fresh for up to 2 weeks.
Green Ion Door cooling+™ – 35% more efficient cooling than conventional fridges.
Fresh Shield cooling maintains a thermal barrier via cold air
Multiple airflow system-multiple vents
Price: Samsung vs LG
Samsung may take up the lead if you want something around $1000 because LG starts from $1500+. But both of these brands have a good refrigerator range that lies in between $3000-$4000.
The maximum priced refrigerators both offer cost about $7000-$8500. In summary, Samsung offers a better price rate with a huge variety than LG.
Best Samsung and LG Refrigerators- 6 Most-Efficient Picks for You
We share 3 top-selling picks from each brand to highlight the best ones from our findings. These refrigerators are the best in performance, style, and functionality. So, if you're looking for the finest from these businesses, have a look!
Let's start with the Samsung ones.
1. Bespoke 4-Door French-Door Refrigerators-RF29BB89008MAA | Best Overall
This fridge is from the latest innovative series of Bespoke that offers smart tech features with a huge capacity making it the best choice for large roomy places.
It serves the best as it has a Flex Zone feature enabling it to convert from fridge to freezer or vice versa according to an individual's need. Other amazing features include;
Customized door panels
Available in 3 different colors
Pitcher and dispenser for water
29 cubic feet capacity
Family Hub™ for automatic control
Alexa-operated setup
Double auto-ice makers
2. Samsung Side-by-Side Refrigerator- RS27T5200SR/AA | Best Capacity Fridge
Samsung's side-by-side fridge has been its winning product because of its ultimate beneficial features for users.
This fridge is cost-effective and reliable and has a beautiful modern design with multiple-vents technology that ensures cooling. Other features include;
2 different colors
Elegant display dispenser
Modern and sleek design
4 cubic feet wide capacity
10% more storage space
In-door ice maker
Adjustable top-shelf

3. Samsung Bespoke 3-Door French-Door Refrigerators-RF24BB69006MAA | Best Style
We have chosen this 3 doors French door refrigerator that differs from the 4-doors one slightly.
You will notice some additional features, such as a beverage center for drinks. Also, Samsung's Family Hub™ will allow you to manage your family's daily tasks with one touch. Moreover, it also has;
Customized door panels
Twin cooling plus technology
Internal camera
Family Hub LED screen
Internal and external water dispensers
Internal and external ice dispenser
Multi-air flow system
4. LG InstaView™ Door-in-Door Refrigerator-LFXS2596S | Best Smart Fridge
This LG fridge is known for its smart technology, ultra-effective cooling specs, and ultimate storage capacity with wide shelves and storage containers.
The InstaView refrigerator ensures sustainable performance by reducing the green gas emission. So, it is energy-star certified. Some other specs include;
Inverter linear compressor
26 cubic capacity
3-layers air filters
Fast yet efficient cooling
Door-in-door adjustable bins
Tallest ice and water dispenser of 12.6 inches
Fingerprint and smudge resistant print proof finish
5. LG French-Door Refrigerator-LRFWS2906V | Best Performance Fridge
Are you looking for a spacious refrigerator with maximum latest features within a limited budget? If so, then this model is the exact choice for you because it is an all-in-one refrigerator that covers it all. Moreover, it has the following features for efficient working;
29 cubic feet capacity
6 wide and adjustable door bins
Easy-to-use
Built-in ice maker
Beautiful and modern design
High-capacity water dispenser
Efficient linear cooling technology
6. LG Side-by-Side Refrigerator-LRSXS2706V | Best Budget Fridge
This LG fridge is filled with smart working features at a reasonable price. The side-by-side fridge gives extra storage space for more groceries and easy handling of the loads.
You will enjoy its easy-handling yet efficient cooling with some other amazing specs, which are;
27 cubic feet capacity
Budget-friendly pick
Well-organized space availability
Smooth touch ice dispenser
Pharmaceutical-grade water filter
Standard ice cube and crushed ice-bites
ThinQ technology operated smart features
Samsung VS LG Refrigerators – Better Pick? | Based on User's Performance Analysis
To give you a ground analysis, we have gathered views from customer analysis reports and genuine reviews to know the actual performance of each.
We have highlighted some common advantages and disadvantages to let you decide your next wise purchase.
Pros of Samsung Refrigerators VS LG Refrigerators:
Samsung Fridges Perks:
These are now because of its convertible technology combined with modern features and in-built styles. Also, the high-end connectivity makes these cooling machines the top-notch pick.
LG Fridges Perks:
You can have the quietest cooling refrigerators from LG. Moreover, its adjustable and removable shelves make it more flexible for good storage and capacity.
Cons of Samsung Refrigerators VS LG Refrigerators:
Samsung Fridges Pitfalls:
An inefficient ice maker sometimes gets a little noisy. Most users also complain about the unresponsive and careless customer service.
LG Fridges Pitfalls:
The Icemaker on the left door makes it very heavy and sometimes may affect its cooling efficacy. Also, the water dispenser is not so durable.
Samsung VS LG Refrigerators: Which Is More Reliable?
Samsung and LG have been serving for 50+ years, making them well-known appliance companies.
Both of these brands serve high-performance refrigerators unique in their way. Both of these brands have energy-star qualified models.
While Samsung offers more energy than LG ones, it has also been awarded as no 1 in reliability and customer services, giving it more edge.
But after doing tons of research from different forums and user reports, LG is found to be more reliable practically than Samsung.
Samsung VS LG: What are their Unique Features?
Samsung and LG vary from one another, having their unique selling points. We have highlighted a few points that make these brands the most top-notch refrigerator brands.
Unique Features of LG Refrigerators:
Smart ThinQ technology
Automatic door opening feature
Spherical ice cubes formation
Insta View refrigerators that lighten up to let you see the fridge's inside without opening it.
Unique Features of Samsung:
Enable to switch from fridge to freezer. (within a limited range)
Family Hub technology for advanced features
Smart water pitcher (with loads of automated features such as auto-filling etc.)
Samsung VS LG: Which is the More Energy-Efficient Brand?
Not all models of these brands are energy-efficient, but they do have many models that are energy–efficient and are energy-star qualified.
But when comparing these brands specifically, Samsung offers more energy-efficient refrigerators than LG.
You may also want to know:
Our Verdict: Samsung For Modern Design And LG For Smart Features
Summing up the Samsung vs LG Refrigerators, You should consider LG for its innovative yet smart features like the ThinQ app, high-storage capacity, remarkable compressor, and fast cooling technology.
However, you will find the smooth finish and sleek designs with distinctive cooling techniques in Samsung. It depends on your choice whether you pick a design or if you want to go for features.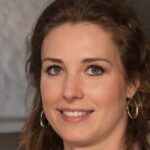 Crystal Hafley is a dedicated writer and content creator for WorstBrands, where she specializes in writing insightful reviews about kitchen appliances and fashion products.
With her expertise, Crystal provides readers with accurate and reliable information to help them make informed decisions about the brands and products they use every day. When she's not researching or writing, Crystal enjoys cooking and exploring the latest fashion trends.