If you are searching for near-perfection tires and don't want to feel heavy in your pocket, you are in the right place.
The name is Radar Tires. This brand was made by Omni United back in 2006, and they had performed well, even outclassing some top brands in a few categories.
So, what are the best tires of the company, and how do they perform?
We have prepared a Radar Tires Review guideline to take you out of this perplexing situation. So, hold your feet on the brakes, and let's read more.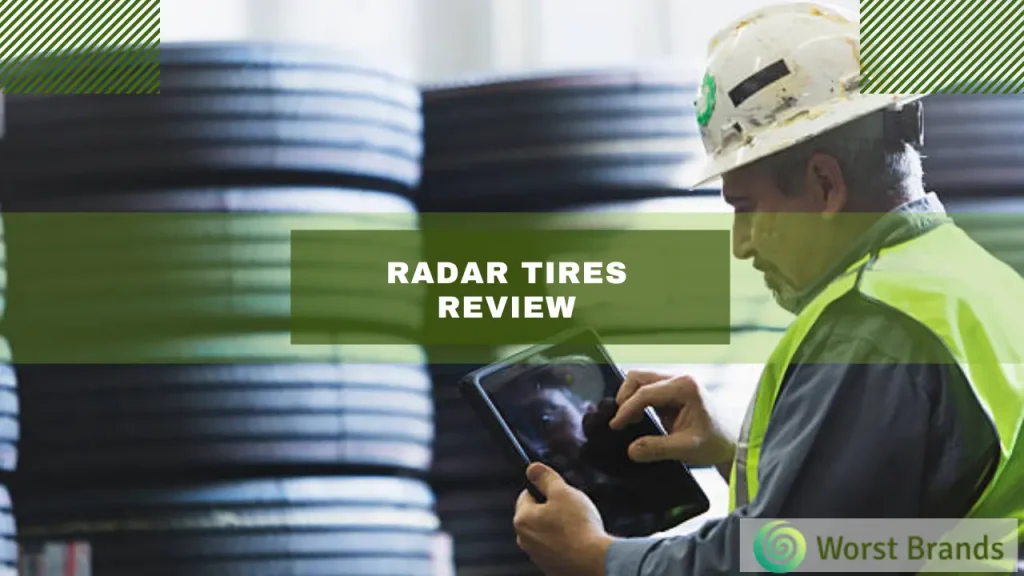 Radar Tires offer good performance across various conditions at an affordable price. The best picks are Dimax AS-8, Rivera GT10, and Renegade AT5.
Who Makes Radar Tires?
Omni United is the company that owns and makes radar tires. They have been manufacturing these tires since 2006.
Other tire review brands:
Radar Tires Warranty:
Omni-united offers a 45k to 55k miles warranty on its tires. The company also has the following types of warranties:
Workmanship and materials limited warranty
Treadwear limited warranty
Road hazard warranty
30-Day satisfaction guarantee
Note that these warranties are for selected tires and ranges. Check their website or call Omni-united at 1-855-906-6646 to know more.
Radar Tire Complaints:
The following are the most common types of Radar tires by customers:
Fast treadwear
Other than a few models, most of the tires make noise on the highways
Though the performance was good on dry and wet tarmacs, handling and braking was an issue on the slippery roads
Some say that the company's customer service is not parred standard.
How Did We Test Radar Tires?
It's important to talk about our testing system. Being an established company in the tire niche for more than 7 years, our team of 20 members has tested hundreds of tires.
In our lab, we assessed the under-test tires for their quality. After all the quality assurance tests, we make a review guide based on the results.
Radar Tires Review
So, are you interested to know more about Radar tires? Here is the review of their top 3 tires.
1. Radar Dimax AS-8 Tires
This brand-new Dimax AS-8 tire is built with the latest technology so you can get a comfortable, improved, and super-performance ride.
The target market of Dimax AS-8 is SUVs and high-performance cars.
Being a touring tire comes with all the benefits of this niche. However, it still lags in a few areas. Let's find out about them.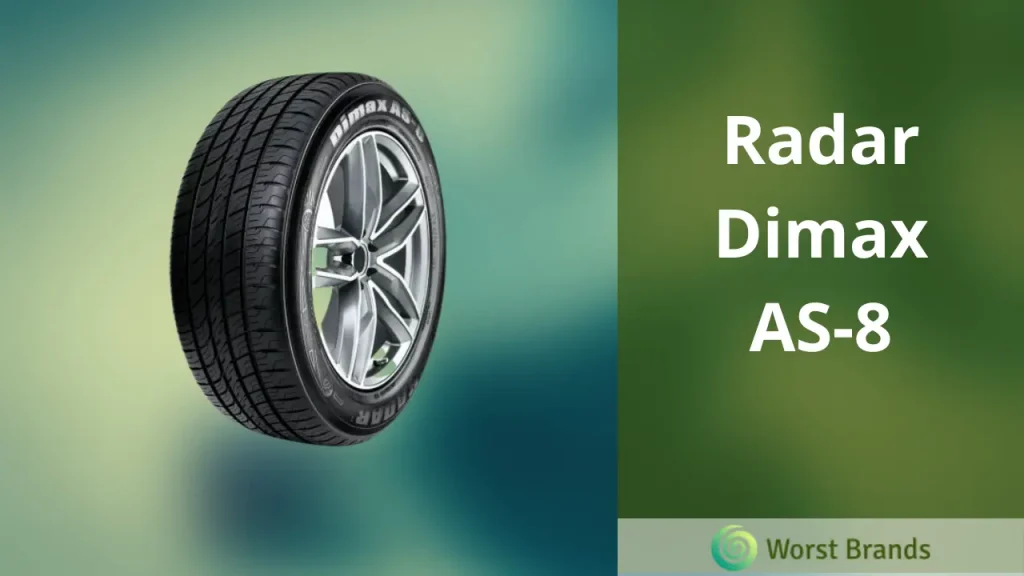 Dry Road Performance:
Compared to dry driving, the Dimax AS-8's ride on moist pavements was rather excellent.
The tire's driving and control felt sophisticated, like driving a sports car. Likewise, grip levels were strong when compared to other high-end brands.
Dimax AS-8 stopped on a dime when we measured the braking time. Even at high speeds, it will not leave your side.
However, there are certain limitations to this tire. The cornering grip is its weak point.
The tire cannot be pushed to the corners. Similarly, treadwear was considerable in comparison to other tires.
Wet Road Performance:
Compared to dry driving, the Dimax AS-8's ride on moist pavements was rather excellent.
Our Mitsubishi Outlander was quite comfy and felt like an aircraft. The tire's four circumferential grooves were good enough to eliminate the water from its roots.
The icing on the cake is the tire's braking abilities, which makes all the difference. Even at high speeds, it felt secure.
Snow Performance:
Most people may think Dimax AS-8 is an all-terrain tire that will work wonderfully on snowy roads. Yes, you are right.
The tire really showed us its class on the snowy roads. It performed well on light and thick snow.
To our surprise, traction and grip were exceptional. Dimax AS-8 drove perfectly on icy roads with no or minimal spin.
However, the braking time on the snowy and icy tarmacs can disappoint you.
You can feel this problem if you take the car on the upper side of your meter. Still, it stopped at a safe distance.
Pros
Excellent performance on all kinds of roads
Drives well on the snowy and icy roads
Provides comfort
Cons
Noise levels can be high, especially at high speeds
Not a lot of sizes to choose from
Our final thoughts about Dimax AS-8 are that it is a perfect tire to drive on almost every road.
Plus, it provides comfort at the cost of high noise levels. Considering a budget tire, you can go for it without any problem.
2. Radar Rivera GT10 Tires
Rivera GT10 is the company's all-season tire. With a specially formulated compound in its structure, the company has tried to provide comfort and performance to its customers.
The tire has a 45k treadwear warranty and is made for SUVs, CUVs, and light trucks. Let's find out how it performs in different road conditions: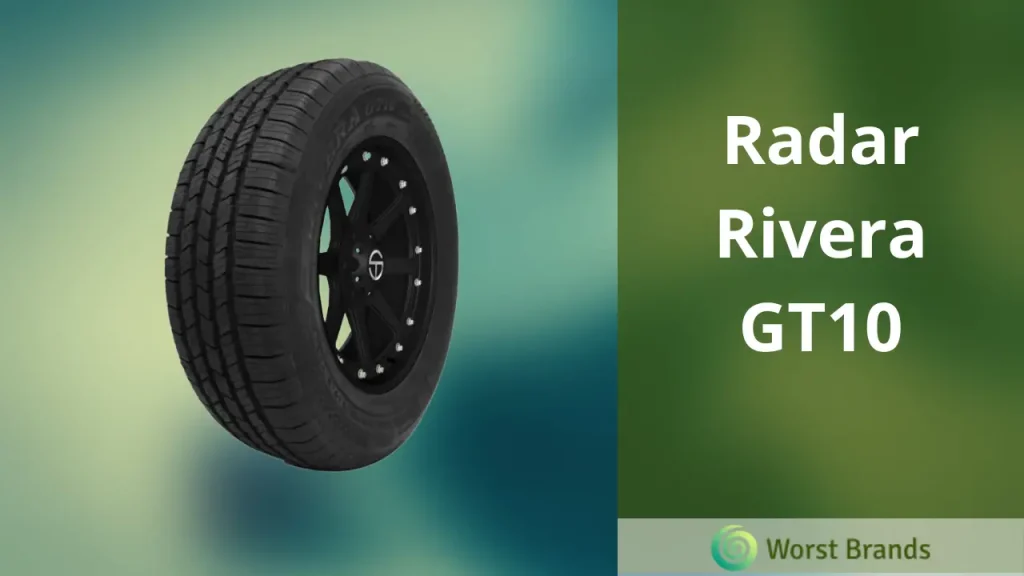 This tire performed admirably on dry roads. They had a quick reaction and excellent handling.
Rivera GT10 performed well with our 2011 Mercedes-Benz GL Class with no latency. Similarly, the tire came to a safe halt and had an outstanding brake.
Because the Rivera GT10 is a cheap tire, it undoubtedly has certain drawbacks. One was that it displayed random wobbling, but those were unnoticeable.
Second, the tread deterioration was rapid. The tires behaved like we had been using them for five even after use of one year.
Wet Road Performance:
The tire performed excellently on wet roads, just as on dry roads.
You may argue that other high-performance tires performed better than the Rivera GT10, but its price is lower. Hence it outperforms them.
It also gives a good performance during the rainy season. Furthermore, the hydroplaning was outstanding because of the multi-sipe design.
The large circumferential grooves and longitudinal sipes improved grip on slippery surfaces. This design also improves the tire's hold on the road.
Snow Performance:
Snow performance is where every tire struggles unless it is a particular winter tire. Thanks to various sipes on the tire, it was pretty good on the light snowy roads.
However, testing the Rivera GT10 on thick snowy roads was disappointing.
It slipped heavily and sometimes showed continuous shudders. Definitely, not a choice for snowy and slushy pavements.
Pros
Good traction and grip
Drives smoothly on both wet and dry roads
Budget loving tire
Excellent braking time
Cons
Occasional shudders on dry road
Struggles with thick snow
Our overall thoughts about the Rivera GT10 are that if you are looking for an excellent all-season tire, you can go for it.
However, this tire should not be your go-to choice if you want the best out of your vehicle.
3. Radar Renegade AT5 Tires
Meant for SUVs and light trucks, Radar Renegade AT5 is a tire claimed to be a performer of every kind of road. It is an all-season, all-terrain tire.
The real question is that this tire has much to offer on paper, but does it also deliver you the same on the road? Let's have a look.
Equipped with a detailed and aggressive tread pattern, Renegade AT5 had an enhanced performance on dry roads. Per our testing, it gets 9/10 marks for dry tarmac driving.
Due to its tightly packed center section of tread, it delivered really well on highways and rough surfaces. The grip and traction were excellent.
Still, the Renegade AT5 had more than enough void in its tread to drive effortlessly off-road not to mention the braking time, which was exceptional, thanks to its solid grip.
The solid 3-ply construction of Renegade AT5 makes this tire an unbeatable choice for wet roads. It seems that damp traction and grips are its innate features.
The company's stone ejector technology ensures no stone gets caught in its tread. It also works exceptionally well against aquaplaning.
A minor caveat that we would love to mention. If you take this tire at too high a speed, it may lose its good braking capabilities on wet tarmacs. Still, it was pretty good for light tracks.
One of our favorite features of the Renegade AT5 is its performance on snowy roads.
Multiple sipes and unparalleled threads make this tire really good for winter conditions.
Though thick snowy, and chilled, slushy, icy roads can pose a threat to our champ, you can ace them too at an average speed.
Pros
Exceptional off-road performance
Also, drive quite well on the on-roads
Affordable price
Comfortable and noise-free ride
Cons
The tire can wear fast
Not a lot of retailers
Last but not least, the Renegade AT5 was a flawless tire from all sides. It has that aggressive look and a beautiful non-parallel tread pattern.
On the performance side, it was adequate on every kind of road. Plus, it provided a smooth ride without making a lot of noise.
Having said that, it is difficult to find a tire this good in such an affordable price segment. And if there is one, you shouldn't miss it.
Why Should You Choose Radar Tires?
These are a few reasons that you should not ignore Radar tires:
Well-favored tires for SUVs and sedans
Give good performance in all conditions
Excellent alternatives for premium tires
Great warranty coverage
Are Radar Tires Good?
Radar Tires are one of those companies that can be a great bang for your dollar.
The company makes tires for almost every kind of car, and their models are often high quality as well as durable.
Radar also offers various kinds of warranties and after-sales services to ensure that the customers get the most out of their products.
Outro:
Let's get straight to the point. After reviewing the review, we found that Radar is not a very big tire company, but it makes really good tires.
Not only are their tires affordable, but they also are features rich.
Though they often come with drawbacks, they also have many things at a price range that can be competitive.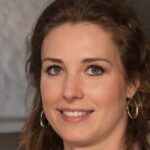 Crystal Hafley is a dedicated writer and content creator for WorstBrands, where she specializes in writing insightful reviews about kitchen appliances and fashion products.
With her expertise, Crystal provides readers with accurate and reliable information to help them make informed decisions about the brands and products they use every day. When she's not researching or writing, Crystal enjoys cooking and exploring the latest fashion trends.