Bryce was one of our oldest visitors to our garage. He was the person who came up with the Fullway tires.
He was so impressed with the quality of these tires that he even booked our meeting with one of the company's representatives.
So, after going through their selection, we have decided to review the company's best-selling tires. Read this Fullway Tires Review guideline to know more about them.
Who Makes Fullway Tires?
Qingdao FullRun Tire and Rubber Company is a Chinese company that manufactures Fullway tires.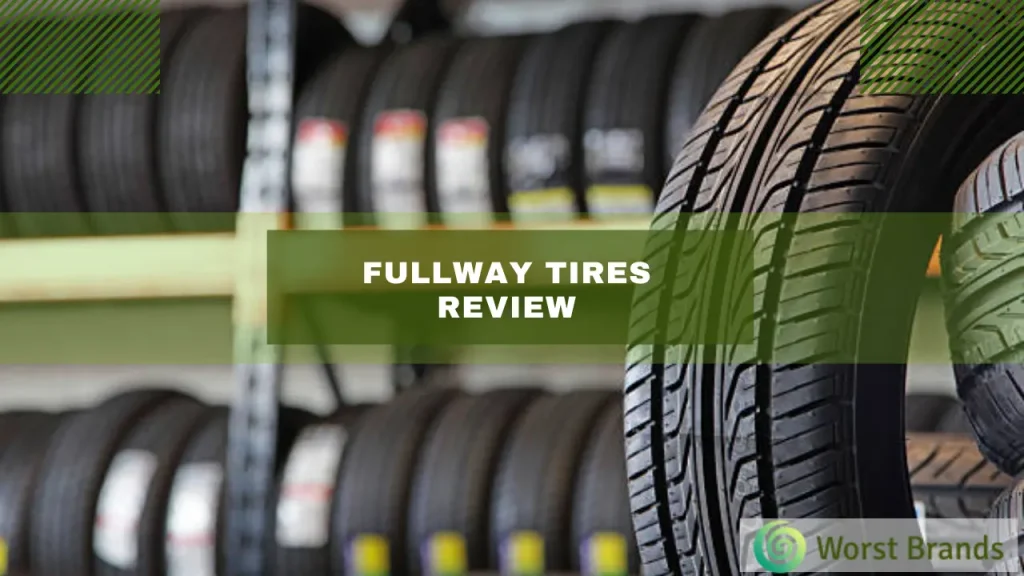 Why Should You Choose Fullway Tires?
Fullway tires are considered good because they offer the following:
A wide selection
Competitive prices
Excellent reputation for customer service
Fuel efficient
How Have We Tested Fullway Tires?
To make sure we have an honest review of the tire, we have devised a multilevel testing system where we check the following:
The manufacturer label
Quality of the tread
OE marks and ESG scores
Driving under different conditions
Fullway Tires Review:
Before going to the in-depth review, here is a quick overview of how the Fullway tires performed in different road conditions.
| Conditions | Fullway HP108 | Fullway HS266 | Fullway PC368 |
| --- | --- | --- | --- |
| Dry Road | Good braking & cornering issues when accelerated | Good braking & cornering issues when accelerated | Fair, the potential for lost traction, cornering issues |
| Wet Road | Good, braking & cornering issues when accelerated | Good, underpowered braking | Good cornering & tread durability issues |
| Snowy Road | Mediocre, winter tire recommended | Good on light snow, problems on heavy snow | Not suitable for high-speed or thick-snow driving |
Also Read:
Fullway HP108 Review: High-performance Tire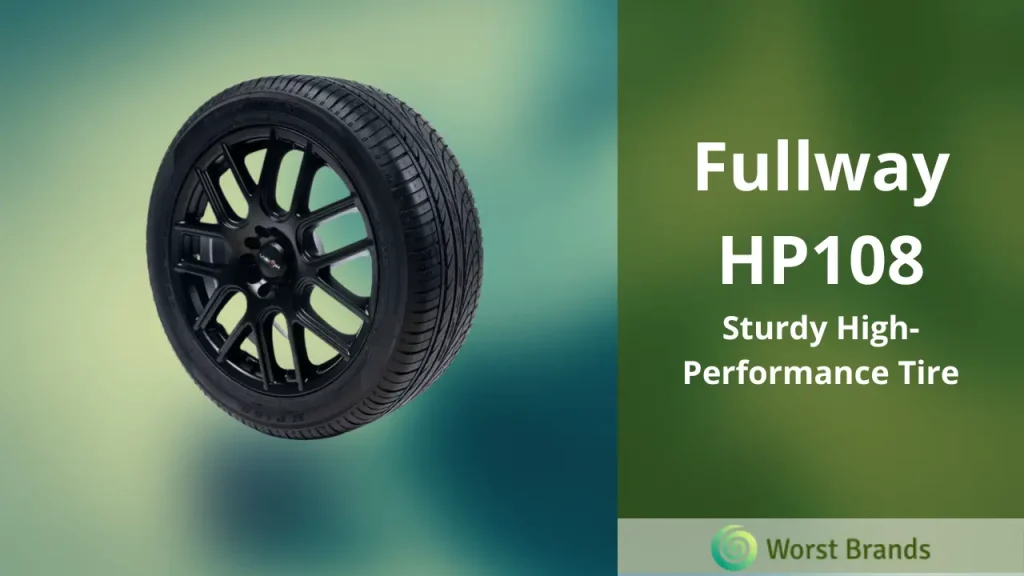 A tire that has made every user ruckus, Fullway HP 108 is a high-performance tire from the company. It can be mounted on SUVs, coupes, sedans, and other sporty cars.
It is available in 13 sizes, including 13'' to 20", 22", 24", 26", and 28." The tire is 380 UTQG rated and can support up to 850 kg of load per wheel.
Though HP108 impressed a lot from its on-paper specs, let's see how it goes on different roads.
HP 108 has an asymmetrical design which is mainly built for all-season performance.
The additional benefit of the tire's body structure is that it can cope with the high-speed demands of various sports cars and sedans.
On the dry road, HP 108 has quite excellent performance. The traction, grip, handling, everything works perfectly.
On top of that, 3 continuous ribs in the tire give extra stability and improve straightforward driving.
Specialized compounding in the lateral body of the tire enhances the road grip and balance and increases the fuel economy.
You can feel the outstanding performance of HP 108 on your first-mile drive.
Braking may not be as excellent as other overpriced tires, but it is good enough to stop you in the fair range.
To our surprise, the cornering grip was an issue on this tire. Anyways, HP 108 gives enough to ensure a sporty performance.
Many high-speed tires that perform well on dry roads drag their feet on wet roads, but not our champion. Even on damp roads, the HP 108 ticks all the criteria.
Though traction and grip were not as outstanding as on other higher-end tires, they were sufficient for getting the most out of it.
Similarly, steadiness and steering were unquestionably excellent.
Braking and cornering grip were problematic on the wetter side of the road. However, unless you accelerate your automobile enough, this is not evident.
In terms of Snow Performance, the HP 108 is mediocre. On average snowy roads at modest speeds, you get the most out of your automobile.
The traction on the roadways is sufficient to keep you safe. The handling is positive because it is more than adequate.
Still, a winter tire should be considered since it provides additional traction and grip on icy roads.
Our final say about HP 108 is that it is a tire that gives an upper-level performance at an affordable price.
Though it is not competitive with other flagship tires, it has a lot of qualities that can satisfy you. HP 108 is definitely our recommendation for midrange sporty tires.
Things we liked:
Excellent wet and dry performance
Handling is fantastic
Best bang for your bucks
Things we didn't like:
Fullway HS266 Review: Top-Notch All-Season Tire
Fullway HS266 is an all-season tire with an equal grip on performance. It is an ideal tire for SUVs, light trucks, and passenger cars.
This tire has a load index of 112 and a UTQG ranking of 420AA. The rim diameter is 24 and has a load range of XL.
HS266 boosts a symmetrical tread pattern ideal for a smooth and balanced ride. This tire also has a shoulder tread block pattern that gives control and stability to the road.
On dry roads, HS266 gives a satisfactory performance. Even at high speeds, it won't leave traction or grip.
For accurate driving, the company has employed a continuous center rib structure. This feature also gives an excellent steering response and accuracy.
To decrease the impact of heat and cold on the tread of the tire, there is a specialized rubber compound in the tire that insulates it from environmental conditions.
On the downside, the cornering grip is a significant issue for these tires. Some people even say that it is not much durable and the tread wears quickly compared to other tires.
The Wet Road Performance is enhanced using a directional tread pattern combined with unique sipes and groove design.
HS266 has 4 grooves. Two are wider and are on the lateral sides, while the other two can be found along the midline in a zig-zag pattern.
These grooves and sipes give many benefits to the tire.
First, they prevent aquaplaning by channeling away the water. Second, they give a better grip.
Third, they enhance the tire's traction and make it resistant to side slipping.
However, HS266 has a few caveats. It has underpowered braking capabilities. Plus, the cornering grip is not present in the framework of these tires.
Thanks to the siping and groove placement, HS266 performs well on the snow. You can get a good grip and traction.
However, this excellent showoff of the tire is only on light snow. When you put your car on heavy snow, these tires will expose themselves quite severely.
Summing up, HS266 is our next tire that outperforms almost every category. It has optimum dry and wet road driving. Plus, the experience of the snow is also satisfactory.
With little caveats, this tire can be your next go-to choice for all-season driving.
Things we liked:
Grip and traction on the dry roads
Insulation against weather conditions
Resistance against aquaplaning
Less noise and more comfort
Things we didn't like:
Snow driving is not parred expectations
Braking suffers
Fullway PC368 Review: Suitable Touring Tire
An all-purpose driving tire, Fullway PC368 is a touring tire that gives balanced handling with a quiet and comfortable ride.
PC368 is also an all-season tire that has a market for passenger cars.
It comes with a load index of 98 and has a load range of SL. Its rim diameter is 16, and its speed rating is H.
Linda was quite excited after using them on her Cadillac. Let's see how they go on different roads.
Frankly, PC368 is a black horse of dry roads. It delivers no matter the speed of your car. This tire has a simple design and makes your vehicle look classical.
The tire has 4 grooves on the outer side with a continuous center rib. There is a side tread on the blocks. This fantastic combination of designs has the following advantages.
One, there won't be any unbalanced ride. Secondly, the tire has exceptional handling on both dry and wet roads.
Third, the grooves on the tire have extra depth, which gives more than enough resistance against hydroplaning.
Lastly, the braking of PC368 is fantastic. It stops at the limit, even at high speeds on dry rods.
However, traction can break if you sprint your car on wet roads. Similarly, cornering is still a major issue, both on dry and wet roads.
Since PC368 is a touring tire, it should give uncompromised driving on every road.
The symmetric tire design with the 5 ribs may guarantee good performance on snowy roads, but it is not enough for high-speed driving.
Also, thick snow can make braking worse, so caution should be practiced while driving on slushy and snowy tarmacs.
The final verdict about PC368 is that this tire treats every road equally and gives an all-around performance. Though the handling and driving can be miserable on snowy roads, it is not a winter tire.
So, you can go for PC368 if you drive normally and want a durable tire.
Things we liked:
Good grip
Superb traction
Quiet driving
Smooth and balanced handling
Things we didn't like:
Cornering grip
Braking is worse at high speeds
Fullway Tires Warranty:
The brand doesn't offer a warranty on its tires.
Fullway Tires Complaints:
These are a few common customer complaints about Fullway tires:
The tires wear out quickly
Gripping Issues
The tread falls off easily
Durability Problem
Pros and Cons of Fullway Tires:
Pros
Excellent grip and traction on dry roads
Noise Free Ride
Stable Handling
Cons
Braking at High Speeds is not good
Are Fullway Tires Good?
Overall, we found Fullway Tires a mediocre brand. Though their products perform well on normal roads, they lag on snowy and wet roads.
They also lose traction at high speeds. Plus, the company doesn't give a warranty on their tires.
Final Thoughts
Bryce was definitely happy with his purchase, and so were we. These tires have impressed us with their specifications despite their affordable prices.
So, if you are interested in buying a high-performance tire, you can choose HP108. Or, if you want an all-season tire, go for HS266.
On the other hand, you can select PC369 for your touring requirements.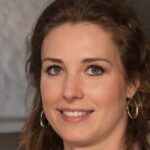 Crystal Hafley is a dedicated writer and content creator for WorstBrands, where she specializes in writing insightful reviews about kitchen appliances and fashion products.
With her expertise, Crystal provides readers with accurate and reliable information to help them make informed decisions about the brands and products they use every day. When she's not researching or writing, Crystal enjoys cooking and exploring the latest fashion trends.