Are you looking for a tire that is both reliable and stylish? If so, then you should consider the Sailwin tires.
These tires are designed to provide superior performance and durability. They are affordable so you can get the most bang for your buck.
So, if you are interested in knowing some of the topmost tires from the company, read this Sailwin Tires Review guide.
Who Makes Sailwin Tires?
Zodo Group is the company that manufactures Sailwin Tires. They are a subsidiary of Shandong Linglong Rubber Co., Ltd, the largest tire manufacturer in China.
Why Should You Choose Sailwin Tires?
Following are the advantages that you should choose Sailwin tires:
Low prices
High build quality
Excellent traction and grip compared to other cheap brands
Sailwin Tyres Complaints
These are a few Sailwin tire complaints that we observe in our testing:
Some tires can get noisy sometimes.
Except for a few models, others usually suffer from thick snow
Soft cornering is a common issue in these tires
Sailwin Tires Warranty
Warranty varies at Sailwin tires. Some models only give a defects warranty for the first 25% treadwear.
While for a few tires, they also have 100,000 km like Sailwin passenger car tires 265/75R16.
On the other hand, a few tire models like Sailwin Sport way 56 are covered for 2 years of warranty.
How Have We Tested Sailwin Tires?
We have a multi-level testing system to ensure we offer you an honest review. Our team of more than 20 members has a diverse role in this process.
We start by cross-checking the tire's label with the manufacturer's. Next, we look for OE marks and ESG scores. Then, we test its quality in our QC lab.
Lastly, we do the test and experimental drives to get a detailed yet comparative overview of the tire.
Sailwin Tires Review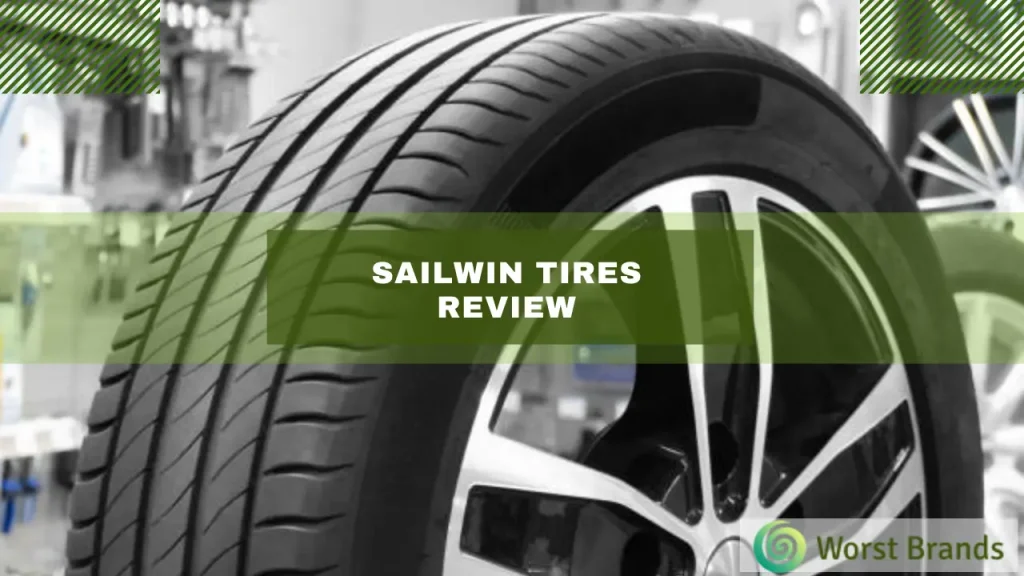 This section of the guideline offers you a review of the top 3 Sailwin tires from the company.
Sailwin Sportway 56 Tires Review
Sailwin Sportway 56 is the most exemplary ultra-high performer from the company. It is available in 24 sizes, ranging from 195/45 R15 82V to 255/30 R24 97W.
Since Sportway 56 is a high-performance tire, its target market is fast cars and SUVs.
It is also a summer tire, meaning its performance would be par excellence on dry roads. Let's have a look.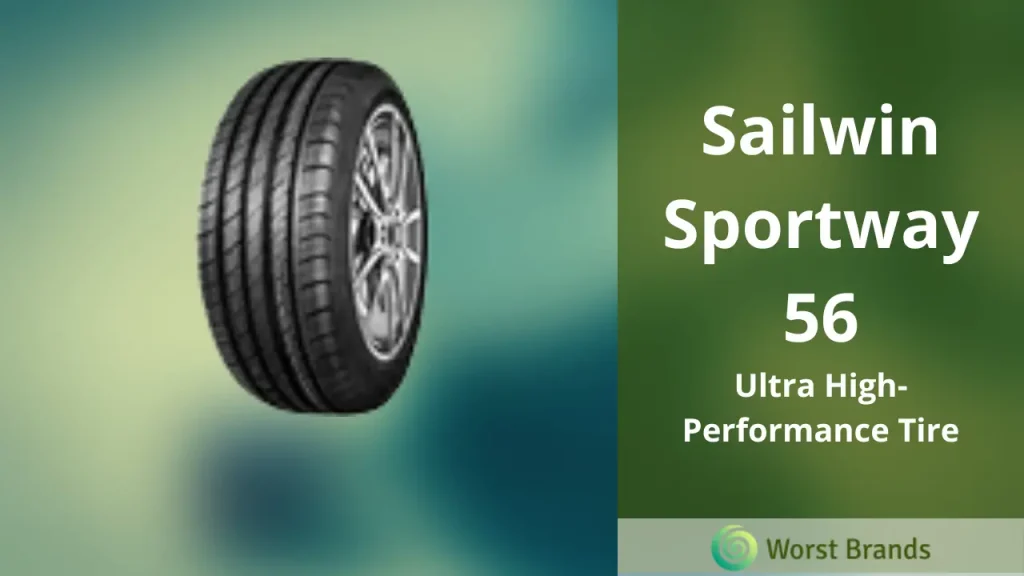 Sportway 56 performed excellently on dry roads when evaluated with different cars. The adhesion and grip were excellent.
The tread design of this tire is uneven, with lining on the peripheral blocks.
This one-of-a-kind design provides stability at high speeds and reduces road resistance.
Similarly, the manufacturer has reinforced the tire's construction with broad, long straight blocks.
These blocks increase high-speed handling and cornering, enhancing overall performance.
The additional feature is that the entire tread pattern is connected, which aids in noise removal.
On the negative side, we don't discover any debatable issues. Your automobile may shake at high speeds but is too unpredictable to ignore.
Also, Sportway 56 is not meant for off-roading. You can't risk taking this tire at rough or hard rocks lest you may damage it.
Sportway 56's wet pavement performance is identical to its dry road performance.
It provides exceptional grip and traction on wet roads, especially at low speeds. Too much pushing might cause sliding.
Diagonal grooves on the tire's surface aid in water removal, enhancing aqua resistance.
Sportway 56 also has a superior tread strength, which means it will last longer.
These tires may lag in cornering grip on the weaker side. At high speeds, the braking system fails horribly. Given the price of the tire, these things are open for discussion.
Since most ultra-high-performance tires are not meant for snow driving, Sportway 56 maintains this tradition.
Having said that, you can't go on snowy roads with these tires, be they light snow or heavy.
Everything from grip to handling and traction to stability fails on slippery, icy, or slushy roads. Though you can use studs, they are not recommended.
Here is our final verdict about this tire. Sportway 56 is an outstanding performer on dry and wet roads.
Although it has a few caveats, like braking at high speeds and snow driving, we can give this tire an edge due to its price.
If you are looking for a budget tire for your sports car, try Sportway 56. It won't disappoint.
Pros:
Excellent grip and traction on wet and dry roads
Treadwear is excellent
Quite supportive even on high speeds
Noise-free drive
Cons:
It can be problematic on snowy roads
Braking suffers at high speeds
Sailwin Freimatch A/S Tires Review
Sailwin Freimatch A/S is an all-season tire with a significant focus on passenger cars.
This tire falls in category E of EU Fuel Saving and Cof EU Wet Grip. It also has a load index of 79 and makes noise up to 69db.
This tire is available in more than 20 sizes, ranging from 155/65 R13 73T to 235/55 R19 105V. Let's find out how it performs in different road conditions.
Regarding the performance of Freimatch A/S on dry roads, it performed poorly. If the tire was excelling in one department, it was lagging in the other.
The dry traction was incredible, but the stability is relatively underpowered. If you get enough grip, the high-speed handling is worse. However, there is no issue with cornering.
The company has enhanced its performance with the use of 3 longitudinal grooves.
To ensure Freimatch A/S performs in all seasons, it was incorporated with the innovative 4 seasons tread compound, which also gives heat stability.
High-speed driving is not recommended with Freimatch A/S.
Again, Freimatch A/S is not a hot dog on wet roads. It gives you an average performance that also on normal speeds.
If you don't try to push your car, it keeps you quite satisfied with its performance. Traction and grip are adequate, and handling and stability are also sufficient.
However, once you are on the top of your meter, you'll see Freimatch A/S suffers badly with almost no friction on wet roads.
Lastly, aqua resistance is present in these tires, owing to the unique directional and streamlined pattern.
Honestly, snowy driving is only okay if you are at low speeds. The 4-season innovative tread compound may give you enough grip on snowy tarmacs, but it will fail on average or at high speed.
Our testing shows that Freimatch A/S only performs well at average or mild high speeds.
Even though it gives an equal and average performance on all kinds of roads, it won't endure tough times.
Pros:
Good performance on average speed
Noise-free and comfortable ride
Comparative price point
Cons:
The tire is not meant for high-speed driving
Sailwin Icewinner 868 Tires Review
When most companies focus on summer or all-season tires, Sailwin brings diversity by putting its efforts into winter tires.
Although they don't have a lot of options to choose from in this segment, Sailwin Icewinner 868 can be an option to select.
This tire is available in rim sizes of 13-20 and is given the speed rating of T-H. It focuses on the market of passenger cars and SUVs.
We have tested the performance of Icewinner 868 with Amelia's 2012 Mitsubishi RVR. These tires were okay on dry roads.
At average speed, everything works fine. But they may show a few caveats at the top of the speeds.
The company has provided the Icewinner 868 with the steel hook design, ensuring that this tire has enough horizontal rigidity and stability.
Though high-speed driving may not be that fantastic, it still offers excellent braking capabilities.
The shoulder design gives you enough power to stop in a considerable braking range.
The wet road performance doesn't deviate much from that of dry roads. The zigzag grooves remove the tire's water and improve meshing.
In short, everyday driving won't disappoint you. However, sprinting may cause problems like a wobbling, less friction, and cornering.
Snow driving is where you can feel that Icewinner 868 has expertise. It will run smoothly on snowy pavements, thanks to zigzag grooves.
These grooves not only remove snow from the tire but also ensure it by acting as mesh.
Icewinner 868 is a winter tire, but it can't compete with other flagship tires. The reason is quite simple.
To make the price in an acceptable range, the company does some cuts on the quality. Having said that, you should not sprint these tires on slippery or snowy roads.
Our final review is that Icewinner 868 is a winter tire for snow driving. And, it definitely aces the snowy tarmacs.
Similarly, it gives a noteworthy performance on various other pavements. However, high-speed driving is not recommended.
Pros:
Exceptionally well performance on snowy roads
Enjoyable driving at average speeds on dry and wet tarmacs
Fair price point
Durability and rigidity
Cons:
You should not drive hard with these tires
Wobbling can occur at high speeds
Verdict
Also Read:
Are Sailwin Tires Good?
Despite having low prices, Sailwin Tires offer performance, durability, and a comfortable ride coupled with low noise levels.
The company even makes winter tires that present well in wet and slippery conditions.
Treadwear is low, and many consumers seem happy with their purchases. In short, we can say that Sailwin tires are good with many advantages.
Final Words
Our final experience with Icewinner 868 is that this company offers some really great options in the budget range.
Although their tires can't compete with the higher ones, they still satisfy the range of their customers.
Said that, if you are looking for an ultra performer in the budget range, go for Sailwin Sports Way 56.
If you are on the hike for some mid-range winter tires, hit your shot at Icewinner 868. You can also try your luck with Sailwin Freimatch A/S for an all-season tire.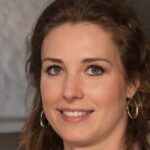 Crystal Hafley is a dedicated writer and content creator for WorstBrands, where she specializes in writing insightful reviews about kitchen appliances and fashion products.
With her expertise, Crystal provides readers with accurate and reliable information to help them make informed decisions about the brands and products they use every day. When she's not researching or writing, Crystal enjoys cooking and exploring the latest fashion trends.