If you own an SUV or light truck, Pathfinder tires are one of the top options available at a discounted price in the markets.
It's a private-label brand. Kumho Tires, the world's leading brand, manufactures Pathfinder products.
The company is well known for producing top-tier tires with technology enhancements and improved treadwear design.
On the other hand, Kumho Tires is a subsidiary of the Chinese company DoubleStar.
Pathfinder tires excel in dry, wet, and varied terrains, offering longevity, impressive tread designs, and excellent grip, making them worth the investment.
In this Pathfinder Tires Review, we'll give you a comprehensive guide about their top tires. So, Without further ado, let's dive into it.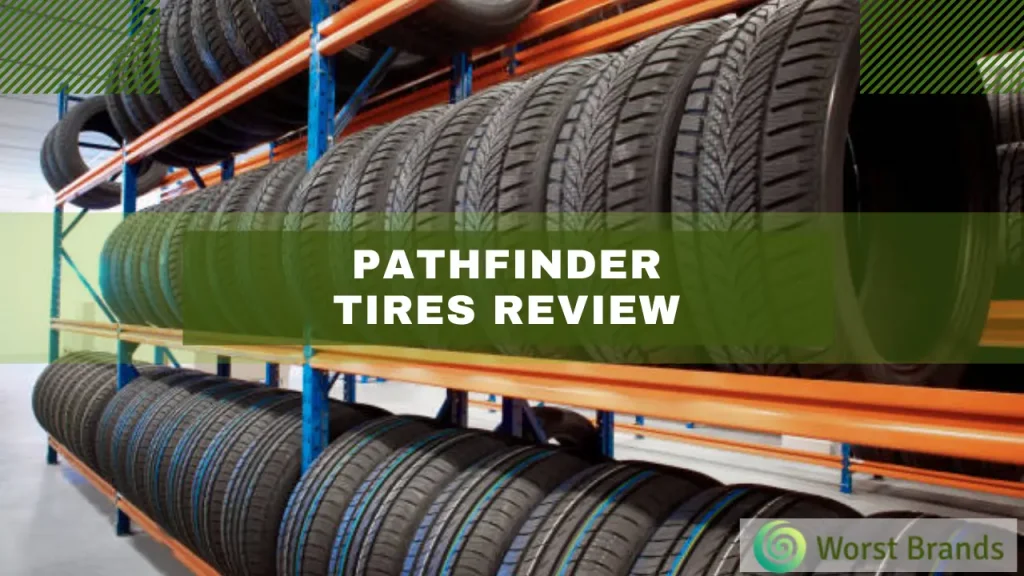 Why Should You Buy A Pathfinder Tire?
Following are some reasons why purchasing a Pathfinder tire may benefit you. Let's hear them, respectively.
1: Inexpensive
The cost of the Pathfinder tires won't break your bank. The tires are relatively affordable compared to huge brands like Pirelli and Bridgestone.
Furthermore, you can get a set of tires for your SUV for approximately $500, which is inexpensive and economical for drivers.
The tires provide better value at affordable price tags, preferred by enthusiast truck and SUV drivers.
2: Durability
The Pathfinder tires are designed to lift the load of trucks and SUVs. The aggressive tread design and pattern provide longevity to tires.
Furthermore, the tri-polymer tread compound makes this tire brand supreme. It can resist punctures, tearing, and cuts on the tire, making it safe and durable for the driver.
The tires have circumferential and lateral grooves, paired with large blocks, channel water away, and provide good stability on snow and wet terrains.
3: Handling
Pathfinder provides comfort and a smooth ride in dry, wet, and winter conditions.
Thanks to hundreds of side slips, which provide good traction in snow conditions, making it comfortable for the driver to ride on uneven terrains.
The solid center rib reduces rolling friction and provides good stability at high speeds. It also helps in braking.
However, the tread pattern may produce some noise, although you can compromise on that, considering the price.
4: Premium Quality
The tires provide quality comparable to premium brands, which is a critical reason to purchase this tire.
The tread contains tapered grooves and ridges, improves the tire's self-cleaning mechanism, and provides a better grip on terrains.
In addition, due to the reduction in rolling resistance, these tires are also fuel-efficient; don't expect much from these tires in terms of fuel efficiency.  
Who Makes Pathfinder Tires?
Kumho Tire, a South Korean tire company, manufactures Pathfinder tires. In simple words, it's a subsidiary of Kumho Tire Company.
The tire has advantages and deficiencies, which we'll discuss in our Pathfinder tire reviews.
Pathfinder Tires Warranty
Pathfinder tires are durable and come with an average 60,000-mile warranty. The lifespan usually depends on how you drive it, its terrain, and which tire you purchase. Besides that, the tire has exceptional quality and performance.
How Have We Tested Pathfinder Tires?
We are a professional team with experienced staff employees working with us to test tires. We found Pathfinders online for a relatively low budget.
However, we decided to test these terms on parameters such as quality, durability, and performance on all terrains.
Our team has analyzed the best tire models for dry, wet, and winter conditions.
Pathfinder Tires Reviews
After testing and analyzing, we are presenting our top 3 Pathfinder Tires.
| Tire Model | Dry Road | Wet Road | Snowy Road |
| --- | --- | --- | --- |
| Pathfinder All Terrain | Good steering & stability | Good grip | Good on light snow; 3PMSF symbol |
| Pathfinder Sport S A/T | Comfortable; Resists punctures | Impressive grip | Excellent traction; Snowflake label |
| Pathfinder HT | Stable grip | Resists hydroplaning | Average performance |
1. Pathfinder All Terrain: Top-Class All-Terrain Tire
Pathfinder All-terrain tire is manufactured for your SUVs and light trucks. These tires provide suitable and comfortable handling in dry, wet, and winter conditions.
The Pathfinder AT has a 55-miles warranty and is available in 15″ – 20″ sizes. The aggressive tread pattern is formulated with high-quality rubber compounds for better performance on off-road and all terrains.
These are specially designed for SUVs and trucks. We were hesitant about the performance before purchasing this set of tires because of the lower price tags. Yet, the tires did a good job.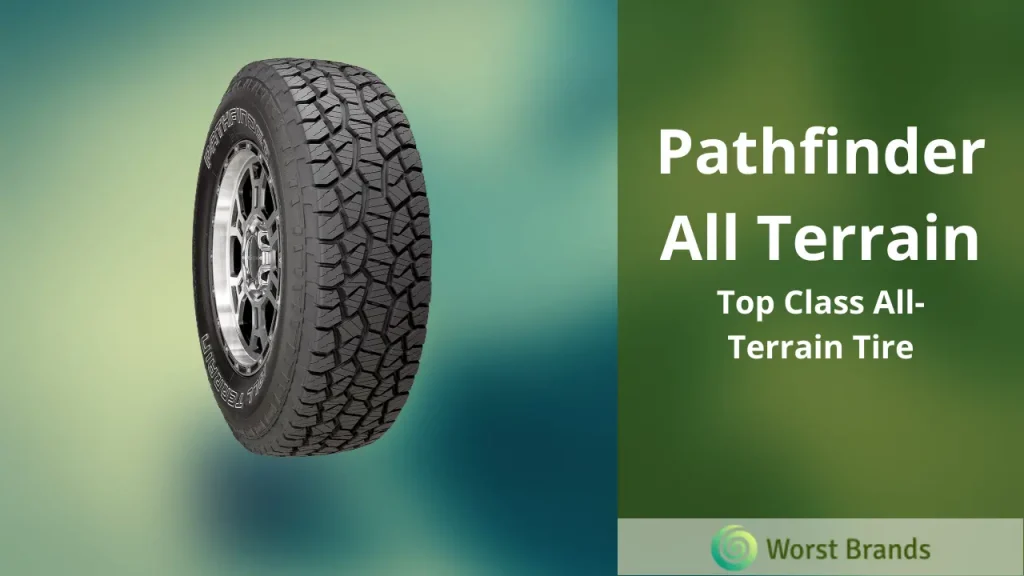 Dry Road Performance
I installed them on one of my jeeps to test these tires on dry highway roads. The tires delivered comfortable and good steering response on fast corners and maneuvers. Also, the tire didn't lack potholes.
The rubber compound and technically designed tread design provide good stability on off-road terrains, which is why I was impressed with these tires.
The interconnected ribs enhance steering response on the off-road drive and protect it from rocks and abrasive debris found on the road.
Besides this, the tires did produce noise when I pushed the accelerator a bit on-highway and off-road, too.
Wet Road Performance
The exquisite tread pattern design has large voids and side lugs, which provide you good grip even on wet terrains.
The tired tread pattern also has zigzag grooves, maneuvering water away and resisting hydroplaning.
Snow Road Performance
I travel around 5-6 miles daily on-snow terrain with these tires. The tire's performance didn't lack on the light snow surface.
The model has a 3PMSF snowflake symbol, meaning it can handle severe snow conditions without crackability.
Things we liked:
Good all-year performance.
It has improved handling on dry and wet roads.
Impressive treadwear design.
Excellent in snow.
Things we don't like:
The tires did produce some noise at high speeds.
Verdict
These are some of the tires I preferred everyone on my list. The tires have an excellent treadwear warranty and impressive performance on dry and wet pavements. Although, the tires might produce noise at higher speeds.
2. Pathfinder Sport S A/T: Epic All-Terrain Tire
The Pathfinder Sport S AT is an all-terrain tire. It is an all-season tire with a 60,000 miles warranty and exemplary performance in dry, wet, and winter conditions.
These tires have more longevity than the Pathfinder AT model, with on-road and off-road handling capability. The tires are available between 15 to 20 inches in size.
Dry Road Performance
The tread design wasn't impressive as it should be, yet it provided me with good and comfortable handling on dry highway roads.
Furthermore, the tri-polymer tread compound provides flexible traction for dry roads, making it easy for the tire to maintain good contact with the road surface. It also resists cuts and punctures.
In addition, the tires maintain a good grip on light off-road terrains, thanks to the inner tread blocks and tapered grooves.
The sharp grooves also protect the tire from rocks, debris, etc. Besides this, the tires aren't that good on
Wet Road Performance
The wet road performance of this model is quite impressive. The large circumferential and lateral grooves flow water away, reduce the risk of aquaplaning, and provide a comfortable and stable ride on wet terrains.
Snow Road Performance
The tires have a snowflake label on them, which means they can handle severe winter conditions. The inner tread blocks and hundreds of sips surrounding the tire maintain excellent traction with the terrain.
Things we liked:
Good treadwear warranty.
It provides excellent grip on dry, wet, and snow surfaces.
Resist hydroplaning.
Things we don't like:
These aren't suitable for high speeds and extreme off-road conditions.
Verdict
I liked the tri-polymer compound of this tire, which is why my car didn't feel clumsy in dry and wet conditions.
Moreover, these tires can evacuate snow quickly compared to this company's other models.
3. Pathfinder HT: Sturdy All-Season Tire
Pathfinder HT is an all-season tire for SUVs and light trucks, manufactured to provide comfortable driving in dry, wet, and winter conditions with 60,000 miles warranty.
The tire is affordable and comes in 15 to 20 inches sizes. Also, this model has an impressive tread pattern design for better outcomes in the off-road and on-road drive.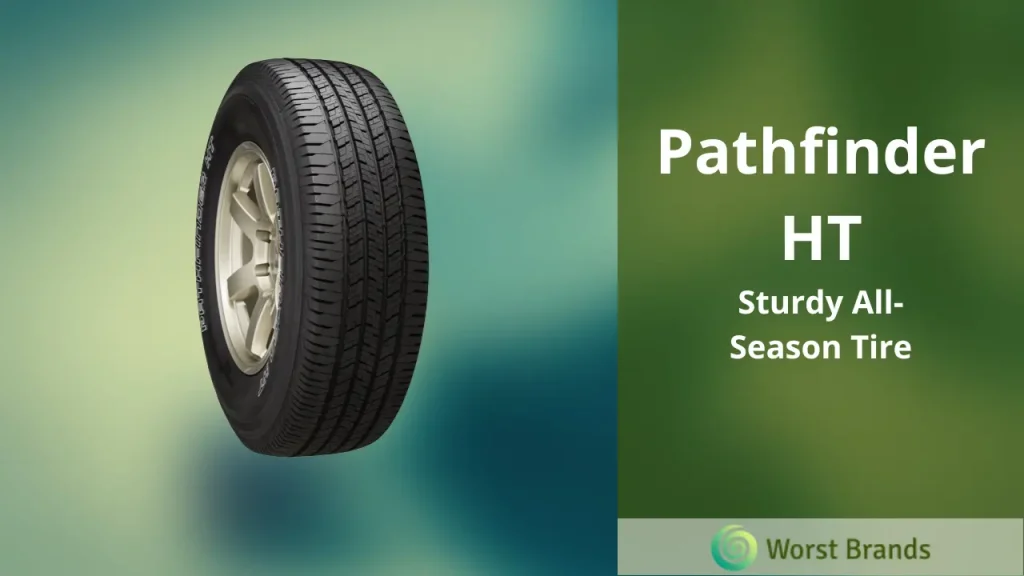 Dry Road Performance
The highways are pretty dry in the summer season. We installed Pathfinder HT to test the dry performance on the street.
Thanks to the tire's robust and stiff center tread block, which helps us maintain stability and good grip on the dry and off-road terrain.
Wet Road Performance
The tires have excellent wet performance because of the zigzag-designed circumferential grooves with shoulder blocks.
The water flows away easily and resists hydroplaning in rainy weather for tires.
Snow Road Performance
While searching online, I couldn't find any rating for snowing conditions, even on discounttiredirect.com.
However, we tested it ourselves and realized that the tires have average performance in snow conditions.
The manufacturers claim the tire is for all terrains, but we couldn't see better results in snowing weather.
Things we liked:
Excellent wet and dry performance.
Resist aquaplaning.
It provides stable and comfortable handling with less noise produced.
Things we don't like:
Average snow performance.
Verdict
As I've mentioned, these tires have a good warranty at a much more affordable price, so I couldn't stop purchasing this set.
The tires have good all-year performance with a practically designed tread pattern.
Are Pathfinder Tires Good?
Pathfinder tires are suitable for SUVs and truck wheels. These are tri-polymer compounds and exquisite tread designs for longevity, performance, grip, handling, and stability.
These tires are impressive and provide what every customer demands. The tires won't disappoint you in dry, wet, and uneven terrains of snow conditions.
However, as mentioned above, some models may produce noise at higher speeds.
Besides this, the overall performance of the Pathfinder tires is excellent for off-road to snow drives.
Also read:
Conclusion
In a nutshell, the performance of these three Pathfinder models, AT, S AT, and HT, were pretty good in dry and wet conditions.
The tires are manufactured and formulated with suitable materials to ensure safety for their customers.
Moreover, the tire brand offers a variety of options for their customers. Pathfinder HT would suit your truck wheels for the best outcome in off-road conditions.
That's all from the Pathfinder Tires Review, If you have any other queries regarding the brands' tires, let us know in the comment section.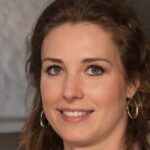 Crystal Hafley is a dedicated writer and content creator for WorstBrands, where she specializes in writing insightful reviews about kitchen appliances and fashion products.
With her expertise, Crystal provides readers with accurate and reliable information to help them make informed decisions about the brands and products they use every day. When she's not researching or writing, Crystal enjoys cooking and exploring the latest fashion trends.